Danskin's Women's Scoopneck Long Sleeve Leotard. Via danskin.com.
Just when you thought it was safe to stop shopping...
Heading back to the studio after the food-filled relaxation of Turkey Day weekend is always tough. Thank goodness, then, that Cyber Monday is here to make heading back to class feel just the slightest bit more bearable, with steeply discounted prices on all your favorite dancewear brands. That's why we've rounded up nine of the best Monday-only sales, just for you and your favorite dancers. Happy shopping!
Keep reading...
Show less
Black Friday and Cyber Monday dance sales include 30% off leotards (like the one pictured here) from Five Dancewear. Photo via Five Dancewear.
We're all for Thanksgiving, or really any holiday that let's us spend the whole day eating. But we're also here for the Black Friday and Cyber Monday shopping that follows it. And while a flat screen TV or designer sneakers might be tempting, they're not quite as practical as stocking up on tights so you can finally throw out all those pairs with holes.

Thankfully, many of our favorite dance brands have jumped on board with Black Friday and Cyber Monday sales. And bonus: You don't even have to leave your house to shop them!
Keep reading...
Show less
When you see these sale prices, you'll jump for joy too. (via @covalentactivewear on Instagram)
Every so often, the e-retail gods conspire to save us from that weekly terror known as *~Monday~*. Today marks another one of those rare and precious moments.
We aren't sure why so many sales are happening simultaneously, but we're certainly not mad about it: Five of our favorite dancewear brands are offering pretty fun discounts right now. So gently release your plans for a productive Monday evening (who were you kidding, really?) and resolve to wind down with some online-retail therapy. (It's called #SelfCare, dancers. Look it up.)
Keep reading...
Show less
popular
Oct. 26, 2018 04:41PM EST
From left: via Elevé; via Ainsliewear
Classwear has come a long way in terms of pairing style with practicality. But while designs like mesh inserts and bold prints can work all year round, other elements lend themselves to particular seasons. Case in point: velvet. The fuzzy fabric has made its way from the runway to real life, and now, even dance rehearsal. Thicker than your average cotton or lycra leotards, velvet's extra cozy material and luxe look makes it perfect for the cooler months ahead. Shop our top picks, and get ready for a barrage of leotard compliments at the barre.
LeaMarie Tatiana Leotard
via LeaMarie
Combining two trends we love, LeaMarie paired a black velvet bodice with mesh sleeves that include polka dots and a pop of teal color.
leamarie.com, $80
San Francisco Ballet soloist Koto Ishihara stretches in her warm-up boots. Photo by Quinn Wharton for Dance Magazine.
With cooler weather finally here, it's time to talk warm-ups. And while your dancewear drawer is probably overflowing with oversized sweaters, leggings and enough leg warmers to outfit the whole class, warm-up boots are often forgotten. To keep your feet and ankles cozy in between rehearsals, we rounded up dance warm-up boots that suit every style.
Bloch Inc. Printed Warm-up Bootie
via Bloch Inc.
Created by Irina Dvorovenko and Max Beloserkovsky, this collection comes in a variety of tie dye, floral and even butterfly prints.
blochworld.com, $48
Dance Theatre of Harlem's Alison Stroming in a Capezio leotard (via capezio.com)
There's a change in the air these past few weeks—is it fall? Not quite yet. More importantly, it's PUMPKIN SPICE SEASON. And now, the quintessentially autumnal flavor isn't just for lattes anymore. Dancewear companies are picking up on the trend, offering more and more pieces in rich, sweet orange shades. Behold, eight of our favorite pumpkin spice-inspired pieces for your dancing enjoyment.
Keep reading...
Show less
Longer ballet skirts are having a major moment. We've seen them popping up in the Instagram studio clips of dance fashionistas around the world—from American Ballet Theatre's Isabella Boylston to The Royal Ballet's Beatriz Stix-Brunell to Berlin State Ballet's Iana Salenko. And with cooler weather on the way, we have a feeling we'll be seeing even more calf-length skirts.
Beyond being trendy, long ballet skirts give any studio ensemble a sophisticated prima ballerina vibe (hi, Natalia Makarova). Try out one of these long skirt options.
Keep reading...
Show less
Via @discountdance on Instagram
"Ballet pink" tights and palest-pink slippers. "Nude" fabrics that match only the lightest of skin tones. Unfortunately, many dancewear staples have historically been available only in a single "flesh tone" that tended to exclude non-Caucasian dancers.
Thankfully, in recent years dancewear companies have begun to respond to this issue, offering more varied shades of tights, pointe shoes, body tights, etc. (One former Knicks City Dancer even made inclusiveness the foundation of her business model.) Now, you can also get foundation garments that suit your unique skin tone with the new Mariia True Bare Collection.
Keep reading...
Show less
Photo via Unsplash.
Back to school is just around the corner, and that means back to your regular dance routine, too. Whether you're looking for a new bag that's strictly for the studio or an option that will work for whatever the day throws your way, we've got you covered. Scroll through for our top five picks.
Repetto Duffle Bag
via Repetto
If space always seems to be an issue, consider this classic duffle option. Big enough to double as a weekend bag, Repetto's design includes cinched sides for a chic update, as well as black canvas and mesh options for a more traditional or sporty style.
repetto.com, $110
Gaynor Minden's celebrating 25 years in the best way possible: With a sale! (via dancer.com)
Time for a quick pop quiz: What does "BTS" stand for?
A. Back To the Studio
B. Behind The Scenes
C. Back To School
D. Back To Shopping
Answer: All of the above! We've searched far and wide to round up a quartet of blockbusting BTS online sales that you won't want to miss. Ready, set, stock up on everything you'll need for the 2018–2019 year of dance.
Keep reading...
Show less
Thinkstock
When you spend more time at the studio than your actual house, making sure you have everything you need throughout the day can be tough. Obviously, shoes and endless amounts of toe tape get first priority, but what else should you be sure to keep in your bag? From dance emergency must-haves to on-the-go beauty essentials, these are the items we're adding to our dance bag, stat.
Body Wrappers Pointe Shoe Ribbon Kit
via Body Wrappers
Whether you need to make a quick adjustment to your ribbons during class or you find yourself with downtime between rehearsals to catch up on sewing shoes, this kit has everything you need: 2 1/2 yards of stretch ribbon, 20 inches of elastic, 2 needles, a spool of extra strong thread, safety pins and a stitch ripper in one small tin.
discountdance.com, $10.96
Via @joandjax on Instagram
Summertime...and the dressing is eeeeeeeeeeasy. When you're heading straight from the dance studio to the pool or beach, you don't want to be messing around with complicated cover-ups. That's where these 5 MVPs of the romper room come in, bringing their breezy style to your pre-class, post-rehearsal, and everything-in-between looks. Oh, and three out of the five are on sale right now. So what are you waiting for? Go ahead and romper-ound! (Sorry, couldn't resist.)
The Soline, by Wear Moi
Via wearmoi.us
This oversized cap sleeve romper with a half zip in the front features four-way stretch and extra-comfy wide leg openings. You can get it now on Wear Moi's US website for less than half of its original price.
Left to right: Via Elevé Dancewear; Via LeaMarie
Planning to spend the majority of your summer sweating it out in the studio? Don't worry, you're not alone. And while you're definitely going to want to save the warmups for the winter, you can still accessorize your studio look without adding bulk, thanks to the always-in-style ballet skirt. From bright florals to washed out pastels and wild prints, we rounded up our favorite short (and a few long!) ballet skirts for summer.
AinslieWear Limoncello Wrap Skirt
via AinslieWear
f you can't spend your summer in the Mediterranean under actual lemon trees, this skirt is a solid backup. Plus, it gives us serious Beyonce "Lemonade" vibes, which will help you feel more fierce and less sweaty-mess in class (hopefully).
ainsliewear.com, $50
popular
Jun. 25, 2018 10:04AM EST
Photo Courtesy Freshify
Dancers know there's no time like summer for sun, sand...and sweat! Gross but true: Whether your summer intensive has air conditioning or not (just because some people like to yell about how AC is bad for dancers), there's no denying that summertime dancing brings with it all kinds of sweatiness—and resultant smelliness.
Consider this quintet of products your Anti-Odor Justice League. They're sworn to protect you—not to mention your fellow dancers!—from the sweaty, stinky, just-plain-nasty worst of all that higher temps threaten.
Keep reading...
Show less
Courtesy of barre + bag
Subscription box services have quickly gained a dedicated following among the fashion and fitness set. And while we'd never say no to a box with new jewelry or workout wear to try, we've been waiting for the subscription model to make its way to the dance world.
Enter barre + bag, a new service that sends a curated set of items to your door each season. Created by Faye Morrow Bell and her daughter Tyler, a student in the pre-professional ballet program at University of North Carolina School of the Arts, this just-launched service offers dance, lifestyle and wellness finds in four themed bags each year: Spring Performance, Summer Study, Back-to-Studio and Nutcracker. Since all the products are specifically made for dancers, everything barre + bag sends you is something you'll actually use, (Plus, it all comes in a bag instead of a box—because what dancer can ever have enough bags?).
Keep reading...
Show less
Courtesy Soffe, Dicsount Dance Supply, Danskin. LeaMarie leotard photographed by Jayme Thornton
Considering we practically live in our dance clothes, there's really no such thing as having too many leotards, tights or leggings (no matter what our mom or friends say!). That's why we treat every sale as an opportunity to stock up. And thanks to the holiday weekend, you can shop all of your dancewear go-tos or try something totally new for as much as 50% less than the usual price.

Here are the eight sales we're most excited about—from online options to in-store retailers that will help you find the perfect fit. Happy Memorial Day (and shopping)!
Keep reading...
Show less
popular
May. 18, 2018 03:07PM EST
If diamonds are a girl's best friend, it's safe to say that faux-diamond earrings are a dancer's best friend. A fixture onstage at just about every competition weekend, these blinged-out baubles are also the surest sign that recital season is upon us again. And what better way to get into the sparkly spirit than by drooling over these 5 diamonds in the rough? (Sorry not sorry!)
Keep reading...
Show less
popular
May. 11, 2018 10:27AM EST
Thinkstock.
Finding the right pointe shoe is hard enough. But as any serious ballet dancer can tell you, it's only half the battle. The padding you pair with your pointe shoes plays a big role in your ability to stay on your toes pain-free (or close to it) through classes and rehearsals. When Second Skin squares alone won't cut it, there's a new generation of toe pads to provide relief.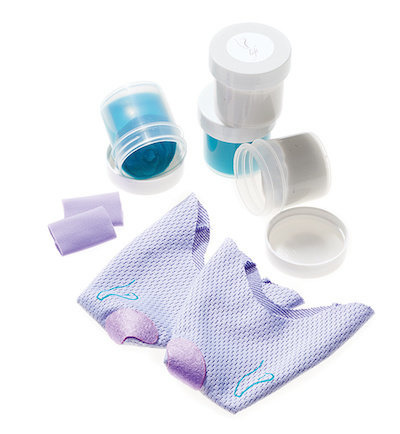 Photo by Nathan Sayers
Chances are you've seen these pads (and the telltale blue putty that comes with them) on your Instagram feed. The completely genius PerfectFit inserts are actually customized molds that fill any spaces between your toes and your shoe vamp, and help reduce pressure on commonly irritated spots like bunions. Though they've only been around for a few years, PerfectFit pads have already gained a huge pro following, including New York City Ballet's Sara Mearns, Royal Danish Ballet's Holly Dorger and Los Angeles Ballet's Bianca Bulle.
Keep reading...
Show less
Via @apollaperformance on Instagram.
Oh, socks: What are we gonna do with you? Many dancers—ourselves definitely included—have a love-hate relationship with this unassuming member of the footwear family. On the one hand, they feel oh-so-essential for pulling off endless turns in contemporary class. On the other hand, we've heard our fair share of horror stories from fellow dancers of catastrophic slips that led directly to serious injuries. Then what's a dancer to do? We're so glad you asked.
Below are five of our favorite dancer socks that won't let you down (literally or figuratively).
Keep reading...
Show less


Get Pointe Magazine in your inbox