Courtesy of barre + bag
Subscription box services have quickly gained a dedicated following among the fashion and fitness set. And while we'd never say no to a box with new jewelry or workout wear to try, we've been waiting for the subscription model to make its way to the dance world.
Enter barre + bag, a new service that sends a curated set of items to your door each season. Created by Faye Morrow Bell and her daughter Tyler, a student in the pre-professional ballet program at University of North Carolina School of the Arts, this just-launched service offers dance, lifestyle and wellness finds in four themed bags each year: Spring Performance, Summer Study, Back-to-Studio and Nutcracker. Since all the products are specifically made for dancers, everything barre + bag sends you is something you'll actually use, (Plus, it all comes in a bag instead of a box—because what dancer can ever have enough bags?).
Keep reading...
Show less
Courtesy Soffe, Dicsount Dance Supply, Danskin. LeaMarie leotard photographed by Jayme Thornton
Considering we practically live in our dance clothes, there's really no such thing as having too many leotards, tights or leggings (no matter what our mom or friends say!). That's why we treat every sale as an opportunity to stock up. And thanks to the holiday weekend, you can shop all of your dancewear go-tos or try something totally new for as much as 50% less than the usual price.

Here are the eight sales we're most excited about—from online options to in-store retailers that will help you find the perfect fit. Happy Memorial Day (and shopping)!
Keep reading...
Show less
popular
May. 18, 2018 03:07PM EST
If diamonds are a girl's best friend, it's safe to say that faux-diamond earrings are a dancer's best friend. A fixture onstage at just about every competition weekend, these blinged-out baubles are also the surest sign that recital season is upon us again. And what better way to get into the sparkly spirit than by drooling over these 5 diamonds in the rough? (Sorry not sorry!)
Keep reading...
Show less
popular
May. 11, 2018 10:27AM EST
Thinkstock.
Finding the right pointe shoe is hard enough. But as any serious ballet dancer can tell you, it's only half the battle. The padding you pair with your pointe shoes plays a big role in your ability to stay on your toes pain-free (or close to it) through classes and rehearsals. When Second Skin squares alone won't cut it, there's a new generation of toe pads to provide relief.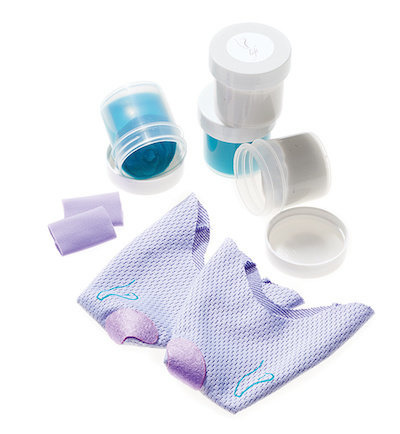 Photo by Nathan Sayers
Chances are you've seen these pads (and the telltale blue putty that comes with them) on your Instagram feed. The completely genius PerfectFit inserts are actually customized molds that fill any spaces between your toes and your shoe vamp, and help reduce pressure on commonly irritated spots like bunions. Though they've only been around for a few years, PerfectFit pads have already gained a huge pro following, including New York City Ballet's Sara Mearns, Royal Danish Ballet's Holly Dorger and Los Angeles Ballet's Bianca Bulle.
Keep reading...
Show less
Via @apollaperformance on Instagram.
Oh, socks: What are we gonna do with you? Many dancers—ourselves definitely included—have a love-hate relationship with this unassuming member of the footwear family. On the one hand, they feel oh-so-essential for pulling off endless turns in contemporary class. On the other hand, we've heard our fair share of horror stories from fellow dancers of catastrophic slips that led directly to serious injuries. Then what's a dancer to do? We're so glad you asked.
Below are five of our favorite dancer socks that won't let you down (literally or figuratively).
Keep reading...
Show less


Get Pointe Magazine in your inbox