Courtney Nitting started her first season with Kansas City Ballet last fall with the normal rituals of company life: headshots for the website, ordering her customized pointe shoes and claiming a spot at the barre. Each of these simple things was a "pinch me" moment she thought might never come.
"I still can't believe it," says Nitting. "I'm in a company for real."
It took Nitting, 21, more than three years of auditions to get a company contract. Her talent and passion brought her close to her dreams several times: Prestigious companies expressed interest but not job offers, and a year in a second company didn't produce a contract. Still, she never stopped trying, enduring about 200 auditions, with $9,000 in related expenses.
---
"Courtney is one of the hardest workers I've ever taught," says Nancy Bielski, a teacher at Steps on Broadway whom Nitting trained with. "She's had a lot of bad things happen with auditions. But she's resilient. She never gave up, ever."
A Few Close Calls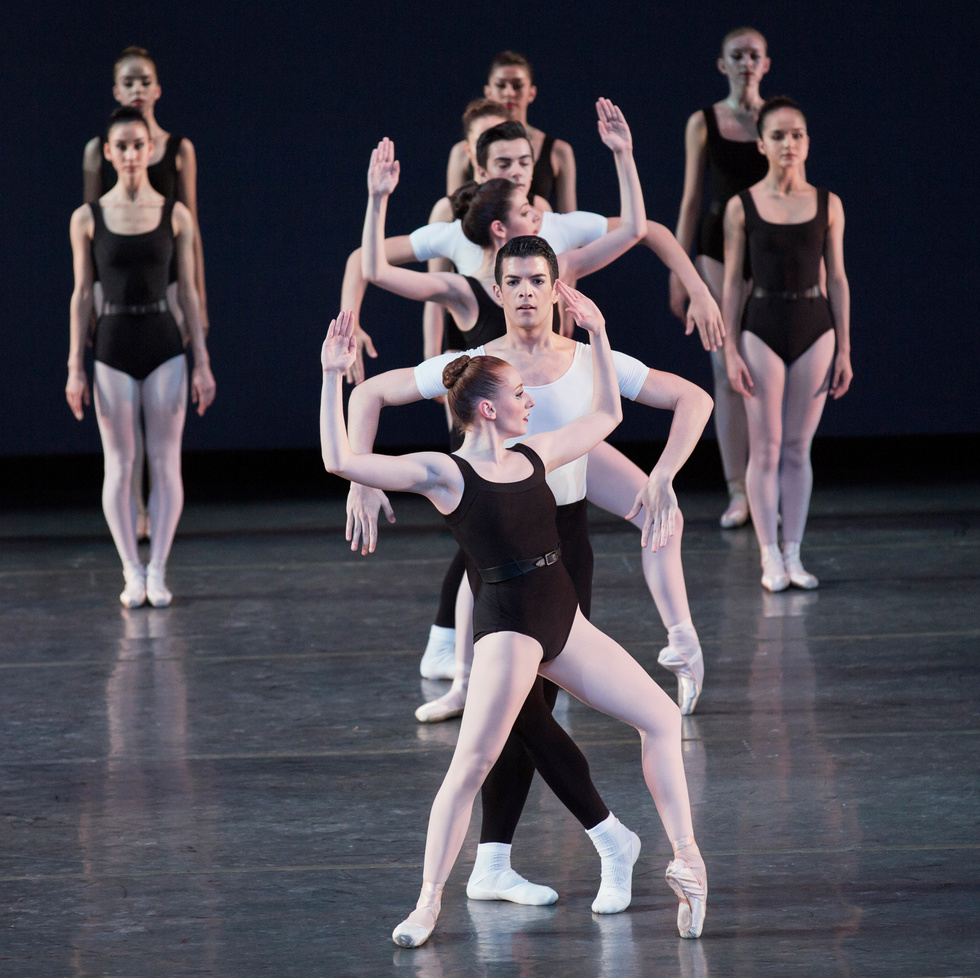 Nitting in The Four Temperaments at her School of American Ballet workshop performance
Paul Kolnik, Courtesy SAB
In the spring of 2015, Nitting was in Level D at the School of American Ballet, usually the final year of training for young women. She did several auditions and received interest from Royal Danish Ballet, but international contract technicalities prevented a formal job offer. SAB advised her to repeat a year in Level D. She wasn't thrilled but knew it was the best way to be ready for the next audition season.
Another year of polishing pushed her technique and got her noticed. The directors of Royal Danish Ballet, Miami City Ballet and Dresden Semperoper Ballett saw her in class at SAB. Royal Danish and Miami both invited her to take class with their companies (at her own expense, as is typical) to consider her for a possible corps contract. Meanwhile, Dresden Semperoper's director offered her an apprenticeship, but she had to decide before hearing from the other companies about a corps spot, so she turned him down. In the end, Royal Danish told her she wasn't a fit and Miami said the contract was no longer available.
But Nitting still had hope—she'd been cast in the lead role of Sanguinic in The Four Temperaments in SAB's workshop. Alastair Macaulay, the famously tough critic for The New York Times, raved about her, saying she was "marvelous" and she "always took my breath away." She held out hope that her success would bring an offer, maybe even from New York City Ballet. But in the end, nothing came her way.
On Her Own
Nitting spent the next year in the work-study program at Steps, where dancers take class for $5 in exchange for working at the studio. "I didn't make other plans outside of dance," she says, "so I just had to keep going." She took daily class from Bielski and booked a few freelance gigs, working with Tom Gold Dance, Eglevsky Ballet and Neglia Ballet.
And, for the third year in a row, she did open calls in New York City and sent out videos to companies, but struck out. She went to Miami City Ballet's open call, given their interest the year before, only to be cut after barre.
Nitting decided not to travel for auditions anymore. "It's too expensive for the possibility of ending up with nothing," she says. Bielski says that finding a job is like going on a date—chemistry with the director has to be right. She explains that Nitting's body type is muscular and athletic, which doesn't fit with every company. While Nitting's technique is quite strong, her artistry makes her really shine, and that doesn't always show in an audition setting.
Finally, in June 2017, after months with no traction anywhere, Nitting got a spot with Pennsylvania Ballet II, which gave her the opportunity to perform with the main company in The Nutcracker and Swan Lake. The experience made her want a contract more than ever. But mid-season, the artistic staff informed her she wasn't a fit for Pennsylvania Ballet.
For the fourth year in a row, Nitting was back on the audition circuit.
The Turning Point
A fresh round of rejections followed and it wore her down. "I wondered if maybe this wasn't for me," she says. "I also knew that, age-wise, my time was running out."
Finally, in the spring of 2018, at an open call for Kansas City Ballet, she caught the eye of artistic director Devon Carney, who remembered her from an audition video she'd sent two years earlier. "She was attentive to the steps in a more mature way than most," he says. "You could also tell she enjoyed herself."
He emailed Nitting and asked her to send a video with studio variations and performance footage from her freelance gigs. "That was the deal maker," says Carney. "She definitely showed her abilities." He offered her a spot in KCB II, and while it wasn't the apprentice or company contract Nitting hoped for, she wanted to keep dancing and took it.
Almost two months later, she emailed Carney to ask about finding housing she could afford on a second-company salary.
"He said a spot opened up in the main company, and he thought of me first," she says. He asked her if she wanted it. "I was shocked!"
Carney notes that, in addition to Nitting's enthusiasm and professionalism, part of why he hired her stemmed from his memory of the audition video she'd sent two years earlier. She had radically improved since then, he says. "I had a better understanding of who she was than the other dancers I could choose from."
A New Life
Nitting is glad she stuck it out, but she won't miss auditioning, which she says can be dehumanizing. "I know it's a business, but it's like companies forget you're a person. They'll charge $30 for an open audition and then cut you after 10 minutes," she says.
Her love of performing kept her going, as did support from her family. "My mom came with me to most of my auditions," says Nitting, who adds that she's her best friend. "The hardest part was when I'd hear my number called to get cut. I didn't want to leave the studio and see my mom's face after another rejection."
Her mother came to Kansas City for Nitting's first performance with the company in The Wizard of Oz. As she walked up to the theater, she saw a poster of all the company dancers and stopped to take a picture. A stranger asked her if she knew someone in the show.
"My daughter," her mother replied. "She's in the company."