This story originally appeared in the August/September 2016 issue of Pointe.
Today, she's a confident Miami City Ballet soloist, but Emily Bromberg wasn't always so self-assured. As a teenager, she withered under the weight of self-doubt. Even being cast as Kitri in her first professional production of Don Quixote, at Festival Ballet Providence, didn't bolster her confidence—instead, she convinced herself she was too immature for the role and nearly melted in tears midway through her debut. "I was constantly double- and triple-checking myself, wondering what other people thought, wondering if I was good enough," she recalls. "It's the nature of the dance world, but there were moments when I was really at the edge of giving up."
---
These kinds of self-confidence issues, fueled by endless criticism, high pressure to succeed and a flood of intimidating images on social media, can plague dancers for years. It's easy to start questioning your worthiness in comparison to the latest Instagram star, but in the competitive and uncertain dance world, belief in yourself is crucial to reaching your goals—and your full potential.
A Healthy Sense of Self
The basis of innate self-confidence is recognizing that you're a human being with imperfections like anyone else, while understanding that your shortcomings don't define you as a person or as a dancer. "Self-confidence is having an accurate view of yourself and feeling good about it," says Dr. Nadine Kaslow, a psychologist who works with Atlanta Ballet. But being pleased with yourself does not necessarily mean that you have an overblown ego. "It's not arrogance or narcissism. You know you're not perfect—but you feel good about yourself."
Jenifer Ringer, former New York City Ballet principal who now directs the Colburn Dance Academy in Los Angeles, notes that self-confidence has a major impact on artistry—something she learned from personal struggles throughout her career. "Being hypercritical makes a dancer her own worst enemy," says Ringer. "Knowing that you're not defined by any one performance frees you to be the artist you want to be, and people who are able to do that are the most effective performers."
The Dancer's Dilemma
Confidence comes from combining a realistic self-assessment with a strong drive to improve. One big challenge for dancers is developing a clear sense of themselves in the first place. It's hard to gauge your own merits and progress in the traditional ballet school setting, however, where you're taught to rely only on the signals you receive from the person in the front of the room. And in an art form so focused on aesthetics, where everything (your technique, your body, even your hairdo) is measured against a predetermined idea of perfection, self-esteem can take a big hit.
Dr. Brian Goonan, Houston Ballet's psychologist, says students and young professionals are particularly vulnerable to confidence problems. "Early in their careers, dancers don't have a fully developed sense of self yet," he says. "They form their view of themselves based on the perception and feedback of others. And they can end up taking in a lot of negativity."
As a result, ambitious dancers can develop counterproductive behaviors that inhibit progress, such as relentless self-deprecation. "We all talk to ourselves in the third person," says Goonan, "as if there's somebody outside of us saying, 'Stop being so stupid.' Part of it does provide some motivation for improvement, but if it's too frequent it shames more than guides and doesn't help you advance."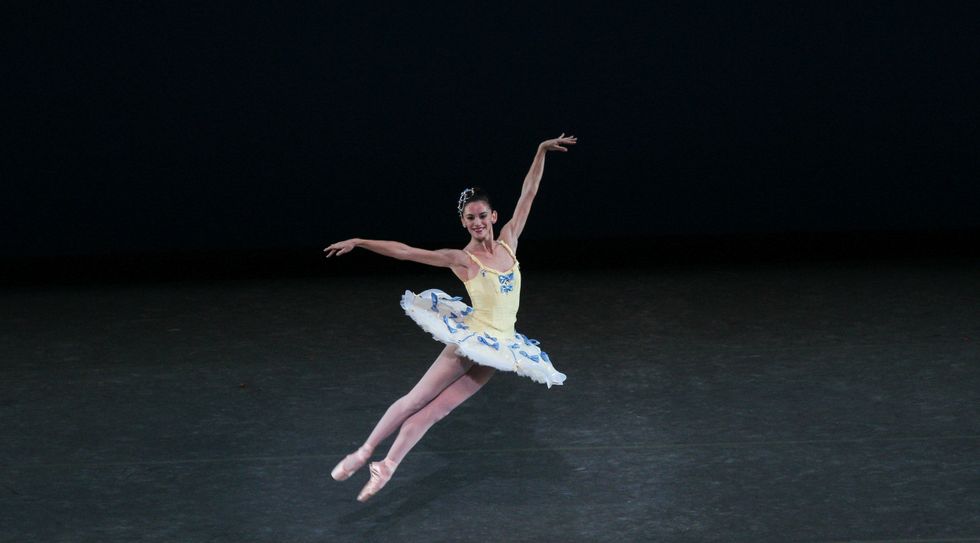 Emily Bromberg performing Balanchine's "Divertimento No. 15." Photo by Daniel Azoulay, Courtesy Miami City Ballet.
Ballet's competitive nature can exacerbate the problem, especially if you see dancers around you succeeding. Bromberg fell into the trap of obsessively comparing herself to her classmates as a student, even stressing over inconsequential details, like the length of her eyelashes. It became a major distraction. "I'd look at every other girl in my class and think about how they had it all and I didn't," she says. Unable to trust her own instincts, Bromberg would pester her mother endlessly with questions after performances, fishing for compliments about her appearance as well as her dancing. "Those affirmations made me feel good for a moment, but not for long," she says.
Ultimately, unconfident dancers can develop defeatist attitudes and avoid taking risks out of a fear of failure. Ringer worries when she sees dancers giving up on themselves easily or resisting trying hard steps. "So much of dance is delayed gratification," she says. "If you hold back, you're shortchanging yourself. You've missed an opportunity to improve."
Focus on Your Goal, One Step at a Time
Stopping the vicious cycle of self-doubt begins with the realization that your identity (and worth) is not pinned to how you dance in class or onstage. Learning to not take feedback personally is key, says Goonan. "Corrections are not an attack on who you are," he says. "If you can think of them as being about what you're doing, rather than about you, it creates better health."
Ringer notes that the student/teacher relationship is not a passive one, and that you should both ultimately want the same thing: to make you a better dancer. "You don't just come to class to receive corrections and be told what's good or bad," she says. "You go into it as a partnership, with your own goals as well as the teacher's. It's important to feel like you're on the same path."
Reining in perfectionism can help, too. Virginia Johnson, artistic director of Dance Theatre of Harlem, says that the trick is to balance reality against the ideal. "The ideal is something you use as your compass, but it's not actually possible to attain," Johnson says. She advises dancers to measure their goals with what they are equipped with to get there. "Polish your strengths so they're the center of attention, and know what can and can't be done to change your weaknesses."
Summoning up the courage to risk failure is another step in building self-confidence, and it takes practice. But knowing that you've pushed yourself out of your comfort zone will give you a well-deserved boost, along with the resiliency to try again. "It's about giving yourself value," says Ringer. "You're worth it to try, and even if it's not perfection, you've accomplished something."
Bromberg's turning point came when she realized that acknowledging her weaknesses didn't mean giving in to them. Setting her own goals, instead of worrying about how she measured up to others, helped her reignite her ambition and overcome her reliance on positive messages to feel good. Progress, she realized, comes in increments, so she set more realistic goals that she could build upon over time. "Trying your best doesn't mean nailing every turn or jump, but doing and giving everything you can on any given day."
In the topsy-turvy dance world, even the most self-assured principals are dealt disappointing blows. Ultimately, the key to regaining your confidence after the inevitable setbacks is remembering what's driving you to dance in the first place. Without your own passion as your anchor, you become too dependent on other people's approval to feel good. "The ballet world is so fickle," says Ringer. "There are huge highs and huge lows, on an hourly basis. It's important to have a solid sense of self that can ride out the ups and downs."