popular
Apr. 04, 2018 04:35PM EST
Vanessa Woods in Saint Louis Ballet's Swan Lake. Pratt + Kreidich Photography, courtesy Woods.
During her second season at Saint Louis Ballet in 2012, Vanessa Woods' search for a fulfilling side job led her to start her own. With a reputation of being "the business ballerina" (she earned her degree in marketing from Washington University in St. Louis' night program while dancing with SLB), Woods began brainstorming ideas with her mom.
After realizing seniors were overlooked in the dance world, Woods decided to create Vitality Ballet, a program for senior citizens. "I think as dancers we're used to being told what to do," she says. "At times it's hard to figure out what to do next, and how do you properly launch a website, and figure out pricing, and hire teachers?"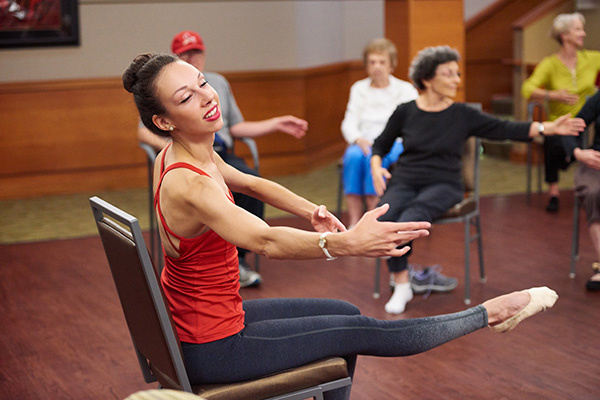 Woods teaching Vitality Ballet. Pratt + Kreidich Photography
Keep reading...
Show less
Studio to Street
Oct. 11, 2017 09:26PM EST
Photo by Quinn Wharton
Fabrice Calmels has his studio look down to a science: a warm vest, traditional ballet tights, his favorite Lululemon yoga pants and—most importantly—the piece he calls his "accent T-shirt," which acts as the focal point. "I don't like anything too flashy," the Joffrey Ballet dancer says, "but I will always have an accent T-shirt, and it's always a cartoon character that is really well known." His collection of shirts features Pokémon, Transformers and Lilo & Stitch, among others.
Accents play a role in his streetwear, too. "It depends where the accent color is," he says. "If I pick whiter shoes, then I try to keep my jeans and my upper body a little bit darker, plain. If it's my shirt, then my shoes are going to be much more simple." Calmels gets some of his ideas about fashion from friends he's made in the modeling world. After participating in a Versace campaign in Chicago, he signed with IMG Models. He favors an urban vibe—well-cut leather jackets, classic T-shirts, jeans and sneakers. But even with staple pieces, he has an eye for quality and detail. "I'm looking for cool, slightly different, but still simple," he says. "Not just a plain T-shirt you can find anywhere."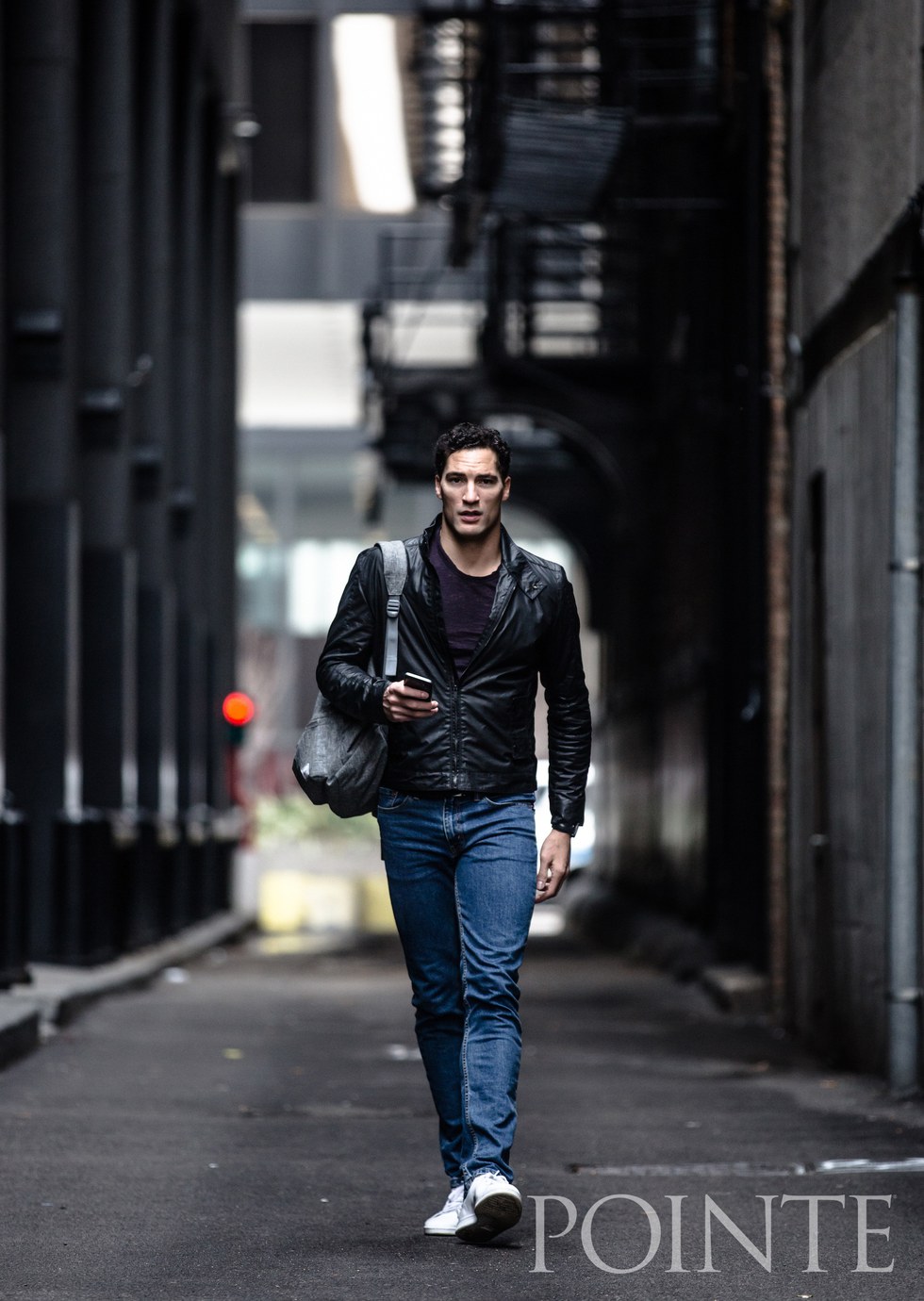 Photo by Quinn Wharton
Keep reading...
Show less
Studio to Street
Aug. 02, 2017 03:22PM EST
Photo by Kyle Froman
For Zhong-Jing Fang, being an artist extends beyond the studio or stage. "Being a ballerina is such a creative thing, and that gives me permission to be creative in my own life," says the American Ballet Theatre corps member, who's known for her collection of whimsical hats. She discovered her love of hats a few years ago while recovering from an ankle injury, when she came across a shop full of them. "I used to go there and try different hats on and the designer would tell me, 'This hat was inspired by Audrey Hepburn,' or 'This was inspired by Liza Minnelli,' " she says. "It gave me an idea that hats can capture some spirits." She enjoys the process of browsing vintage stores and boutiques and crafting her own outfits.
In rehearsal, Fang's look varies depending on her mood and the repertoire, but she especially loves practice tutus, leotards with lace and mesh detailing, and French brands like Chacott. "I want to look classic and clean because ballet is such a sculpting art—everything is about lines and sculptures," she says. In or out of the studio, fashion is an opportunity to show her individuality. "I think it's very encouraging for ballerinas to think outside of their box," she says. "It's so inspiring because everyone has different style."
Keep reading...
Show less
Studio to Street
Jul. 19, 2017 09:11PM EST
Photo by Amitava Sarkar
"I'm kind of a collector of clothes," says Natalie Varnum. The Houston Ballet corps member turned a spare room in her home into a walk-in closet and fills it with eccentric pieces. "I love big, clear oversized sunglasses; or a high-waisted pant, socks and loafers; or a newsboy hat," she says. Varnum is inspired by icons from the '60s and '70s—Jimi Hendrix, Jane Birkin, Elton John—and she finds endless ideas on social media. She'll search Pinterest for photos, follow up-and-coming stylists on Instagram or update her own blog with "outfit of the day" posts. It was through Instagram that she recently met South Korea–based designer Sandra Meynier Kang, who reached out in hopes of collaborating and sent her a sample from her new leotard line. "It's the best way to make faraway friends now," Varnum says.
In the studio, Varnum takes a more conventional approach—sometimes. "I like a classic ballerina look, like light pink, long sleeves," she says, "or I go for something completely crazy." She commissions fun patterned leotards from her friend, former company dancer Jordan Reed, who now runs Lone Reed Designs. Her collection includes leos printed with pizza and doughnuts. Whatever she's wearing, Varnum is not afraid to stand out. "There's a time and place for a classic little black dress," she says, "but I tend to go for the more out-there pieces and colors."
Keep reading...
Show less
Photo by Quinn Wharton for Pointe.
Why darn your pointe shoes? The Joffrey Ballet's Victoria Jaiani finds that darning gives her shoes a slightly bigger platform and harder tip, and helps them last longer through demanding ballets. We asked her to share her secrets with us.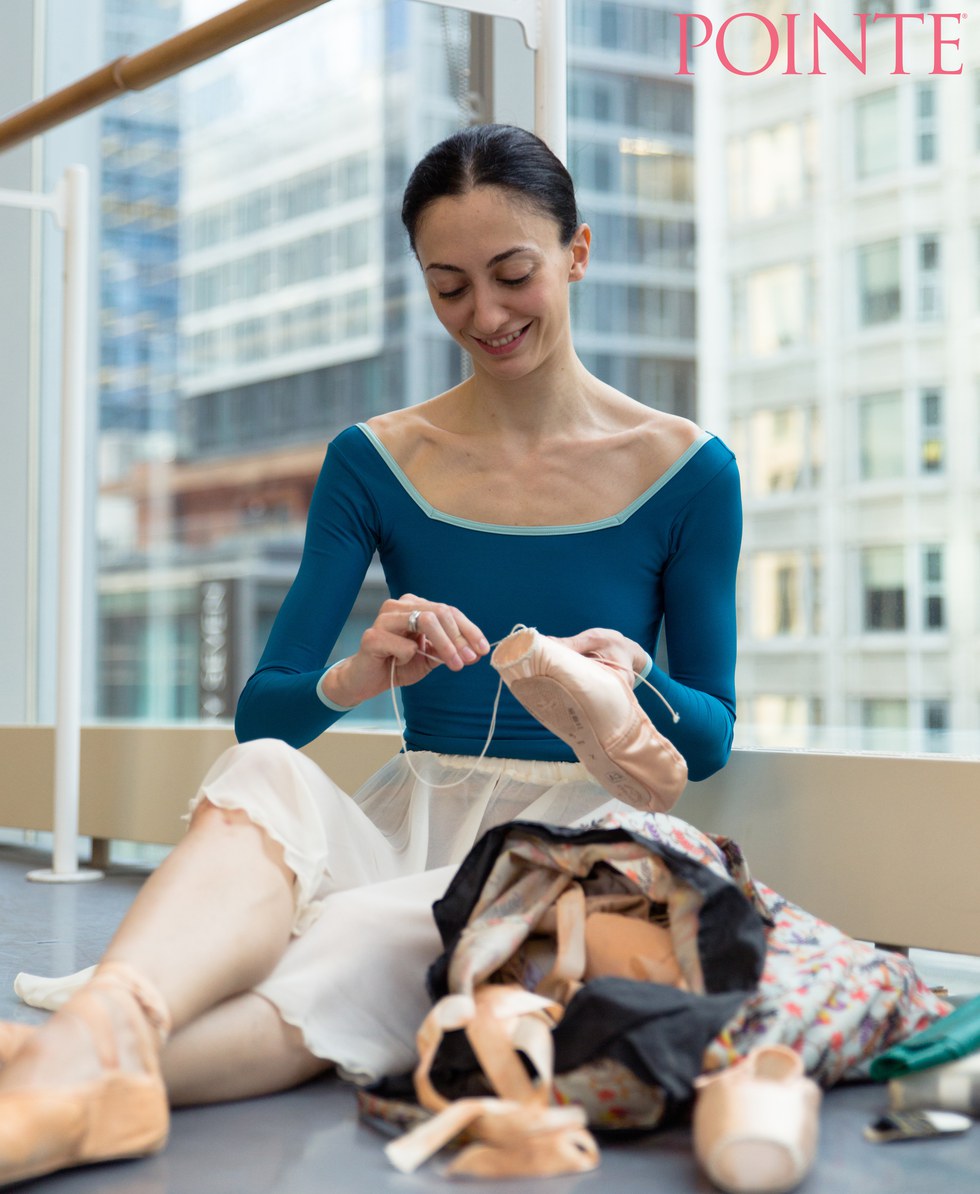 Photo by Quinn Wharton for Pointe.
Keep reading...
Show less
Photo by Liza Voll
Rachele Buriassi loves leotards: In her 12 years as a professional dancer, the Boston Ballet soloist estimates that she's accumulated over 150 of them. "Maybe it's because we spend most of the day in ballet clothes," she says. "I like to have many options." Her collection includes leotards bought on tour in France and Spain, ordered online and designed by Buriassi herself, with the help of Kenneth Busbin in BB's costume department. "You can choose the color and design it, and then he will make it for you," she says. Routine is important to her, and she tries to get to the studio at least half an hour early to choose her outfit, tape her toes and start warming up. "But I never do my hair for class," she laughs, preferring to wear it down or in a braid.
Outside the studio, Buriassi goes for a stylish yet low-key vibe, often choosing designer brands. "I don't want to look like I've been thinking too much about it," she says. Don't let that attitude fool you, though: She loves to shop, especially while traveling. "Whenever I go somewhere, I like to have a day to shop and look for different special things," she says. That desire to find unique and meaningful pieces is characteristic—Buriassi isn't interested in looking like anyone else. "I like to be myself and wear what I feel comfortable in," she says.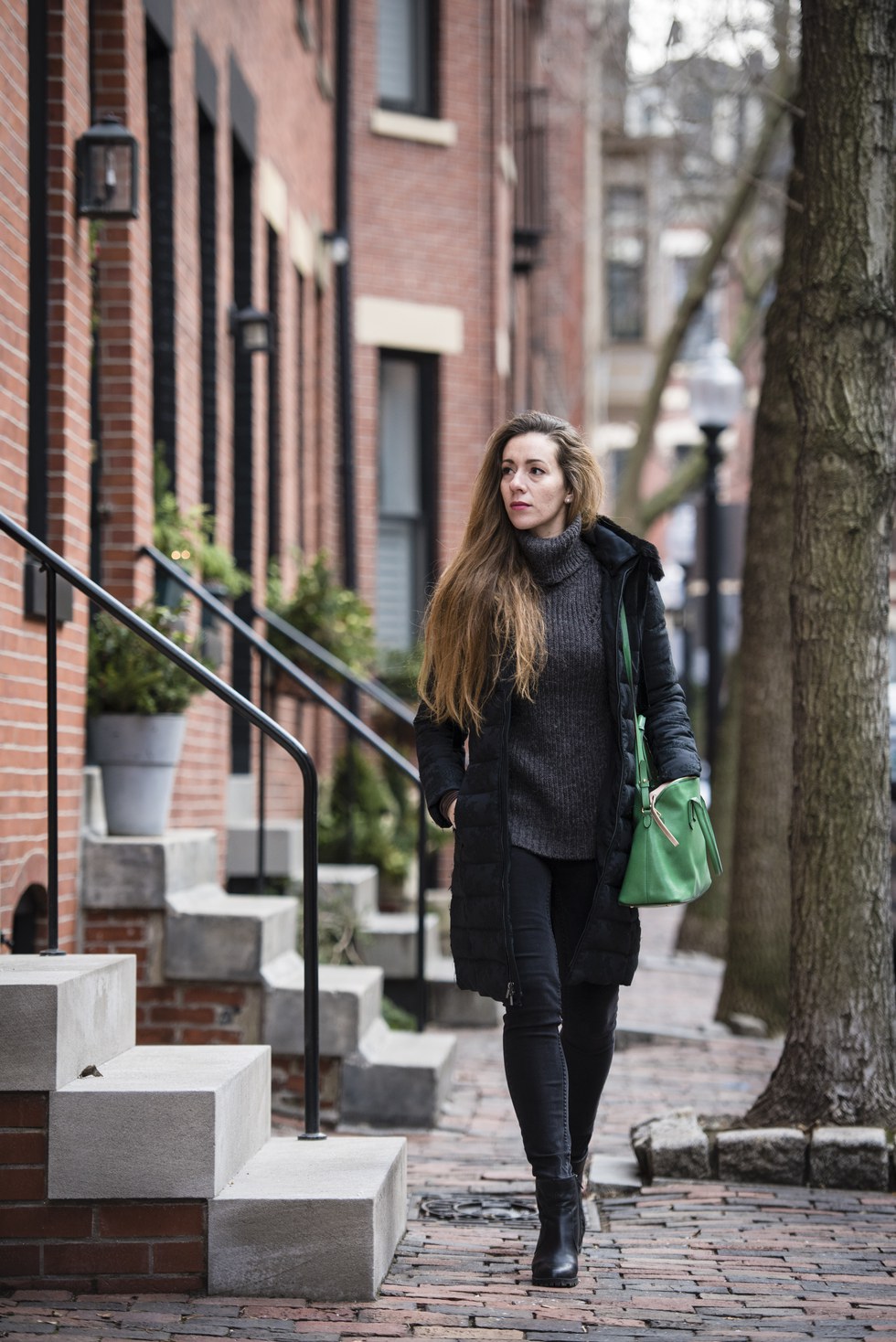 Photo by Liza Voll
Keep reading...
Show less


Get Pointe Magazine in your inbox