News
May. 24, 2018 09:33PM EST
Joffrey Ballet dancers Christine Rocas and Dylan Gutierrez in "Giselle." Photo Courtesy Spring to Dance Festival.
For the first time since its inception 11 years ago, Dance St. Louis' annual Emerson Spring to Dance Festival — May 25 and 26 at the University of Missouri–St. Louis' Touhill Performing Arts Center — will be curated by someone other than festival founder Michael Utoff. That job fell to newly hired programming consultant Terence Marling.
Hailed as "arguably the best dance buffet in the Midwest" by the Chicago Tribune, the popular festival is known for championing lesser-known regional dance artists and companies. It will retain that focus under Marling, along with representation by more familiar names such as Houston Ballet, Joffrey Ballet and Marling's former company, Hubbard Street Dance Chicago.
Keep reading...
Show less
James Ihde partners Lillian DiPiazza in Balanchine's Concerto Barocco. Photo by Alexander Iziliaev, Courtesy PAB.
One of Pennsylvania Ballet's longest tenured dancers, soloist James Ihde is retiring from the company after 25 years. The Kent, Ohio–native began his dance journey at the Dance Institute of the University of Akron and The Rock School before joining Pennsylvania Ballet in 1993. His numerous stage credits include George Balanchine's Agon, William Forsythe's Artifact Suite, Jiří Kylián's Forgotten Land and Christopher Wheeldon's Liturgy. Before his final performance on May 13, Ihde offers his advice to young male dancers looking to follow in his footsteps.
On Coping with Stereotypes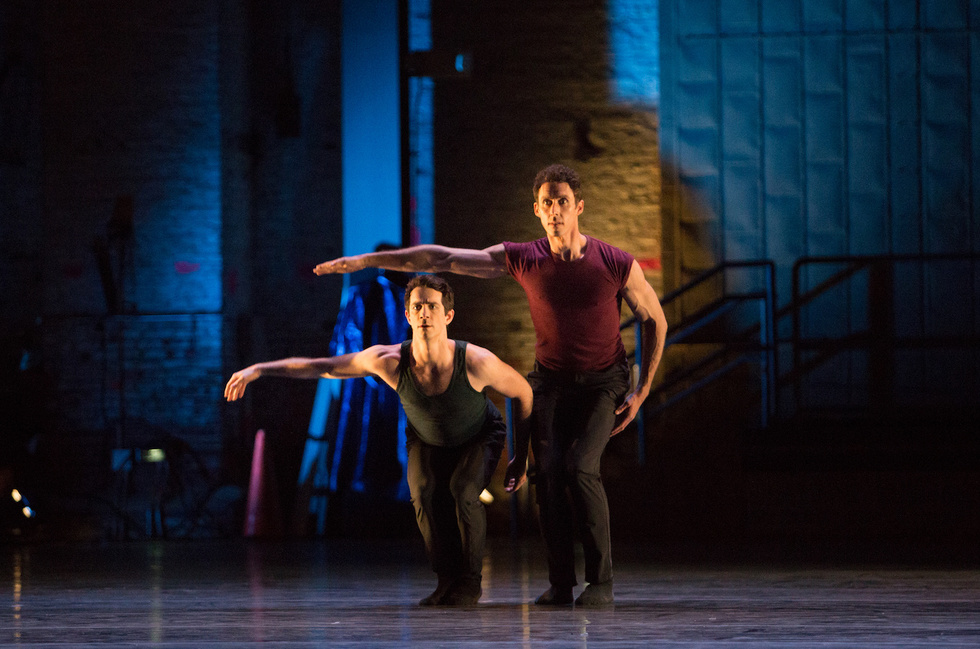 Ihde and Ian Hussey in Matthew Neenan's Archīva. Photo by Alexander Iziliaev, Courtesy PAB.
Keep reading...
Show less
Sappington rehearsing Alice at Cleveland Ballet. Photo by Peter Sampson, Courtesy Cleveland Ballet.
Nearly four decades ago, choreographer Margo Sappington made a long-lasting impression on Gladisa Guadalupe. Back then, Guadalupe was just a 17-year-old member of Venezuela's Ballet Nuevo Mundo de Caracas, and Sappington was choreographing on the company. Guadalupe told a fellow dancer that, someday, when she had her own company, she'd have Sappington create a ballet on it.
Guadalupe has kept that promise. Now the artistic director of Cleveland Ballet, a 14-member company launched in 2015, Guadalupe has commissioned the 70-year-old Sappington to create a ballet based on Lewis Carroll's books Alice's Adventures in Wonderland and Through the Looking-Glass.
Keep reading...
Show less
Nedvigin teaching company class. Photo by Charlie McCullers, Courtesy Atlanta Ballet.
Gennadi Nedvigin recalls a ballet class he took in 2016, shortly after becoming Atlanta Ballet's artistic director. The recently retired San Francisco Ballet star was wrapping up performance commitments, so while taking barre, he answered work emails on his phone, got sidetracked and kept repeating his ronds de jambe.
Now, fully retired and in his second season directing, the Russian-born, Bolshoi-trained Nedvigin says he is free from distraction and focused on one job. That is, reshaping the 88-year-old Atlanta Ballet into his vision of a world-class company that performs classical, neoclassical and contemporary works. He hopes to build an exclusive repertoire and add touring opportunities.
Keep reading...
Show less


Get Pointe Magazine in your inbox