Rachel Hellwig
Rachel is a dance writer from Birmingham, Alabama. She enjoys taking ballet classes, reading about dance, and attending live performances of ballet and classical music.
Houston Ballet principal Connor Walsh getting early practice as a leading man. Photo courtesy Connor Walsh
It's that time of year again—recital season! And not so long ago, some of your favorite ballet dancers were having their own recital experiences: dancing, discovering, bowing, laughing, receiving after-show flowers, making memories, and, of course, having their pictures taken! For this week's #TBT, we gathered recital photos—and the stories behind them—from five of our favorite dancers.
Gillian Murphy, American Ballet Theatre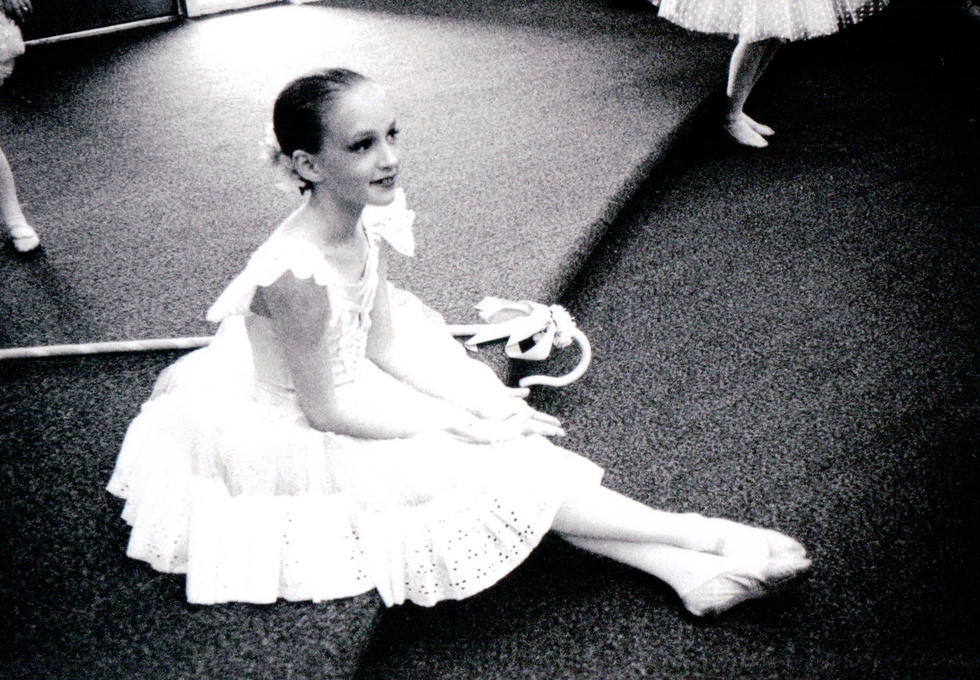 Murphy gets ready for her role as "Mary Had a Little Lamb." Photo courtesy Gillian Murphy.
"This photo was taken by my mom when I was 11, waiting in the dressing room (the band room of West Florence High School in South Carolina) before I went onstage as 'Mary' for a recital piece featuring 3-year-olds as little lambs.I had so much fun being the teacher's assistant in the baby ballet class each week, particularly because my little sister Tessa [pictured below] was one of the 3-year-olds. I remember feeling quite grown up at the time because I was dancing in the older kids' recital piece later in the program, but in this moment I was just looking forward to leading my little lambs onstage in their number."
Keep reading...
Show less
Mr. Jeremy FIsher, from Sir Frederick Ashton's "The Tales of Beatrix Potter."
Animal roles might not typically be what dancers dream of performing…but they're oh-so-fun to watch. You can't help falling under their spell (and perhaps aspiring to dance one someday). Here's a round-up of some of our favorite furry and feathered roles.
Bunny Hop
Run. Dance in a circle. Pretend to be a rabbit. It might sound like a creative movement combo, but don't let that fool you. The role of Peter Rabbit in Sir Frederick Ashton's The Tales of Beatrix Potter requires fierce technique—not to mention the ability to project personality while wearing an animal head and fur suit.
Four-Legged Interlude
Who do you turn to for halftime entertainment during a quartet of fairy variations? Dancing lizards, mice and a frog of course! This charming quintet of creatures light up the stage in David Bintley's Cinderella.
Keep reading...
Show less
Trending
Dec. 22, 2017 07:59PM EST
Eileen Frazer with Jonathan David Dummar in "The Nutcracker." Photo by Louis Tucker, Courtesy Ballet Memphis.
And 5,6,7,8... The countdown to the New Year is on!
Here's a peak at what five dancers from around the country are aiming for in 2018.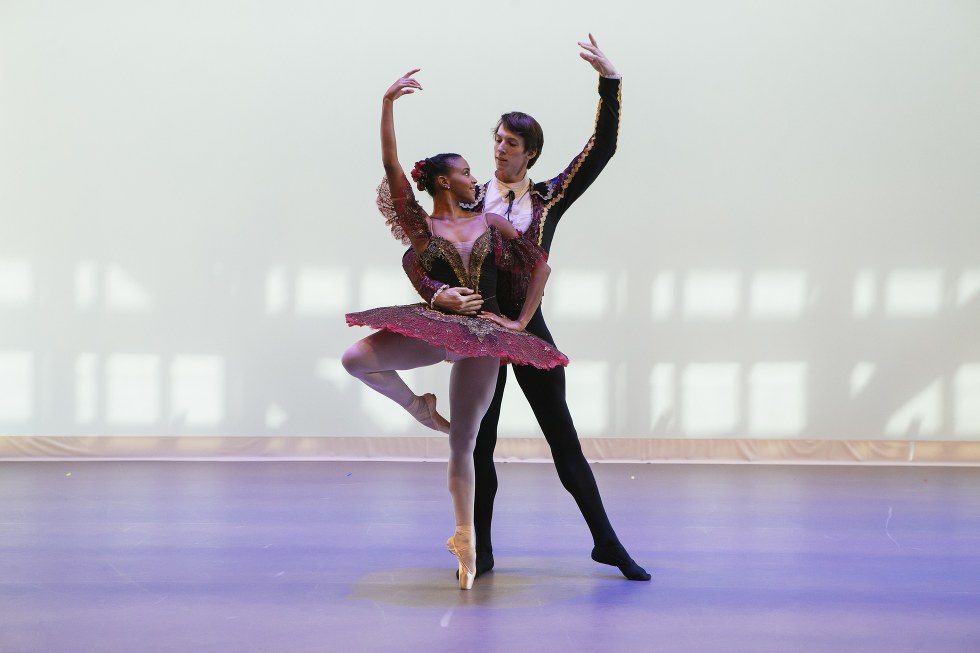 Eileen Frazer with Brandon Ramey in "Don Quixote". Photo by Louis Tucker, Courtesy Ballet Memphis.
Eileen Frazer, Ballet Memphis

Mindfulness: It's easy to get lost in perfectionism and the stress that comes with this career path. I want to remember to enjoy every performance and be fully present in experiences that come my way.
Be bold: I also want to dare to be bold, further develop the qualities that make me who I am as a dancer and find different ways to share my personality and experiences through the art form.

Family: Since I'm from Panama, I likewise want to keep nurturing my relationships with my family and friends.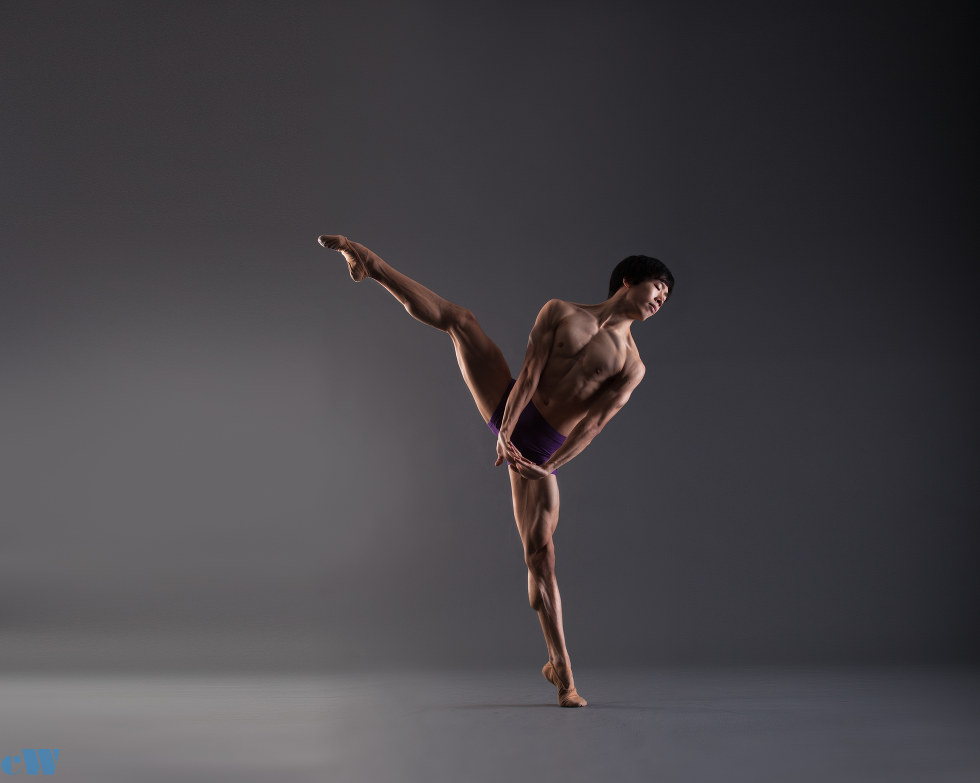 Koki Yamaguchi. Photo by Colton West Photography, Courtesy Eugene Ballet.
Koki Yamaguchi, Eugene Ballet
Strength training: My dance resolution is to improve my technique with strength training and stretching.
(Physical) growth: As a short dancer I'm always trying to be larger in my movements.

Peer inspiration: I'd also like to learn new things by watching other company dancers such as Hirofumi Kitazume who performs dynamic jumps like the double revoltade and 540.

Keep reading...
Show less
popular
Nov. 13, 2017 09:29PM EST
Smuin Ballet dancers Erica Felsch, Rex Wheeler, Mengjun Chen and Tessa Barbour in "White Christmas," choreographed by dancers Ben Needham-Wood and Michael Smuin. Photo by Keith Sutter, Courtesy Smuin Ballet.
Nutcracker-ed out? Or just can't get enough holiday ballets? These unique Nutcracker interpretations and non-Nutcracker productions will make your season bright.
The Hip Hop Nutcracker
Through December 30
Tchaikovsky's masterful Nutcracker score isn't just for classical ballet…
Hip Hop + a live DJ + an electric violinist unite in The Hip Hop Nutcracker, currently touring the U.S.
Familiar characters such Drosselmeyer, the Nutcracker, Mouse King and Marie (here called Maria-Clara) dance through an updated New York City storyline with choreography by Jennifer Weber, artistic director of the Brooklyn-based theatrical hip hop company Decadancetheatre.
Premiered in 2014, The Hip Hop Nutcracker is produced by New Jersey Performing Arts Center.
Keep reading...
Show less
The Joffrey Ballet rehearses "Orphée et Eurydice." Photo by Andrew Cioffi, Courtesy of Lyric Opera.
Song and dance are an enduring artistic pairing. In the early days of ballet, the art form usually appeared in the realm of professional theater via dance scenes in operas. But ballet and opera certainly still mingle today.

The Joffrey Ballet is currently in rehearsals for its very first collaboration with the Lyric Opera of Chicago in John Neumeier's new production of Christoph Willibald Gluck's Orphée et Eurydice. The 18th-century opera, which runs from September 23-October 15 at the Lyric Opera House, is based on the Greek myth of Orpheus and his quest to bring his bride, Eurydice, back from the dead.
How is preparing for an opera different than preparing for a ballet?
Keep reading...
Show less
Lorena and Lorna Feijóo in their Sesame Street debut
You probably remember watching "Sesame Street" in your pre-ballet days, but did you know that some of your favorite ballet dancers and companies have appeared alongside your favorite PBS characters?
We've rounded up some our most beloved ballet scenes from the classic children's program below.
Count Suzanne Farrell's turns
Remember the days when you counted "1, 2, 3, 4" instead "and, 5, 6, 7, 8"? Relive that time as you—and the Count—add up the legendary Balanchine muse's turns in this 1985 episode.
Keep reading...
Show less
HM Queen Margrethe II of Denmark and dancer Fenella Cook. Photo courtesy TIVOLI, Copenhagen.
The realms of fairy tale ballets are filled with imaginary queens.
But in Denmark, the nation's real-life, reigning monarch, Queen Margrethe II, fills the stages of fairy tale ballets with her original costume and decor designs. In fact, she's been the in-house set designer for the Pantomime Theatre of Copenhagen's famed Tivoli Gardens since 2001. Her most recent work can be seen in Yuri Possokhov's Cinderella, which runs through August 27 at the Pantomime Theatre. The production is performed by Tivoli's dance company, Tivoli Ballet Theatre, which features an international roster of 18 classically-trained dancers.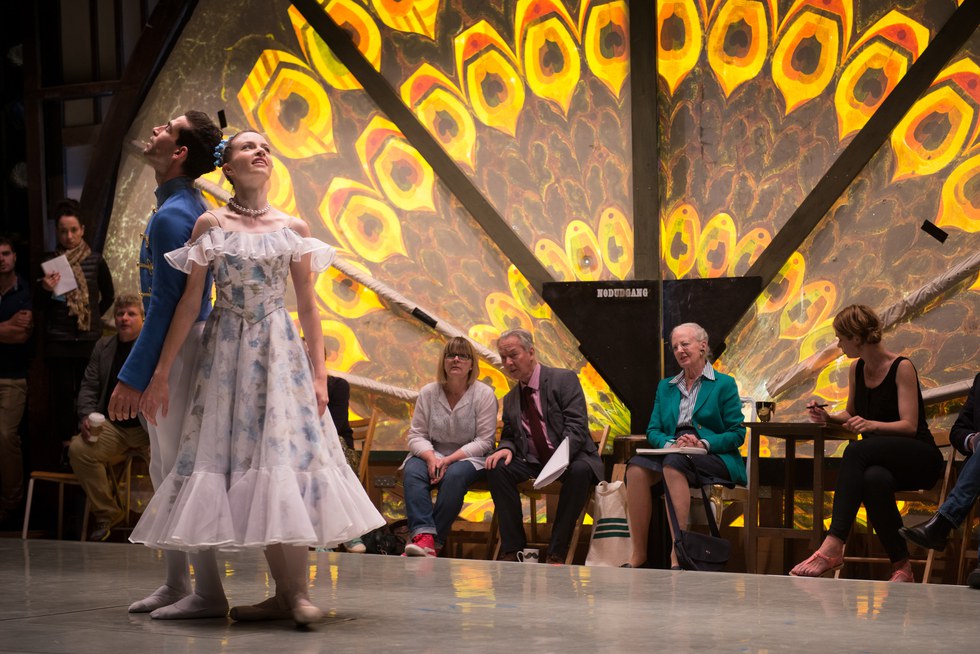 HM Queen Margrethe II of Denmark watching rehearsals of "Cinderella." Photo courtesy TIVOLI, Copenhagen.
The queen is a devoted fan of ballet. She regularly attends performances and has taken lessons as an adult. She's also created artwork for decades and even illustrated the Danish edition of The Lord of the Rings. Her first ballet costume and set designs appeared in the Royal Danish Ballet's 1991 production of Bournonville's A Folk Tale.
Keep reading...
Show less


Get Pointe Magazine in your inbox