Kyle Froman for Dance Teacher.
Gargouillade was a trademark step for Margaret Tracey. Now, the Boston Ballet School director helps the next generation of dancers acquire this "magical little movement." Here's how.
Technical prerequisites: To prepare for gargouillade, Margaret Tracey recommends practicing petit battement battu on pointe ("particularly serré," she says) and fast double ronds de jambe en l'air, especially in the center with a relevé or a jump. In pas de chat, focus on getting off the ground quickly. Then, says Tracey, "there's hope that gargouillade will fall into place."
Rapid-fire feet: "It's helpful to have a big jump," Tracey admits. "But I've seen dancers without that who figured out the coordination and speed." Even though one leg begins, and the other follows slightly after (same deal for the landing), think about it happening together. "That's how the gargouillade looks suspended in the air."
Keep reading...
Show less
Rosalie O'Connor; Courtesy Boston Ballet
What comes naturally to you?
My emotion onstage. I don't have the ideal ballerina body, so I have to move to prove myself. My strength is that I can work hard and I don't think it's hard; I enjoy it.
You went to the School of American Ballet after your apprenticeship at San Francisco Ballet. Did that experience change you?
Hugely. I had coordination and could do some tricks, but no basic technique. I came to the United States from Japan and hit the wall. What do you do? You have to fix it. SAB gave me confidence to be a dancer because I was able to fix myself.
Keep reading...
Show less
Berdo with Charlotte Ballet apprentice Elisabeth Baehman. Photo Courtesy Charlotte Ballet.
Many dancers struggle with brisé, says Laszlo Berdo, associate director of the Charlotte Ballet Academy. "But once you've mastered it, it's not that difficult." Here's how he helps his students beat the brisé blues.

Hold your turnout: Laszlo Berdo says a common mistake is stepping forward on a turned-in leg in anticipation of the brisé. "You lose the support of that standing leg. Then you have no power to jump," he says. "That plié is your saving grace and control."
Create a line: Berdo notices that some dancers dégagé à la seconde instead of effacé. "It's really difficult to chase that leg into second when you're trying to move forward." He teaches brisé with an open shoulder blade. "The back arm's extension is a reference to the front leg's dégagé. Keep that energy stretching out."
Keep reading...
Show less
Trending
Dec. 08, 2017 05:18PM EST
CPYB student Alyssa Schroeder in "Sleeping Beauty." Photo by Rosalie O'Connor, Courtesy CPYB.
Central Pennsylvania Youth Ballet's founding artistic director Marcia Dale Weary shares how she coaches renversés of sigh-inducing beauty.
Practice it slowly: To help her students tackle renversé, Marcia Dale Weary first gives it in adagio. Take a développé to croisé devant. "Think about the shape of the right foot coming front," she says. "Show off a jewel on your heel." Pivot to effacé, then carry the leg through a high écarté, into an attitude that "circles around you. As the right arm opens, both legs bend and the left arm circles to frame your face."
Maintain turnout: Weary notices that many dancers lift their working hip in the rond de jambe. "Rotate that leg so the hip stays down and the sole of the foot stays facing front, and then carry it back without letting the knee turn over." Feel the standing leg turning out too. "Keep that knee back over your little toe."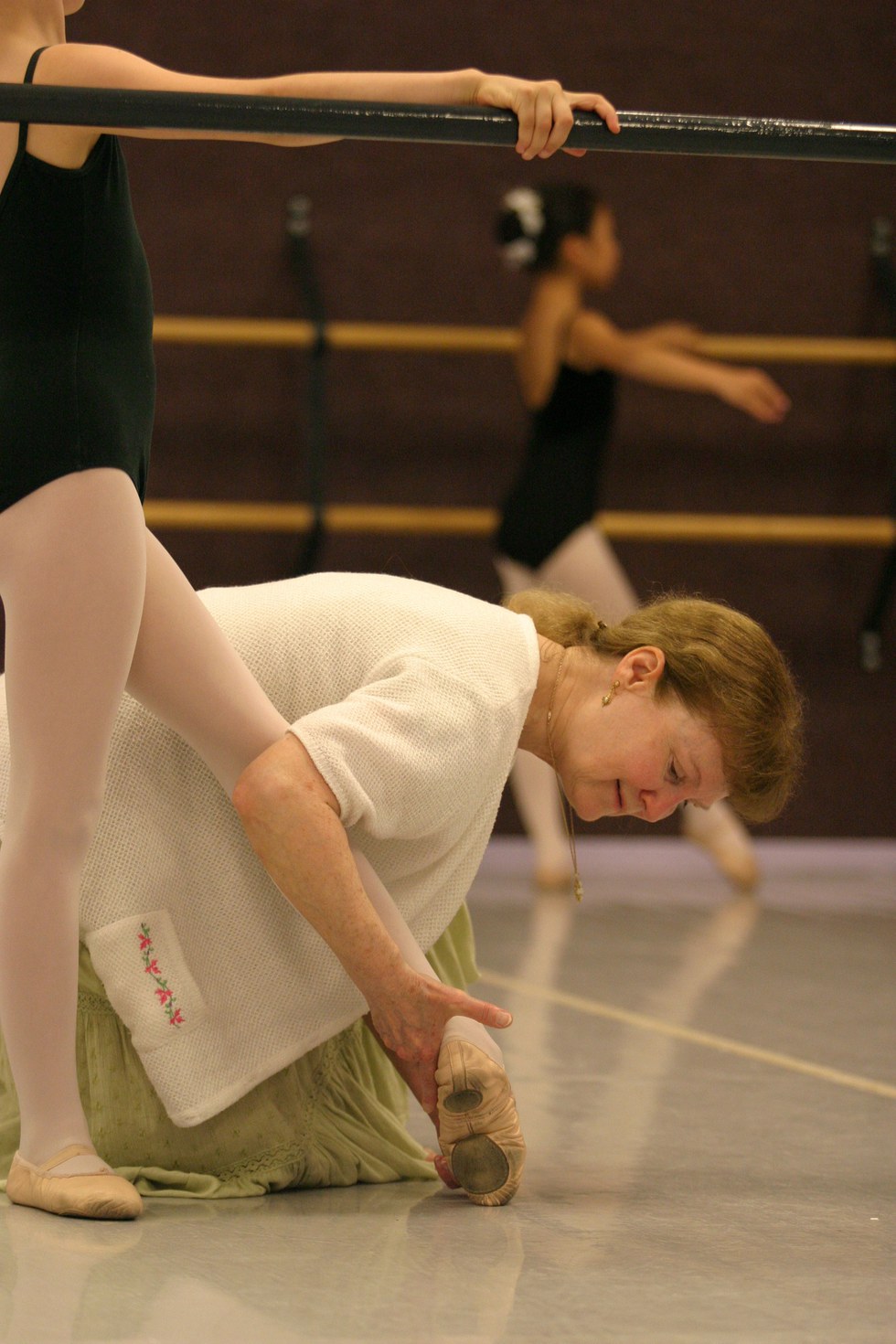 Weary at work in the studio. Photo by Rosalie O'Connor, Courtesy CPYB.
Keep reading...
Show less


Get Pointe Magazine in your inbox