Nancy Wozny
Nancy Wozny is editor in chief of Arts + Culture Texas, the only print Texas arts magazine in the state. She is also frequent contributor to Pointe Magazine, Dance Teacher and Dance Magazine, where she is also a contributing editor. Her byline has appeared in The Houston Chronicle, Dance USA's The Green Room, Culturemap, and numerous other publications. She is the winner of the Gary Parks Award from the DCA, an NEA Fellow at ADF, and the recipient of numerous grants for her work in dance, somatics and creativity. She has taught and written about Feldenkrais and somatics in dance for two decades and is currently teaching at Shepherd School of Music at Rice University. She also has served as a Scholar in Residence at Jacob's Pillow since 2010.
Michelle Thompson Ulerich. Photo by Anne Marie Bloodgood, Courtesy Avant Chamber Ballet.
Founded in 2012, Dallas-based Avant Chamber Ballet (ACB) has made a name for itself by presenting works by Christopher Wheeldon, George Balanchine and other major choreographers. Yet its Women's Choreography Project, now in its fourth year, makes ACB a company to watch in Texas and beyond. The Project's capstone is the annual choreography contest; the winner receives a stipend and the chance to set a new work on ACB's outstanding 18-member troupe. Nurturing the careers of women dancemakers is a central part of the company's mission. "As an independent choreographer, I found it almost impossible to get a professional commission," says ACB founder and artistic director Katie Cooper. "One of the reasons I started ACB was to make my own opportunities for creating new works."

Keep reading...
Show less
Chyrstyn Fentroy and Francis Lawrence in "Tchaikovsky Pas de Deux" with Dance Theatre of Harlem. Photo by Renata Pavam, Courtesy Fentroy.
Taking a lower rank at a new company can feel risky. But whether you're breaking out of your comfort zone, yearning for bigger challenges or finding a better company fit, you can make a successful transition. Here are three ballerinas whose recent moves have advanced their growth and artistry.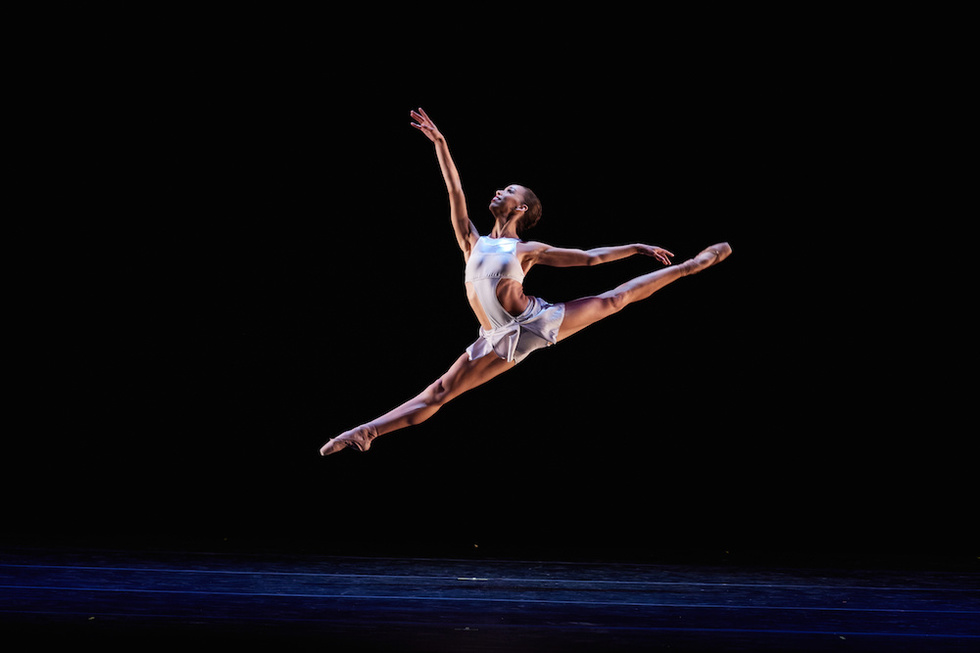 Fentroy at DTH. Photo by Rachel Neville, Courtesy Fentroy.
Chyrstyn Mariah Fentroy: Dance Theatre of Harlem to Boston Ballet
Although Dance Theatre of Harlem isn't a ranked company, Chyrstyn Mariah Fentroy spent much of her five years there dancing principal roles. She loved the touring, the repertoire and dancing beside her boyfriend, but she longed to try her luck at a larger company with more variety. And with DTH's mainly neoclassical focus, Fentroy felt her chances of dancing in a classical story ballet getting slim: "I wanted to do a full-length before it was too late."
Keep reading...
Show less
Webb and Jared Matthews in "Sleeping Beauty." Photo by Amitava Sarkar, Courtesy Houston Ballet.
Houston Ballet principal Sara Webb, now celebrating her 20th season, holds the distinct position of being the only ballerina currently in the company who has worked extensively under two Houston Ballet artistic directors: Ben Stevenson (who left in 2003 and now directs Texas Ballet Theatre) and Stanton Welch. Webb was nurtured under Stevenson, who first saw her potential and promoted her to soloist, and she was the very first dancer that Welch promoted to principal. Having danced most major roles since joining the company in 1997, she carries a considerable amount of Houston Ballet history in her body.
With her exquisite technique, gorgeous lines, and her ability to bounce back from having a baby quicker than most celebrities, Webb has always been an audience favorite. She spoke with Nancy Wozny via email about her lengthy career.

Congratulations on 20 years at Houston Ballet. To what do you credit your artistic longevity?
I credit my artistic longevity to my life experiences. From the difficult ones (my husband being deployed to Iraq) to the joyful ones (having my children), those experiences help me bring a wider range of emotions to the stage. Every time I've revisited a role, I've been in a different place in my life, which has allowed me to approach the role in a different way.
Keep reading...
Show less
Texas Ballet Theatre's Jiyan Dai and Samantha Pille (center) with members of Queensland Ballet. Photo courtesy TBT.
One way to change up your Nutcracker run is to perform it halfway around the world. This holiday season, two Sugar Plum Fairy and Prince couples from Texas Ballet Theater and Australia's Queensland Ballet did just that in a fun cross-company exchange. Last week, TBT artists Samantha Pille and Jiyan Dai traveled to Brisbane to debut in the Australian company's Nutcracker performances. Now, Queensland Ballet dancers Yanela Piñera and Camilo Ramos are in Fort Worth for the follow-up shows. They had their first performance last night and are scheduled to dance again December 22.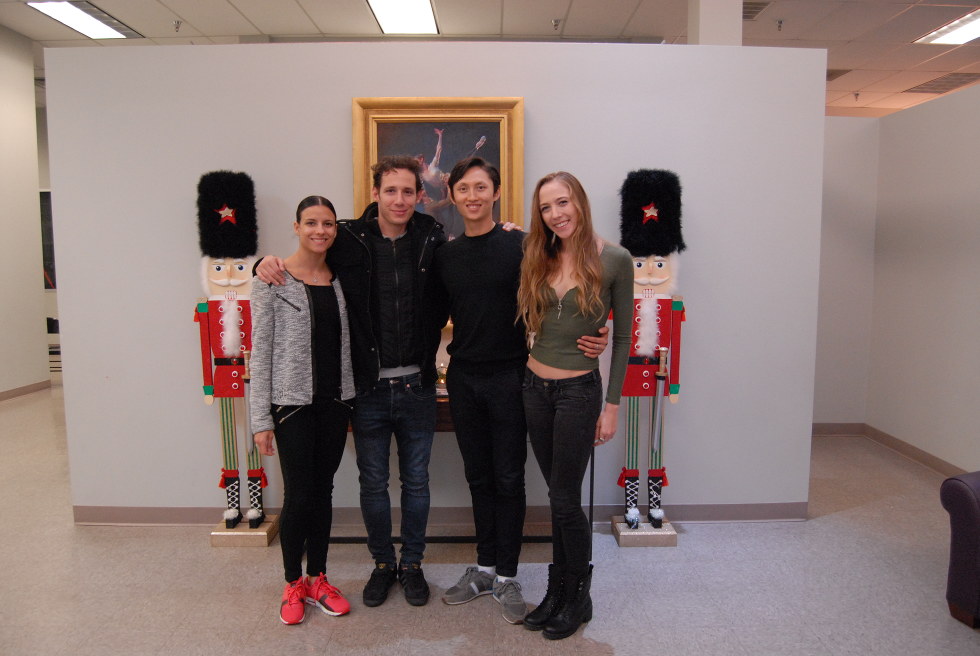 From left: Queensland Ballet's Yanela Piñera and Camilo Ramos with TBT's Jiyan Dai and Samantha Pille. Photo courtesy TBT.
TBT artistic director Ben Stevenson, O.B.E., and Li Cunxin, artistic director for Queensland Ballet, dreamed up the holiday swap hoping to give their dancers a fresh Nutcracker experience. The exchange is particularly meaningful because of the directors' shared history. Cunxin (whose autobiography Mao's Last Dancer was made into a major motion picture in 2009), danced as a principal under Stevenson during his tenure as artistic director of Houston Ballet. After taking the helm of Queensland Ballet, Cunxin brought Stevenson's production of Nutcracker to Australia.
Keep reading...
Show less
Chun Wai Chan in Laura Gutierrez's "The Back Room." Photo by Lynn Lane, Courtesy Chan.
In February, Houston Ballet first soloist Chun Wai Chan ventured out of his comfort zone to work with independent choreographer Laura Gutierrez for an immersive interactive duet called The Back Room—and the result was incredible. The audience had to accommodate the moving dancers for this site-specific work, created for Houston's leading indie theater space The Rec Room. Chan had no trouble clearing a bench full of people to make room for his dancing.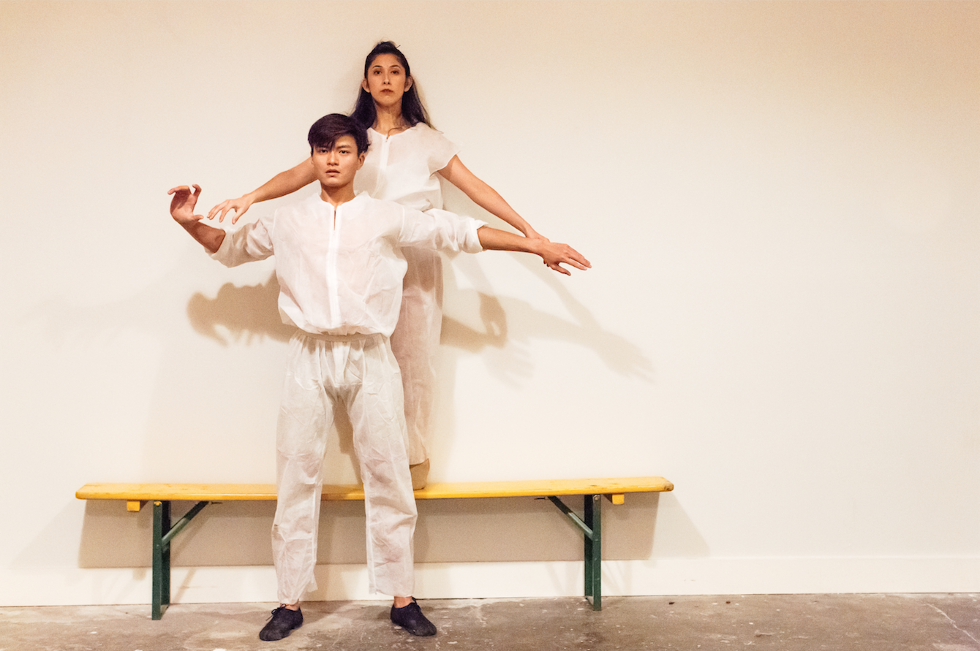 Chan in Laura Gutierrez's "The Back Room." Photo by Lynn Lane, Courtesy Chan.
Keep reading...
Show less
A flooded studio at Houston Ballet in the aftermath of Hurricane Harvey. Photo Courtesy Houston Ballet.
Watching an emotionally gut-wrenching early rehearsal of Sir Kenneth MacMillan's Mayerling at Houston Ballet on Aug. 17, it was clear that the Houston Ballet's fall season was going to be steeped in deep drama.
And it was, but for different reasons.
Hurricane Harvey dropped some 51 inches of rain, wreaking havoc on the entire city, with severe damage to the Downtown Theater District, including Houston Ballet's home theater Wortham Center and its landmark connected building, Center of Dance, where the first floor studios flooded.
Keep reading...
Show less
Larsen in The Nutcracker (photo by Jana Carson, Courtesy OKC Ballet)
In her first season as a corps member with Oklahoma City Ballet, Devin Larsen stood among the 17 dancers who made the audience gasp as the curtain came up on Balanchine's Serenade. But her path to getting there would make anyone gasp.
At age 3, Larsen was diagnosed with epilepsy. She averaged 20 complex partial seizures per day, which eventually turned into the more serious kind, generalized tonic seizures, where she would fall and completely lose consciousness. "Your brain just shuts down," she says.
Keep reading...
Show less
Featured Article
Feb. 24, 2017 05:54PM EST
Imagine having your first show with Misty Copeland inches away from you onstage.
Copeland and her prince, American Ballet Theatre corps member Calvin Royal III, swooped into Houston, Texas, in November to dance in Open World Dance Foundation's new, full-length production of Cinderella. Choreographed by OWDF directors Ekaterina Shchelkanova and Anton Boytsov, the community project showcased 123 local children of various backgrounds at The Hobby Center for the Performing Arts. Some had no previous dance experience.
While it was Copeland and Royal's role debuts as Cinderella and the Prince, the goal of the production was educational: to show children all aspects of a ballet performance. OWDF, an international nonprofit organization that provides dance education and outreach for disadvantaged youth, opened the auditions to all, regardless of technical level. "It's not just about the steps, but about music and sets," says Shchelkanova, a former Mariinsky Ballet and ABT soloist who initially started OWDF as a program for Russian orphans. "It's about how ballet actually works." She gave lectures on dance as part of the experience, in addition to free Sunday ballet classes for the cast over the course of several weeks.
(Photo by Amitava Sarkar)
Copeland, who often uses her off-time to advocate for youth organizations like The Boys & Girls Clubs of America and MindLeaps, was invited by Shchelkanova to perform in Cinderella as plans for the Houston performance were coming together. She agreed to star in it. "This was a chance for a community, some experienced with dance and others not, to expand and explore their minds, bodies, creativity and possibly tap into something within themselves they didn't know was possible," says Copeland.
Royal was on board soon afterwards, noting that his first experience with dance was through a similar community project called The Chocolate Nutcracker. "It opened my eyes to possibilities of wanting to be a professional dancer," he says. "Knowing what that did for me made me want to get involved."
  For three months, the pair squeezed coaching sessions with Shchelkanova and Boytsov in between ABT rehearsals before flying to Houston for performance week. "The highlight of the trip was realizing how symbolic it was for Misty and I to be there," says Royal. "The cards, letters and support we received from the community and kids made it all worth it."


Get Pointe Magazine in your inbox