Marissa DeSantis
Marissa joins Pointe Magazine having worked as a beauty editor for publications like Teen Vogue and InStyle. She graduated from Rider University with a BFA in dance and journalism, training at the Princeton Ballet School during her studies. She has also danced with The Rock School and South Jersey Ballet Theater.
Quinn Wharton
San Francisco Ballet soloist WanTing Zhao counts Old Hollywood actress Audrey Hepburn and current "it" model Bella Hadid as her major style icons—something which comes across in her own sartorial looks. Choosing classic pieces with on-trend elements (like her black turtleneck dress with its lace-up sleeves), Zhao also has an eye for detail, adding pops of bold color and accessorizing with delicate hoop earrings. "I usually wear turtlenecks, high-waisted jeans and sneakers," Zhao says of her off-duty style. "It's chic and comfy."
That description carries over to her studio look, too, which Zhao says is always a leotard with pink tights. "I usually wear my hair in a low bun with either a side or center part, and I like to wear a little bit of foundation, eyeliner and mascara—all from Tom Ford," she says.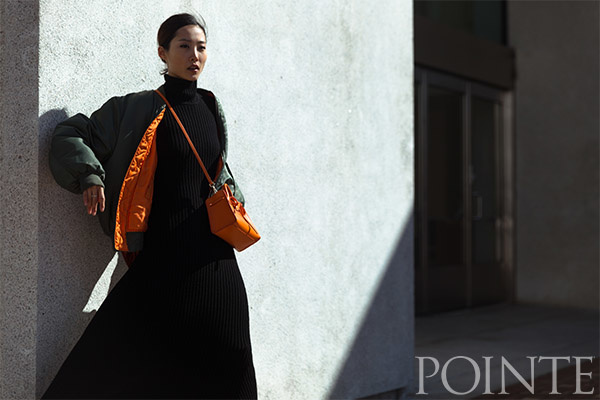 Quinn Wharton
Keep reading...
Show less
ABT principals Christine Shevchenko and James Whiteside rehearse "Swan Lake" in Singapore.
In the middle of American Ballet Theatre's spring season, principal dancer Christine Shevchenko takes a break from her comedic role of Pierrette in Harlequinade to (briefly) transform into a swan. During the half hour rehearsal, Shevchenko seamlessly transitions from Odette to Odile, running through her various solos without pause—save for the short conferences with ballet mistress Irina Kolpakova, which switch between Russian and English almost as quickly as Shevchenko whips out her fouetté turns (but more on those later).
"The rehearsal process is a lot different right now because every week it's a new ballet," Shevchenko says during a rehearsal break last week. "I'm really trying to squeeze in as many Swan Lake rehearsals as I can, and at the same time, I'm trying to prepare for Don Quixote, which is the week after," she explains of juggling the season's eight programs. "This is my first year as a principal during the Met season, so I'm learning how to figure it out as we keep going. In a way, I'm used to doing parts last minute because that's how I got most of my roles," she says. Ahead, Shevchenko shares exactly how she's gearing up for her Met debut on June 20.
Keep reading...
Show less
Courtesy of barre + bag
Subscription box services have quickly gained a dedicated following among the fashion and fitness set. And while we'd never say no to a box with new jewelry or workout wear to try, we've been waiting for the subscription model to make its way to the dance world.
Enter barre + bag, a new service that sends a curated set of items to your door each season. Created by Faye Morrow Bell and her daughter Tyler, a student in the pre-professional ballet program at University of North Carolina School of the Arts, this just-launched service offers dance, lifestyle and wellness finds in four themed bags each year: Spring Performance, Summer Study, Back-to-Studio and Nutcracker. Since all the products are specifically made for dancers, everything barre + bag sends you is something you'll actually use, (Plus, it all comes in a bag instead of a box—because what dancer can ever have enough bags?).
Keep reading...
Show less