Marina Harss
Marina Harss is a freelance dance and culture writer in New York City.
Trending
May. 23, 2018 09:12PM EST
Rachel Hutsell Photographed for Pointe by Jayme Thornton.
This is Pointe's June/July 2018 Cover Story. You can subscribe to the magazine here, or click here to purchase this issue.
"I'm very cautious by nature," Rachel Hutsell says over herbal tea at Lincoln Center between rehearsals. You wouldn't think so from the way she moves onstage or in the studio. In fact, one of the most noticeable characteristics of Hutsell's dancing is boldness, a result of the intelligence and intention with which she executes each step. (What she calls caution is closer to what most people see as preparedness.) She doesn't approximate—she moves simply and fully, with total confidence. That quality hasn't gone unnoticed.
Keep reading...
Show less
Photo by Theo Kossenas, Courtesy The Washington Ballet
You made a deal with your mom to take ballet classes in exchange for a ride to tryouts for the football team. How did that work?
I thought that I would take ballet for a couple months, become a master and then leave that alone and concentrate on football. Ballet had other ideas, which perplexed me, and ultimately, I think, made me fall in love with it.
How is The Washington Ballet evolving under Julie Kent's leadership?
It's still early, but I think that the company is growing stronger classically. And we have Julie, Victor Barbee, Xiomara Reyes and Rinat Imaev—a great team of people who are giving their input and expertise, which is quite helpful.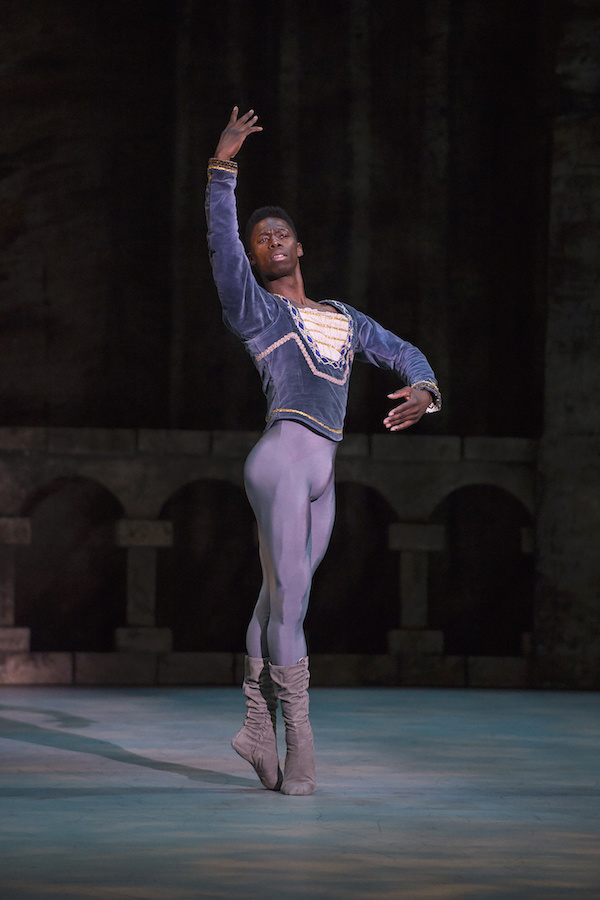 Mack in 'Swan Lake.' Photo by Theo Kossenas
Keep reading...
Show less
Hallberg speaking at a Bolshoi press conference before the premiere of "The Sleeping Beauty." ITAR-TASS Photo Agency/Alamy Stock Photo, Courtesy Simon & Schuster, Inc.
"Do you still love ballet?" I ask David Hallberg as we sit in a drab conference room at American Ballet Theatre discussing his new memoir, A Body of Work: Dancing to the Edge and Back. The book details Hallberg's grueling return from a series of injuries that left him questioning whether he would ever dance again. "Yes, I love it even more," he says almost hungrily, as he stares me down with his searching, slightly hollow gaze.
A Body of Work is not an easy read. Its final section, devoted to the long road back from injury and despair, is the most distressing, but what comes before is not much lighter. The self-portrait Hallberg has outlined is stark: a boy, and later a man, propelled by a single-minded drive, subjected to savage bullying at school in Arizona; ostracism during a year of studies at the Paris Opéra Ballet School; arduous private training that has his parents half-joking about appealing to child services; un-empathetic partners; a punishing work schedule that leaves his body broken. All this, in order to satisfy the "gravitational force" of ballet, which he feels "pulling [him] in deeper and deeper," he writes.
Keep reading...
Show less
Hupoy (right, as Alla Snizova) and Laszlo Major in "Le Corsaire." Photo by Zoren Jelenic, Courtesy Ballets de Trockadero de Monte Carlo.
One of the highlights of New York City's Fall for Dance Festival this year was an appearance by the Ballets Trockadéro de Monte Carlo, a company of men who dance on pointe with as much panache and style as any prima ballerina. Their performance of Paquita was funny, of course—they specialize in comic renditions of classical ballets— but also bracingly well executed. The star of the evening, Carlos Hopuy, aka Alla Snizova, was simply astonishing. His pointework sparkled, his hops on pointe were clean and strong, and he looked like he could have balanced in attitude forever. There was something deeply exciting about the way he combined delicacy and control with the explosive power and steel of a man's physique.
Hopuy, who was born in Havana, Cuba, and trained at the country's famed National Ballet School, has been with the company since 2012. Like all the Trocks, he has both a female and a male alter-ego: when he's not portraying Alla Snizova, he's Innokenti Smoktumuchsky, a dopey cavalier. He is also one of the dancers featured in the upcoming documentary Rebels on Pointe, which will have its theatrical release November 15 (click here for theaters and dates near you). I recently caught up with Hopuy, who, when he's not on tour, lives in Orlando with his husband Paolo Cervellera, a former Trock. We spoke by phone, in Spanish.
Did you always want to dance?
I always liked ballet. My mother, Norma Hopuy, was a principal with the Ballet de Camagüey. I used to hang around the rehearsals. She started giving me lessons at home. Then, when I was nine, I auditioned for the National Ballet School. I had the choice between that and gymnastics and I chose ballet.
When did you start going on pointe?
When I was 11. I would ask my classmates for their old pointe shoes and would try them on at home. When my mother realized that I liked to go on pointe, she started training me and bought me my own pair.
Keep reading...
Show less


Get Pointe Magazine in your inbox