Madeline Schrock
A native of Floyds Knobs, Indiana, Madeline studied ballet at Southern Indiana School for the Arts and was later introduced to modern dance by Bill Evans. She received her BFA in Dance Performance and Choreography from Ohio University's Honors Tutorial College. As a dance videographer and editor, she has worked on projects for Bates Dance Festival and the Regina Klenjoski Dance Company in Southern California. She later served as a marketing and education manager for Lar Lubovitch Dance Company. Madeline is currently the managing editor of Dance Magazine and Pointe.
Trending
Apr. 26, 2018 08:50PM EST
Good news: Your foot strength and flexibility can improve with careful training. All photos by Jayme Thornton, Modeled by Corinne Chowansky of Marymount Manhattan College.
Maybe you weren't born with gorgeous, overarched feet, but that doesn't mean you're completely stuck with what you've got. "Strength and flexibility can improve with training, but that's within the limits of your individual anatomy," says Dr. Nancy Kadel, a Seattle-based orthopedic surgeon who specializes in dancers' foot and ankle issues. Building a balance of both will help you achieve more supple feet that can support ballet's demands. Kadel recommends the following:
Tools of the (Foot-Strengthening) Trade
● Hand towel for scrunching toward you as you actively curl your toes. For a challenge, add weight, like a book, to the end of the towel.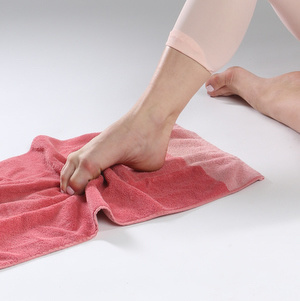 Keep reading...
Show less
Madeline DeVries cultivates strength and fluidity for Alonzo King's works. Photo by Stacy Ebstyne, Courtesy LINES.
Madeline DeVries, of Alonzo King LINES Ballet, starts her days with a bike ride or strength work.

Warm-up on wheels: Madeline DeVries' commute doubles as a workout. Two or three days a week, the Alonzo King LINES Ballet dancer bikes about seven miles through San Francisco to the studio. "The hardest part is going through Golden Gate Park. There's one uphill section that's always killer," she says. She arrives ready to dance and likes how biking warms up her knees.

Keep reading...
Show less
All photos by Jayme Thornton, modeled by Kailei Sin of The School at Steps.
During class, you're tuned in to every aspect of your dancing. But when the day is over, you may be tempted to head home and skip out on a proper cooldown. Don't: Going from grand allégro to a full stop is hard on your muscles. Bené Barrera, an athletic trainer who works with Houston Ballet, says, "If you're doing an end-of-day cooldown, you're going to need at least 20 minutes. That allows the muscles to calm down." And your body should notice the difference: "You'll have less trigger-point pain later, and your soreness might reduce a bit." A proper cooldown may even help you sleep better.
But post-class stretching isn't about sitting in a straddle. "As a dancer, you're never truly isolating one area," says Barrera. Your cooldown should mimic that. "You want to cover the whole body altogether. You don't want to just stretch one muscle group."
Keep reading...
Show less


Get Pointe Magazine in your inbox