Charlie Hodges as Oberon in "A MidSummer Night's Dream" at the Walnut Hill School for the Arts Senior Showcase. Photo Courtesy Charlie Hodges.
Conversations about body image in dance typically revolve around female dancers. For an obvious reason: It's usually women who are driven to dangerous means to reach the ideal "ballet body."
But they're not alone in the struggle. Former Twyla Tharp dancer Charlie Hodges recently told his own story during a TED Talk at California's ArtCenter College of Design.
He Experienced Shaming Almost As Soon As He Started Dance
Hodges began dancing at age 10. Shortly after, a teacher who noticed his talent told him that if he were serious, he'd need to lose weight. By age 12, Hodges started winning awards on the competition circuit—where one director told him, "You'll be unstoppable just as soon as you lose your baby fat."
Losing self-esteem, he went on a diet and lost 14 pounds. To this day, Hodges thinks that weight loss might have stunted his growth.
As a Professional, He Couldn't Escape His Body
At 18, Hodges won second place at the prestigious National YoungArts Week. But when he auditioned for 14 ballet companies that year, all 14 said no. One letter read, "We regret to inform you that we have absolutely no use for a body like yours in our company."
He eventually got a job at Sacramento Ballet, but continued to face challenges. When he was cast as the lead in Theme and Variations, the company needed to get special permission from the Balanchine Trust because he was so short. Critics consistently called him a fireplug and pointed out his unorthodox body.
News
Dec. 21, 2017 06:17PM EST
Gene Schiavone, Courtesy ABT.
American Ballet Theatre just announced that principal dancer Marcelo Gomes, who celebrated 20 years with the company this summer, has resigned.
Last Saturday, ABT learned of a "highly concerning" allegation of sexual misconduct by Gomes, related to an incident from approximately eight years ago. A press release from board chairman Andrew F. Barth says that the allegation did not involve any current or former company members, and didn't occur in relation to Gomes' employment with ABT. The company launched an independent investigation, and today, in light of that investigation, Gomes gave his resignation.
Melina and Regina Willoughby, photo by Ashley Concannon
There's a surprising twist to Regina Willoughby's last season with Columbia City Ballet: It's also her 18-year-old daughter Melina's first season with the company. Regina, 40, will retire from the stage in March, just as her daughter starts her own career as a trainee. But for this one season, they're sharing the stage together.
Performing Side-By-Side In The Nutcracker

Regina and Melina are not only dancing in the same
Nutcracker
this month, they're onstage at the same time: Regina is doing Snow Queen, while Melina is in the snow corps, and they're both in the Arabian divertissement. "It's very surreal to be dancing it together," says Regina. "I don't know that I ever thought Melina would take ballet this far."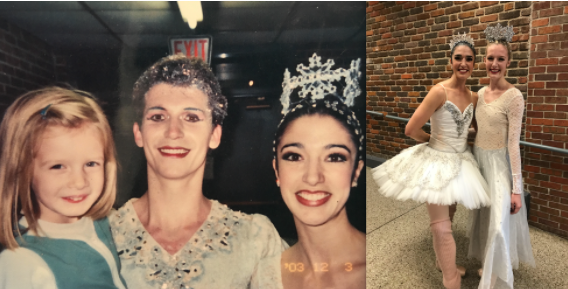 Left: Regina and Melina with another company member post-snow scene in 2003. Right: The pair post-snow scene in 2017 (in the same theater)


Get Pointe Magazine in your inbox