Messmer in "The Fairy's Kiss." Photo by Gene Schiavone, Courtesy Miami City Ballet.
An ambiguous figure—does she bless or curse an orphaned boy?—but clear-cut in the beauty of her steps, the title character of Alexei Ratmansky's The Fairy's Kiss gained dimension, thanks to Simone Messmer's bold portrayal. In this history-steeped premiere for Miami City Ballet, the principal dancer—then in her second year with the company—flashed through as an obstinate spirit, a mysterious gypsy and a shrewd seductress: all manifestations of a beguiling dealer in destiny. Whether leading her supernatural posse or intruding upon human affairs, Messmer's fairy stayed aloft on Stravinsky's music to follow the dictates of drama, which Ratmansky distilled from a Hans Christian Andersen story and its earlier ballet productions. Messmer has praised the renowned Russian choreographer for the humanity he shows through the logic of his classicism. That sentiment—really a recognition of a practitioner's reverence for the art form—must certainly be mutual.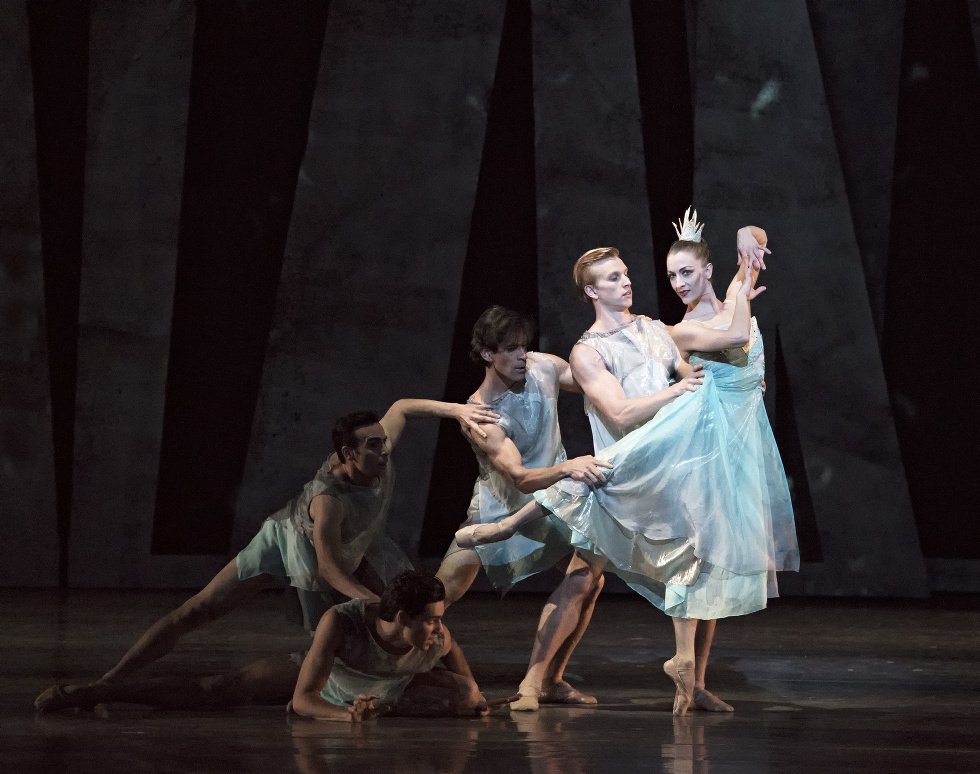 Messmer in "The Fairy's Kiss." Photo by Gene Schiavone, Courtesy MCB.
popular
Dec. 05, 2017 03:34PM EST
Artwork by Ruben Toledo, Courtesy Miami City Ballet.
After nearly three decades at Miami City Ballet, George Balanchine's The Nutcracker demanded a makeover. Costumes and scenery, as artistic director Lourdes Lopez admits, were faded and frayed. To do justice to such a beloved ballet, she has partnered with The Music Center for a new production to debut in Los Angeles this December before brightening South Florida theaters.

Lopez entrusted husband-and-wife artistic team Isabel and Ruben Toledo with bringing The Nutcracker into high definition, drawn by both their sense of classicism and innovative creativity. The Cuban-American couple may work in different media—Isabel is a fashion designer, Ruben as a visual artist—yet as collaborators they flourish in stage work.
Keep reading...
Show less
News
Mar. 18, 2016 08:44PM EST
To celebrate its 30th-anniversary season, Miami City Ballet is making a splash. The company's closing program this spring will transplant A Midsummer Night's Dream, Balanchine's 1962 full-length ballet, to the Florida shore, diving underwater for elements of the supernatural realm. Coral Castle, a romantic old-Miami landmark, provides the model for the court in this production. The ballet premieres tonight at the Adrienne Arsht Center in Miami.
Miami City Ballet principal Patricia Delgado as Titania (photo Alberto Oviedo, courtesy MCB)
"The reimagining gives us a great chance to mount a masterpiece with inspiration from the place where we live," says artistic director Lourdes Lopez. For years, Lopez has wanted to see this Shakespeare-based ballet, with sundry music by Felix Mendelssohn, as a new concept. Now, The George Balanchine Trust has approved her vision while counting on her to keep the choreography intact.
Miami Beach–born artist Michele Oka Doner proposed the aquatic theme and has been instrumental in the redesign. Her tutus evoke jellyfish while her unitards derive patterns from a coral reef. In the spirit of this version, Bottom will turn into a manatee—tempted with sea-grass by Titania. Stunning videos on the company's Instagram account have given fans a glimpse of what to expect in tonight's performance.
Lopez also emphasizes the contribution of dramaturge Tarell Alvin McCraney. The young playwright—a MacArthur Fellow who grew up in Miami's inner city—is a dedicated explorer of Shakespeare's plays and served as playwright in residence at the Royal Shakespeare Company in the UK. "He's helped the dancers think more deeply about the text, giving meaning to their steps," says Lopez, who hopes to turn this dream project for a special occasion into a recurrent company success. —Guillermo Perez    


Get Pointe Magazine in your inbox