"Giselle experiences her emotions with such a quiet intensity that her death from heartbreak is truly plausible."
Photography by Joe Toreno.
When I was 19 years old and in the corps de ballet of American Ballet Theatre, a domino effect of casting changes left me with three days to learn and prepare my first dramatic leading role: Myrtha, the Queen of the Wilis. There was not enough time to feel overwhelmed, let alone to delve into the nuances of her character. Although diving right in and winging it on willpower is exhilarating, I have learned in the 15 years since that one of my favorite aspects of dancing is the research and emotional decision-making that go into developing a dramatic interpretation. I recently prepared for the role of Giselle in Ethan Stiefel and Johan Kobborg's new production for the Royal New Zealand Ballet. Although having advance notice gave me the time to feel nervous about tackling such an iconic role, it also allowed me the opportunity to develop my own interpretation through a mixture of research and instinct, which was further refined by coaching, rehearsal and performance.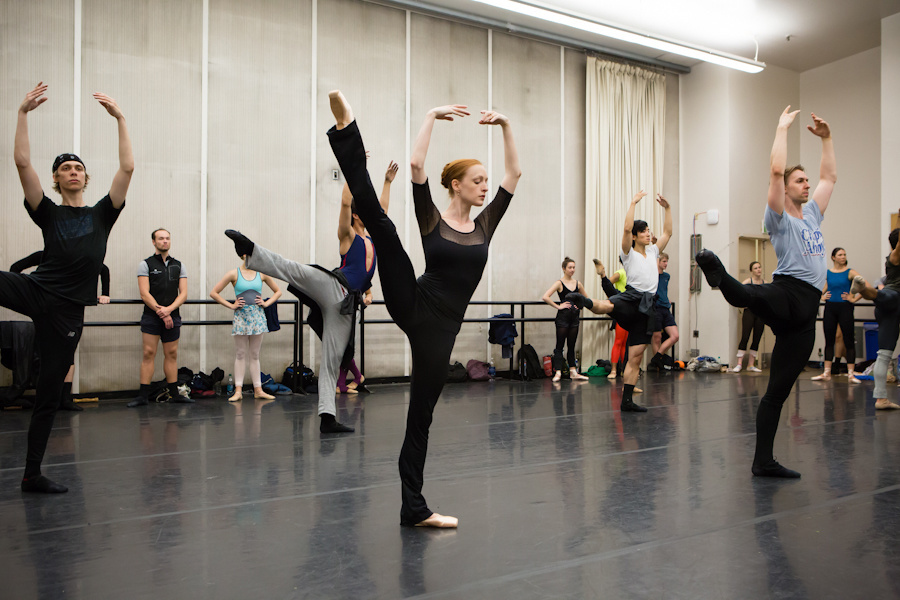 Murphy in RNZB company class at The Music Center.
Keep reading...
Show less
In a recent editorial in The New York Times, dance critic Alastair Macaulay wrote that "the lesson of history is that ballerinadom has been continually redefined." I believe it is time for a new definition, one that does not hold up Old World glamour or a dancer's nationality as criteria. The greatest female dancers today are bringing their own vitality and originality from all over the world to the universal language of ballet.

To be clear, every balletomane and professional dancer has his or her own concept of the ideal ballerina. For some, it's about clarity of form and the seamless execution of choreography. For others, it's about dramatic range or stylistic versatility. To some degree, these attributes are prerequisites. Yet the most fundamental characteristic of my ideal ballerina is someone whose depth of character and generosity of spirit makes her a leader not only in her performances but in class and in the rehearsal process.

Shakespeare scholar Harold Bloom once wrote that one of the most remarkable things about the character of Juliet is that she exudes both exceptional virtue and an exceptionally sparkling personality. To me, this rare balance is also the aim of a ballerina.

In real life these are difficult ideals to live up to, but I have many colleagues who are a daily inspiration. At American Ballet Theatre, I am continually struck by Stella Abrera's unwavering discipline, integrity and intelligence in both art and life. Her versatility as a dancer and actress is complemented by her graciousness onstage and to her colleagues. Similarly, New York City Ballet's Wendy Whelan is a goddess onstage, but down-to-earth in real life. Neither fit the outdated stereotype of the self-centered diva ballerina. They are compassionate, focused and sensitive people and artists who maintain both their sense of humor and their consummate professionalism day in and day out.

At the Royal New Zealand Ballet, where I am a principal guest artist, I am excited to watch a young dancer with extraordinary promise grow into a star. This emerging ballerina, Lucy Green, has the physical attributes to do great things with her art: a brilliant jump, coordination and musicality to spare. However, for me, it is her work ethic, her imagination and her sensitivity to others that really classify her as a ballerina in the making.

Ultimately, I most admire these dancers, as well as others, for how they encourage greatness in everyone around them. It may be a somewhat naïve and romantic notion, but I believe that a ballerina must nurture positive qualities and an openness of mind within herself so that she can share her inner life in a genuine way on the stage. In order to communicate the truth and the universality of human experience, the ballerina must gain perspective and dimension from both her own life experience and her intense respect and dedication to the craft of ballet. She must go beyond the steps and strive to bring humanity and humility purely and truly to every moment of expression. That, to me, is artistry that is meaningful both on and off the stage.

Gillian Murphy is a principal dancer at American Ballet Theatre.
Photo Courtesy American Ballet Theatre.
Alexei Ratmansky's Nutcracker for American Ballet Theatre establishes a new benchmark in demanding pas de deux. Like all of the choreographer's work, the movement blends effortless naturalism with extraordinary physical challenges. The lead couple twirl and jeté in an over-the-top romantic fantasy, culminating in a one-armed lift that raises the ballerina above her prince's head in a vision of ecstatic love. Pointe asked Gillian Murphy and David Hallberg, one of the couples on whom the pas was made, to describe their recollections of rehearsing it.

Gillian Murphy
When Alexei Ratmansky was making the grand pas, he alternated between demonstrating the steps and discussing the mood he was aiming for; then he would observe how each couple interpreted his direction. We all became a part of his creative process, and he allowed each couple their individual touches within the set choreography.

For David and myself, that freedom was intensely inspiring as well as a challenge. Alexei's intricate neoclassical choreography is far more difficult in terms of execution and stamina than the traditional Nutcracker pas. His movements constantly go on and off balance, change direction and vary dynamic. For instance, many quick sequences are juxtaposed with brief moments of stillness or sustained expansion. The tricky, subtle partnering pushed David and me to be absolutely in sync with each other as we strived for a balance between abandon and control.

Keep reading...
Show less

Gillian Murphy, a principal at American Ballet Theatre, performed her first shows of Twyla Tharp's Known by Heart pas de deux in London this February. Critics described her as "stupendously sexy" and "serene in the most daring slides." She will reprise the role this November at New York City Center. Here she talks about the rehearsal process and shares her advice for learning a new role.

Last November I began learning the "Junk Man" pas de deux from Known by Heart, a fun and funky Twyla Tharp ballet. There are a lot of factors to consider when trying to learn and interpret a part, but unless it's a character-intensive role, like Juliet or Lizzie Borden, that requires extra research, I like to break the process down to four main steps:

1. Learn The Vocabulary And The Choreography
First, think big picture. Try not to get absorbed in the nuance of each moment until you're comfortable with the material itself. For Known by Heart, the learning process was a bit trickier than usual since the piece has a percussive soundtrack with elusive musical cues and a deliberately quirky, non-classical dance vocabulary. However, I've worked with Twyla Tharp before in ballets such as  In the Upper Room and Rabbit and Rogue, so I was familiar with her gutsy sensibility as well as her use of parallel positions, varied levels (such as deep lunges) and flexed feet. We also had the invaluable staging expertise of both Stacy Caddell, an encouraging and inspiring coach on whom the role was created, and Susan Jaffe, an extraordinary ballerina and ABT's original interpreter of the role. Stacy taught the material very clearly through counts, while giving memorable names such as the "Futomaki Roll" and "Oh Mighty Isis" to certain sequences to help keep us from getting lost in the repetitive score.
After only about eight hours of rehearsal, we had to set the piece aside for over a month to focus on rehearsing Alexei Ratmansky's new Nutcracker. During that downtime, it was essential that I periodically run through the steps and counts in my mind to stay on top of the intricacies of the timing.

2. Develop Extra Stamina
Even if you are in good shape, each new piece can be uniquely "puffy." I learned the "Junk Man" pas at the same time as several of my good friends, and we were always laughing with each other about the absurd noodle-like state we ended up in after a few minutes of attempting to run the piece. It's an 11-minute pas with only short breaks for each dancer, and it was a very real challenge to keep the charged physicality at a high pitch while maintaining technical control underneath Tharp's aerobic, earthy movement. It's extremely strenuous, and without proper conditioning it would be next to impossible. The necessary stamina for any new role has to be built through repetition, learning to pace yourself and remembering to breathe fully. Many dancers gain additional stamina by swimming, biking or using the elliptical machine, but my favorite form of cross-training is gyrotonic. It's gentler than a standard gym workout, but it has helped me to focus on alignment and core strength so that I don't unnecessarily overwork muscles. I've also learned over time that stamina is not only about physical conditioning: It's about willpower and minimizing the draining forces of nervous energy.

3. Embody The Spirit Of The Choreography
Choreographer Pina Bausch once said, "I'm not interested in how people move, I'm interested in what makes them move." When I create a role, the "how" is the foundation but the "what" is the point of departure and interest. Once I'm comfortable with the material and my stamina, it's time to delve deeper into the nuances within the piece and explore the role's intention. ABT first set the "Junk Man" pas 13 years ago with Susan Jaffe and Ethan Stiefel, and I remember being amazed by their spectacular performances. That memory, coupled with Stacy's guidance in rehearsals, offered invaluable insight into my character's feisty spirit, as well as the contentious dynamic established between the couple. Stacy noted that the question of whether my part was essentially playful, spiteful or a combination of both was open to each dancer's interpretation. In making my movement slightly flirtatious, I interpreted the character as initially enjoying the banter and power struggle with her partner until mounting tension and misunderstanding lead to genuine disdain. An alternative could have been to make her more overbearing and itching to pick a fight. In any character role, it's vital to develop a personal motivation for each phrase while still trusting your intuitive response to the music.

4. Stay Positive!
Throughout your process, strive to have a positive frame of mind. I was coming back from ankle surgery as I was learning the piece, and my left foot had to get stronger through consistent physical therapy and a few months of healing before I was able to fully accomplish the difficult relevé sections and the slides on pointe in parallel fourth. I also had to walk through several rehearsals due to a strained right adductor. It can be demoralizing not to be able to dance, particularly if you feel as though you're backsliding on stamina and the sense of momentum inherent in learning a new role. However, there is a lot to learn when injured, and it's essential not to lose your sense of perspective. Don't let a setback, a gray winter, or personal anxieties get you down.

Before our premiere on the opening night of ABT's London tour, my partner Blaine Hoven and I ran the pas a few times, and each run-through was equal parts exhausting and exhilarating. I always have fun dancing with Blaine, and I have complete confidence in his partnering skills. Finally, on the night of our first show, I was able to turn my post-surgery doubts and pre-show nerves into extra adrenaline and excitement for the performance. Whatever your last-minute concerns, remember to relax, have faith in your preparation and be in the present moment. My secret weapons when I dance with ABT, aside from my brilliant partners, are that my costumes are made to fit beautifully by wardrobe mistress Caryn Wells, and that Riva Pizhadze does inspired hair and stage makeup right before each show. These final touches are essential to making me feel completely transported into each role. Blaine and I enjoyed every moment of bringing Twyla Tharp's vision of abandon, contention and spontaneity to life.


Get Pointe Magazine in your inbox