Pixabay.
Videos are a great alternative when auditioning in person isn't possible. Here are some general guidelines for making a good impression.
1. Follow directions. Before filming, research what each school you're interested in requires. "It demonstrates your ability to follow instructions, and schools pay attention to that," says Kate Lydon, artistic director of American Ballet Theatre's summer intensives and the ABT Studio Company. "If the guidelines haven't been followed, your video might not be watched the whole way through." You may need to make multiple versions to accommodate different schools.
2. Videos should be no longer than 10 minutes. "Keep it short, simple and direct," advises Philip Neal, dance department chair at The Patel Conservatory and artistic director of Next Generation Ballet. "You have to be sensitive to how much time the director has to sit down and look at it." Barre can be abbreviated, showing only one side per exercise, alternating. Directors will be looking at fundamentals—placement, turnout, leg lines, stability—but don't ignore musicality or movement quality. Make sure music choices match combinations and are correctly synced in the footage.
Keep reading...
Show less
Jackie Nash and Ben Needham-Wood in "Wandering." Photo by Chris Hardy, Courtesy Imagery.
Jackie Nash left an indelible impression as a member of Amy Seiwert's Imagery during this summer's performances at New York City's Joyce Theater. In Seiwert's Wandering, Nash, an Atlanta Ballet dancer during the regular season, demonstrated a keen technical sensibility that grounded her in the detail-rich, contemporary movement. But where the petite powerhouse shone was in her navigation of the challenging music, Schubert's rich, dramatic Winterreise cycle. She danced along a razor-thin line between allowing the breadth of the sound to overpower her movement and resorting to melodrama to match its feeling, succumbing to neither. An instinct for nuance lent maturity, visible in a movement as simple as an arabesque that did not strain to meet the space but instead swelled effortlessly to fill it. One can only hope that Nash might find her way to New York City stages more often.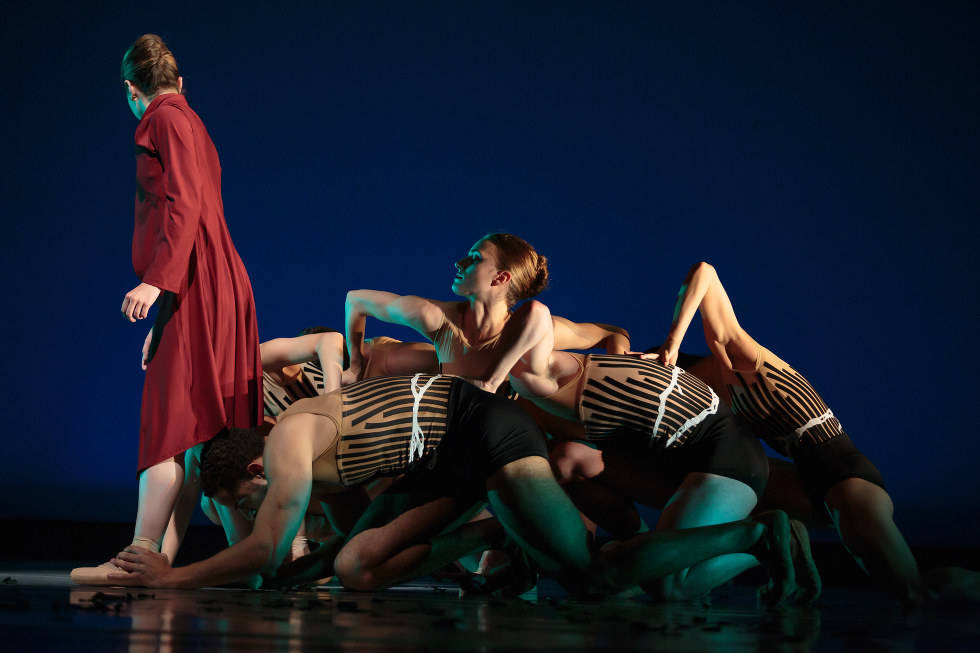 Imagery in "Wandering." Photo by Chris Hardy, Courtesy Imagery.
Inside PT
Nov. 25, 2015 06:12PM EST
Troy Schumacher has been very busy.
The final days of September saw the New York City Ballet corps member rehearsing for a full slate of performances while simultaneously preparing the premiere of Common Ground, his second ballet for the company.
Schumacher's first work for NYCB, Clearing Dawn, was notable for its athleticism, high energy and refreshing youthfulness. Similarly, Common Ground is profoundly physical, with dancers exploding through the air in bursts of sissonnes and bounding over imaginary puddles with successive grands jetés. But in contrast, "the mood is a little darker, a little more mysterious," says NYCB soloist Ashley Laracey, who is also married to Schumacher.
Throughout rehearsal, the dancers focus in on each other. "Troy's ballets are about the community feel and what we create onstage, not so much towards the audience," says Laracey. Though Schumacher is influenced by Balanchine's athleticism, he also relates his approach to Jerome Robbins: "I value a lot of what Robbins did; he kind of started with having non-presentational works."
While this is only Schumacher's second work for NYCB, he's had plenty of practice. In 2010, he founded his own company, BalletCollective, which incorporates dancers, musicians, writers and artists into a collaborative creation process. The group rehearses during NYCB's layoffs, with Schumacher fitting in administrative duties in his spare time. "It's been a really great basis for me to understand everything that it takes to make ballet really possible, because I've had to do it all," he says.
Whether he's working with BalletCollective or NYCB, for Schumacher it all comes back to collaboration. (For instance, the score for Common Ground was composed by Ellis Ludwig-Leone of the indie band San Fermin.) "By collaborating with people—when it works—you're seeing your art in a new light and they're seeing theirs in a new light," says Schumacher. "I'm responsible for the choreography, but I'm also responsible for enhancing my collaborators' art and vice versa."


Get Pointe Magazine in your inbox