Claudia Bauer
Claudia Bauer is a writer and critic in the San Francisco Bay Area.
From left: Jennifer Stahl, Lonnie Weeks and Sasha De Sola in rehearsal for Trey McIntyre's new work. Photo by Christian Peacock for Pointe.
Photography by Christian Peacock

Summer is always a lively time at San Francisco Ballet, as the dancers return from vacation and launch into rehearsals for the upcoming season. But last July through September felt absolutely electric with creativity as the company created 12 world premieres for Unbound: A Festival of New Works, a cutting-edge program that will run April 20–May 6 at the War Memorial Opera House.
Artistic director Helgi Tomasson invited a wish list of international choreographers to participate: David Dawson, Alonzo King, Edwaard Liang, Annabelle Lopez Ochoa, Cathy Marston, Trey McIntyre, Justin Peck, Arthur Pita, Dwight Rhoden, Myles Thatcher, Stanton Welch and Christopher Wheeldon. Each got about 12 dancers, three weeks' studio time and, aside from a few general guidelines, total artistic freedom.
Keep reading...
Show less
Thompson was one of 23 American National Ballet dancers let go last fall. Photo by Giovanni Pizzino, Courtesy Thompson.
"All I want to do is dance," says Kimberly Thompson, 24. But because of her muscular physique, Thompson says, she struggled to find a company job. American National Ballet seemed like a dream come true: Founded in Charleston, South Carolina, in early 2017, the ambitious startup proclaimed itself as a home for dancers of diverse body types and ethnicities.
Thompson landed a corps contract with ANB and relocated from Maryland to Charleston. "September 18, 2017, was our first day," she recalls. On October 23, Thompson was one of 23 dancers (out of nearly 50) let go. And while the reasons for ANB's dramatic rise and fall have not been made fully public, the fallout for those artists is very real.
ANB, which officially dissolved a few months later, is only the most recent example of a company that's come and gone, leaving dancers in the lurch. Cedar Lake Contemporary Ballet shuttered in 2015, Silicon Valley Ballet closed mid-season in 2016, and Ballet Pacifica folded in 2007—after 42 years.
With ballet jobs scarce, getting an offer—any offer—can feel like the chance of a lifetime. But whether you're joining a startup like ANB or an established company, there is a lot to consider before you sign your contract and red flags to watch out for after you start work. Read on for advice from artists and executives with hard-won experience.
Keep reading...
Show less
Johnston rehearsing her ballet "Filamentous." Photo by Erik Tomasson, Courtesy SFB.
Blake Johnston couldn't have planned a better year to join San Francisco Ballet. Not only has she dreamt of dancing for SFB since entering the company school in 2013, but the first-year corps member is also an aspiring choreographer. For Johnston, rehearsals for SFB's Unbound: A Festival of New Works means diving into a deep pool of creativity.

"I get to see all these new people, the whole process," Johnston, 21, says between rehearsals. "If I have a five-minute break, I'll run into the hallway to see if anything is happening."
Keep reading...
Show less
Cauthorn and Strongin, two to watch at SFB, in "Frankenstein." Photo by Erik Tomasson. Courtesy SFB.
Max Cauthorn was an on-the-rise corps member when he stepped into the title role of Liam Scarlett's Frankenstein last February; when the curtain came down, he was San Francisco Ballet's newest leading man. In his first full-length starring role, he carried the physically and emotionally demanding three-hour ballet with fluent technique and a natural charisma. But he didn't do it alone: In her own lead-role debut with SFB, soloist Lauren Strongin brought tenderness and steely integrity to Frankenstein's true love, Elizabeth.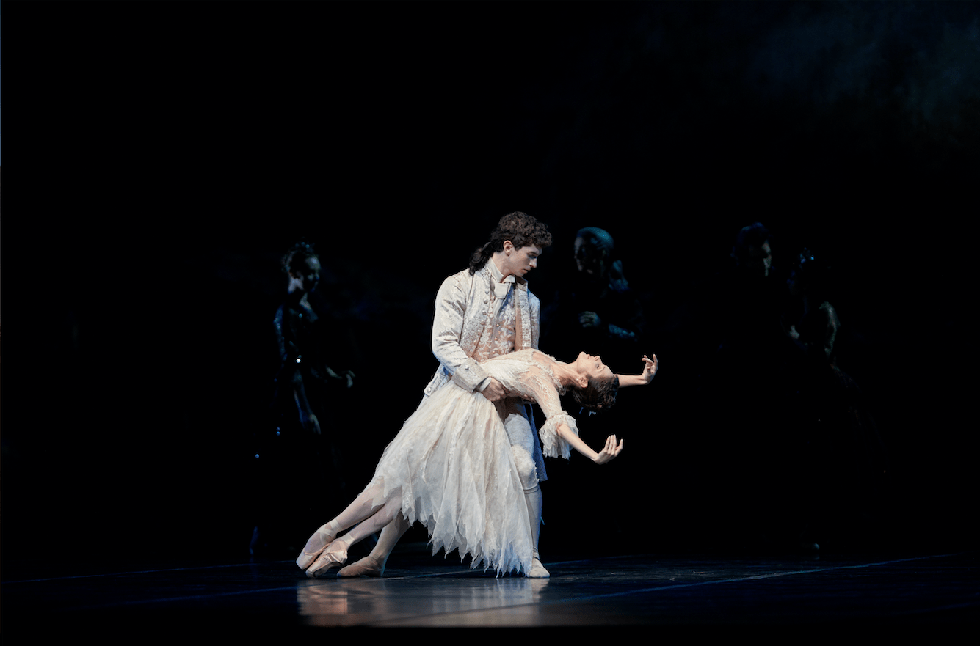 Photo by Erik Tomasson, Courtesy SFB.
Keep reading...
Show less


Get Pointe Magazine in your inbox