Oct. 20, 2017 01:00PM EST
New York City Ballet in Marc Chagall's costume designs for Balanchine's "Firebird."
I am a self-confessed costume nerd who really needs little persuasion to travel nearly 3,000 miles to see a costume exhibition—which is what I did when I set off for California for the new exhibition at Los Angeles County Museum of Art: Chagall: Fantasies for the Stage. I knew Marc Chagall primarily for his sumptuous blue swirling paintings featuring violin-playing goats, his incredible ceiling at the Paris Opéra's Palais Garnier, and murals at the Metropolitan Opera House in New York City, so I was intrigued to see his work with ballet.
Marc Chagall (1887–1985), was born Moishe Zakharovich Shagal in Belarus. He later moved to St. Petersburg, Russia, to study art, apprenticing under famed Ballets Russes designer Leon Bakst. Chagall's work in ballet and opera, however, did not begin until he and his wife Bella arrived in the U.S. as World War II refugees in 1941.
Chagall: Fantasies for the Stage, adapted from an earlier exhibition at the Montreal Music of Art and curated by Yuval Sharon and Jason H. Thompson, is an exciting opportunity to see 41 costumes and nearly 100 designs. But it is the costumes that really steal the show. You won't see any tutus here, but instead amazing, almost cartoon-like realizations of Chagall's artwork. LACMA's exhibition runs through January 7, 2018. For those of you who can't make the trip like I did, here's a rundown of highlights.
Keep reading...
Show less
Photo by Jayme Thornton for Dance Magazine
For former American Ballet Theatre star Julie Kent, this has not only been her first year at The Washington Ballet, but her first year as an artistic director. How has it been going? We caught up with her during the company's run at the Jacob's Pillow Dance Festival last week, its first visit since 1980. "It's a big change," says Kent. "There have been some exciting, wonderful aspects of that change—feeling embraced and excited—and the community is really eager to see what the next chapter for The Washington Ballet is."
"[It's also] my first year in a creative environment with a different group of people than American Ballet Theatre," she continues. This move away from ABT, where Kent was a dancer for 29 years, appears to have been a bigger transition for her than assuming the directorship. Kent, who had been adamant on her retirement from the company that she did not want to leave New York City, surprised all by moving her whole family to Washington, D.C., an area where she had grown up but had not lived in since the age of 16. Her husband, former ABT dancer and associate artistic director Victor Barbee has also joined TWB as associate artistic director, supporting his wife in this new endeavor.
Keep reading...
Show less
Courtesy Retribution Media
Marcelo Gomes' clean technique, skilled partnering and magnetic stage presence make him one of the world's most versatile and in-demand male dancers of his generation. This year saw the principal dancer celebrate his 20th anniversary with American Ballet Theatre, a company he joined at just 17 years old. Coinciding with this milestone was the release of the feature length documentary Anatomy of a Male Ballet Dancer, created by the two-man team David Barba and James Pellerito—who actually approached Gomes via Facebook. The documentary, which was seven years in the making, has been making the film-festival circuit this year, most recently August 6 at the Jacob's Pillow Dance Festival.
The film combines intimate interviews with backstage and rehearsal footage and archival video. It focuses on Gomes' skill and prowess as a partner and includes interviews with some of the world's top ballerinas including Diana Vishneva, Polina Semionova and Misty Copeland.
Keep reading...
Show less
Alicia Alonso in "Giselle." Photo by Frank Alvarez, Courtesy Dance Magazine Archives.
Over the years, many companies have premiered works or made their U.S. debut at the Jacob's Pillow Dance Festival, and some of the world's most famous ballet dancers have performed there. This week I will give some more insights from the Pillow's extensive archives into the dancers that have graced this world famous festival's stage. Click on the links below to watch video footage of their performances.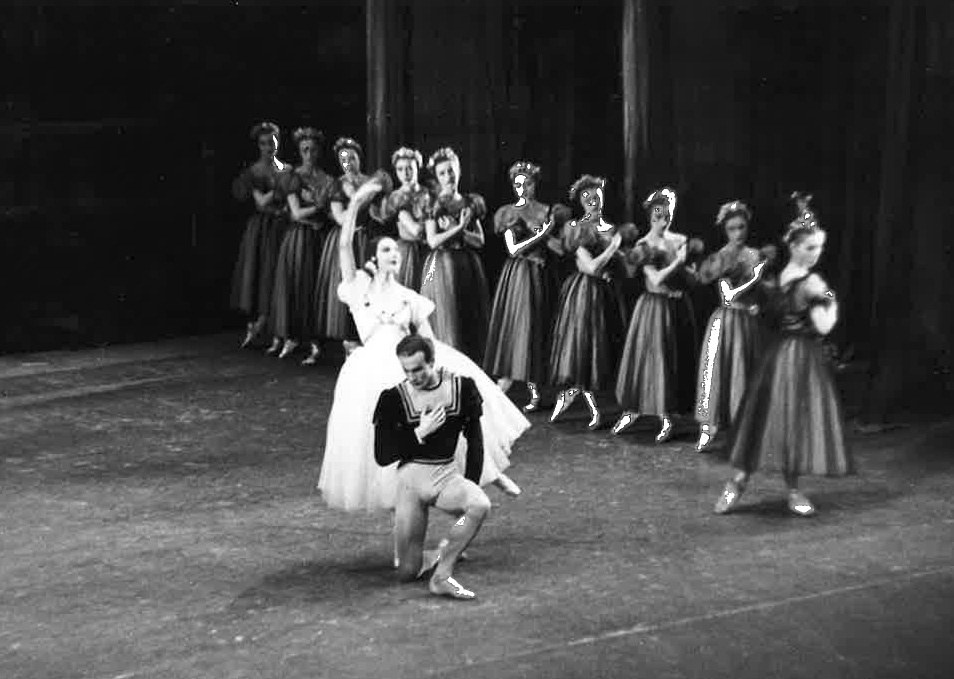 Alonso and Bruhn performing "Giselle" in 1955. Photo Courtesy Dance Magazine Archives.
Keep reading...
Show less


Get Pointe Magazine in your inbox