Pixabay.
Ever dreamed of dancing your way through Europe? Of discovering new companies and wandering the streets of historic cities? For Kelsey Coventry, an American dancer with Leipziger Ballett in Leipzig, Germany, moving abroad was the perfect next step. "I thought that I would try to spread my wings a little further," she says.
Europe also comes with another lure: lengthy, stable contracts with good benefits. "Since I work for an opera house here, and we're government funded, I'm considered a government employee," says Coventry. "We're paid 13 months out of the year, with a 2-month vacation. It's a pretty good deal."
But before you get the job, you need to audition. If you've never traveled abroad, planning a European audition tour can seem daunting. But with advance planning and the right blend of organization and flexibility, it can be an easier and more affordable experience than you think.

Keep reading...
Show less
Students in class at Pacific Northwest Ballet School's summer program. Photo by Angela Sterling, Courtesy Pacific Northwest Ballet.
This story originally appeared in the December 2014/January 2015 issue of Pointe.

When 17-year-old Rock School student Sarah Lapointe was auditioning for summer intensives, she faced a dilemma. By mid-January, she'd been accepted to a great school. But she needed to give her answer in seven days and still had four more auditions on her agenda. "I thought, What should I do?" says Lapointe. "Do I turn down this offer, or risk being wait-listed or not receiving another acceptance somewhere else?"
It's a common conundrum. For Lapointe, the answer was to contact the first school to ask for a deadline extension, which it granted. "This allowed me to focus on my remaining auditions and make a solid decision," she says.
When it comes to getting into your dream program, we know that schools look for stellar technique, artistry and dancers who will fit in well. But there's more to the equation—those things you can't control, like acceptance deadlines, class sizes and limited housing. If you've ever wondered how the admissions process works, the answers may surprise you.
At the Audition
Keep reading...
Show less
Erica Lall and Shaakir Muhammad in class at American Ballet Theatre's 2013 New York Summer Intensive. Photo by Rosalie O'Connor, Courtesy ABT.
This story originally appeared in the December 2013/January 2014 issue of Pointe.

When Pacific Northwest Ballet School student Madison Abeo was accepted into San Francisco Ballet School's summer session on a partial scholarship, she was thrilled. But then she added up the remaining cost for the program and realized she didn't have the funds. "I really wanted to go," she says, "but we just couldn't make the other half of it work."

Ballet training is expensive. For many families, a trip to a dream summer intensive simply isn't in the budget. SFB was $2,500 out of Abeo's reach. But she was determined. At the suggestion of her aunt, Abeo created a Facebook fan page where she asked for opportunities to babysit or perform odd jobs, and included a link to a PayPal account where friends and family could make donations. Two local dancewear businesses, Vala Dancewear and Class Act Tutu, offered to outfit her for fundraising photos, which a photographer took for her Facebook page for free. By June, Abeo had raised enough for tuition—plus plenty of pointe shoes.

Affording your dream intensive isn't as difficult as you might think. There are a surprising number of eager dance supporters out there. Case in point: On Kickstarter, dance projects have the highest success rate of any type of campaign, with dancers receiving over $4 million in donations through the site since it began. You can also apply for need- or merit-based grants and scholarships, either through your summer program or an outside foundation. Most dancers who want it badly enough can make it happen.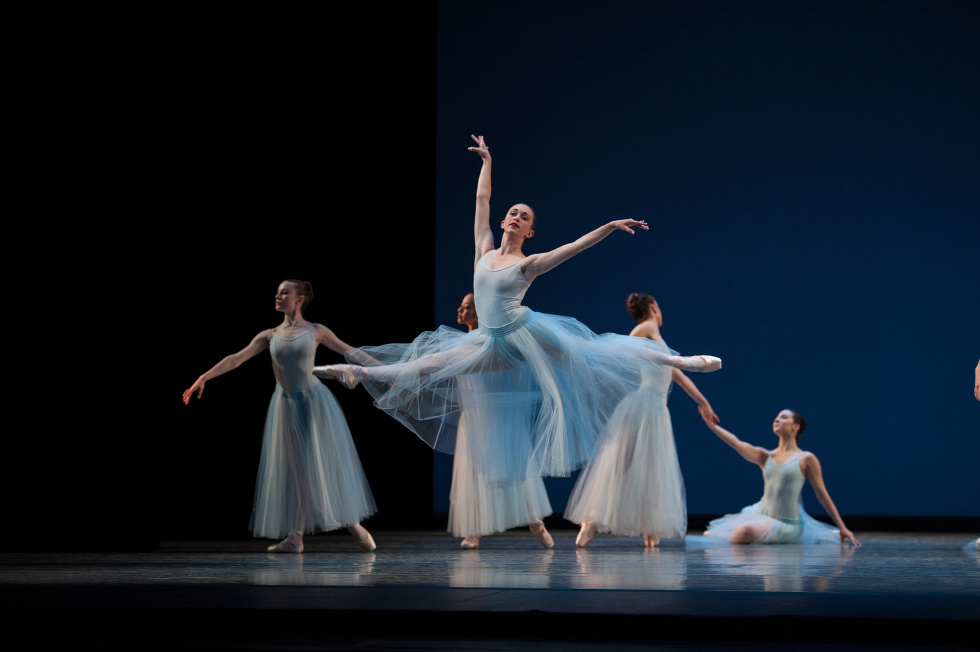 Madison Abeo with other Pacific Northwest Ballet School students in the 2013 School Performance of an excerpt from "Serenade," choreography by George Balanchine. Photo by Rex Tranter, Courtesy Abeo.
Take Your Cause to the (Online) Streets
Keep reading...
Show less


Get Pointe Magazine in your inbox