Houston Ballet principal Jessica Collado recalls dancing Giselle's Myrtha on an outdoor stage in the thick of a Texan summer. "At the beginning of the act my shoes still had some life in them, but when I bourréed off to go to my grave at the end, there was literally nothing left of them," she says. "They completely died."

While some pointe shoe brands are built with synthetic materials (making them longer lasting), most shoes are still made out of organic components like burlap and paper, which are incredibly susceptible to humidity. "The more moisture there is, either in the air or from your foot sweating, the faster your shoes will break down," says ThePointeShop founder Josephine Lee. Whether you're spending your summer performing outdoors or training in a crowded studio, muggy weather will have a huge impact on your shoes. Here are some tips to make it through.
---
Glue Is a Girl's Best Friend
Collado, who's spent her whole career in the South, has found that gluing her shoes far extends their lives. "I usually Jet-glue them in the box, up the sides and along the shank, after I've worn them once or twice and they're a little bit broken in," she says.
Washington Ballet dancer Katherine Barkman glues inside her shoes' boxes before wearing them to help them last even longer. Formerly a principal with Ballet Manila, Barkman is an expert when it comes to dancing in a tropical environment. "Our main studio was open-air, with only three walls, so when it was 100 degrees with 100 percent humidity it was no joke," she says. After gluing, Barkman recommends leaving your shoes standing upright to dry someplace cool, like a closet. "The longer they sit, the better it will work," she says. "If you have a summer intensive coming up, I'd start gluing your shoes a week or two before." Remember that a little bit of glue goes a long way; experiment on an old pair of shoes first to find what works for you.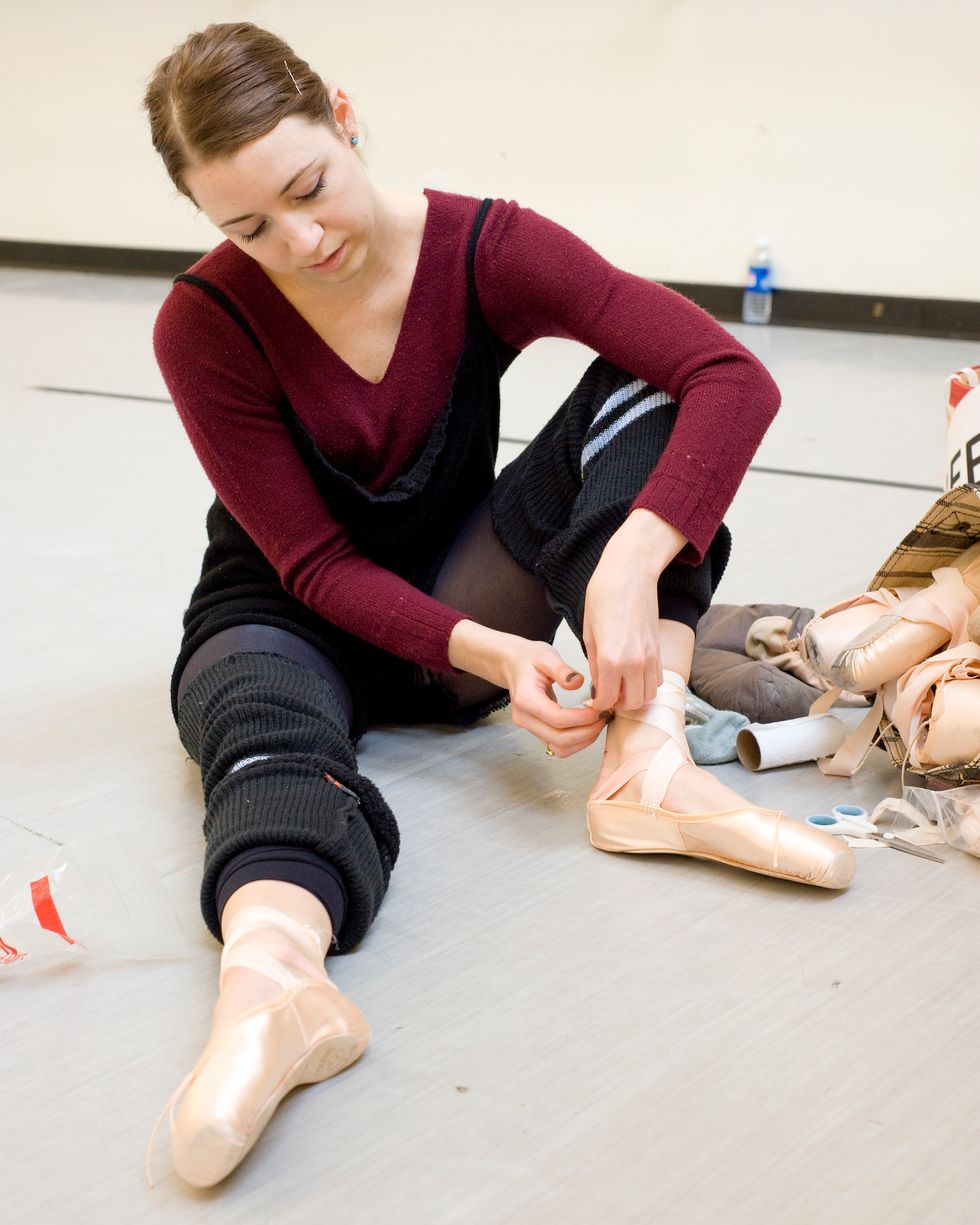 Collado preparing her shoes before class
Casey Ayala, Courtesy Houston Ballet
Swap Them Out
Summer intensives often recommend bringing a pair of shoes per week. While dancers tend to use one pair at a time, Lee urges students to rotate through their shoes instead. "You can have different pointe shoes for each day of the week, or if you have very sweaty feet or are in a very humid area, you can change your shoes throughout the day," she says. Barkman suggests writing the date that you start breaking in each pair inside, so that you can be strategic about which shoes you wear when. "Save your harder shoes for pointe class or partnering," she says. "Don't wear that pair for a class where you could get away with a softer shoe."
Collado rotates through her toe pads, as well. "They transfer moisture to the pointe shoe," she says. She carries four to five pairs at a time, and switches them out with her shoes between rehearsals. For summer, Lee recommends toe pads with a wicking material or lambswool. "A completely gel pad will create a pool of sweat inside your shoe and make your shoe break down a little bit faster."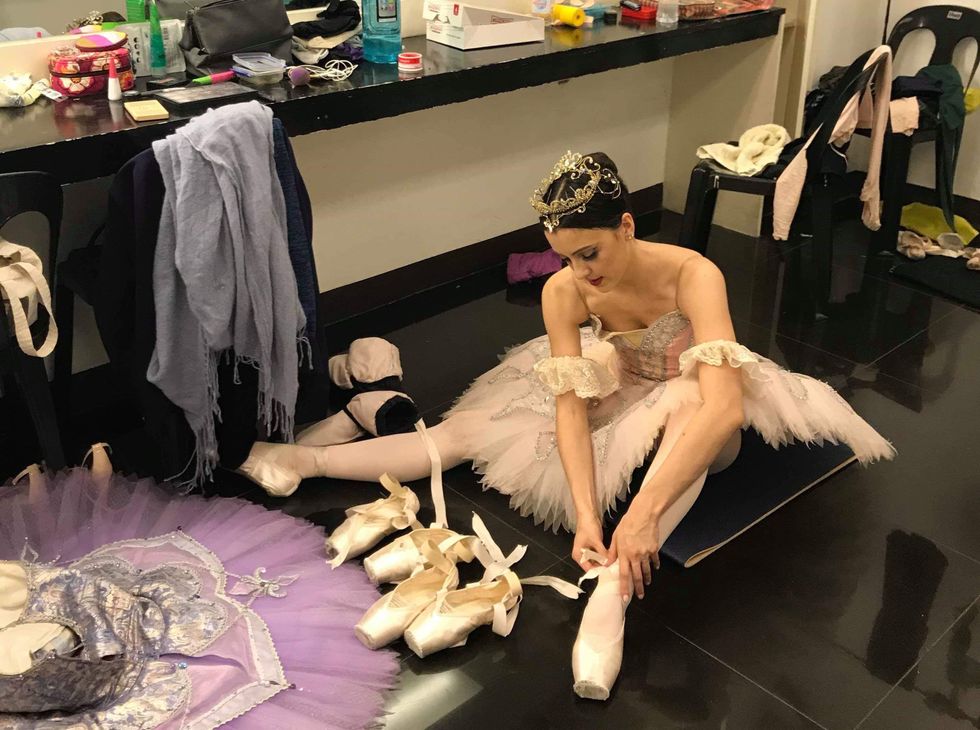 Barkman swapping out her shoes backstage
Courtesy Barkman
Ventilation Is Key
Giving your shoes a chance to dry out is essential. Lee suggests carrying a mini battery-operated fan in your dance bag, and setting it up by shoes you're not wearing throughout the day. "Never put your pointe shoes inside of your dance bag," she adds. "Always pull toe pads out of your shoes, and carry them in a mesh bag hanging outside."
Once home at night, it's important to lay your shoes flat to dry. Barkman swears by placing them next to an air conditioner to suck out the moisture, while Collado prefers heat, laying them by the lamps in her dressing room. Lee suggests stuffing your shoes with paper towels overnight to absorb moisture and help retain their shape. "You don't want your shoes to be a burden to you," says Barkman. "Put in the time each night so that you're prepared to handle anything that comes your way the next day."