Houston Ballet principal Chun Wai Chan's dance bag doubles as a portable dressing room. "We sweat a lot in class and rehearsal, so I always have a few different shirts with me," he says. When looking for dancewear, Chan focuses on items that are comfortable and will stand up to lots of wear, mostly in dark colors, like black, blue and gray. In a mix of dance and athletic brands, his navy Prada belt stands out. "My mom got bedding from Prada, and this was used to tie up the box, so I turned it into a belt to keep my tights up." says Chan. "People in the company think it's so funny."
---
Many of Chan's dance bag essentials help him stay healthy and injury-free. He started taking daily magnesium supplements after his legs cramped up during a performance of Swan Lake last year, and he's never without vitamin C tablets. He also carries kneepads made by Houston Ballet's wardrobe department. "I have an extra bone in my knee, so I often wear them for rehearsal to prevent injury."
The Goods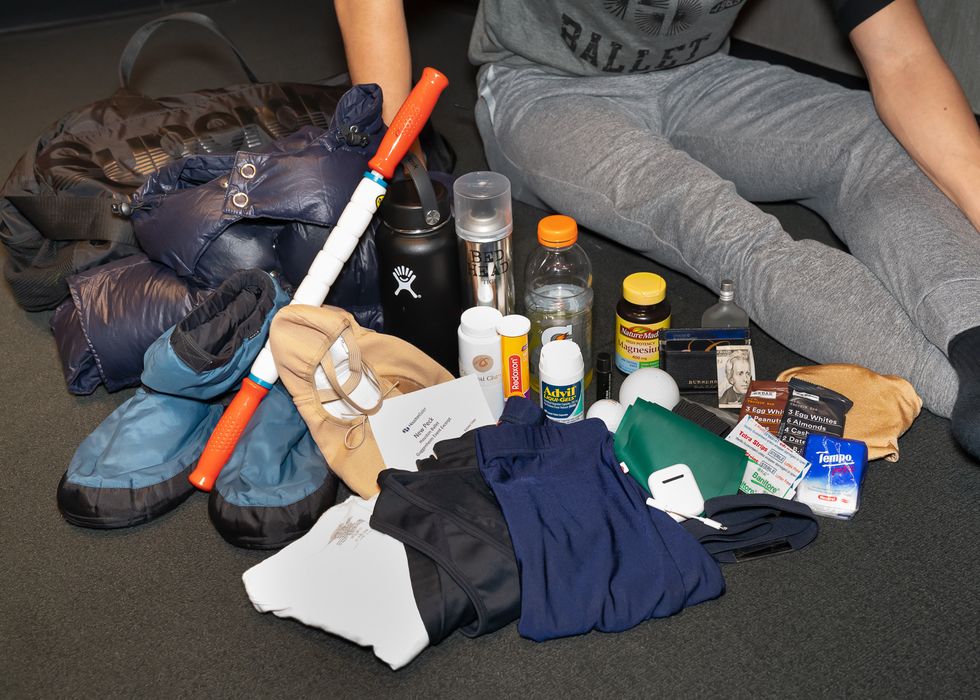 Kyle Froman
Clockwise from top left: Superdry bag ("It's very simple and light, and I like to carry it with me when I travel, even when I'm not dancing"), down vest, The Travel Stick, Hydro Flask water bottle ("Everyone's using these in the company, in all different colors"), Bed Head Hard Head hair spray, rosin, Redoxon Triple Action Vitamin C, Gatorade, Advil, lip balm, Nature Made magnesium tablets, Burberry card case, Calvin Klein CK One eau de toilette spray, RXBARs, kneepads, tissues, adhesive bandages ("I once got an infection because I didn't use a Band-Aid, and now I always carry them just in case"), Prada belt, Apple AirPods, headphone jack adapter, resistance band, Champion lacrosse ball ("for my thighs"), golf ball ("for my feet, or my calves if they're rock hard"), Yumiko tights, 2XU top ("I love this brand!"), Calvin Klein T-shirt, CD, Body Wrappers/Angelo Luzio ballet slippers, Bloch warm-up booties.