The author, Lucy Van Cleef, dancing Balanchine's Serenade at Los Angeles Ballet. Reed Hutchinson, Courtesy Los Angeles Ballet
If you'd have told me in 2009 that it would take 12 years to earn my bachelor's degree, I never would have believed you. Back then, I was a dancer in my early 20s and in my second year with Los Angeles Ballet. I was used to the straightforward demands of the professional ballet world. I knew that hard work and willpower were the currency you paid in the studio, and that the thrill of live performance made all that investment worth it. What I didn't know then is how life's twists and turns aren't always so straightforward. In hindsight, I can see how my winding road to higher education has strengthened me—and my relationship with the ballet world—more than I ever could have imagined.
I can't remember why I attended that first informational meeting in Los Angeles Ballet's lobby for the Liberal Education for Arts Professionals (LEAP) program at Saint Mary's College of California. The program allows dancers to transpose their professional performing experience into college credit toward a BA in performing arts. I must have had time to kill between rehearsals, because back then I didn't have any immediate drive to study. Even in high school, I'd seen going to college as a plan B that represented some failure in my overwhelming dream to become a professional dancer. After fulfilling that dream, I still considered life after dancing as some abstract future reality. Rationally, I knew that a dancer's stage career ended eventually—that there was bound to be a moment of "What next?" I guess it was that question that drew me to the meeting, and to joining the LEAP program the following fall.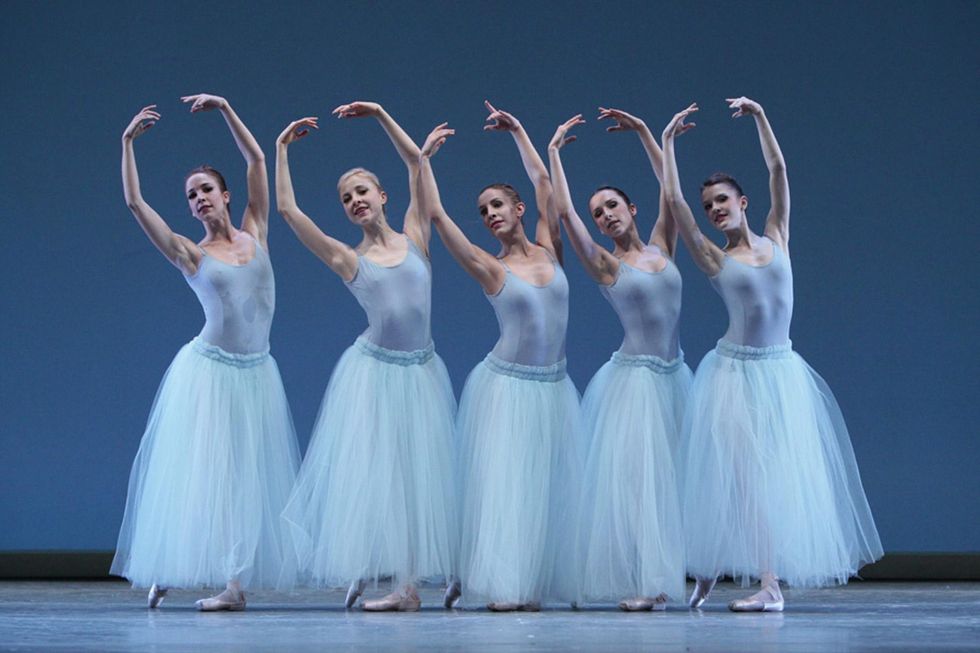 The author, far left, with dancers of Los Angeles Ballet in Balanchine's Serenade.
Reed Hutchinson, Courtesy Los Angeles Ballet
While it's becoming more common for dancers on career tracks to attend college dance programs, for those pro dancers who joined companies right after high school there are a few ways to pursue college degrees. Some attend universities part-time; for example, many dancers in New York City study at Fordham University or Columbia University while balancing a performing schedule. And some ballet companies team up with local colleges, like Boston Ballet's partnership with Northeastern University, to help their dancers prepare for post-performance careers. Then, there are programs specifically geared to pros, like LEAP, which allows dancers to receive college credit for their professional experience. Combined with a core curriculum, transfer credits and portfolio essays, the program acknowledges experience in the professional dance world as a source of learning.
I took Writing for the Major as my first in-person class, on Monday nights. My class was filled with former professional dancers, at all stages of life. I was relieved to find that taking one course at a time alongside my dance career wasn't just manageable—it was fantastic! Coursework gave me a chance to think about something other than casting. In the studio, I could be in the present moment, focused on honing my performance. But outside of rehearsal, I started to explore new heights.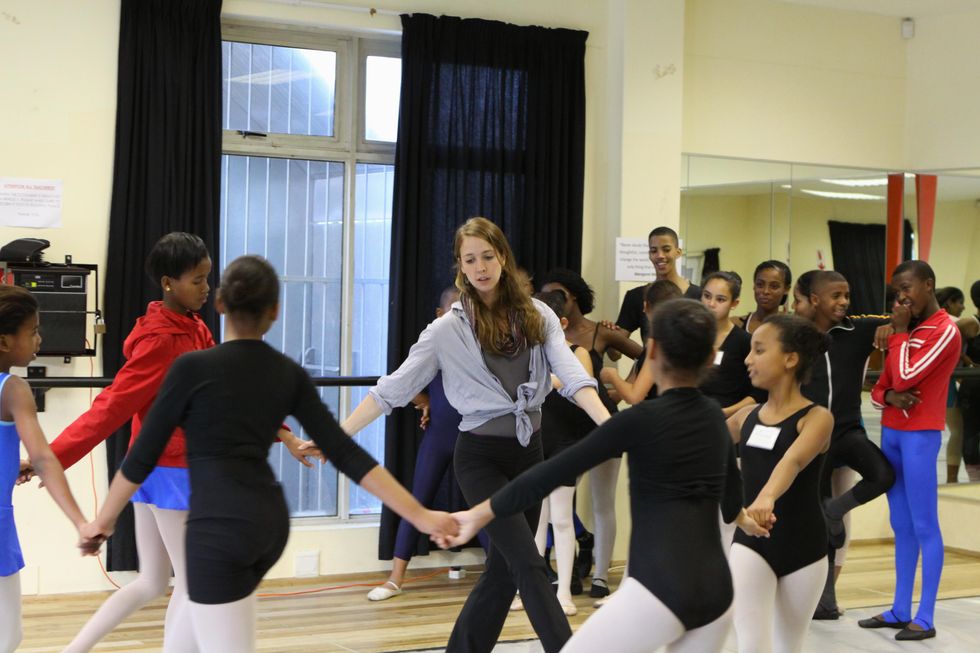 The author teaching local students during LEAP's study abroad program in South Africa
Annie Colbeck, Courtesy Lucy Van Cleef
Over those first few years, my college program gave me an amazing array of experiences. In the summer of 2011, I participated in a study-abroad program, traveling to Cape Town, South Africa, with six other dancers to teach at a two-week dance program—an adventure I'll never forget. I was also privileged to work with amazing teachers—Christian De Matteo and Jill Nunes Jensen, especially—who encouraged me to lean into my love of dance and writing.
My trajectory pivoted when I moved to Europe in 2012. At that point, performing was my focus. I danced in Copenhagen and Berlin, and traveled throughout Germany as a freelance dancer. It was an incredible time for absorbing inspiration; I was amazed at the massive scope of the dance world, both in its diversity of styles and its incredible history. While I took the odd online course (one of which was a beginning German class that led me to meet my husband), I admittedly lost sight of my degree.
Programs that award credit for dance experience can be a sticking point for some, who view college as a chance to develop a completely new set of skills. I would argue that recognition of a dancer's experience allows for the fluidity, and unexpectedness, of a dancer's life. Experience is cumulative, and a degree can serve as a stepping-stone to whatever comes next. The only question remains: What do you want to pursue?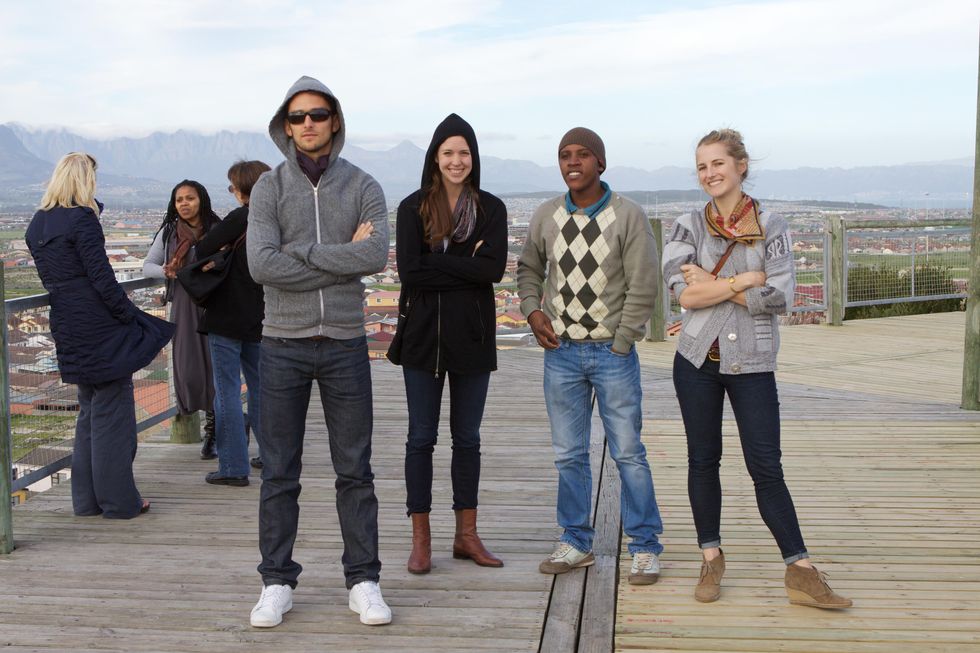 The author (second from left) with other dancer-classmates during a study abroad program in Cape Town, South Africa.
Annie Colbeck, Courtesy Van Cleef
While I'm grateful for the chance to both broaden my knowledge in the humanities and social sciences and transpose dance experience into credit, it has actually been the ability to fuse my skill sets that has served me most. My course requirements encouraged me to articulate my love of dancing in a way that more people could understand—an ability that paved the way for the next stage of my career as a dance writer.
By 2017, I was on my way to a successful transition, even though I still hadn't earned my BA. I lived in Berlin and was building my writing resumé. I was grateful to have found something that excited me in the same way performing had. But I was bothered by the question: Why do I need a degree? That question went unanswered for a long time. I knew I should finish what I'd started; but why, exactly?
The answer came last March, during the first lockdown. I don't remember which came first: an interest in researching dance history or an email from Andrew Pearson, LEAP's Los Angeles program coordinator, about whether I'd be interested in resuming the program. After some back-and-forth, it was clear: I was now on the way to completing my very last credits toward my bachelor's degree.
I received my diploma in the mail in April of this year. It came just in time for me to submit my application to graduate school, where I'll be studying dance history. It might have taken 12 years, but the chapter was finally completed—thanks to the tireless support from three advisors: Mark Baird, Annie Colbeck and Andrew Pearson.
I can't tell you how the saga will end. I'm confident that my stage career has prepared me, and thankful that my BA is allowing the next stages of my life to unfold. I'm ready for the hard work and willpower that the next steps—or spirals, obstacles and redirections, in dancer lingo—of my life will take. Let's see what the next 12 years look like!
Margaret Severin-Hansen, teaches class at Carolina Ballet's summer intensive. Cindy McEnery, Courtesy Carolina Ballet
Last summer many intensives were canceled or online-only. And the past school year has been spotty and strange for many, as well. All the more reason to look forward to an in-person summer program this year with excitement—but also, perhaps, some nerves. Take heart, says Simon Ball, men's program coordinator at Central Pennsylvania Youth Ballet. "Once you get there the first day, all those fears will be relieved."
Here, Ball and two other experts share their advice for how to make the most of this precious opportunity to dive deep into dance—and how to handle complications that may get in the way, like injury and drama.
1. Show Off...Your Work Ethic
Summer intensives offer a preview of company life: You'll be dancing in a variety of styles over the course of the day, and all day, everyday. But that doesn't mean you have to be company-ready on day one! Though the first day may be filled with placement classes, try not to approach every class as an audition. "This year has taught us that the work is the important thing," says Ball. "Let go of trying to impress. The best impression I ever receive as a teacher is when I see someone receptive to doing things differently, even if that means taking one step backwards initially, to be able to take two steps forward by the end of the summer."
Angelica Generosa, a principal with Pacific Northwest Ballet, clearly made a splash during her first of three summers at the Chautauqua Institution's School of Dance. At 14, she was cast to dance the pas de deux from Balanchine's Stars and Stripes in the final performance. Generosa describes her younger self as "very eager." She'll be a guest teacher at Chautauqua this summer, and says that a similar eagerness catches her attention: "Dedication, and willingness to try. That twinkle in the eyes when a step is really challenging."
2. Make Friends
Even if friends from your year-round school will be with you this summer, branch out. During breaks at the studio, you may be tempted to spend time on your phone. "Take your headphones off," suggests Margaret Severin-Hansen, director of Carolina Ballet's summer intensive. "Share that ballet video with the person sitting next to you! Their eyes might see it differently; you could learn something. Or find that you have other things in common, too."
Do things outside the studio, too, even if your social circle is limited for safety reasons to a "pod" of classmates. "Sign up for activities," says Generosa. Go on that weekend shopping trip, or out for ice cream. "Be open," she says. "These are people you might see along the way in your future."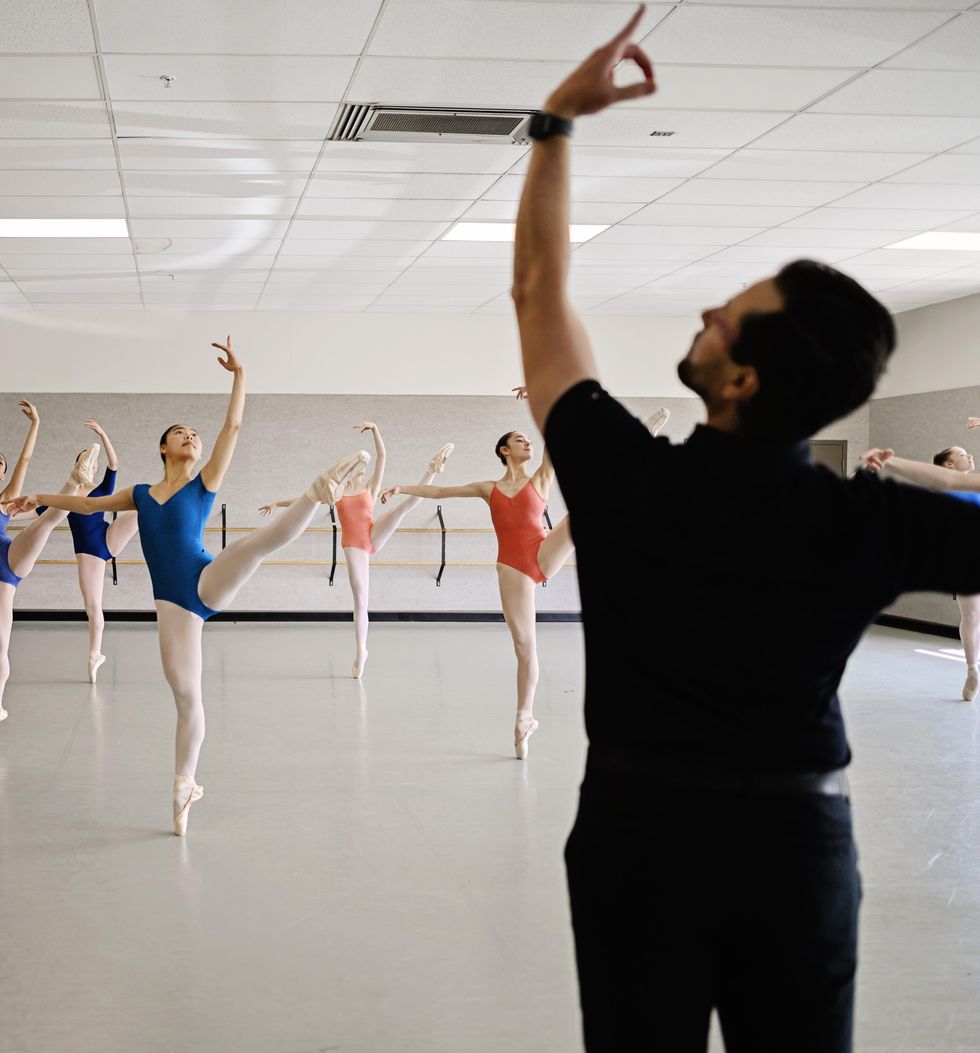 Simon Ball leads class at Central Pennsylvania Youth Ballet.
Courtesy CPYB
3. Stay Healthy
"The first week is tough—you're going to be sore," says Ball. "Prepare yourself." He means that literally. Before your program begins, ramp up cross-training, especially cardio to build your stamina. Severin-Hansen recommends you also keep dancing. It no longer matters that your regular school might be on break: We now know it's possible to take virtual classes from home or in a rented studio. If you're on pointe, make sure to put the shoes on every day, at the very least for some relevés. Keep the skin on your toes tough; the last thing you want is to be sidelined by blisters.
If you are recovering from an injury or managing something persistent like tendonitis, take action even further in advance. Find out if your intensive provides access to physical therapy, and if not, make a plan before you leave home. Learn exercises and massage techniques that you can do on your own, and ask about virtually checking in with your regular doctor or PT. Once you arrive, says Ball, communicate with your instructors. "Chances are it's a common ballet injury that teachers understand. They'll be able to help you."
During her summer intensives, Generosa often suffered flare-ups of inflammation. "I knew the tendonitis in my knees was from over turning out, and in my ankles from lifting my heels in plié." She was able to alleviate some of her pain by dancing more thoughtfully, addressing those habits. She also got creative about taking care of her tendons during off-hours. "I basically did ice baths in Chautauqua Lake."
4. Deal With Disappointment Constructively
Whether you're placed in a lower level than you'd like or were hoping for a soloist role that went to someone else, disappointment is understandable. Try, on your part, to understand too. The faculty may believe you'll thrive more in that particular group, or see a technical issue better solved by not pushing you too fast. If you're not sure exactly what you should be working on, ask. "Trust that you can make the most of your experience, whatever level you're in," says Ball. "Don't be afraid of the conversation."
5. Avoid Drama
Competition is inevitable, but unproductive competition is unnecessary, and bullying unacceptable. Severin-Hansen lays down a very clear guideline: "Nobody should ever feel uncomfortable." If you hear or see anything that bothers you—whether directed at you or someone else—don't hesitate to speak up. "If there's even one person creating drama, you feel it in the class. Summer is short. There's no room for that." Tell the resident advisor in the dorms, or bring the problem to the school administration.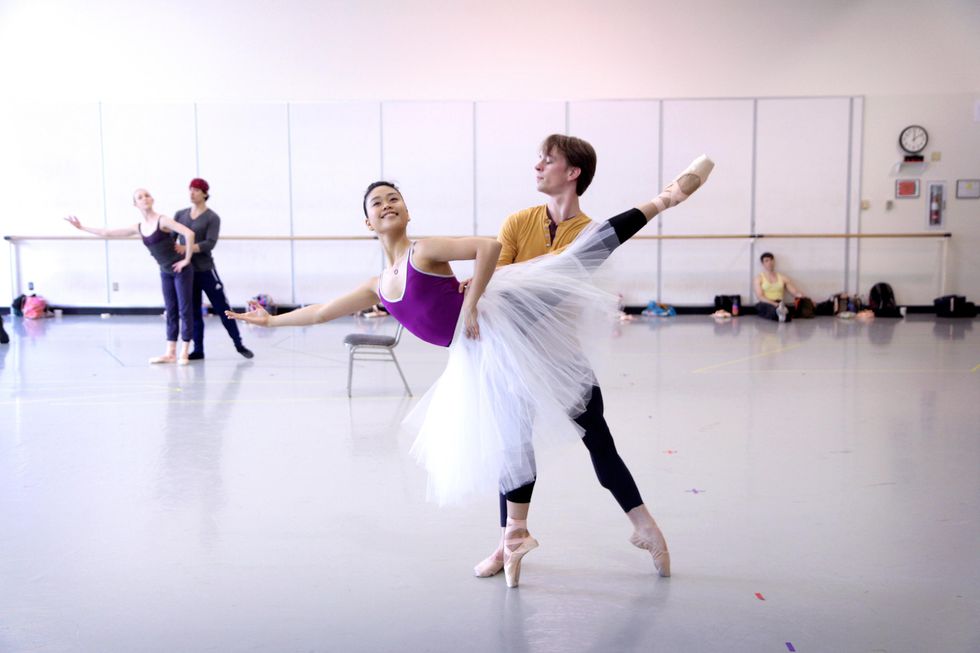 Pacific Northwest Ballet principal Angelica Generosa (shown here in rehearsal with Kyle Davis) made notes of corrections she'd received and variations she'd worked on during her summer intensives to help retain what she had learned.
Lindsay Thomas, Courtesy PNB
6. Fuel the Long Day
Depending on your housing arrangement this summer, you may be on your own for buying or preparing your own meals. Generosa recalls her first time living in a dorm and eating cafeteria food: "I wanted to try everything: pizza, chicken tenders, the salad bar, the dessert section—that was also my introduction to coffee." She found, however, that caffeine and sugar rushes would give way to energy crashes, and soon enough her better knowledge prevailed. "I told myself, 'Angelica, get your protein, vegetables, complex carbs—the right kind of energy.'"
Masking requirements may make snacking at the studios slightly more difficult. Nonetheless, there will almost certainly be somewhere you can safely have a nibble in between classes, whether that's a dancers' lounge or socially distanced in the studio itself. Make sure you always have something with you that's easy to munch on during breaks. Ball recommends protein bars or fruits and veggies. "Hydrating is huge," he adds, and suggests bringing packets of powdered electrolyte supplements to add to your water.
7. Retain Corrections
Take a moment each evening, Severin-Hansen advises, to write a few things down. "Say the whole class got a general correction, like 'Use your head.' The person who takes notes will think about it: 'When could I have used my head?' It's all about how you come back the next day and improve."
Generosa set a goal for herself to get better every day. To accomplish this, she would stay late to practice, she says, "so my body could adjust to what I was trying to achieve in that class." If you're inclined to follow her example, ask a friend to practice with you. You can film each other to get a glimpse of your own progress.
At the end of her Chautauqua summers, Generosa made notes of some things she had worked on and which variations she'd learned. "Then it wasn't like I left and that was that. I brought the summer experience with me, for my whole year."
Michael Cousmano, AKA Madame Olga. Courtesy When I'm Her
Michael "Mikey" Cusumano was a rising star at American Ballet Theatre in the 1990s, joining the company at 15 years old and dancing principal roles by age 16. But the high pressure of ballet proved detrimental to his emotional and mental well-being. "I couldn't find the joy in ballet anymore," says Cusumano.
After 10 years as a professional ballet dancer, Cusumano transitioned to Broadway, where his alter ego, a sparkly-turban–wearing Russian ballet instructor named Madame Olga, was able to fully emerge. In Madame Olga, Cusumano became the ballet teacher he wished he had growing up. While Olga's classes feature the same technical rigor as any other intermediate-advanced ballet class, they also incorporate her signature humor and positive affirmations. It's common for Madame Olga's students to vocalize those affirmations while dancing (for example, saying "love" out loud while doing an adagio combination).
Cusumano's journey to becoming Madame Olga is now captured in a new short documentary When I'm Her, directed by Emily Schuman and co-produced by Schuman, Independent Lens and ITVS. It premieres on PBS Voices June 21 as part of its LGBTQ+ Pride Month offerings. The film features home videos of Cusumano as a budding ballet prodigy and highlights a visit as Madame Olga to his old dance studio, Seiskaya Ballet. It also unearths issues that impact young ballet dancers, including fear and lack of self-confidence.
We chatted with Cusumano and Schuman to discuss the documentary and what has made Madame Olga resonate with ballet students both young and old.
What was the inspiration for capturing Madame Olga's story in a documentary?
Cusumano: A few years ago, Emily reached out to me and said she was curious what I was doing as Madame Olga and asked if she could film me. I said OK and we filmed a few times a year over the course of two years.
Schuman: I started dancing at age 3 at Seiskaya Ballet, which is the same school that launched Mikey's career. Mikey was a few years older than me, and I would often see him when he'd come back as a guest teacher or performer. I had my own trauma around ballet that I was working through as an adult. Following Madame Olga on social media, I started to notice how happy students were taking her classes, and that sparked my curiosity.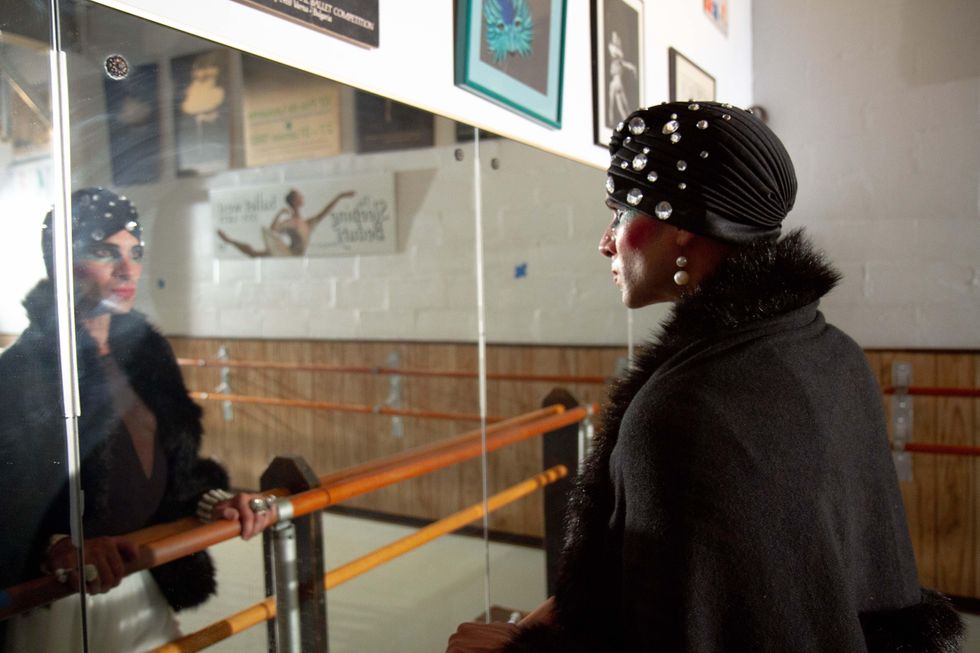 Courtesy When I'm Her
The film uncovers some pretty vulnerable moments you experienced throughout your career, Mikey. What was that like for you?
Cusumano: So many ballet dancers have this deep pain, whether they made it professionally as a dancer or not. It's like a self-hate. Being so young at ABT was a little bit traumatizing. I am so grateful for the experience, but I have seen a lot of dancers crumble under the pressure. It's very common, and I am glad that I was honest about that in the film and didn't sugarcoat anything.
Madame Olga talks a lot about self-love. What do you think ballet teachers can do to ensure they are taking care of the whole person, and not just developing strong technique?
Cusumano: Mental health isn't talked about very much in ballet. We are taught to look in the mirror and judge ourselves and think that everything could be better. Madame Olga makes you forget about those things and just be free. I needed to be free so badly when I was younger. I think teachers could start to incorporate that freedom in their classes. Whether I am teaching as Mikey or as Madame Olga, I always try to remind students to love themselves.
Schuman: What Madame Olga does is really embrace a dancer's flaws and turn them into something positive. I think that is a tool that can make someone a better dancer, and that was something I didn't experience with my teachers growing up.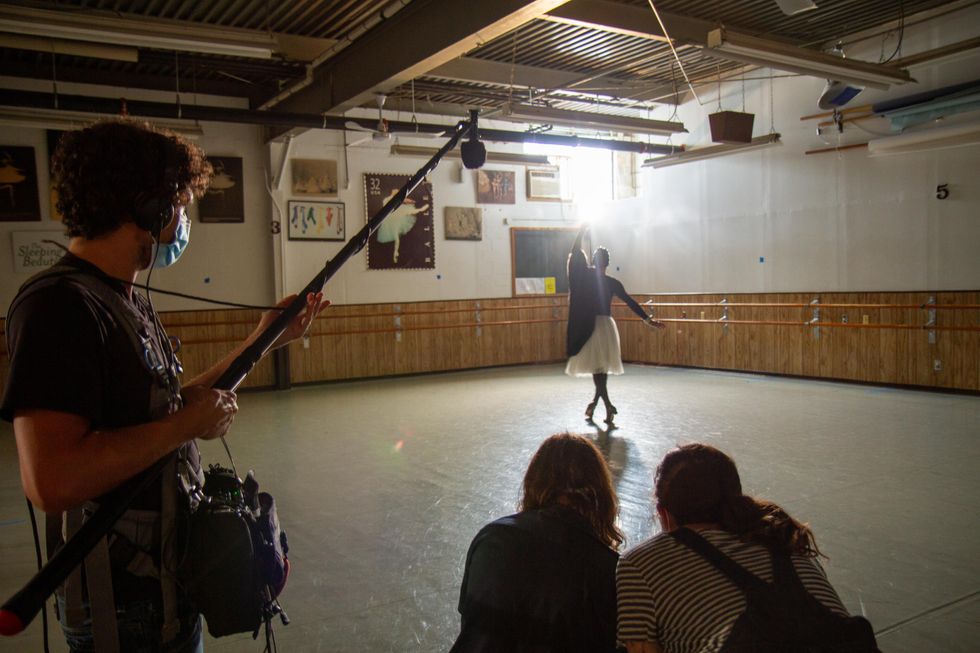 Courtesy When I'm Her
What do you think needs to change in ballet training in order to create an art form that makes dancers want to stay in this field?
Cusumano: I remember being 11 and being told I was fat by a teacher and by the parents of other students because I had gained weight that year. I, as well as Madame Olga, am very much about teaching students to love every part of their body. When kids start taking ballet, they are taught right away what is not good about them—their feet aren't right, their legs are too short, etc. Teachers should start focusing more on the passion and human connection of this art form.
Madame Olga taught on Instagram Live throughout the pandemic and now has her own on-demand platform. Why do people keep coming back to her classes?
Cusumano: It's overwhelming the messages Madame Olga receives. A few years ago, this teenage girl sent a message saying "Taking your class was the first time I was able to look at myself and not hate myself. I felt completely free." She also gets a lot of messages from women in their 40s, 50s and 60s that say things like "You have no idea what your class has done for me. I have been able to heal this pain that I have been carrying because I hated my body." Every day is a new opportunity to create your own beautiful reality, and that's the energy Madame Olga focuses on.