This summer, when parts of the world were slowly emerging from the COVID-19 lockdown, all live performing arts events having been canceled or postponed, choreographer Bryan Arias found himself in Moscow creating a brand-new work for the Bolshoi Ballet.
Arias, who was born in Puerto Rico, grew up in New York City's Spanish Harlem, and danced with Complexions Contemporary Ballet, Nederlands Dans Theater 2 and Kidd Pivot, had been invited by Bolshoi artistic director Makhar Vaziev to be part of an impromptu program of contemporary choreography titled Four Characters in Search of a Plot. Three other international choreographers—Martin Chaix (France), Dimo Milev (Bulgaria) and Simone Valastro (Italy)—had also been asked to participate. This program, unusual by all standards for Russia's esteemed classical ballet company, opened the Bolshoi's 245th ballet season on September 10. Eager to resume live events, the theater introduced a number of safety regulations for audience members, including limited and spaced-out seating, temperature checks upon entry and audio messages reminding patrons to wear masks and maintain social distance.
Below, Arias talks about his trip to Russia and his experience of creating his new piece, The Ninth Wave, on the Bolshoi Ballet dancers.
---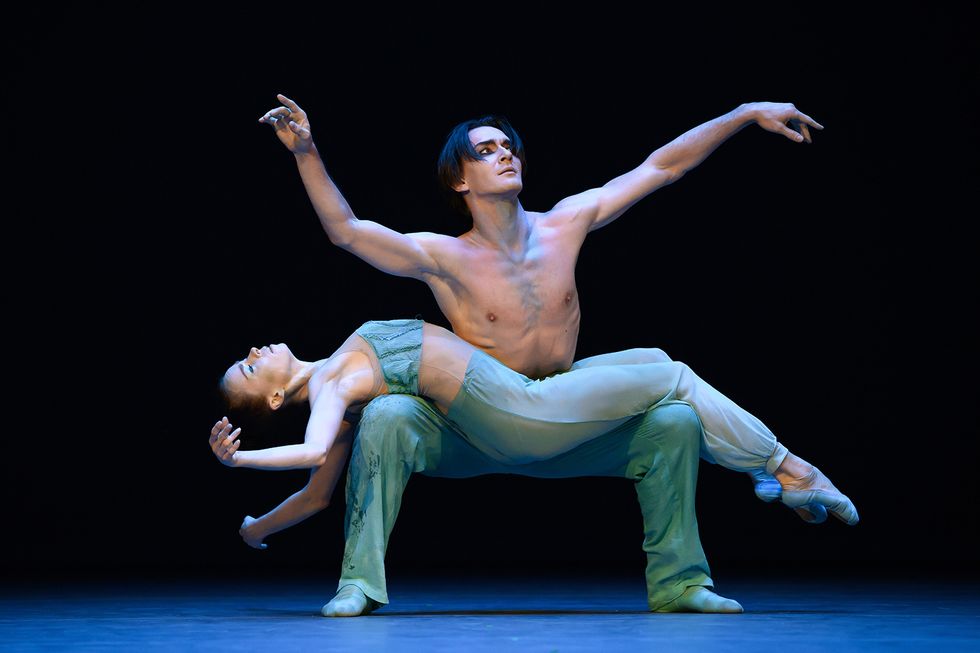 Ekaterina Krysanova and Vladislav Lantratov in Bryan Arias' The Ninth Wave
Natalia Voronova, Courtesy Bolshoi Ballet
The Phone Call From Moscow
"Because of the pandemic, all my plans got shifted into the future and there was no certainty about anything. I was in quarantine in Basel, Switzerland, feeling a bit lost and trying to stay inspired and motivated. And out of nowhere I got a phone call from Makhar Vaziev, artistic director of the Bolshoi Ballet, with an offer to come to Moscow and to choreograph whatever I would like. I agreed on the spot—I was ready to do anything at that moment. We decided right then that I would do a 60-minute piece, with a cast of 40 dancers, and I would use live music. This would be a ballet with the largest number of dancers I had ever worked with."
Traveling to Russia During the Pandemic
"Everything about the trip seemed suspended and improvised. I was scheduled to travel on July 19 but on July 16 I still didn't have my Russian visa. When I finally got the visa, one day prior to my departure, I was told at the embassy that there was no guarantee that I would be able to enter into the country. Next day, I packed my bag and took a train to Paris; from there I went to a small airport servicing only private jets. There I met the three other choreographers. It was my first time traveling to Moscow and up until the end of the trip it all felt unreal."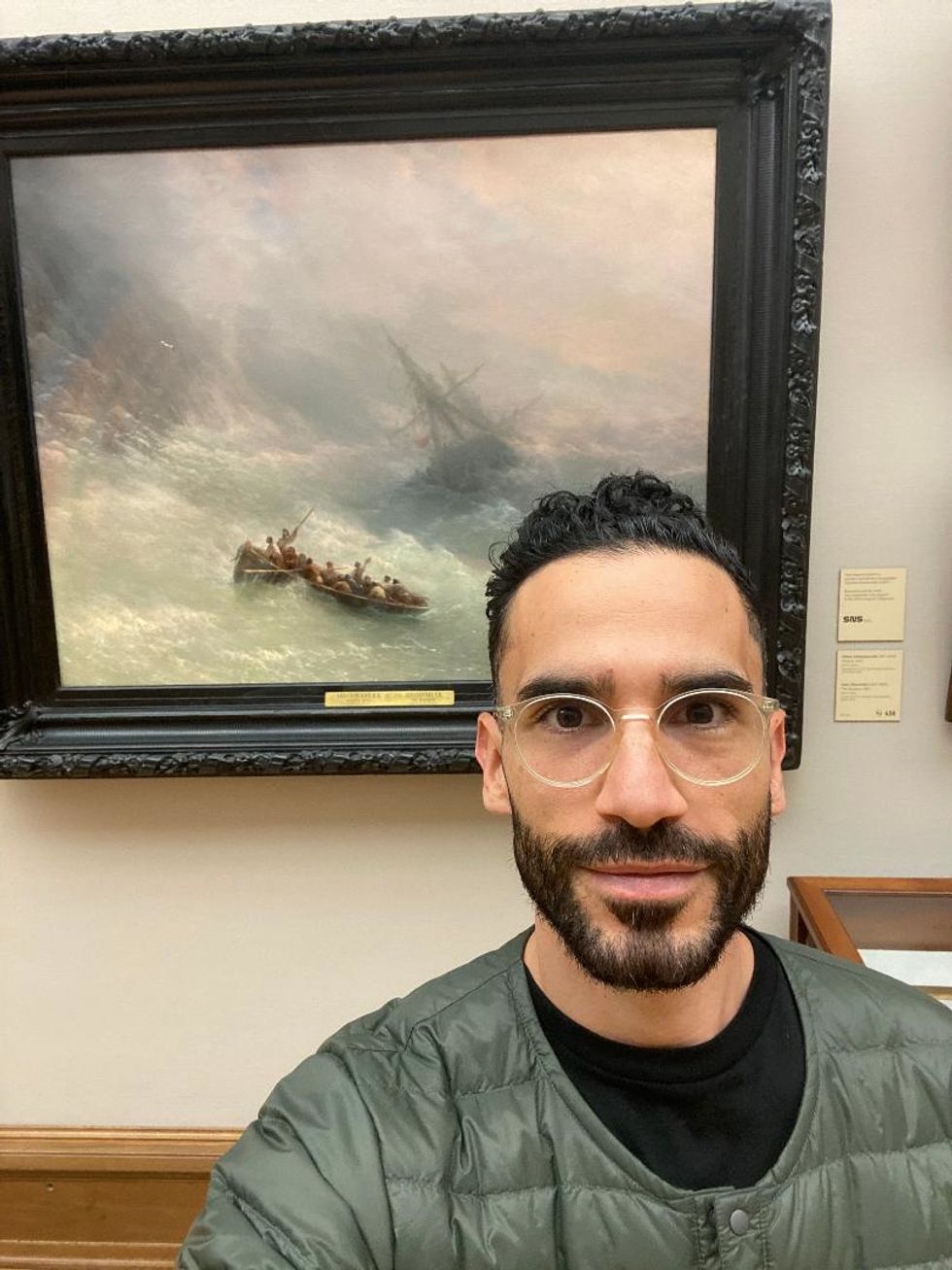 Arias in front of a painting by Ivan Aivazovsky at Moscow's Tretyakov Gallery.
Courtesy Bryan Arias
Inspiration for "The Ninth Wave"
"In my preparation for The Ninth Wave, I wanted to dive into all things Russian, so I surrounded myself with Russian art and music, and I began reading a lot about Russian history and culture. When I first saw the works of maritime painter Ivan Aivazovsky, I just felt inspired by his art. He lived a secluded life in a small town on the Black Sea. The imagery of the sea is so rich with possibilities, and my imagination just took off. I also found a connection between the art of Aivazovsky and the music of Mikhail Glinka and Nikolai Rimsky-Korsakov. When I imagined their music performed live—it just felt right."
Selecting the Cast
"I had five days before the Bolshoi officially began working after the lockdown. Mr. Vaziev selected a group of 50 corps de ballet dancers who, in his view, would be a good fit for this project. From there, all four choreographers started watching the company's classes. There were six to eight classes per day. Usually I would select a small group of dancers to work separately in a studio, just to feel how they carry themselves and to better understand their body language, their personality and chemistry. With the principal dancers (opening night starred Ekaterina Krysanova, Vladislav Lantratov, Evgenia Obraztsova, Artemy Belyakov and Jacopo Tissi), I was trying to figure out what I could do to showcase them in a new light. I wanted the audience to see these dancers, whom they know and love, through a different lens."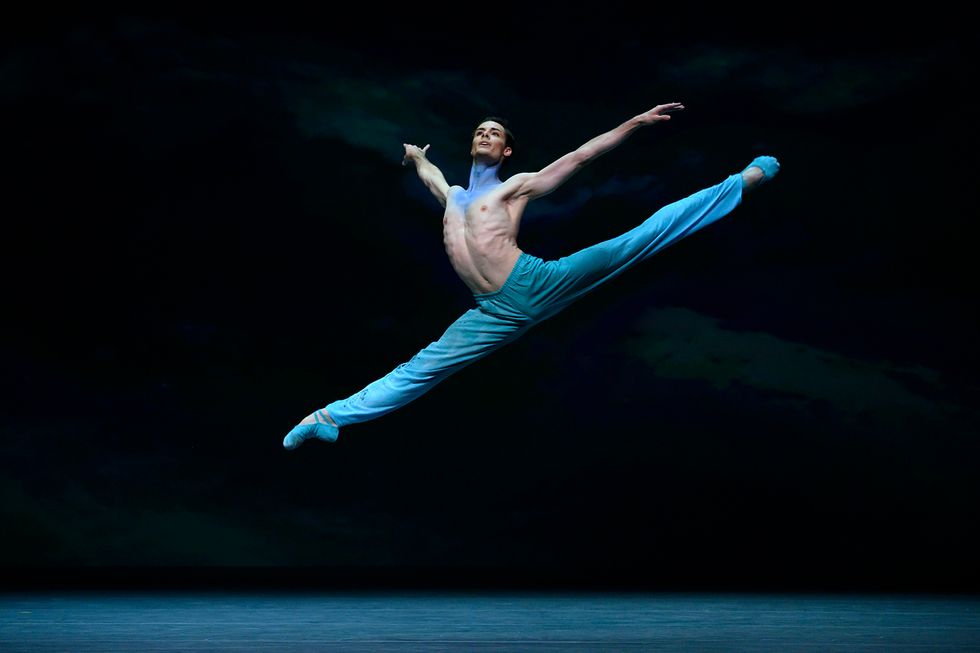 Bolshoi Ballet leading soloist Jacopo Tissi in The Ninth Wave
Natalia Voronova, Courtesy Bolshoi Ballet
Staying Safe During Rehearsals
"Sometimes it felt as if COVID-19 didn't even exist there. In reality, everyone was responsible; everyone had tremendous respect and care for each other. If the dancers didn't feel well, they wouldn't come to work; they would immediately go to a doctor's office to get tested. It all seemed very efficient and it worked."
Ballet With a Hip-Hop Twist
"I had a great connection with the dancers. Even though we had to use an interpreter in the studio, the dancers would understand me almost immediately. I have a hip-hop and salsa background, and I can create challenging movements with that abstract, hip-hop quality. But here I tapped in to my classical ballet knowledge, more than I have ever done before. I was obsessed with classical ballet when I was growing up, so the whole process of creating The Ninth Wave felt very satisfying—it's a classical ballet where I used the elements of hip hop to accentuate certain shapes and movements."
Long-Distance Collaborating
"I had to work with my collaborators online since some of them weren't able to come to Moscow due to the travel restrictions. It added a layer of difficulty to my work. My lighting designer created lighting for The Ninth Wave with a digital app. The design was sent to the Bolshoi and they were able to re-create it; and the costume designer did the same. Luckily, my projection designer was able to come; she created and manipulated a set of images of Aivazovsky's paintings, which were projected on a backdrop."
Opening Night
"When the curtain went up it all felt surreal. Even though all three performances were sold out, the theater was only partially occupied because of the safety regulations. The Bolshoi dancers are used to full houses, but they told me after the performance that it seemed as if the theater was completely packed because of the energy the audience gave them. They felt the audience's love and support."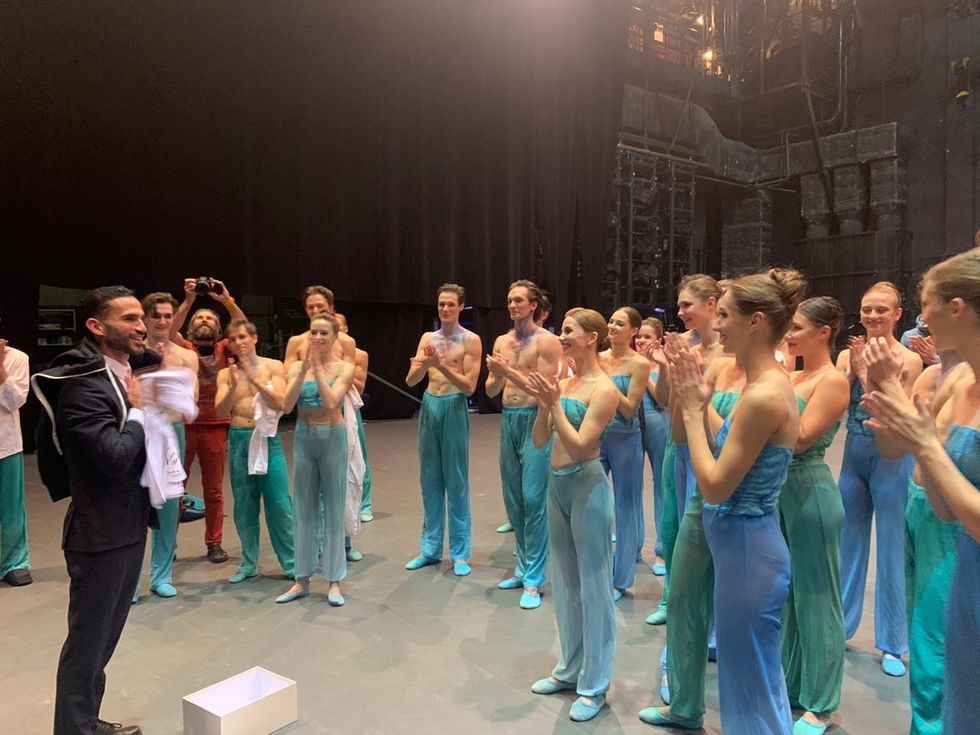 Arias backstage with the cast of The Ninth Wave after the premiere
Courtesy Bryan Arias
Closing Thoughts
"The experience at the Bolshoi has humbled me. It made me feel free and valuable and ready to go wherever the water takes me. It brought newness to my life and my career. Hearing words of appreciation from the dancers for my work and feeling their gratitude meant a lot to me. And just to be able to work and to be in the present, to realize that we want to be in the now…It's a bit unfortunate to think that we had to have a pandemic to realize the importance of feeling that way."