Pointe caught up with three college dancers last spring to see what it's like juggling ballet, academics and a social life on campus. First up is Elizabeth Abbick, a student at Jordan College of the Arts, Butler University getting her BFA in dance performance and her BA in mathematics.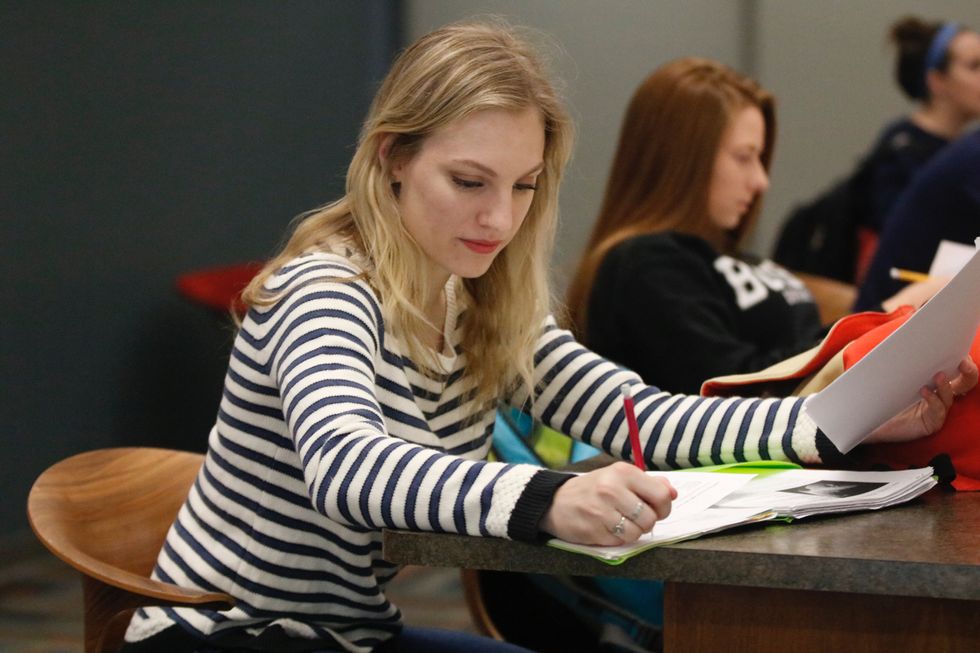 Abbick studying in the library. Photo by Jimmy Lafakis for Pointe.
Leawood, Kansas, native Elizabeth Abbick faced some tough choices her senior year of high school. Equally talented in math and ballet, she wanted a professional dance career but also desired to plan her post-performance life. "Butler University had always been on my radar because I knew the faculty was stellar and the students are the best of the best. I realized it could offer me both worlds," she says. Now a senior majoring in dance performance and mathematics, she hopes to work on the business side of the ballet world after her stage career.

---
9–9:50 am: Dance history, math or astronomy classes. Abbick has several general-education requirements for graduation in addition to her math and dance-related courses.
11–11:50 am: Choreography class. Required for all dance majors, Butler faculty guide students as they create pieces on each other for in-studio showings, or full productions with lights, costumes and sets.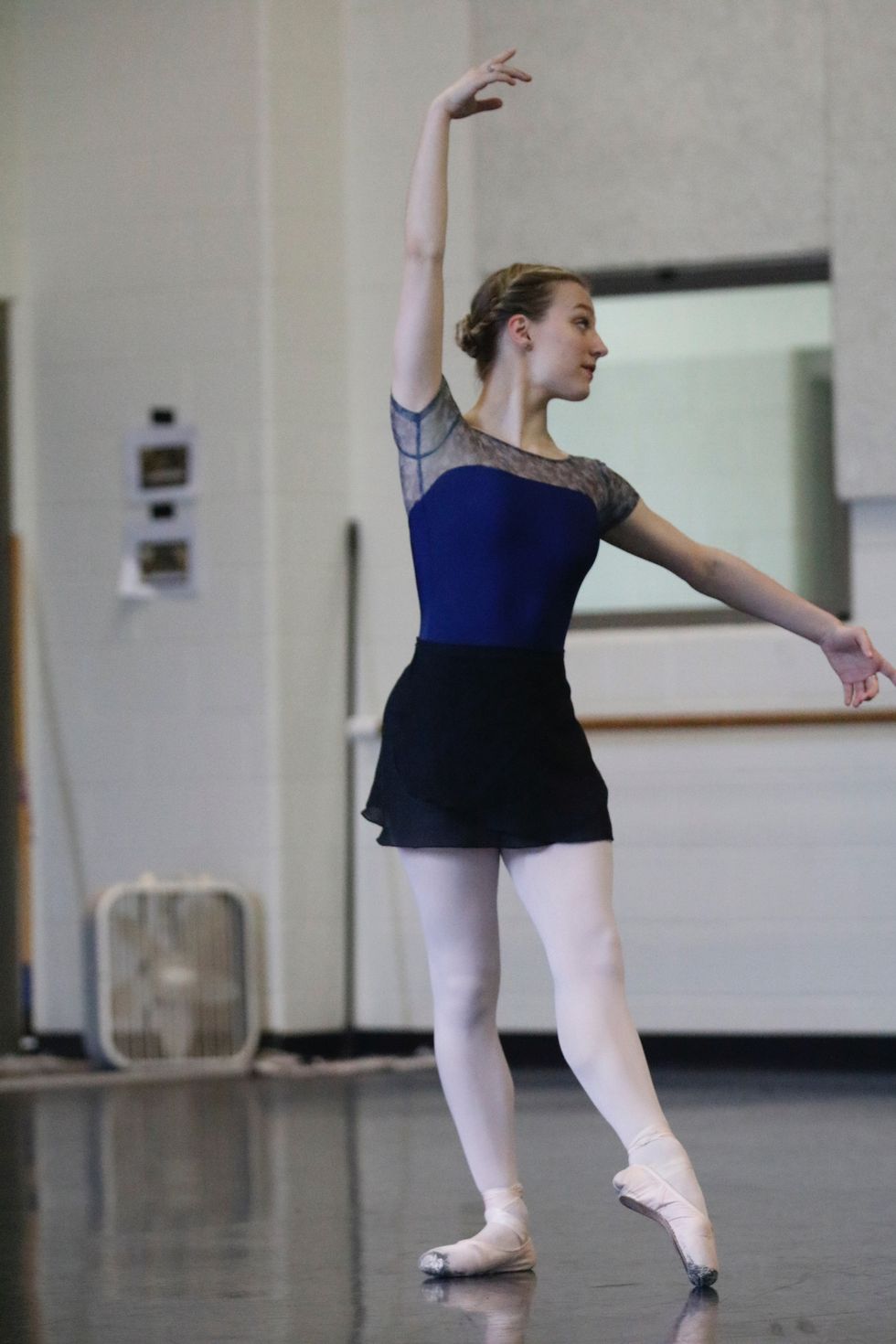 Abbick in rehearsal. Photo by Jimmy Lafakis for Pointe.
Noon: Lunch. "I'll either run home for lunch or pack something to take with me. I'm in a sorority and live in the house right now, which is really rewarding and gives me good balance in my social life."

12:20–3 or 3:30 pm: Ballet class, followed by either modern or pointe, plus an hour of pas de deux on Mondays. With a rotating three-week schedule of teachers for ballet and partnering, students are immersed in each one's specialty before moving on. "We get everything from Vaganova to Balanchine," Abbick says. Guest répétiteurs (recent guests include Deborah Wingert and Charthel Arthur) also teach.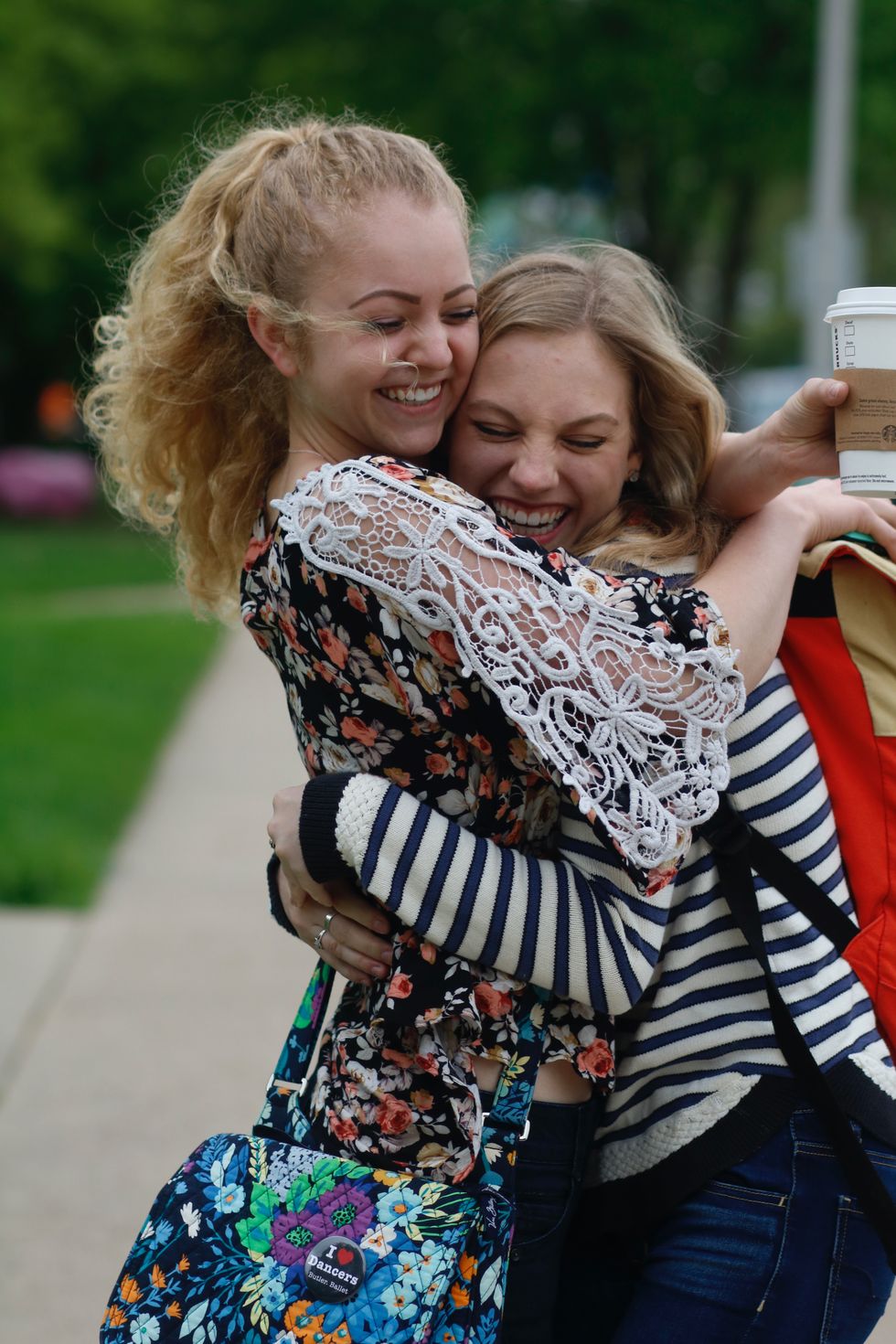 Abbick running into a friend on campus. Photo by Jimmy Lafakis for Pointe.
4–6 or 6:30 pm: Rehearsal. Abbick performs at least three times a year with the Butler Ballet. Rehearsals continue on Saturdays, sometimes stretching from 9 to 5. "Butler's program is really parallel to company life," she says. "I don't know if I'd have been able to handle a day like that if I'd gone straight from high school."
Evenings: Abbick is on her sorority house meal plan, but can also use the house kitchen if she wants to cook dinner for herself. "I do most of my academic work in the evenings and on weekends, but there's also a beautiful open space in the dance building where you'll always find dancers stretched out doing homework on rehearsal breaks."