Chisako Oga photographed for Pointe by Jayme Thornton
Chisako Oga is a dancer on the move—in more ways than one. From childhood training in Texas, California and Japan to a San Francisco Ballet apprenticeship to her first professional post with Cincinnati Ballet, where she quickly rose to principal dancer, she has rarely stood still for long.
But now the 24-year-old ballerina is right where she wants to be, as one of the most promising soloists at Boston Ballet. In 2019, Oga left her principal contract to join the company as a second soloist, rising to soloist the following year. "I knew I would have to take a step down to join a company of a different caliber, and Boston Ballet is one of the best companies in the country," she says. "The repertoire—Kylián, Forysthe, all the full-length ballets—is so appealing to me."
And the company has offered her major opportunities from the start. She danced the title role in Giselle in her very first performances with Boston Ballet, transforming a playful innocent into a woman haunted by betrayal with dramatic conviction and technical aplomb. But she also is making her mark in contemporary work. The last ballet she performed onstage before the pandemic hit was William Forsythe's demanding In the middle, somewhat elevated, which she says was a dream to perform. "The style really clicked, felt really comfortable. Bill drew something new out of me every rehearsal. As hard as it was, it was so much fun."
"Chisako is a very natural mover, pliable and strong," says artistic director Mikko Nissinen. "Dancing seems to come very easy for her. Not many have that quality. She's like a diamond—I'm curious to see how much we can polish that talent."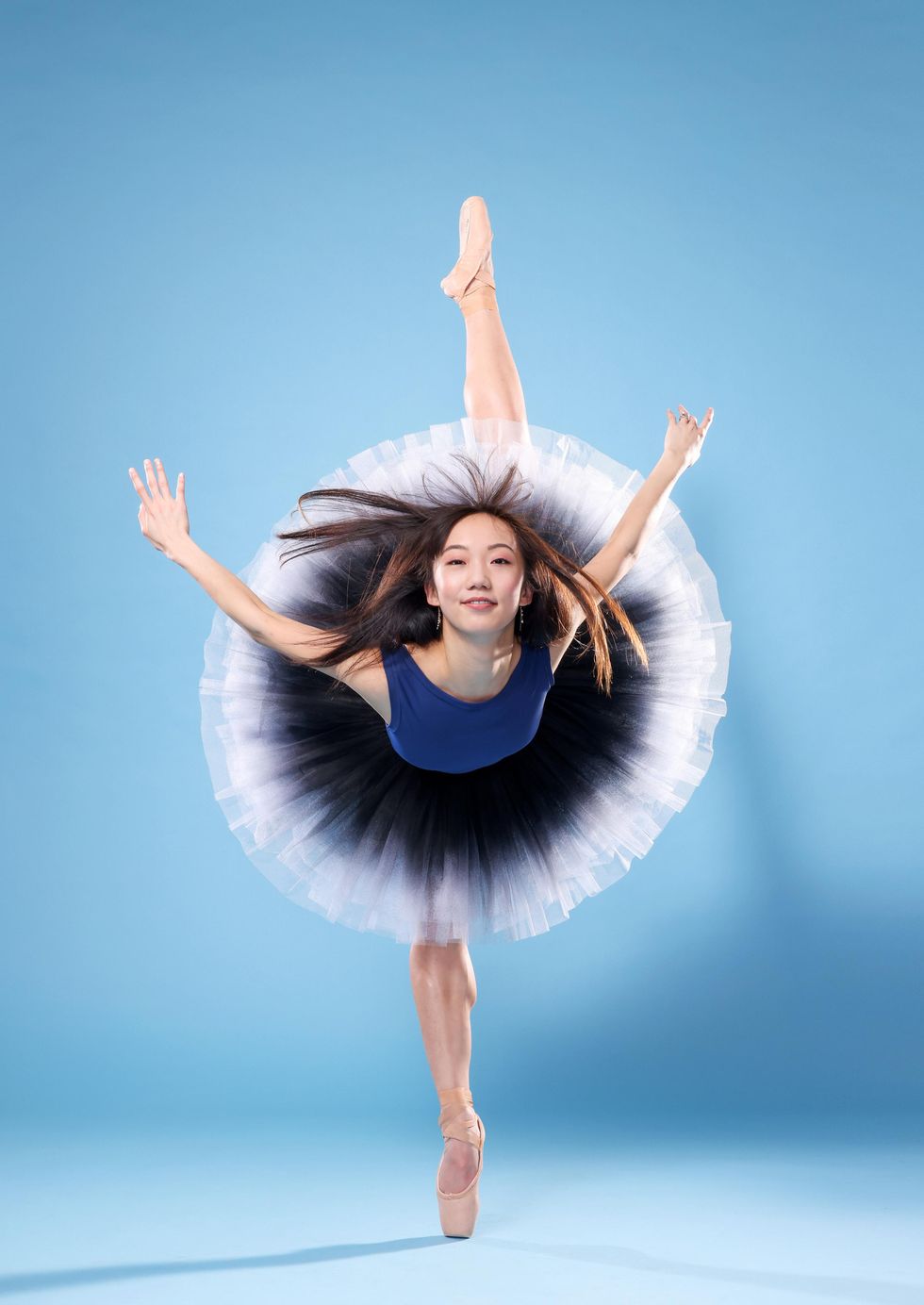 Jayme Thornton for Pointe
A Life-Changing Opportunity
Oga began dancing at the age of 3. Born in Dallas, she and her family moved around to follow her father's job in IT. Before settling in Carlsbad, California, they landed in Japan for several years, where Oga began to take ballet very seriously. "I like the simplicity of ballet, the structure and the clear vocabulary," she says. "Dances that portray a story or have a message really drew me in. One of my favorite parts of a story ballet is diving into the role and becoming the character, putting it in my perspective."
In California, Oga studied with Victor and Tatiana Kasatsky and Maxim Tchernychev. Her teachers encouraged her to enter competitions, which she says broadened her outlook and fed her love of performing in front of an audience. Though highly motivated, she says she came to realize that winning medals wasn't everything. "Honestly, I feel like the times I got close and didn't place gave me perspective, made me realize being a dancer doesn't define you and helped me become the person and the dancer I am today."
At 15, Oga was a semifinalist at the Prix de Lausanne, resulting in a "life-changing" scholarship to the San Francisco Ballet School. There she trained with two of her most influential teachers, Tina LeBlanc and Patrick Armand. "She came in straightaway with strong basics," Armand recalls, "and working with her for two years, I realized how clever she is. She's super-smart, thoughtful, driven, always working."
She became a company apprentice in 2016. Then came the disappointing news—she was let go a few months later. Pushing 5' 2", she was simply too short for the company's needs, she was told. "It was really, really hard," says Oga. "I felt like I was on a good track, so to be let go was very shocking, especially since my height was not something I could improve or change."
Moving On and Up
Ironically, Oga's height proved an advantage in auditioning for Cincinnati Ballet, which was looking for a talented partner for some of their shorter men. She joined the company in 2016, was quickly promoted to soloist, and became a principal dancer for the 2017–18 season, garnering major roles like Swanilda and Juliet during her three years with the company. "There were times I felt insignificant and insecure, like I don't deserve this," Oga says about these early opportunities. "But I was mostly thrilled to be put in those shoes."
She was also thriving in contemporary work, like choreographer-in-residence Jennifer Archibald's MYOHO. Archibald cites her warmth, playfulness and sensitivity, adding, "There's also a powerful presence about her, and I was amazed at how fast she was at picking up choreography, able to find the transitions quickly. She's definitely a special talent. Boston Ballet will give her more exposure on a national level."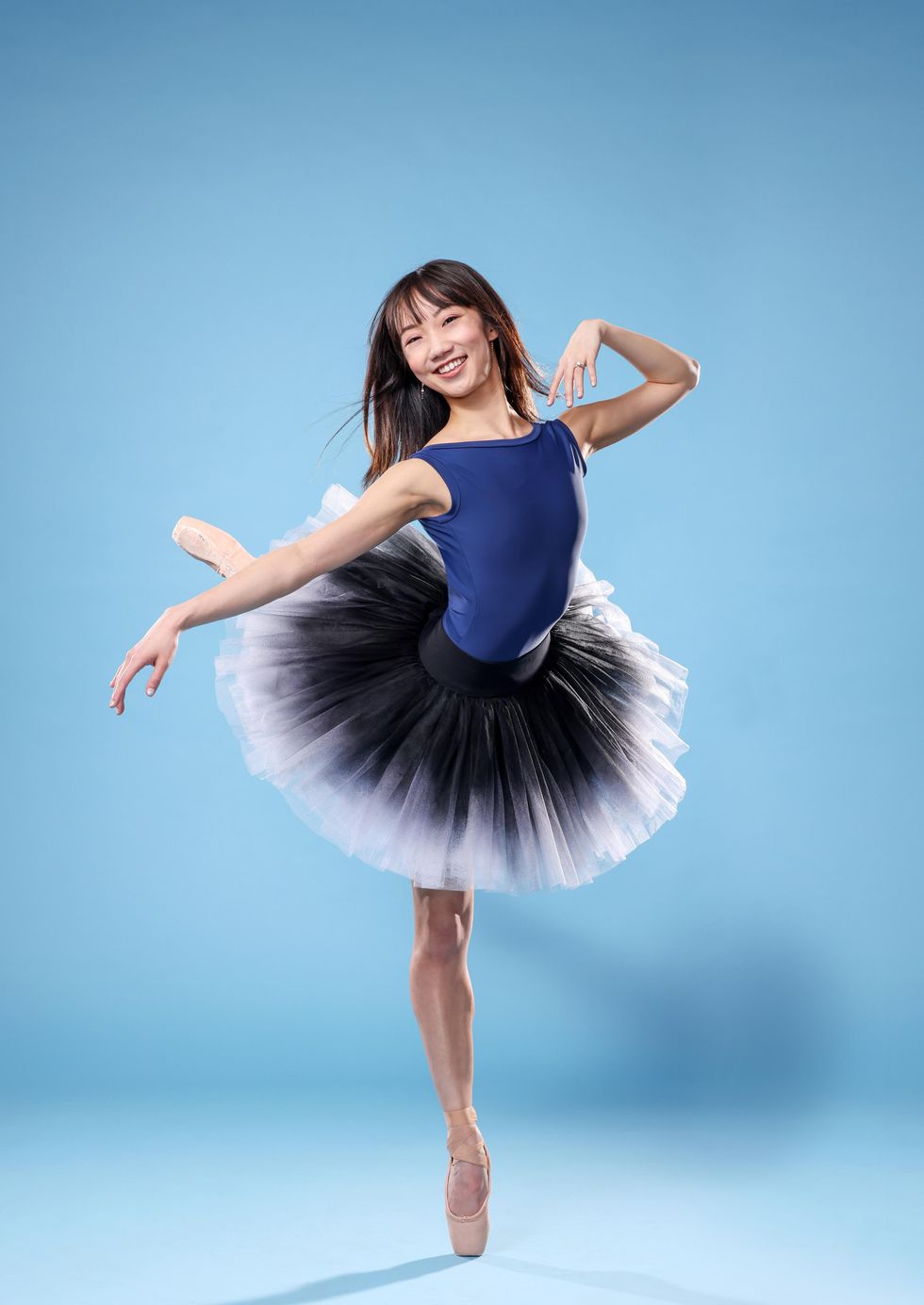 Jayme Thornton for Pointe
That was Oga's plan. She knew going in that Cincinnati was more stepping-stone than final destination. She had her sights on a bigger company with a broader repertoire, and Boston Ballet seemed ideal.
As she continues to spread her wings at the company, Oga has developed a seemingly effortless artistic partnership with one of Boston Ballet's most dynamic male principals, Derek Dunn, who Oga calls "a kind-hearted, open person, so supportive when I've been hard on myself. He's taught me to believe in myself and trust that I'm capable of doing whatever the choreography needs." The two have developed an easy bond in the studio she likens to "a good conversation, back and forth."
Dunn agrees. "I knew the first time we danced together we had a special connection," he says. "She really takes on the artistic side of a role, which makes the connection really strong when we're dancing onstage. It's like being in a different world."
He adds, "She came into the company and a lot was thrown at her, which could have been daunting. She handled it with such grace and confidence."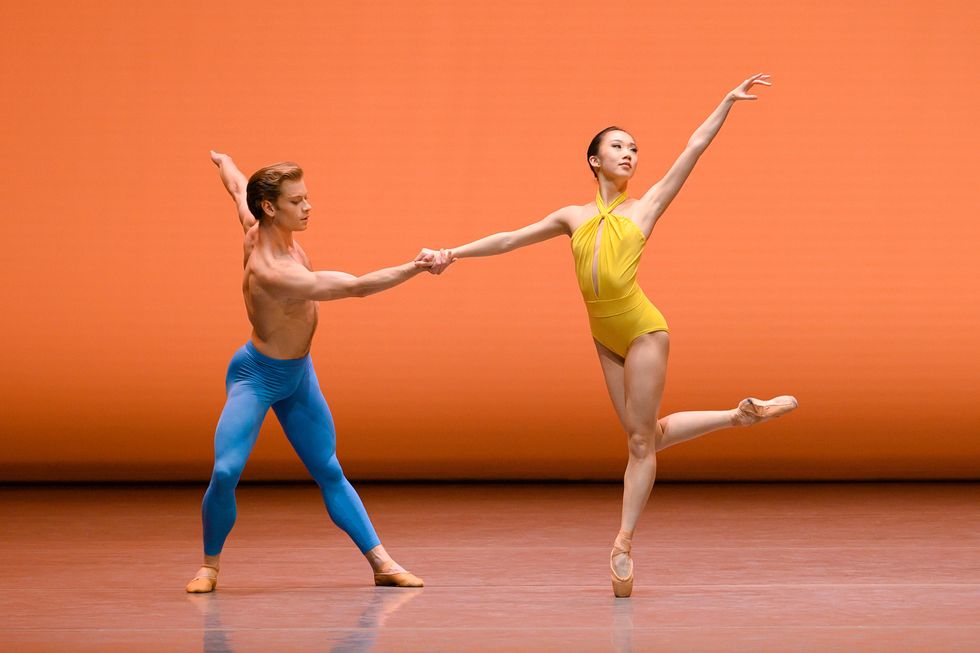 Oga with Derek Dunn in Helen Pickett's Petal
Liza Voll, Courtesy Boston Ballet
Perspective in a Pandemic
The pair were heading into Boston Ballet's busy spring season when the pandemic hit. "It was really a bummer," Oga says. "I was really looking forward to Swan Lake, Bella Figura, some new world premieres. When we found out the whole season was canceled, it was hard news to take in."
But she quickly determined to make the most of her time out of the studio and physically rest her body. "All the performances take a toll. Of course, I did stretches and exercised, but we never give ourselves enough time to rest as dancers."
She also resumed college courses toward a second career. Oga is one of many Boston Ballet dancers taking advantage of a special partnership with Northeastern University to help them earn bachelor's degrees. Focusing on finance and accounting, Oga upped her classes in economics, algebra, business and marketing. She also joined Boston Ballet's Color Our Future Mentoring Program to raise awareness and support diversity, equity and inclusion. "I am trying to have my voice inspire the next generation," she says.
One pandemic silver lining has been spending more time with her husband, Grand Rapids Ballet dancer James Cunningham. The two met at Cincinnati Ballet, dancing together in Adam Hougland's Cut to the Chase just after Oga's arrival, and got married shortly before her move to Boston. Cunningham took a position in Grand Rapids, so they've been navigating a long-distance marriage ever since. They spend a lot of time texting and on FaceTime, connecting in person during layoffs. "It's really hard," Oga admits, but adds, "We are both very passionate about the art form, so it's easy to support each other's goals."
Oga's best advice for young dancers? "Don't take any moment for granted," she says without hesitation. "It doesn't matter what rank you are, just do everything to the fullest—people will see the hard work you put in. Don't settle for anything less. Knowing [yourself] is also very important, not holding yourself to another's standards. No two paths are going to be the same."
And for the foreseeable future, Oga's path is to live life to the fullest, inside and outside ballet. "The pandemic put things in perspective. Dancing is my passion. I want to do it as long as I can, but it's only one portion of my life. I truly believe a healthy balance between social and work life is good for your mental health and helps me be a better dancer."
Louisville Ballet in Andrea Schermoly's Rite of Spring. Sam English, Courtesy Louisville Ballet.
South African–born choreographer Andrea Schermoly is no stranger to challenges, and she's often on the move. Among an extensive portfolio of productions created for companies worldwide, she has also tackled reimaginings of Martha Graham's Appalachian Spring and Judith as one of three artists in residence at Louisville Ballet.
Schermoly is also no stranger to film, having created a digital short called In Passing for the Ashley Bouder Project in 2015. But her most recent film project for Louisville Ballet, a new version of the iconic Rite of Spring, breaks ground—or, rather, ice—with its fresh, arctic take on the Stravinsky masterwork.
Pointe spoke with Schermoly about this newest work for the company's digital Season of Illumination, discussing the challenges of Zoom rehearsals and the ballet's arctic inspiration.
How did this project come about?
Robert Curran, Louisville Ballet's artistic director, presented the idea over a year ago, but I started working on it last spring. And that's mostly in terms of talking. My brother, Joe Schermoly, did the set design, so I spent a lot of time discussing the piece with him, our lighting designer Jesse AlFord and Mikelle Bruzina, who's one of our head ballet mistresses.
The piece was initially proposed as part of a Stravinsky triple bill by Louisville Ballet's three resident choreographers featuring Petrushka, Firebird and Rite of Spring. It would have been a theater piece had it not been for the pandemic. Eventually, Rite will transfer to the stage, so I wanted it to live in an "80 percent land," where I wouldn't have to change it all over again. It was pretty daunting, but a great challenge.
What was the rehearsal and production process like?
It was quite a lengthy and disjointed process. I spent the first couple months workshopping with Louisville Ballet Studio Company, which helped lay groundwork for the movement. I then retaught the material to the company before moving forward with them on the second half. We had about three or four hours a day to work, including breaks for cleaning the studios, and protocol was very strict. We didn't touch—everyone stayed within their eight-foot boxes.
We then had two and a half weeks to film. Some of the scenes took five, eight, 15 takes—the costumes would rip, or we'd have to run out every 15 minutes for studio ventilation. It was crazy how much work everyone put in just to keep that set alive. The film production team, KERTIS, was awesome!
A lot of the rehearsals were on Zoom, even the Chosen One's solo, which we started in dancer Ryo Suzuki's kitchen. I had to warn him about kicking the fridge! There were also four studio company members in the cast. They were on their computers every rehearsal leading up to the filming—we didn't see them in the studio until two days before. It was very impressive to see them integrate themselves so quickly into that environment.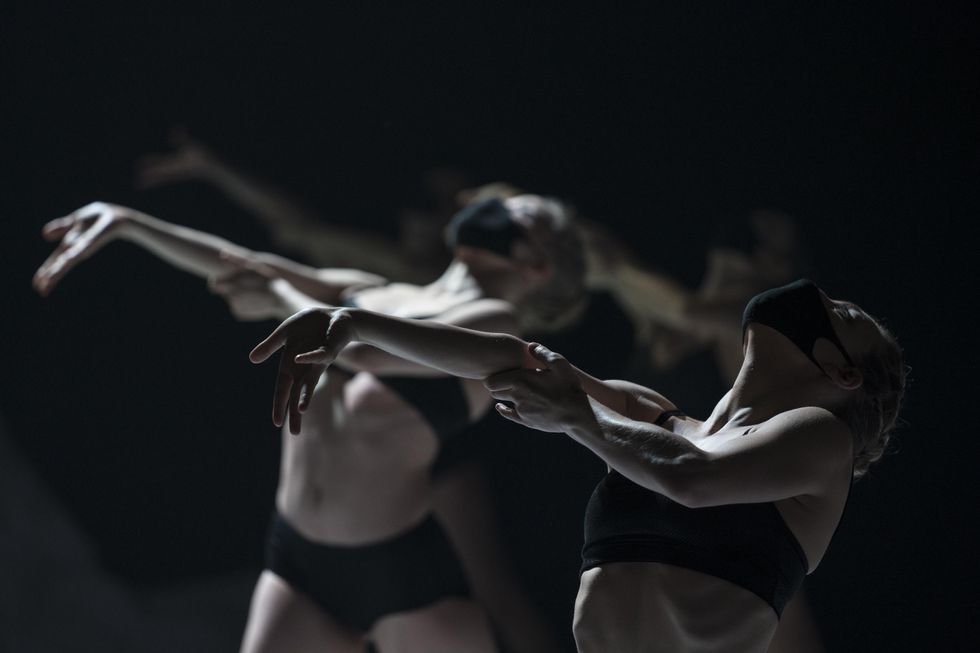 Louisville Ballet Studio Company member Elizabeth Abbick in ANdrea Schermoly's Rite of Spring
Sam English, Courtesy Louisville Ballet
You took more of a sci-fi spin with your reimagining. Rite is a monumental piece that has been done by many choreographers—how did this affect your concept?
I didn't want to plant the piece anywhere that felt instantly related to a time and place; it could apply to anyone. I'd also seen a short film (A Journey That Wasn't) about a stray albino penguin that had been ousted by its tribe. I remember thinking it was such a strange parallel to Rite, and I liked the starkness of the terrain. It felt vast and scary and beautiful, and not something that's seen too often onstage.
I love that it became sci-fi. The music is so eerie, huge and violent, and I felt like the tribal sense could still be captured in that icy environment. The aim was to make an immersive futuristic world that would look completely different and feel cold, but still have a warmth about it that would be inviting to watch.
What would you hope viewers might glean from watching Rite of Spring?
The response so far has been that it's hopeful. But underneath that is the sacrifice, and it's heartbreaking. It's imminent if you're in a viral plague that people will be hurt, but the idea of abandoning somebody is especially painful. In all the Rite stories someone is sacrificed for the tribe's greater good. But I'd hope we'd understand that we can take most of us along—that it doesn't have to be an abandonment of sick and non-wealthy people. I really wanted to capture the randomness of it all; the Chosen One could have been anybody.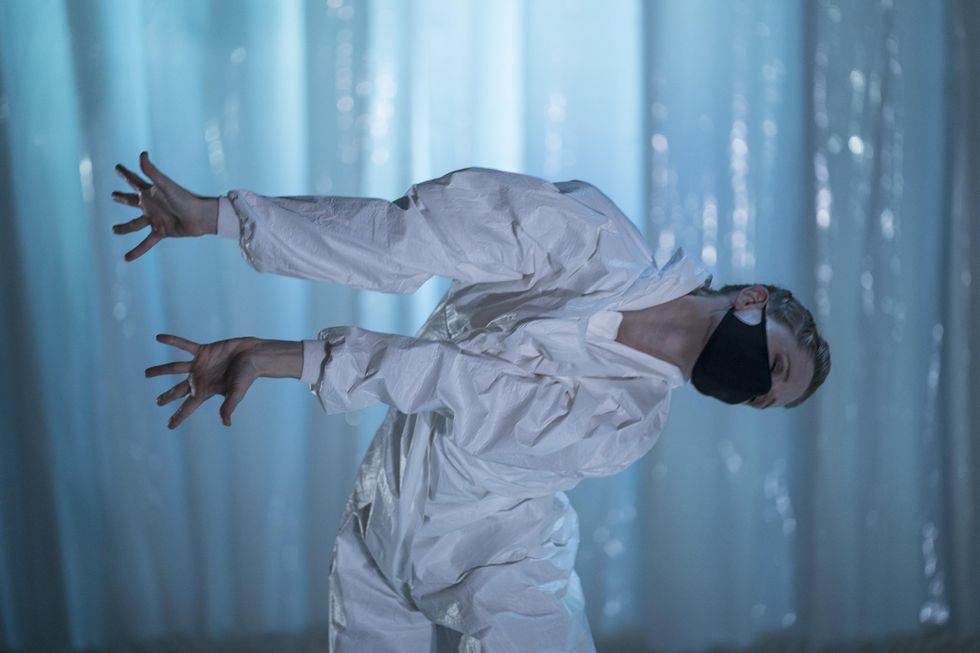 Company dancer Leigh Anne Albrechta
Sam English, Courtesy Louisville Ballet
As a choreographer, what did you learn during this project?
A lot—with restrictions actually comes a lot of opportunity. I think we get stuck in boxes of what we like to show or what we think our strengths are. Not being able to touch was actually a great gift. I got to ask "What else?"
I also learned that I can create just by speaking. It was hilarious using Stravinsky online with 17 people, trying to keep the counting the same because of the internet connection! But dancers are so smart, and anything you impart comes out tenfold better.
What's next?
I'd love to make another dance film! Video can expose people to dance in a way they haven't seen. When you see the dancers up close, you get a different sensation of what dance can be. Overall, it's been amazing to see that when you have people who really want to keep creating, anything is possible.
But at the moment, I want to come back to the theater—we all miss it!
Louisville Ballet's Rite of Spring is available through May 31. Viewers can purchase digital tickets via the company website.
Tanya Howard in rehearsal Trase Pa. Photo by Karolina Kuras, Courtesy of NBoC.
As we push into May, the ballet world presents another lineup of exciting digital performances. We've rounded up a few of the season finales, collaborations and special programs coming up this month. Check them out below!
National Ballet of Canada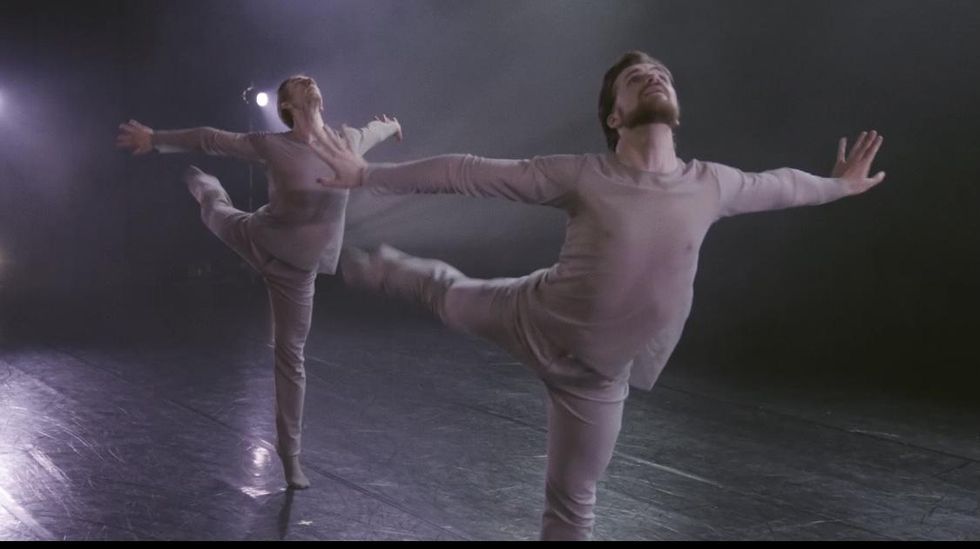 Harrison James and Ben Rudisin in Jera Wolfe's Soul.
Courtesy NBoC
This month, National Ballet of Canada presents its New Voices digital program, featuring three commissioned world premieres by Canadian choreographers Jera Wolfe, Alysa Pires and Kevin A. Ormsby.
Wolfe's Soul, to music by Max Richter, explores the theme of relationships. In it, NBoC principal Guillaume Côté and first soloist Tanya Howard dance one pas de deux and principal Harrison James and first soloist Ben Rudisin dance another; the two are then overlaid together on film. Pires' in a state of vanishing, a solo danced by principal Piotr Stanczyk, focuses on self, loss and memory, and is set to the opening adagio of Bach's Sonata for Violin No. 1 in G Minor, performed by NBoC concertmaster Aaron Schwebel. Ormsby's work, Trase Pa, features music by the Haitian-born composer David Bontemps, and reflects on the ancestries and histories dancers bring to their work.
New Voices is available for free on NboC's YouTube channel and will remain online permanently.
Pacific Northwest Ballet
Pacific Northwest Ballet recently released Las Estrellas, a new piece featuring the company's principal women and choreographed by principal dancer Kyle Davis. Angelica Generosa, Leta Biasucci, Laura Tisserand, Noelani Pantastico and Lesley Rausch star in a chain of solos tailored to each of their skill sets, set to Pablo de Sarasate's Carmen Fantasy. With costumes by principal dancer Elizabeth Murphy and lighting by Reed Nakayama, Las Estrellas showcases collaboration throughout the choreographic and production processes.
The film is now available online for free on PNB's website and YouTube channel for the foreseeable future.
The Kennedy Center
This month, the Kennedy Center hosts an exciting collaborative program uniting choreographer Alonzo King, New York City Ballet's Tiler Peck and Roman Mejia, and celebrated jazz musicians Jason Moran and Gregory Porter. Live from Kennedy Center: An Evening of Jazz and Dance features two premieres by King alongside additional performances of live music. The first work, Swift Arrow, is a pas de deux starring Peck and Mejia, and set to Moran's Refraction 9. The second piece is a solo work for Peck titled Child of Sky and Earth danced to Porter's Water.
Audiences can view the performance via the Kennedy Center and Alonzo King LINES Ballet websites through August 1. Kennedy Center Digital Stage subscribers can access the program for free, while other viewers may purchase access for $15.
Boston Ballet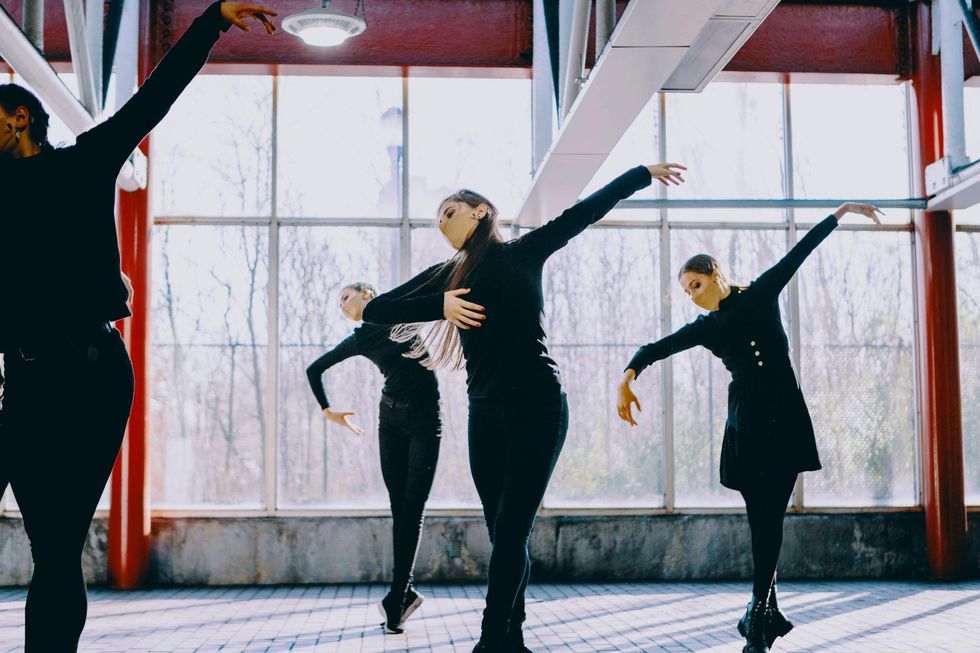 Boston Ballet in John Lam's moving pARTS
Bearwalk Productions, Courtesy Boston Ballet
Boston Ballet wraps up its digital season with Progress and Process, an hour-long collection of world-premiere dance films. The program opens with Lex Ishimoto's What Happens If…, set to music by Kurtis Spring. Ishimoto, the "So You Think You Can Dance" Season 14 winner, uses contemporary choreography in his piece to explore and push the boundaries of classical ballet. Ken Ossola's Zoom In was created remotely through Zoom, using Arvo Pärt's haunting Fratres to explore intimacy and human emotion. Dutch choreographer Nanine Linning's theatrical La Voix Humaine, to music by Poulenc, looks at themes of isolation and letting go. And Boston Ballet principal John Lam rounds out the program with moving pARTS, a dance film made for the city of Boston and shot in two of the city's subway stations.
Progress and Process premiered May 13 and will be available through May 23. Tickets for a streaming link are available on Boston Ballet's website.
Tulsa Ballet
Tulsa Ballet concludes its 2020–21 season with The Celebration, a program featuring repertoire favorites and its first-ever work fusing hip hop and ballet. In addition to in-person performances on May 13 and 16, the company will livestream a special performance on Friday, May 14. The evening includes excerpts from Onegin, Don Quixote, Derek Deane's Strictly Gershwin, Nacho Duato's Na Floresta, Edwaard Liang's Age of Innocence, Ma Cong's Blue Flame and more. The company will also premiere While You Were Gone, a hip-hop work by Olivier Award–nominated choreographer Jennifer Weber, which celebrates the legend of the theater ghost light.
Tickets to the May 14 livestream are available via the company website. The event will be broadcast at 7 pm CDT and will not be accessible afterwards.
The Joyce Theater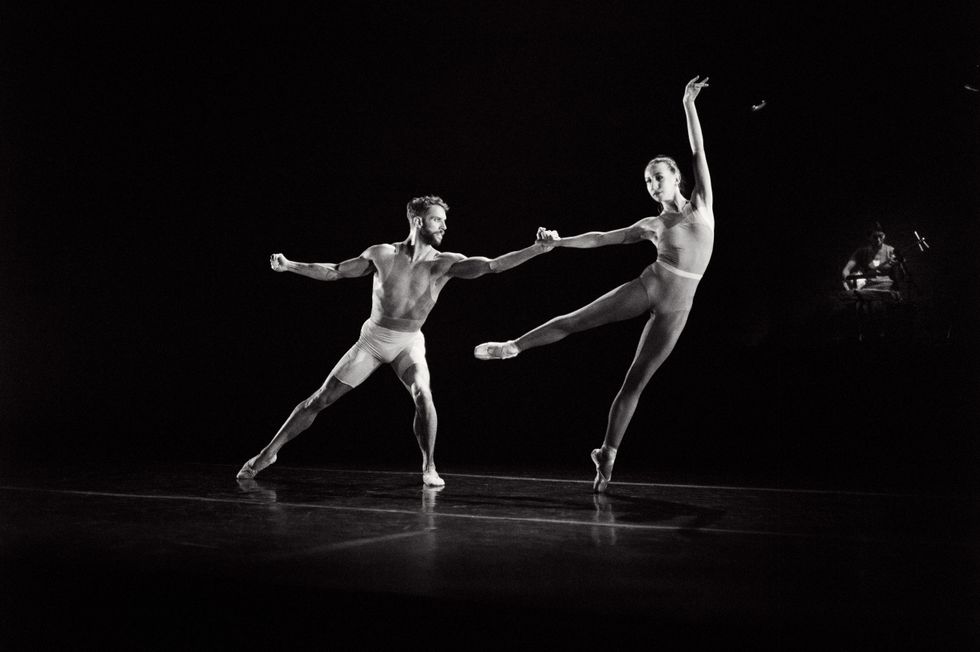 James Whiteside and Isabella Boylston in Alexei Ratmansky's Neo
loulex, Courtesy Joyce Theater
The Cindies are back! This month, American Ballet Theatre principals Isabella Boylston and James Whiteside reunite onstage for a digital debut performance of Neo, Alexei Ratmansky's newest premiere. Celebrating the joy of collaboration and friendship, Neo highlights the stars' artistic strength and famed partnership. The piece was filmed by Nel Shelby Productions onstage at the Joyce Theater with live accompaniment by Japanese musician Sumie Kaneko.
Access to Neo is free and runs May 17 at 5 pm EDT through June 16 via The Joyce Theater's website. Viewers can also tune in to "Dancing Dialogues," a virtual discussion with Boylston and Whiteside moderated by Tony Award–winner Rob Ashford during the 30-day streaming period.
Richmond Ballet
Richmond Ballet wraps up the season with its May Studio Series, an in-studio performance available for both live and online audiences. Opening the program, in his company debut, is the world premiere of some kind of peace, by former Ailey II dancer Levi Marsman. Marsman draws inspiration from the past year's social justice movements, focusing on themes of connectivity and hope moving into the future. The program also includes Carmen de Lavallade's Sweet Bitter Love, an emotional pas de deux featuring vocals by renowned singers Roberta Flack and Donny Hathaway, as well as George Balanchine's Who Cares?
The May Studio Series streams online at 6:30 pm EDT on May 23 and will be available for one week. The deadline to purchase virtual tickets is 11:59 pm EDT on May 22.
Ballet Hispánico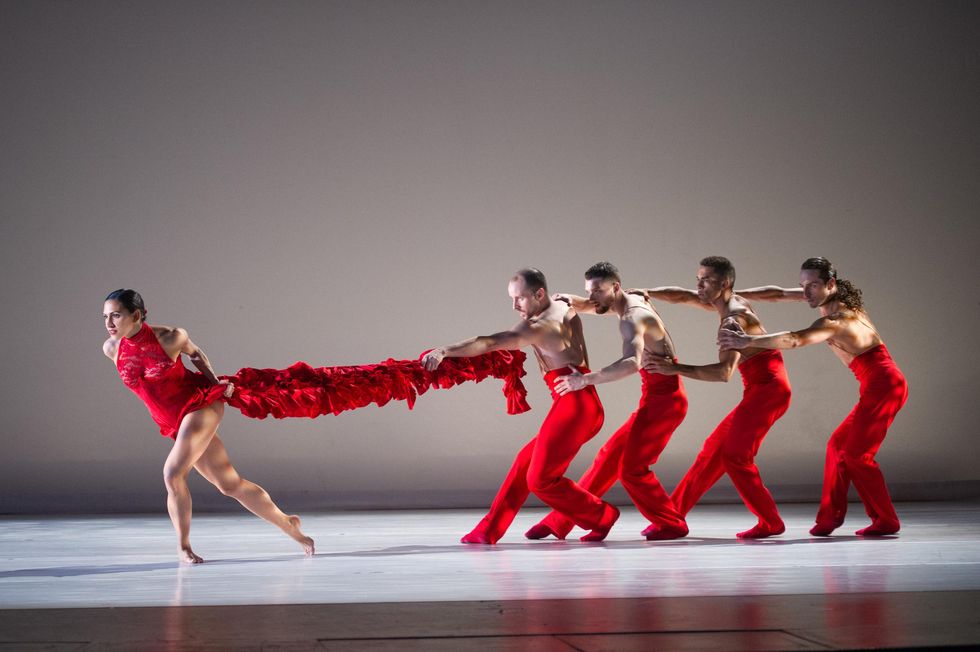 Ballet Hispánico in Annabelle Lopez Ochoa's Línea Recta
Paula Lobo, Courtesy Ballet Hispánico
Ballet Hispánico celebrates its 50th anniversary with a program of world premieres by Lauren Anderson, Ana "Rockafella Garcia and Belén Maya, as well as company repertoire by Nacho Duato, Geoffrey Holder, Graciela Daniele, Pedro Ruiz, Gustavo Ramírez Sansano and the late Tony Award–winner Ann Reinking. After a private screening on May 27, the company will stream the performance for free on May 28. The program also includes exciting guest appearances by Lin-Manuel Miranda, Luis Miranda, Rosie Perez, Ben Rodriguez-Cubeñas, Darren Walker and Anderson.
You can catch BH's 50th celebration via the company's website, YouTube channel or Facebook page beginning at 6:30 pm EDT on May 28; the program will remain online for two weeks. Click here to register.