The conversation around gender, both in the ballet world and in the larger culture, is slowly evolving toward greater inclusion. Roberto Vega Ortiz and Theresa Knudson are giving it a big push with Ballet22, their new company that showcases men on pointe—dancing not in drag or as comedic caricatures, but as themselves, each in their own authentic gender expression.
---
Founded last fall in Oakland, California, during the pandemic, the young company has already held two online performances and will hold a virtual spring gala April 16–18 and 23–25. It's also tapped into a growing community of male and nonbinary dancers who love pointework and are hungry for authentic artistic self-expression. "The mission of Ballet22 is pushing the boundaries of what could be possible, and making the pointe shoe ungendered," says artistic director Vega Ortiz.
From Isolation to Innovation
As a longtime devotee of pointework and an Instagram influencer, Vega Ortiz is keenly aware of the enthusiasm for pointework among male ballet dancers, via hashtags like #MenOnPointe, and of the lack of high-quality training and performance opportunities. So as a pandemic project, he and close friend Carlos Hopuy, a former Ballet San Antonio principal who has danced with Les Ballets Trockadero de Monte Carlo since 2012, started teaching pointe classes on Zoom under the name MaleBallerinas.
The response was overwhelming. "We had dancers from Germany, Chile, Argentina, Brazil, Japan, the U.S.," says Vega Ortiz. Knudson adds: "These are people who have to train in privacy or secrecy because there is not a place for them. Seeing male and nonbinary bodies doing this work is so inspiring—there's so much joy and power." Knudson, who is Vega Ortiz's roommate and now serves as Ballet22's executive director and ballet mistress, was tuned in to the venture's significance and growing audience—and its possibility for growth.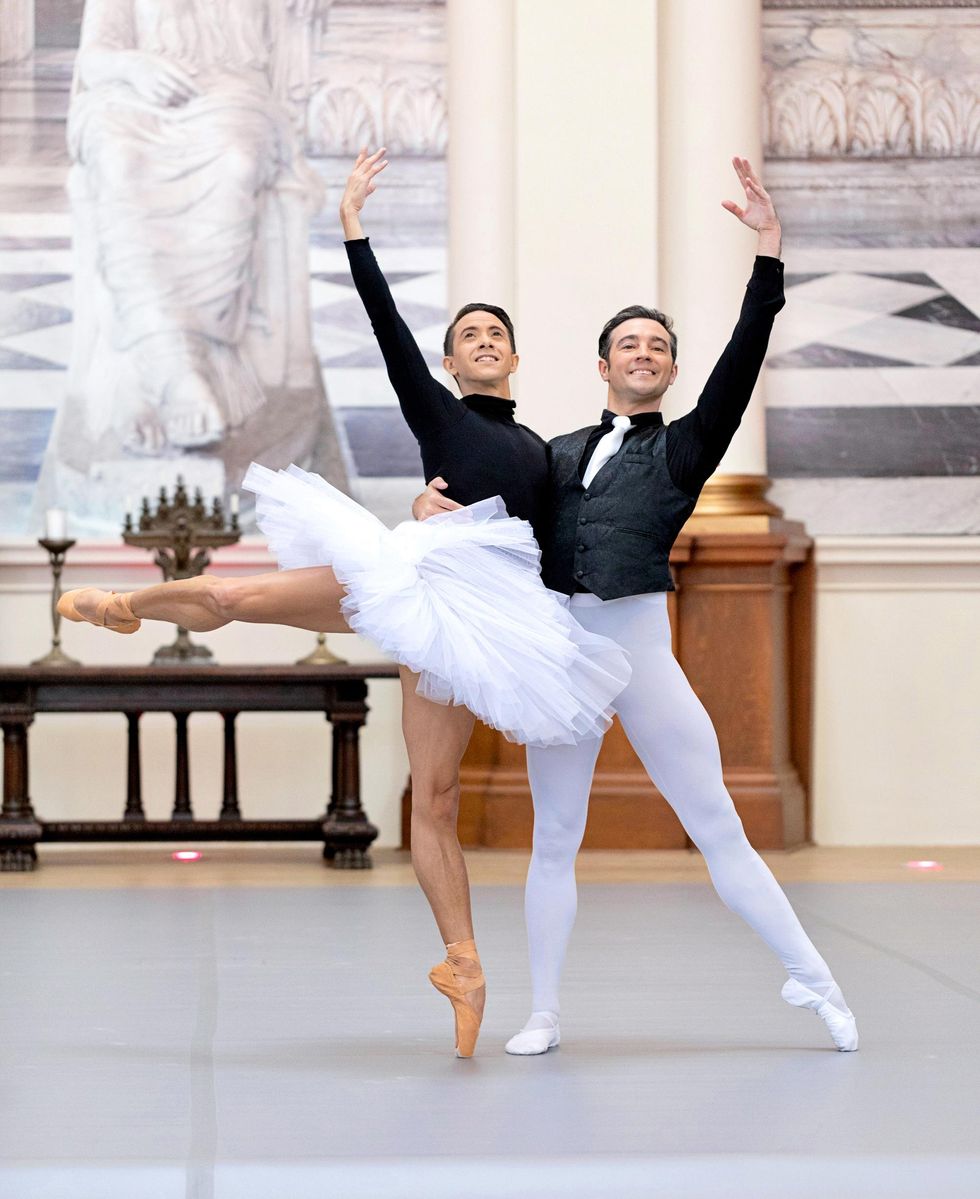 Carlos Hopuy and Diego Cruz during a rehearsal of Grand Pas Classique
Rob Suguitan, Courtesy Ballet22
The popularity of MaleBallerinas inspired Vega Ortiz and Knudson to expand from classes to a company. "It was always a thought to make it a company, but we didn't realize how soon it would happen," says Vega Ortiz, who has danced with Nashville Ballet and the Trocks. They were able to ramp up quickly, thanks to the combination of Vega Ortiz' artistic vision and huge following, and Knudson's business savvy gained from founding her own company, Halcyon Dance Project, in 2019, plus her degree in business administration.
Crucially, Knudson secured fiscal sponsorship through the San Francisco indie nonprofit Intersection for the Arts. "Fiscal sponsorship means we get to use their nonprofit status," she explains. "With that, we were able to ask for tax-deductible donations and we could tell people we were a legit organization. For our first show (last December), our friends bought tickets for their friends, and we had people donate afterward. When people see our work, they're excited and they want to support it."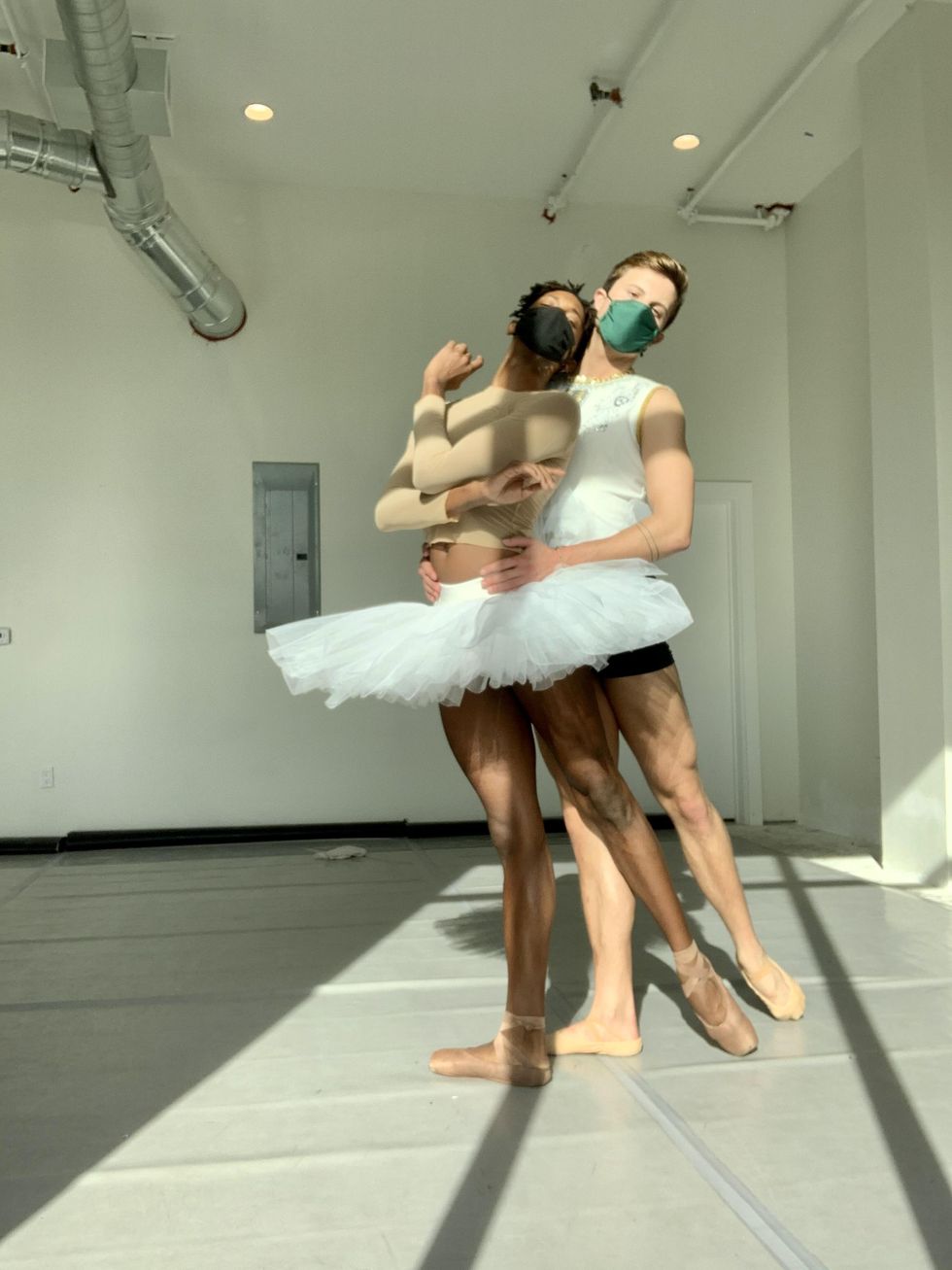 Duane Gosa and Evan Ambrose rehearse Act II of Swan Lake.
Courtesy Ballet22
Expanding the Possibilities of Ballet
Dancers are excited to perform the work, too: Along with Vega Ortiz, the company roster features Hopuy and fellow Trock Duane Gosa, New York City Ballet corps member Gilbert Bolden III and San Francisco Ballet soloist Diego Cruz.
"With Trockadero, I'm switching my wigs, I'm changing my shoes—I'm a male dancer, now I'm a female dancer," says Gosa, who danced Swan Lake's Odette variation in Ballet22's December 2020 performance. "It was really cool to feel these things that I could only dream of before. Performing genderless, as myself, without the mask of the makeup and wigs, was the biggest takeaway for me. It left me more confident personally."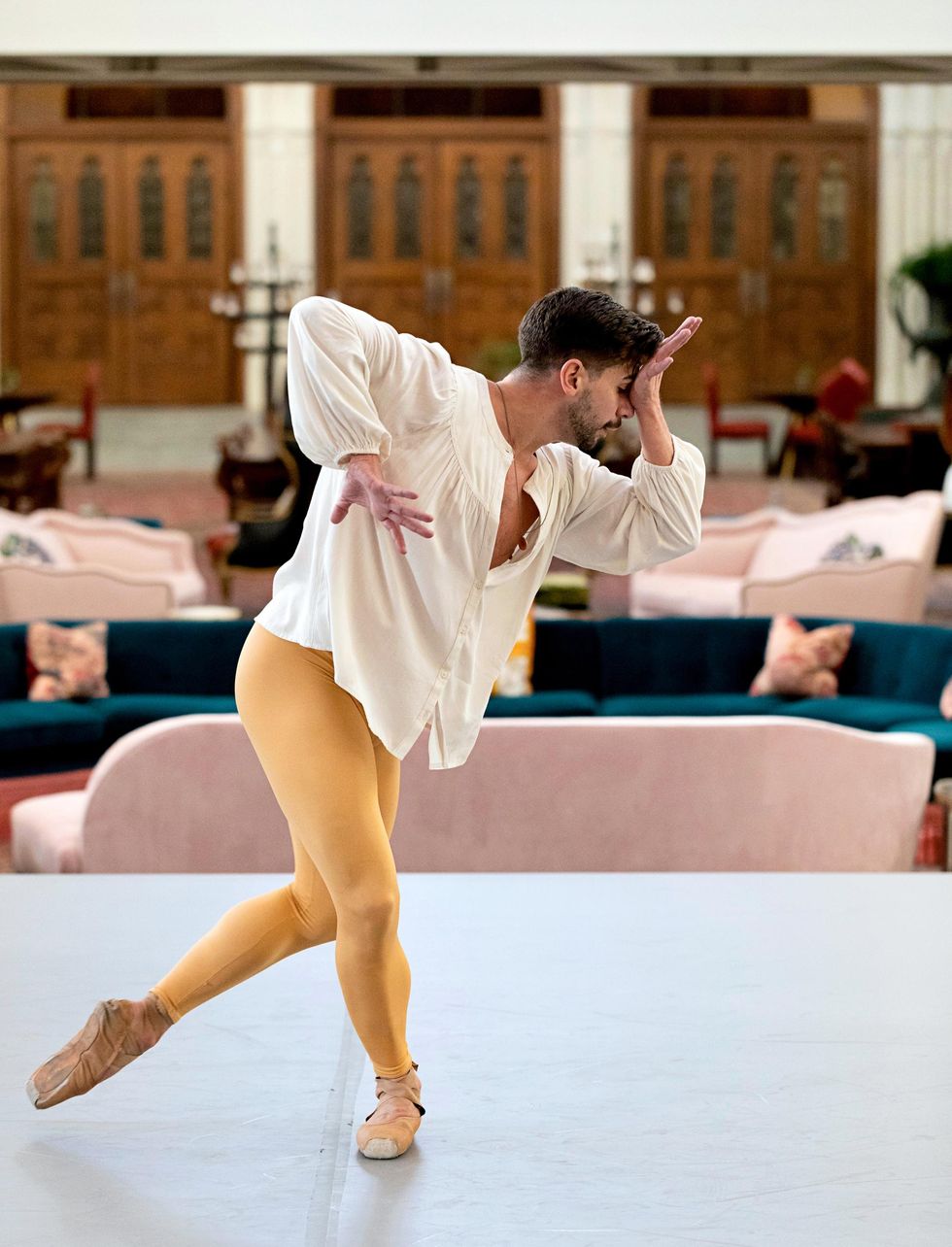 Ballet22 dancer Brian Gephart in a ballet by Jehbreal Jackson
Rob Suguitan, Courtesy Ballet22
Bolden, who taught himself to dance on pointe with Kathryn Morgan's YouTube videos, in addition to help from friends and co-workers, agrees. "I didn't want to do drag. I really wanted to be myself on pointe, which is why this is so exciting for me." Mastering pointework has also influenced his dancing at NYCB. "It's made me more thoughtful in how I use my feet, legs and body, because I had to learn how to do the delicate finesse. And when I'm partnering, I know how a girl wants to feel and how she wants to be on her shoe."
Ballet22 has also expanded the artistic palette for choreographers like Ben Needham-Wood, whose dance film "Pointe A2B" premieres in the gala. The five-minute, single-take film features Vega Ortiz and Hopuy in a kaleidoscope of partnering as they move through an art gallery. "I would have both men bourréeing, and then one would be a secure base for the other and then transition back onto pointe, creating this shifting structure. That interplay was really fun." On a bigger scale, he says, "Ballet22 is a great starting point for a conversation that needs to happen: What is the role of gender in dance? What is the role that we have in our communities for raising awareness for important causes?"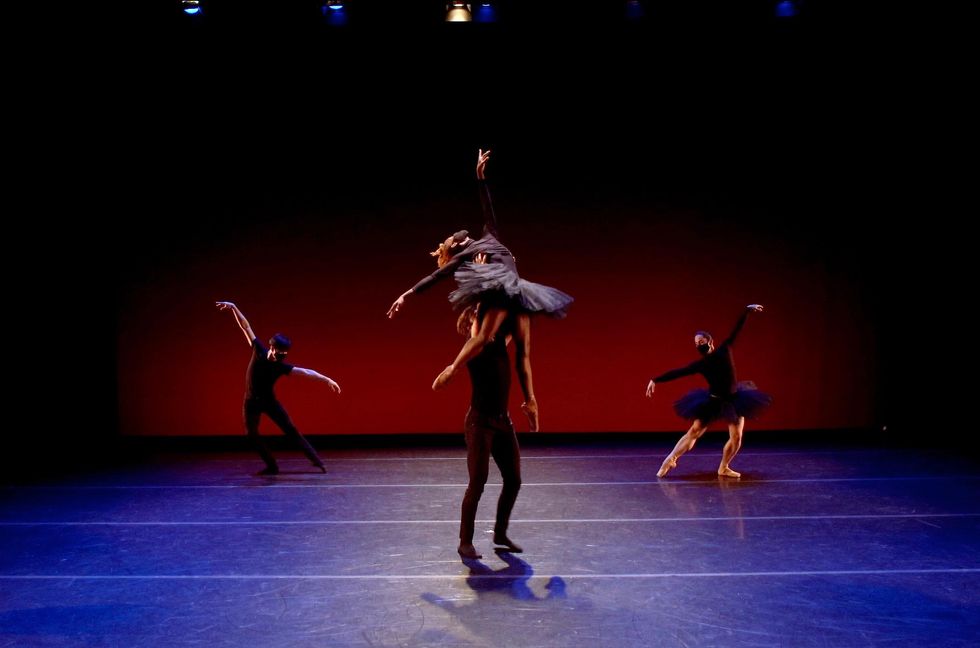 Ashton Edwards, lifted by Evan Ambrose, with Donghoon Lee and Roberto Vega Ortiz in Joshua Stayton's Juntos
Concept o4, Courtesy Ballet22
Leaping Into the Future
While their initial focus is on male and nonbinary dancers on pointe, Knudson and Vega Ortiz plan to make the company fully inclusive as it expands out of its current project-based format. As companies eventually return to full-time work, the roster will likely change as well. "Women want to be part of it, which is so amazing," says Vega Ortiz. "And it's important to have a safe space for transmen and transwomen. Ballet22 is a safe place for everyone."
Their post-gala plans include online classes for all ages, a summer intensive and to eventually grow their school, The School at BlackBox Studios, into a full-time program where, in addition to classical training, men will learn pointe. "If we can offer a place where it's safe for everyone to feel that they can be themselves and have great experiences," he says, "that's what we want. The work will speak for itself."