193 programs to help you finesse your ballet technique and boost your artistry this summer.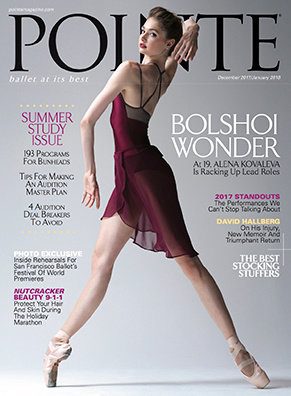 Related Articles Around the Web
Photo by JoelValve/Unsplash
Even though it's still summer, audition season will be here before you know it. The goal is to look, dance and feel your best when auditions roll around. You're likely focused on improving as a dancer technically and artistically, but aesthetics are (unfortunately) something companies will consider as well. To look your best, healthfully and mindfully crafted body goals will make a world of difference.
Keep reading...
Show less
popular
Aug. 06, 2018 10:05AM EST
Why your dance floor is slippery and how to fix it.
The biggest problem dancers have with floors is that they are too slippery. Slippery is unstable and dangerous, a formula for disaster. But did your floor start out slippery or did it get that way over time? Just one of many questions that need to be answered before we can fix the problem
Keep reading...
Show less
popular
Aug. 14, 2018 08:30AM EST
Lia Cirio and John Lam perform Tar and Feathers with Boston Ballet. Photo by Rosalie O'Connor, Courtesy Boston Ballet.
A few years ago, Boston Ballet principal Lia Cirio was tasked with performing a contemporary program one week and dancing in The Sleeping Beauty the next. "We were doing Jiˇrí Kylián's Tar and Feathers, which had me sliding around in socks," says Cirio. "The day after the premiere, I had to run my Aurora variation. I needed my technique to be stable, for both my brain and body."
Being in a ballet company doesn't mean you will always be dancing entire evenings, let alone rehearsal days, in pointe shoes. With today's preference for more eclectic mixed bills, a dancer might need to shift from pointe shoes to socks, slippers or even heels. Yet moving between footwear can be tricky—you can easily get injured if you are not prepared for the differences in sensation and shifts in balance. But when you're frequently asked to switch footwear, what's your body, much less your feet, to do?
Keep reading...
Show less
Genée IBC gold medalist Monet Hewitt of New Zealand. Photo by Keith Sin, Courtesy Royal Academy of Dance.
If you missed the Genée International Ballet Competition's live-streamed finals this weekend, we've got you covered. Last night, 17-year-old Joshua Green of Australia and 16-year-old Monet Hewitt of New Zealand were named this year's gold medalists in the men's and women's category, out of 14 finalists. Caitlin Garlick (Australia) and Basil James (United Kingdom) won silver medals, while Enoka Sato (Japan) and Jordan Yeuk Hay Chan (Hong Kong) took home bronze. Chan also won the Margot Fonteyn Audience Choice Award, and Green was given the Choreographic Award for Dancer's Own Variation.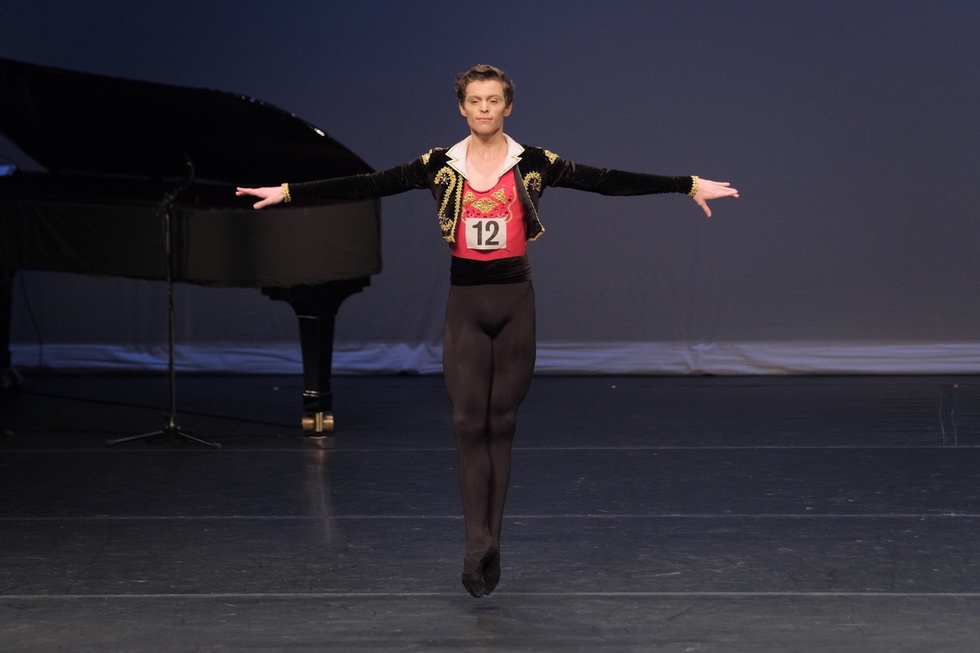 Gold medalist Joshua Green. Photo by Keith Sin, Courtesy RAD.
This year's IBC, which took place in Hong Kong, brought together 51 dancers between 15–19 years old and representing 13 nationalities (including three Americans). The candidates, all of whom are trained in the Royal Academy of Dancing syllabus, spent five days receiving coaching from esteemed faculty on a classical variation as well as a solo choreographed by themselves, a teacher or a peer. The dancers also had to learn and perform a new solo by specially commissioned choreographer Carlo AC Pacis.
Catch the winning dancers as they each perform Pacis' work below, and stay tuned—next year's Genée IBC takes place in Toronto.
News
Aug. 13, 2018 08:30AM EST
Boston Ballet is bringing Jerome Robbins' Fancy Free to the Tanglewood Music Center in Lenox, MA. Photo by Gene Shiavone, Courtesy Boston Ballet.
Wonder what's going on in ballet this week? We've pulled together some highlights.
Houston Ballet Brings a World Premiere to Jacob's Pillow
August 15-18, for the first time in almost four decades, Houston Ballet is appearing at Jacob's Pillow, the famous summer dance festival in Becket, MA. Headlining the program is Just, a world premiere commissioned by the Pillow and choreographed by HB artistic director Stanton Welch, set to music by contemporary composer David Lang. Also from Welch are Clear, an abstract piece for seven men and seven women, and excerpts from Sons de L'ame, with music by Chopin. The company will also perform In Dreams, choreographed by former Pillow choreographic associate Trey McIntyre.
Keep reading...
Show less
Gaynor Minden's celebrating 25 years in the best way possible: With a sale! (via dancer.com)
Time for a quick pop quiz: What does "BTS" stand for?
A. Back To the Studio
B. Behind The Scenes
C. Back To School
D. Back To Shopping
Answer: All of the above! We've searched far and wide to round up a quartet of blockbusting BTS online sales that you won't want to miss. Ready, set, stock up on everything you'll need for the 2018–2019 year of dance.
Keep reading...
Show less
Aug. 10, 2018 11:44AM EST
Photo by David Tett, Courtesy Genée 2018.
Looking to add a little bit of ballet to your weekend? We have good news: The 2018 Genée International Ballet Competition is streaming excerpts from their finals live this Sunday, August 12 from Hong Kong. Hosted by the Royal Academy of Dance, the Genée differs slightly from other ballet competitions in that it's exclusive to dancers training in the RAD syllabus. This year's 14 finalists were just announced this morning; the competitors were whittled down from 51 candidates from 13 nationalities. To watch this group of promising young dancers compete for gold, silver and bronze medals, as well as the Margot Fonteyn Audience Choice Award, go to the Genée Facebook page. The stream will also include exclusive interviews with members of the Genée team, the medalist announcement, and a special guest performance by Hong Kong Ballet. The stream begins at 7:25 pm Hong Kong Time—keep in mind that Hong Kong is 12 hours ahead of EST. You can track the time difference here.
Prep for the finals by watching this video of the finalists being announced earlier today, and scroll down for a full list of who to watch.
Keep reading...
Show less
Aug. 10, 2018 10:46AM EST
A scene from "Pointe of Focus." Photo Courtesy SmugMug Films.
Chances are, you've seen (and "liked") photographer Omar Z Robles' beautiful shots of ballet dancers on social media. Rather than clean and tidy studio photos, his work captures dancers ("the ultimate subject," he says) outside and all over the world, often on vibrant city streets. In Pointe of Focus, a short web documentary from SmugMug Films, director Anton Lorimer goes behind the scenes with Robles during a recent trip to Rio de Janeiro. The doc follows the photographer as he scouts locations in Rio's historical districts and favelas, and directs local Brazilian dancers through the shoot. And these ballerinas are troopers, leaping over concrete, turning over cobblestones or balancing in rain-soaked pointe shoes to achieve the perfect shot.

"Putting them in an environment that's familiar, I think it strips away the barrier that comes with a studio or stage, and really shows how exceptional they are," Robles says about shooting dancers in public spaces. Learn more about this in-demand dance photographer in the nine-minute film below—you'll be sure to get some major Instagram inspiration!
Irek Mukhhamedov and Viviana Durante in "Manon." Image via YouTube.
Sir Kenneth MacMilllan's ballet Manon tells the story of ill-fated lovers Manon and des Grieux, who are torn between worlds of wealth and opulence and the stark misery of poverty. While the characters' circumstances are bleak, their love is the powerful and redeeming force that carries the ballet. In this clip, The Royal Ballet's Viviana Durante and Irek Mukhamedov bring the characters' passion to the forefront. The powerhouse duo, who danced together throughout the 1990s, were renown for their dramatic prowess; their Act III pas de deux in Manon is an exquisite display of raw emotion and refined technique.
Keep reading...
Show less
Photos by Jayme Thornton for Pointe. Modeled by Anna Greenberg of American Ballet Theatre's Jacqueline Kennedy Onassis School.
Planks are one of the most popular exercises for core strength, but they're not just about flat abs. Julie O'Connell, physical therapist and performing arts program manager at Chicago's Athletico Physical Therapy, says that dancers can use them to maximize their conditioning: Look at the corrections you're getting in class or the choreography you're learning and mirror those concepts in your strength work.

Keep reading...
Show less
News
Aug. 08, 2018 04:43PM EST
Misty Copeland as the Ballerina Princess in The Nutcracker and the Four Realms. Photo Courtesy Disney.
It's August—the sun is shining, summer intensives are winding down, and Nutcracker seems very far away. But this new trailer for Disney's The Nutcracker and the Four Realms is already getting us in the holiday mood. While this modern take on the classic holiday story, in theaters November 2, is not a dance film, it does include mega-stars Misty Copeland and Sergei Polunin as the Ballerina Princess and Nutcracker Prince.

Keep reading...
Show less
A successful career takes more than great technique. Photo by Thinkstock
Since its founding in 1999, more than 80,000 ballet dancers have participated in Youth America Grand Prix events. While more than 450 alumni are currently dancing in companies across the world, the vast majority—tens of thousands—never turn that professional corner. And these are just the statistics from one competition.
"You may have the best teacher in the world and the best work ethic and be so committed, and still not make it," says YAGP founder Larissa Saveliev. "I have seen so many extremely talented dancers end up not having enough moti­vation and mental strength, not having the right body type, not getting into the right company at the right time or getting injured at the wrong moment. You need so many factors, and some of these are out of your hands."
Keep reading...
Show less


Get Pointe Magazine in your inbox