If you peek inside Ashley Bouder's dance bag, you'll see a whole lot of purple. "It's my favorite color," says the New York City Ballet principal, pointing to her Chacott garbage pants and a special pair of chunky, homemade legwarmers. "I made these after I had my baby, Violet." She also keeps accessories in a purple, elephant-patterned Serengetee pouch. "They have fabrics from all over the world, and part of the profits go to charity," she says. "I like buying something for a good cause."

---
Bouder's bright red bag also houses lots of balls and therapy tools to help her body get through the day. "I have two types of rollers for my quads and IT bands—one that I can lie on and another that I use with my hands," she says. Her most unusual item, however, is an acupressure mat that's covered in spiky, plastic discs. "It's kind of a torture device, but it increases blood flow," says Bouder, who lies and stands on it after rehearsal. Her friend, National Ballet of Canada principal Jurgita Dronina, recommended it. "She said, 'This will change your life.' And it did!"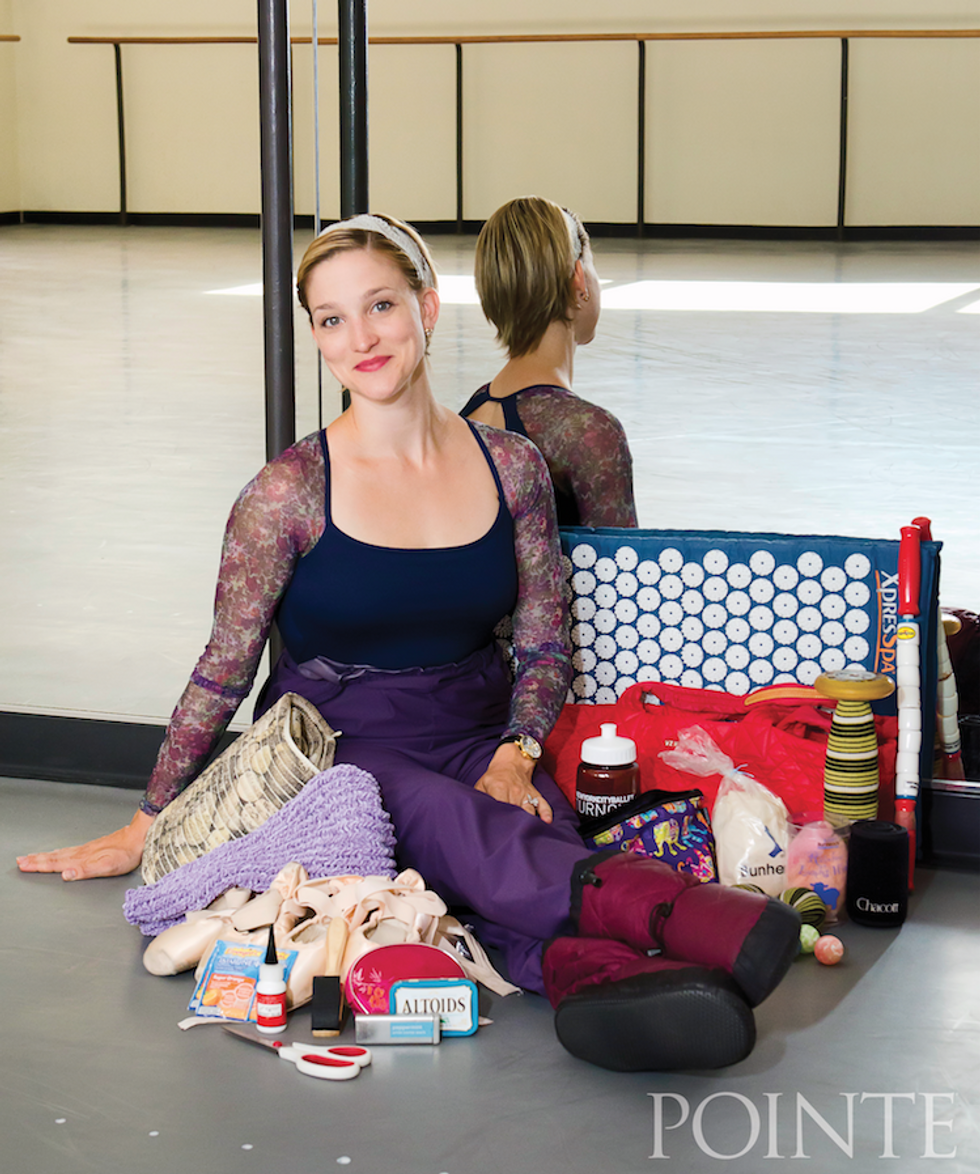 Photo by Kyle Froman
The Goods
From top left: mat ("for protecting my back and knees during exercises"); homemade legwarmers; Bloch Inc. custom pointe shoes; Emergen-C packets; pointe shoe glue; scissors; shoe scraper; mints ("Very important—I carry two kinds"); small bag for toe pads, tape and toe spacers; Bbooties (on feet); massage balls; Chacott backwarmer ("It's only half the height of a regular one, so it's low enough to be partnered in. It even helped support my belly when I was pregnant"); The Stick roller; Trigger Point Therapy roller; lamb's wool; rosin; Serengetee pouch; water bottle; MZ Wallace bag; XpresSpa acupressure mat.