This story originally appeared in the October/November 2014 issue of Pointe.
Created for the Paris Opéra Ballet in 1987, William Forsythe's In the middle, somewhat elevated combines fierce attitude and athleticism with an edgy electronic score. Here, Pennsylvania Ballet principal Amy Aldridge gives advice on tackling the role
originated by Sylvie Guillem.
---
​1. Relax into the Steps
In the middle is aggressive and highly aerobic from the beginning. "Building stamina is the hardest thing," says Aldridge. "You pass a certain point and don't feel anything anymore." Sometimes this amped-up energy, in combination with the specific musicality, makes it hard to cover space, especially in the solo. "Relax into it and take everything down into your plié," Aldridge says. "If you breathe into the steps instead of punching them out, it's much easier."

​2. Counts, Crashes and Pings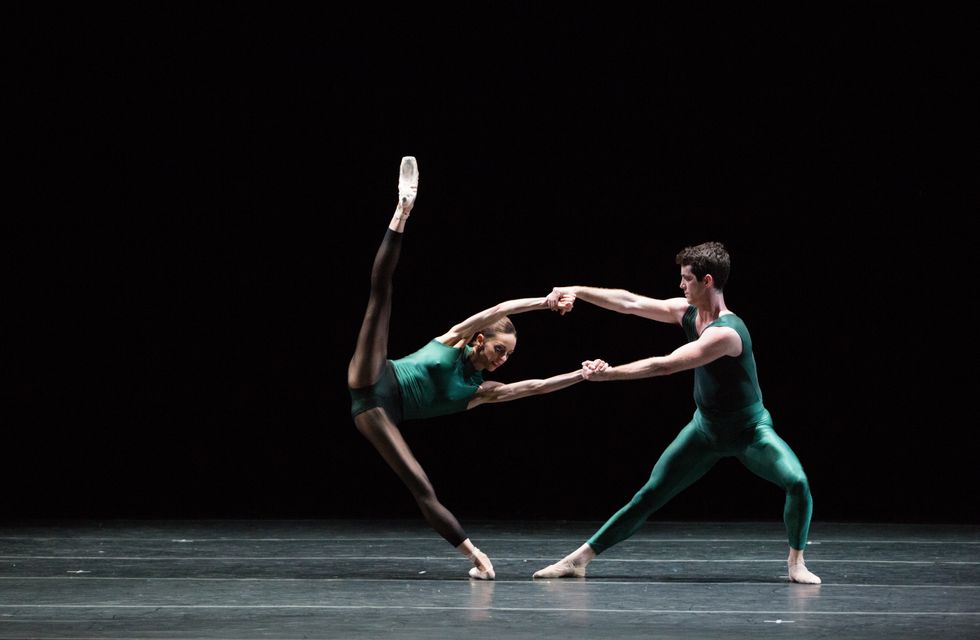 Alexander Iziliaev, Courtesy PAB
Thom Willems' score is tough for even the most musical dancers. "You have to count," says Aldridge, "but once you start to hear all the little crashes and pings in the background, you can recognize when things come in. When you're familiar with the music, let the counts and steps become a rhythm in your body and just go with it." Sometimes you have to rely on visual cues from other dancers to know when to start counting. But if they're off, or the music skips? "Be prepared to improvise."

3. Make It Your Own
Forsythe gives dancers chunks of time and space to improvise. "You have a group of steps that you use and repeat a few times, throwing in some different things every once in a while," Aldridge says. She and her partner mix the order of certain phrases, reverse movements, speed things up or slow them down. "If you're unsure of yourself, you can loosely set phrases ahead of time. But it's more freeing to do it differently every single show."

​4. Show the Process
Although Sylvie Guillem is known for her high extensions, that's not what the role is all about. Jodie Gates, a former Forsythe dancer who set In the middle on PAB, says it's more about showing the work. "Jodie wants to see the process, how you get there," says Aldridge. "Once you get there, you don't have to hang out all day. Go and come back, like a rebound effect." And watch that you don't go totally overboard with attitude. "Rather than 'Look what I can do,' I try to show the audience how the music makes me feel," she says. "I want to see how far I can take it, how far I can push myself."

5. Get a Grip
Forsythe uses a specific grip in the pas de deux that enables the two dancers to balance their weight, find opposition and stretch far off their legs. "You hold hands, palm to palm, but swivel around each other's thumbs while constantly changing positions," says Aldridge. "That grip makes all the transitions so much easier." Trusting your partner helps, too. "Things get so extreme at times, so you have to be on the same page. Be sure to make eye contact, feed off the other person's energy and have fun."