This story originally appeared in the December 2014/January 2015 issue of Pointe.
If you're a member of a repertory company, tight rehearsal timelines are often a fact of life. You might have only a few weeks to memorize and master a piece before you take the stage. In that time, you'll need to absorb not only the steps but also the choreographer's particular style—the qualities and quirks that set that choreographer apart. Should the movement be buoyant or grounded, fluid or staccato? Is your port de bras meant to be classical or pedestrian? How should you relate to your fellow dancers, and to the audience? Answering these questions will take your performance to the next level. After all, a ballet is so much more than the sum of its steps.
"The ballet isn't going to be the ballet without the choreographer's intention and style," says Sandra Jennings, a longtime répétiteur for The George Balanchine Trust. "Balanchine had an intent in his choreography that affects how we move, from our musicality to the way we use our feet on the floor and how the man offers his hand to the woman in partnering. Those nuances matter."
---
Absorbing a ballet's style should be an integral part of the rehearsal process. But it's not always easy, especially if you've trained in a style that's completely different. Here, three dancers share how they adapted to stylistic challenges in their repertoire. Follow their lead the next time you're thrust out of your comfort zone.
Kateryna Derechyna: Company dancer, The Washington Ballet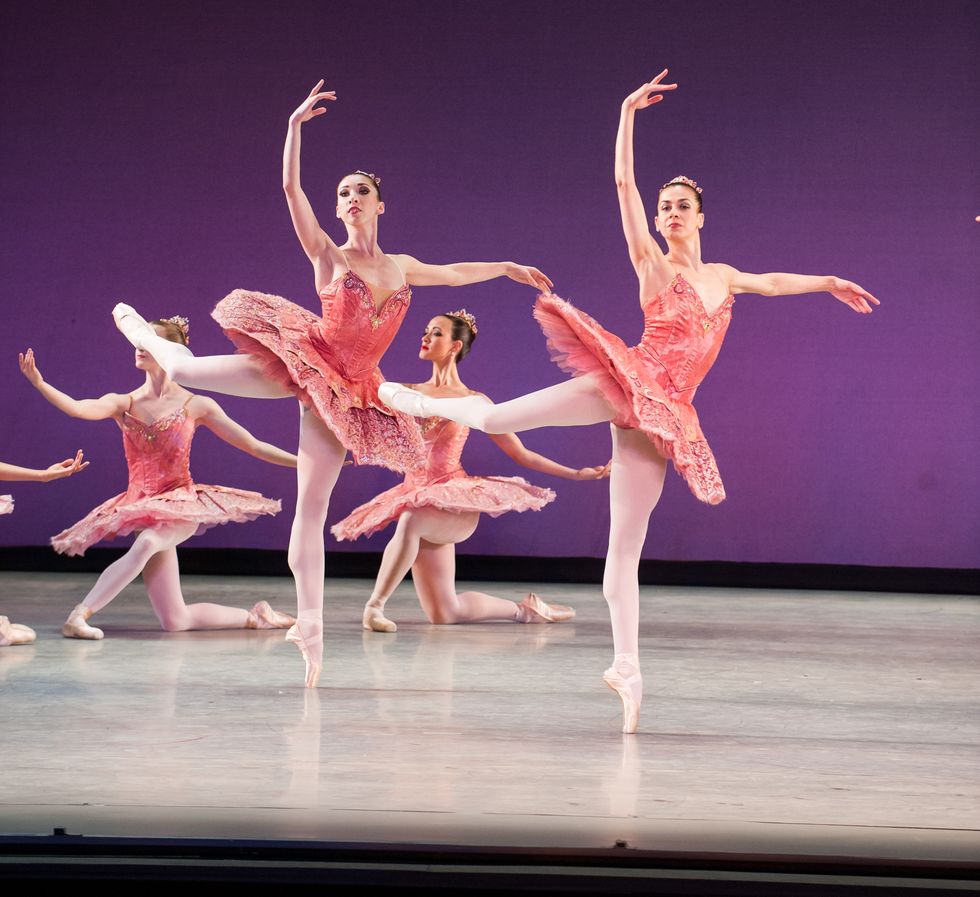 Derechyna in Balanchine's Theme and Variations
Theo Kossenas, Courtesy TWB
When Vaganova-trained Kateryna Derechyna learns a Balanchine ballet, she needs to adapt to his whole approach. "It's very different from how I studied," she says. Derechyna cites Balanchine's speed, musicality and the straight back leg in the fourth position pirouette preparation as important areas to focus on. "Also, in Vaganova we have a lot of movements going out and up, where Balanchine has a lot of steps where you do the accent in and down," she says. "That's something I had to get used to."
Derechyna took her first Balanchine class and danced her first Balanchine ballet, Serenade, as a student at The Harid Conservatory in Boca Raton, Florida. She's since performed several of the choreographer's other works, most recently Theme and Variations with The Washington Ballet. Each time, taking classes with Balanchine répétiteurs helps her pick up the technique. "In class, I'm focusing on the correct muscle groups and mannerisms from day one," she says.
In rehearsal, she's learned how to approach Balanchine's choreography in a way that works for her. "I try to get the steps in my body right away," she explains. "Then, I can build my performance with each run, adding more of the style—as well as more of my individuality." Because Balanchine's musicality is so specific, she also prepares by listening to the music to learn its details and nuances.
As challenging as the technique and musicality can be, those characteristics are also what Derechyna loves most about performing Balanchine's choreography. "It's very athletic and crisp," she says. "It feels joyful to dance it onstage."
Melody Mennite: Principal, Houston Ballet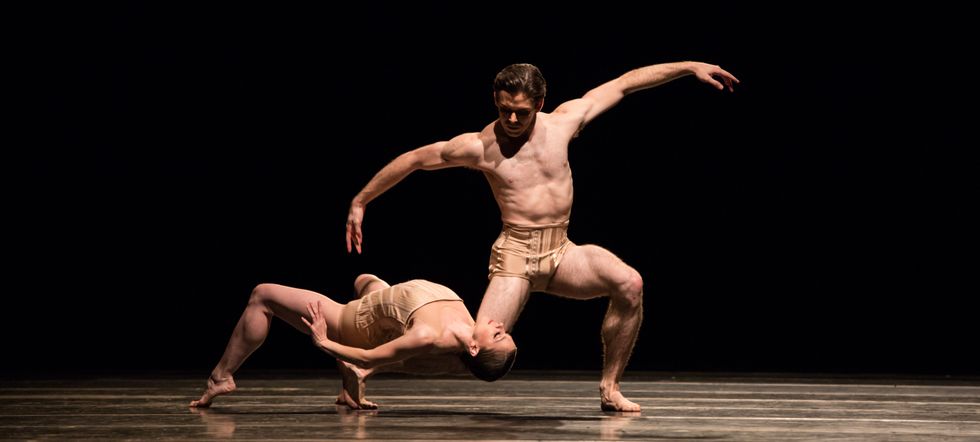 Mennite with Connor Walsh in Kylián's Petite Mort
Amitava Sarkar, Courtesy Houston Ballet
Houston Ballet's Melody Mennite connects naturally with choreographer Jirí Kylián's movement—but she still works hard to immerse herself in his style whenever the company does a Kylián ballet. That's partly because each of Kylián's works is challenging in a different way. For example, "Petite Mort has a purity of line that feels super-classical, while also having the daring nature of contemporary," Mennite says. "Falling Angels is more athletic and physically challenging."
What does she see as the common thread? "Kylián's movement flows from one thing into the next, so it never feels choppy or awkward," Mennite says. "The way that he uses weight-shifting makes it feel like a really well-put-together puzzle. Also, there are little nuances and quirks in all of his pieces that provide comedic, human moments. Those little movements have to be genuine."
To prepare her legs for the grounded quality that Kylián's movement calls for, Mennite focuses on using the depth of her plié. "Learning to use your body weight to achieve freedom and supple movement quality is something that has to be developed continually," she says. "It's a deep connection with your core and how it affects and controls the rest of your body."
When adapting to any new style, Mennite finds value in trying to be a blank slate. "Start with mimicking," she says. "Replicate what the person who is setting the ballet is saying and doing, no matter how uncomfortable it feels at first. The truer you are to the details from the start, the more natural it will feel as you go along."
Allison DeBona: First Soloist, Ballet West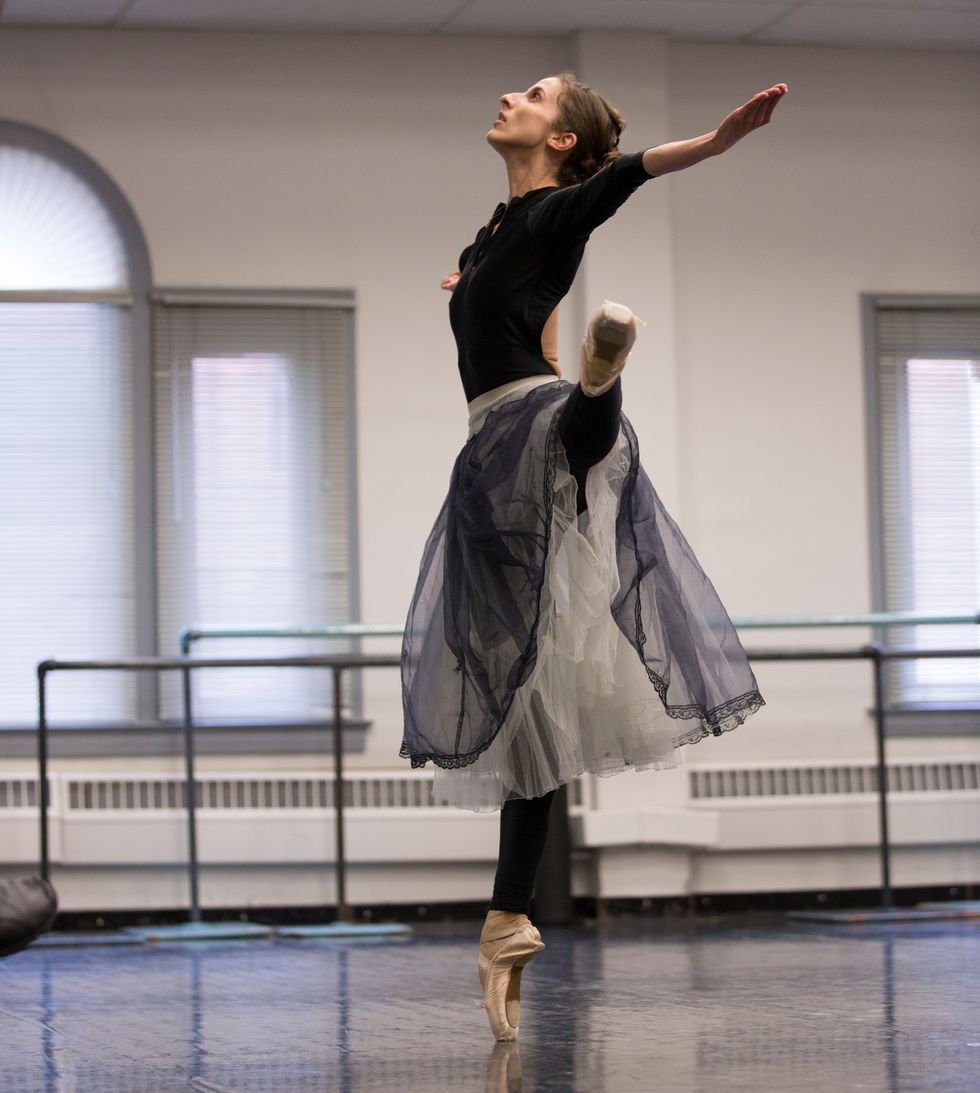 DeBona practicing "mitten hands" in Ashton's Cinderella
Erik Ostling, Courtesy Ballet West
For Ballet West's Allison DeBona, dancing the role of The Fairy Winter in Sir Frederick Ashton's Cinderella in 2013 was all about scaling back and honing her clean, classical technique. "At Ballet West, we're used to dancing expansively," she says. "For Cinderella, everything had to be more modest and controlled. I had to use every bit of my technique for every step."
DeBona remembers being particularly challenged by Ashton's placement of the arms and hands. "In arabesque, we had to bring our arms down to a lower line without losing the height of the leg," she says. "The other thing I had to think about constantly was having 'mitten hands,' rather than having the middle finger lower and the thumb in. When you've been trained to hold your fingers a certain way since you were 3, you barely have to think about them. With Cinderella, on top of learning difficult choreography, I had to focus on my fingers!"
In order to adapt to a new style of movement, DeBona recommends throwing yourself into it, even if it feels strange. "You have to skip that period where you're dipping your toe in, and dive in instead," she says. "For Cinderella, I practiced on every one of my breaks. I did the steps over and over. I knew when I got onstage, I couldn't go to my defaults, because they weren't acceptable with the style. By the performance, I felt like I'd embraced it. I felt secure."