This story originally appeared in the October/November 2014 issue of Pointe.
Every once in a while, a ballet company will come out of left field and reinvent itself in a matter of years. Until Aaron S. Watkin took over as artistic director in 2006, Dresden's Semperoper Ballett was mainly known as a midsize classical hub. As its dancers took to the stage last February in William Forsythe's newly arranged Neue Suite, however, their energy signaled a hungry, fierce and disciplined troupe. Couple after couple put on a display of speed and precision, conjuring feats of articulation as if to the manner born.

---
Under Watkin, the Semperoper Ballett has fast developed a voice of its own within the well-funded German state theater system, transforming into a modern neoclassical ensemble with a precious calling card: its association with Forsythe. Inspired and shaped by his repertoire, the Semperoper has stressed individuality and creativity, attracting choreographers such as popular Forsythe alum David Dawson—and a slew of dancers ready for prime time, including Sarah Hay, the star of the new TV series "Flesh and Bone."
Born in British Columbia, Watkin initially danced with the National Ballet of Canada. An early encounter with Forsythe, who created The Second Detail on the company in 1990, proved decisive. "With Forsythe, the movement quality felt so natural. It was the first time I really felt I could enjoy the moment onstage."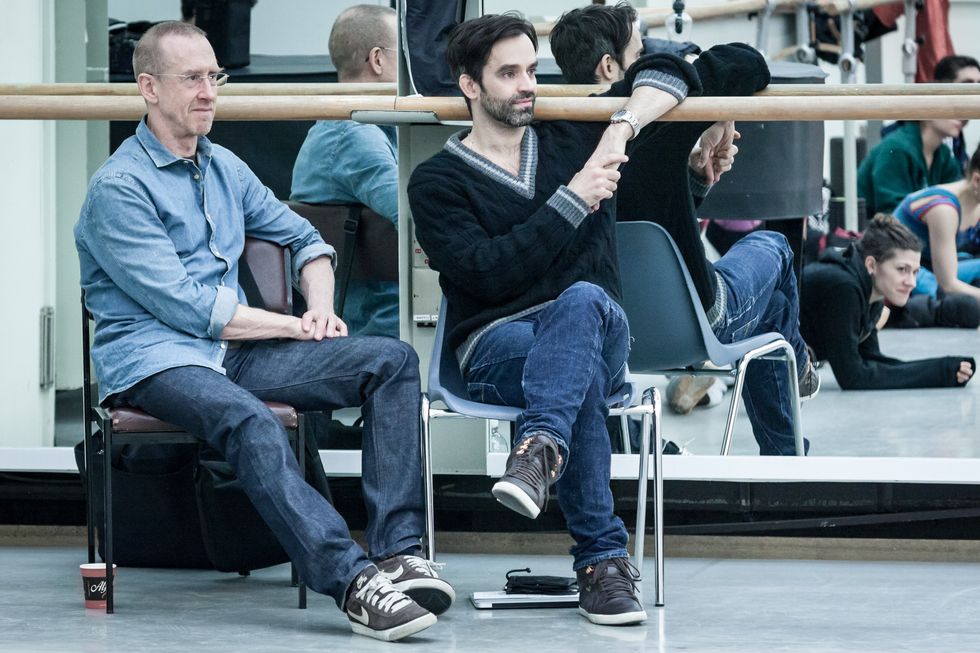 Watkin in rehearsal with ForsytheCourtesy Semperoper
Forsythe invited him to join his company in Frankfurt, but Watkin, feeling he wasn't done with classical ballet, moved to English National Ballet and later Dutch National Ballet. When Forsythe reiterated his invitation in 1998, Watkin, still reeling from a major injury, took the plunge.
After his retirement, the Forsythe connection eventually took Watkin to Dresden, where he set a program of the choreographer's works in 2005. The artistic directorship was open at the Semperoper Ballett at the time, and Forsythe recommended him. When Watkin was offered the job, he immediately opted for a clean break from the previous artistic direction to implement his vision for a more modern troupe. "The company was quite academic, very Eastern bloc. I knew that I wanted a very different dynamic," Watkin says.
That meant letting go of 25 dancers, half of the company. Watkin called on the network he had built over the years to recruit new ones. Soloists from the Mariinsky joined him, including the company's current prima, Elena Vostrotina; former partner Yumiko Takeshima and Raphaël Coumes-Marquet made the move from Amsterdam, along with Dawson as resident choreographer.
Watkin set about patiently remodeling the repertoire. The company presents 9 to 10 programs per season at the Semperoper, two of them new. "The main thing was to create our unique identity: The company did Neumeier and Cranko, but if someone wants to see these ballets, they can go to Hamburg or Stuttgart," he says. In addition to staging some classics himself, he turned to creations by Dawson, including his hit version of Giselle, and has recently nurtured Stijn Celis, who contributed a radical newRomeo and Juliet.
The company's relationship with Forsythe has become the touchstone of every season. In addition to its collection of short works by him, the Semperoper Ballett will acquire the worldwide rights this season for his famous triptych, Impressing the Czar, built around In the middle, somewhat elevated.
The mature company atmosphere is also heavily influenced by Forsythe's style. "I like dancers who come prepared, who don't wait to be told everything," Watkin says. "It all comes from Bill: He gives you so much confidence that you start to believe that you are interesting, that your opinion is valid."
Watkin has since recruited dancers from the nearby Palucca School, a pre-professional school for ballet and contemporary dance, and promoted from within. "It's important for me to have both senior principals and up-and-coming talent. Younger dancers can only learn by what they see, and there's nothing like the experience of a 40-year-old ballerina."
Plans to acquire more iconic works are being drawn up for the near future, but for now, the Dresden Semperoper Ballett is set to reap the rewards of its hard work, with tours to New York, Paris, Antwerp and Barcelona. "My biggest challenges were to get the dancers, the level and the company culture I needed," Watkin says. "Now it's time to make our presence known."
At A Glance:
Dresden Semperoper Ballett
Size: 56 dancers, plus 6–12 apprentices
Starting salary: around $4,173 USD (gross wage) per month
Length of contract: Year-round
Performances: 70 on the main stage in Dresden, plus tours
Website: semperoper.de/en/
Audition Advice
Watkin doesn't hold open auditions, but welcomes CVs with links to videos. From January to March, preselected dancers (typically five at a time) are then invited to take company class in Dresden. "I look for people who can move," says Watkin. "All I need to see is petit allégro, because it shows musicality, coordination and speed. If dancers can do that, they can usually do everything else."