Sarah-Gabrielle Ryan, photographed by Jayme Thornton for Pointe
Simply put, Pacific Northwest Ballet's Sarah-Gabrielle Ryan is a dazzling performer—we couldn't take our eyes off of her when she danced the lead pas de deux from "Rubies" during an online company performance in October. In our March/April digital cover story, PNB artistic director Peter Boal describes the 23-year-old corps member as having a "go-for-broke presence, a gutsiness." We couldn't agree more—and after our photo shoot, we can also say that she's as charming in person as she is onstage. After training in her hometown of Philadelphia, Ryan followed her instincts to Seattle, where she's thriving in exciting roles.
Now you can have a chance to hear more about Ryan's training and career path, ask for her advice, and much more in our exclusive virtual conversation! Click here to register for free with your questions. Then join us for a Q&A with Sarah Gabrielle-Ryan on Thursday, April 22, at 4 pm Eastern/1 pm Pacific.
Beau Pearson, Courtesy Ballet West
Last week, Ballet West announced that first soloists Katlyn Addison and Hadriel Diniz have been promoted to principal artist. The news marks a historic moment for the company.
Addison, who is Canadian, will be the first Black principal dancer in Ballet West's 58-year history. She joined BW in 2011 and has been steadily climbing the ranks since. In addition to a growing list of featured roles, she has also pursued choreography, creating several works for both Ballet West and University of Utah's dance department. In 2019, Addison participated in an artist exchange with Scottish Ballet, dancing the title role in that company's production of The Snow Queen. "She has dedicated her whole life to this art form, and methodically worked hard to get to this point, and she deserves this promotion," artistic director Adam Sklute has said in a statement on Ballet West's website. "I know she will continue to soar."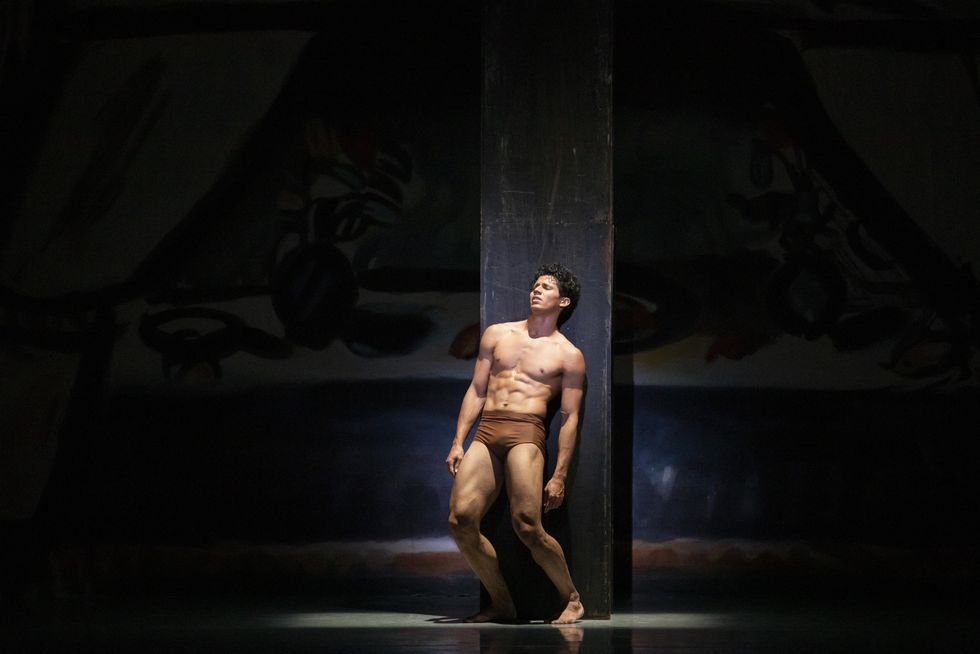 Hadriel Diniz in George Balanchine's Prodigal Son
Beau Pearson, Courtesy Ballet West
Diniz, who will be the company's first Brazilian principal, joined BW in 2015 after finishing his training on full scholarship at the San Francisco Ballet School. He's risen quickly through the ranks since, most recently performing the leading role in George Balanchine's Prodigal Son. Sklute praised Diniz's bravura technique. "He is also a consummate partner," Sklute continued, adding that he and Addison are "clear leaders."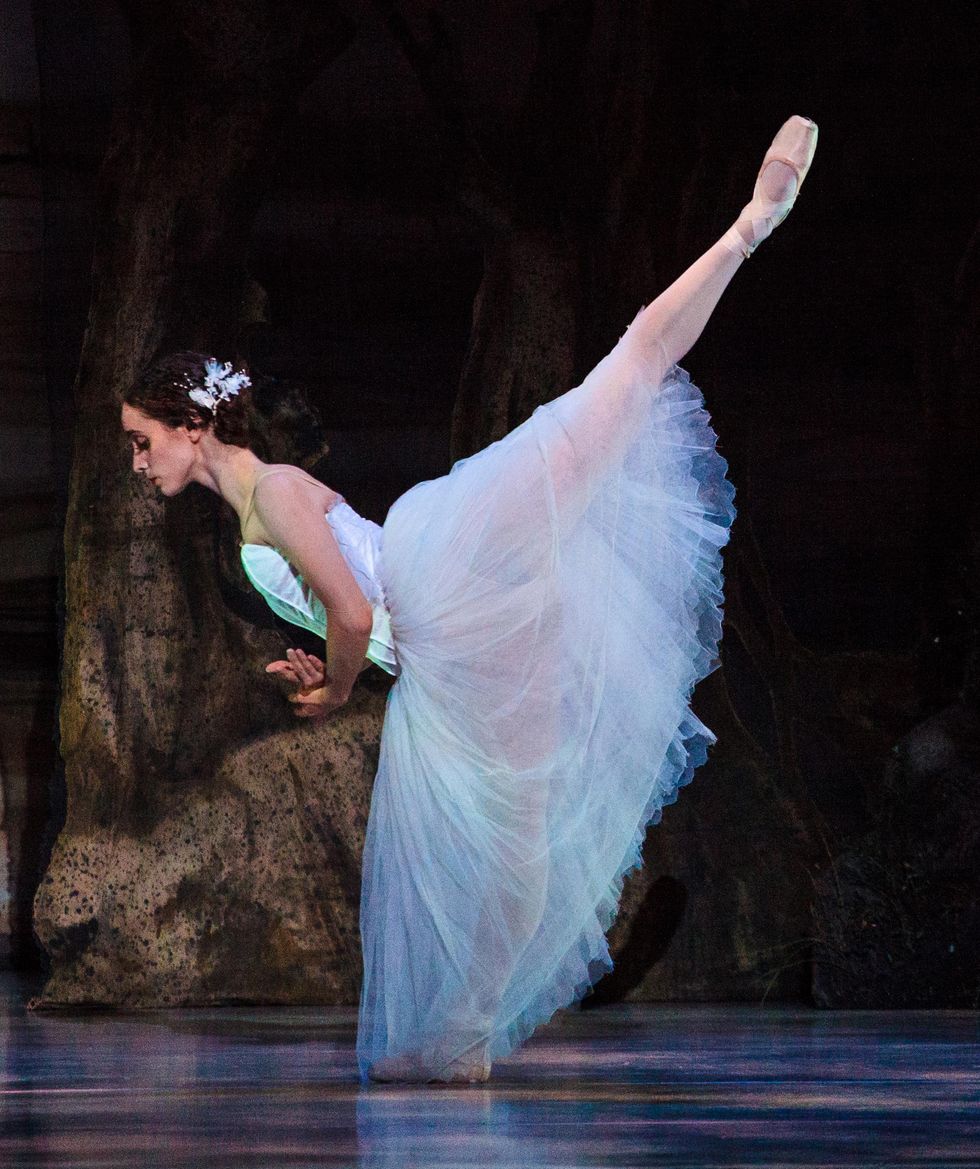 Ballet West principal dancer Arolyn WIlliams, shown here in Giselle, has announced her retirement.
Luke Isley, Courtesy Ballet West
The company also announced that several dancers would be retiring, including Katherine Lawrence and Arolyn Williams, two of its longtime ballerinas. Both dancers joined Ballet West in 2004 and have danced as principals since 2011 and 2013, respectively. Lawrence will give her farewell performance in Balanchine's "Emeralds" on Saturday, April 17. Williams, who gave her final performance in Onegin in 2019, has recently had a baby. First soloist Alexander MacFarlan; soloists Katie Critchlow and Emily Neale (Pointe's Summer 2020 cover star); demi-soloist Lindsay Bond; and corps members Jordan Richardson and Lucas Horns will also retire at the end of the season.

In other roster news, three former BW dancers are returning: Amy Potter, who joins as a soloist, and Kazlyn Nielsen and Anisa Sinteral, who will join the corps de ballet. Ballet West II dancers Jazz Khai Bynum, Isabella Martinez Corridon, Robert Fowler, Connor Hammond and Claire Wilson have been promoted to the main company. Congratulations and best wishes to all!
Eighteen-year-old Sarah Patterson (foreground), with her classmates at New Ballet School. She's decided to stay home this summer to take advantage of outdoor, in-person classes. Courtesy New Ballet School.
When it comes to navigating summer intensives, 2021 may be more complicated for ballet students than last year. On the heels of the COVID-19 pandemic's spring spike in 2020, summer programs went all-virtual or had very limited capacity. This year is more of a mixed bag, with regulations and restrictions varying widely across state and county lines and changing week by week.
Between vaccines and variants, can students aim for a full calendar of intensive training at local and national summer programs?
In-Studio Classes, Lower Enrollment
Many schools affiliated with major companies are finding ways to make in-person intensives possible, with some offering housing. However, they're doing so at smaller scales to enable social distancing. For instance, at San Francisco Ballet School, administrators have decreased enrollment by 25 percent compared to normal years. Boston Ballet School's Summer Dance Program is expecting to land at two-thirds enrollment overall in both its classes and housing, as compared to a non-pandemic year. While in-person classes are a big improvement from last year, smaller enrollment at major schools means that a large number of students can't be accommodated.
This stressful situation may be heightened by waitlists for those coveted in-person slots. "Yes, waitlists are longer. That said, we've never used one before, so we don't have a good comparison to base that off of," confirms Dave Czesniuk, managing director of Boston Ballet School, over email. "We are sensing a lot of 'wait and see' from the population. We won't be allotting any additional acceptances, since we filled our enrollment and waitlist so fast."
Luckily, the pandemic uncertainty has also meant that some programs are announcing plans later and still hosting auditions through April and May—check out Pointe's Summer Study Guide, which is regularly updated.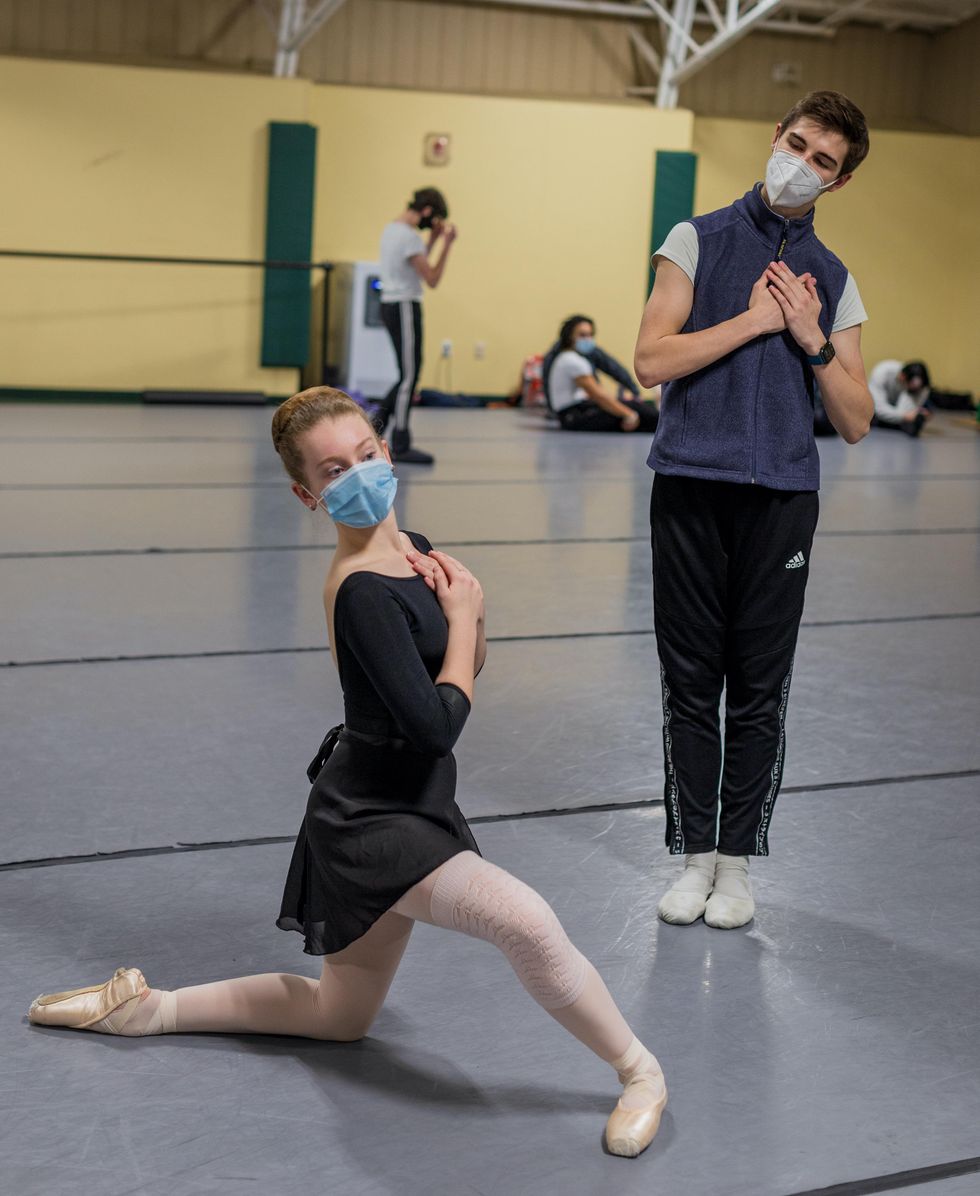 Students from Interlochen Center for the Arts in rehearsal
Courtesy Interlochen Center for the Atrs
Should You Go In-Person or Virtual?
Many top-tier intensives, like the ones mentioned above, will offer a combination of in-person training and virtual classes (expanding the latter as a contingent plan if outbreaks occur). Smaller, bubble-like programs are also worth considering, and may be more conducive for social distancing, whether commuter-based or residential. For example, Michigan's Interlochen Center for the Arts, which is offering a virtual option and on-site programs, has outdoor studios, cabin-style housing spaced out on a wooded campus and regular testing.
Other schools are only offering virtual intensives. For example, American Ballet Theatre is not holding in-person programming at its Southern California location and is waiting for more information from its Texas, Florida and Alabama university partners before deciding whether those will be in-person. (The New York City intensive, also still tentative, does not offer housing.)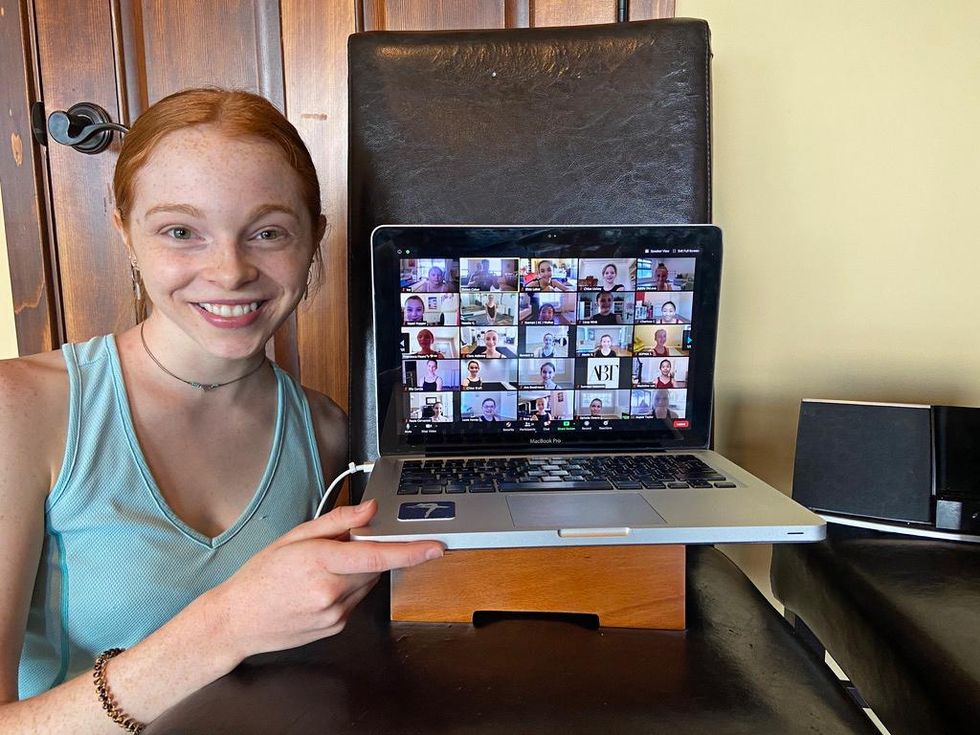 American Ballet Theatre corps member Zimmi Coker teaching during ABT's Virtual Young Dancer Summer Workshop in 2020
Courtesy Coker
There are pros and cons to each type of intensive, and you should take into account your current training and career goals, as well as safety, when deciding which to attend. For example, younger students, with their shorter attention spans, may be best served at a program that lets them train in person, so that they can take a full class through grand allégro and receive in-person, dedicated corrections.
Alternately, older students often see summer sessions as a chance to get in front of a director and potentially earn a traineeship or apprentice contract down the road. Joseph Morrissey, dance director at Interlochen Center for the Arts, acknowledges that his older students looking to train away from home this summer may feel pressure to network at company-attached programs. But while vaccines may be possible for students over the age of 16 by summertime, he says, he wants them to be vigorous in selecting an intensive for its safety protocols. "I would never sacrifice safety over networking."
Kate Lydon, director of ABT's summer intensives, notes that virtual intensives can be a great place to safely network. She points out that ABT Jacqueline Kennedy Onassis School director Cynthia Harvey, ABT Studio Company director Sascha Radetsky and ABT artistic director Kevin McKenzie will be teaching at all of the company's two-week virtual intensives—and confirms they will be keeping an eye out for new talent. "These three see more students over Zoom than they normally would because usually they would only be present at our New York program."
Staying Local
This summer may see more dancers staying close to home. Elizabeth Hutter, principal at New Ballet School in San Jose, California, is leery of sending her students to in-person residential programs due to the risk of a COVID-19 outbreak. "What might look sure right now might be unsafe in two weeks," she says. Her dancer daughter, 18-year-old Sarah Patterson, has decided to stay home this summer to take advantage of in-person classes at the New Ballet School's outdoor studio.
Katie Slattery, a faculty member at The Florida Ballet, is seeing a similar trend and says this is a genuine concern for families. "Most of our advanced year-round students who typically go away to an intensive are enrolling here for summer because their parents don't want to send them away due to COVID."
Hutter also notes that many families have been economically impacted by the pandemic, making a residential program—or finding housing if it's not provided—financially challenging. She adds that some schools are charging just as much for their virtual sessions, and that not all families have the same access to at-home training accommodations, like wide space and portable flooring. If your family isn't in a position to pay for full-priced programs, training at your local studio may be the more economical fit with the lowest health risk.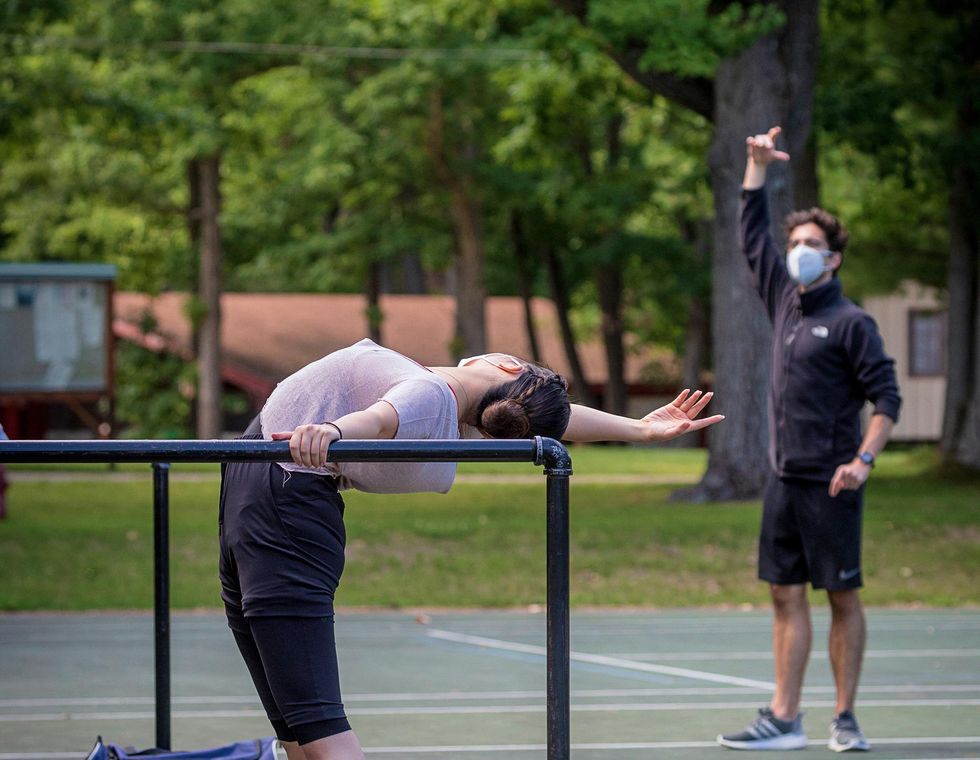 Interlochen Center for the Arts dance director Joseph Morrissey teaches an outdoor class on campus.
Courtesy Interlochen Center for the Arts
Design Your Own Hybrid Curriculum
To get the best of both studio training and national networking, Lydon suggests combining in-person and virtual programs, if possible. For instance, you could start or end your summer with a short virtual session and also attend a local, socially distanced one.
If that's not an option, keep in mind that the wealth of online training resources, from master classes to cross-training to at-home technique and pointe classes, is likely to continue into 2021. While a smattering of Instagram and YouTube classes can't replace a dedicated training schedule and live teacher corrections, strategically selected virtual classes may help supplement your local training.
Morrissey's advice is to keep everything in perspective. Understand that many students are in the same boat this year, and one summer won't make or break your career if you keep dancing and stay positive. "At the end of the day, the art form is not going anywhere," he says. "It's on maybe a little bit of a pause, it's not fun, it's not comfortable, but we will come back."
Chris Hardy, Courtesy LINES
After a year of shuttered studios, virtual-only classes, and waving to ballet buddies over Zoom, summer intensives are back. For adult students, packing up for a few days of intensive training might seem like a pipe dream, as many of us spent the last year trying to fit in ballet classes while juggling work and, for those of us with kids, remote learning. With the country opening up again, let's start planning (safely!) for workshops that allow us to jump into technique, conditioning and, of course, high-elbowing some new friends.
For in-person intensives, please check the studio's website for detailed health and safety guidelines, including policies on masks, cleaning/hygiene, social distancing, and the policy on having to cancel in-person programs due to COVID-19 restrictions.
CALIFORNIA
Alonzo King LINES Ballet Adult Dance Intensive (virtual only, via Zoom)
May 28–31, San Francisco
Immerse yourself in the celebrated home of Alonzo King, the artistic visionary who created LINES 39 years ago. Now in its second year as a virtual offering, this four-day workshop includes ballet, yoga, Pilates, choreography and contemporary. Students also have the option to drop in to class if they can't commit to all four days.
Westside School of Ballet
July 5-9, Santa Monica
Head to the sunny shores of Santa Monica, California, for Westside School of Ballet's Adult Summer Intensive, where intermediate-level students will immerse themselves in technique classes, as well as a class focusing particularly on pirouettes, petit allégro and grand allégro.
ILLINOIS
Chicago Ballet Arts (in-person and virtual)
July 19-25, Chicago
The Windy City welcomes beginning/intermediate dancers to Chicago Ballet Arts' weeklong Adult Summer Intensive. Geared toward students 18+, the program offers classes in technique, variations, modern, contemporary, conditioning, repertoire and pre-pointe/pointe.
KENTUCKY
Lexington Ballet Adult Ballet Intensive
July 12–16, Lexington
Why should thoroughbreds have all the fun of training in the horse capital of the world? Reach new heights in your training at Lexington Ballet's Adult Ballet Intensive. Join school directors Luis and Nancy Dominguez and principal instructor Ayoko Lloyd for a five-day workshop that includes conditioning, Pilates, technique and repertoire. All classes are held in the evenings, and the program welcomes beginning through advanced students.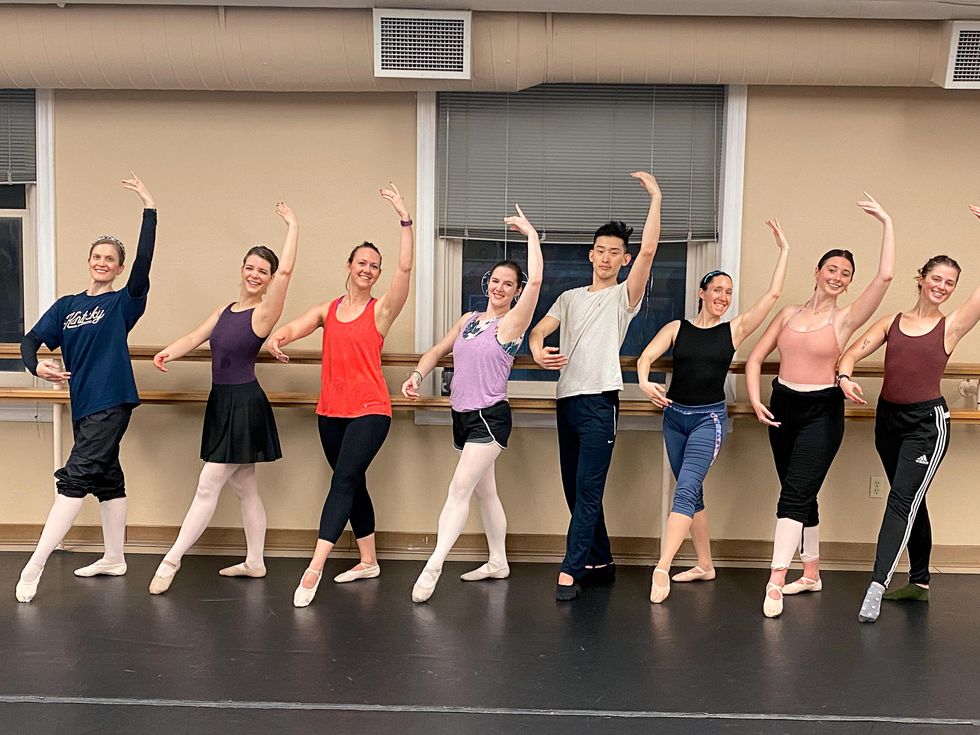 A group of dancers pose at a past Lexington Ballet Adult Dance Intensive.
Ayoko Lloyd, Courtesy Lexington Ballet
Louisville Ballet Adult Summer Intensive
May 31–June 4, Louisville
Polish off a glass of sweet tea (or two), and then work up a sweet sweat at Louisville Ballet's Adult Summer Intensive. Geared towards beginning through advanced levels, students ages 18+ can take part in half- or full days of training. Classes offered include technique, pointe and jump strengthening, modern, Pilates and yoga. Students will also perform in a livestreamed performance on the final day.
MASSACHUSETTS
Brookline Ballet School Adult Summer Ballet Intensive
June 23–27, Brookline
The Red Sox and New England Patriots may get a bulk of the glory in Beantown, but the city is also a mecca for ballet. At Brookline Ballet School's Adult Summer Ballet Intensive, students (beginner or intermediate level) will spend three weeknights and two weekend mornings in technique and repertoire classes, wrapping up with an informal performance on Sunday afternoon.
NEW YORK
Kat Wildish Presents (virtual, via Zoom)
June 14–25 and July 12–23
Join master ballet teacher Kat Wildish in a virtual intensive that aims to take your training to the next level. Each day, in one-hour classes, Kat will lead students of all levels from basic to advanced in various ballet exercises. The group will be limited to 20 dancers, so each person will get personal attention.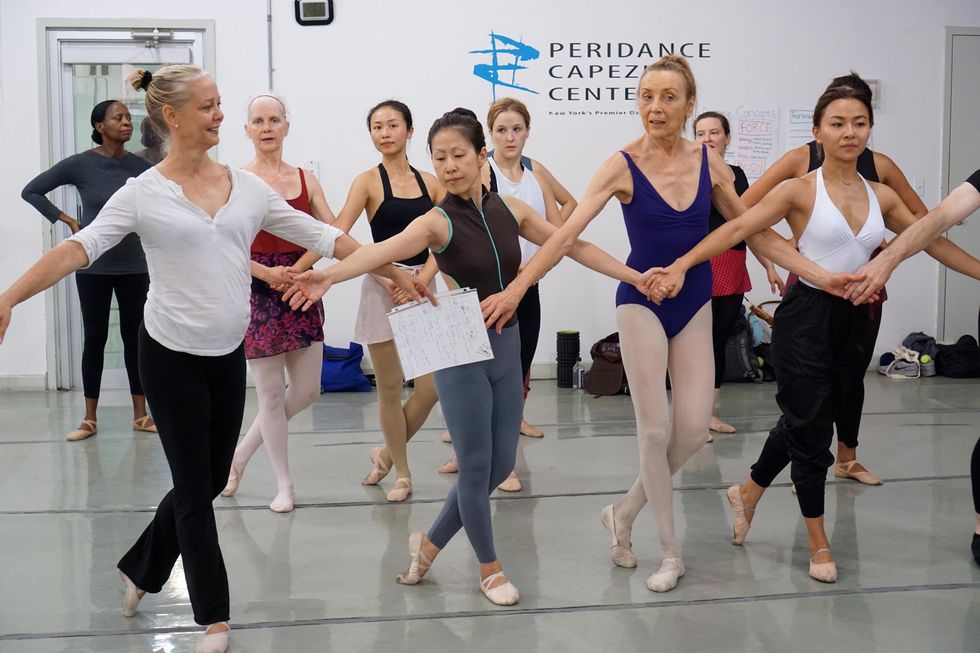 Kat Wildish (far left) working with adult students at Peridance Capezio Center
Matthew Venanzi, Courtesy Kat Wildish
OHIO
artÉmotion Adult Ballet Summer Workshop
June 14–19, Cleveland
Head to the Buckeye State for a week of training under the tutelage of Ballet West first soloist Allison DeBona and principal Rex Tilton. In this Adult Ballet Summer Workshop, beginner and intermediate/advanced students will fine-tune their skills in two classes every morning: a 90-minute technique class followed by a one-hour class in one of the following disciplines: pointe/pre-pointe, acting, men's and women's variations, conditioning.
PENNSYLVANIA
Amy Novinski
May 24–28 and June 28–July 2, Philadelphia
Those interested in the Vaganova technique may want to check out Amy Novinski's Adult Workshops. For the five-day May workshop, newbie dancers can look forward to classes devoted to ballet, jazz and yoga. For those more advanced, the June workshop offers more rigorous technique, contemporary ballet, pre-pointe/beginner pointe and jazz.
SOUTH CAROLINA
Ballet Academy of Charleston Adult Summer Intensive
July 26–30 and August 2–6, Charleston
Embrace the low-country charm in historic Charleston, where a weeklong Adult Summer Intensive at the Ballet Academy of Charleston invites beginning through advanced students to take classes in technique, stretching/Pilates/yoga, pre-pointe or pointe (for advanced students), variations, jazz, modern, contemporary and choreography. You may choose the half-day or full-day program.
TEXAS
Houston Ballet Adult Intensive
June 1–5, Houston
For intermediate/advanced students with at least three years of ballet training, Houston Ballet's Adult Intensive might be the perfect place to hone your skills. The school has two-, three- or five-day options, and includes ballet technique, variations, yoga and Zumba.
UTAH
artÉmotion Adult Ballet Summer Intensive
May 31–June 5, Salt Lake City
ArtÉmotion welcomes students of all levels are welcome at its one-week Adult Ballet Summer Intensive. Classes include ballet, contemporary, pointe, jazz, modern, acting, and men and women's variations. Available in full-day or half-day options, those dancing only in the morning will take two 90-minute technique classes. The full-day experience offers the opportunity to be choreographed on for an in-studio performance on Saturday, June 5. All students will also have a professional dance photo shoot with Logan Sorenson.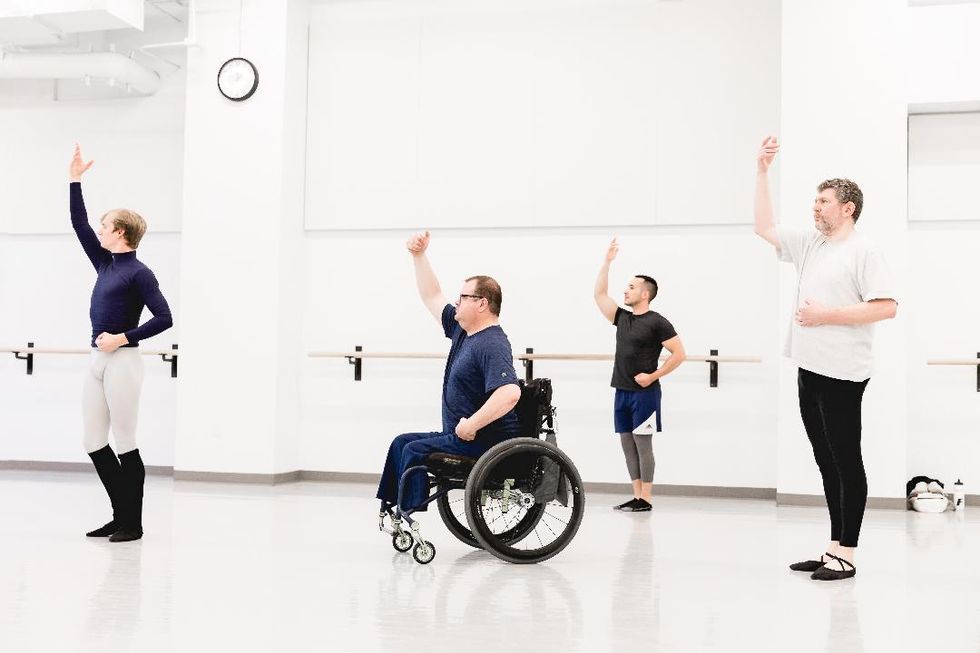 A men's class at artÉmotion Adult Summer Ballet Intensive
Logan Sorenson, Courtesy artÉmotion
INTERNATIONAL
The August Ballet Retreat in Leeds
August 28–30, Leeds, UK
The three-day August Ballet Retreat in Leeds offers classes for students of all abilities. The mornings are devoted to technique, and in the afternoon, students will focus on repertoire. In the past, The Ballet Retreat has taught solos from Sleeping Beauty, Romeo and Juliet and Giselle. One detail is still tentative: If the retreat is unable to take place in person due to the pandemic, it will be offered virtually over Zoom.
Morlaix International Adult Ballet Camp
July 2–10, Morlaix, France
The Morlaix International Adult Ballet Camp is in the heart of France's Brittany region. In this full-day intensive, intermediate through advanced-level students will be led by an international faculty. Dancers can look forward to morning ballet classes and rehearsals in the afternoon. The week of training wraps up with a performance of Bournonville's Napoli at a nearby theater. Please contact the school for information about room and board.