Boston Ballet soloist Chisako Oga. Jayme Thornton for Pointe
Chisako Oga has already experienced so much in her short career. In one year, she went from being a San Francisco Ballet apprentice to a principal dancer at Cincinnati Ballet. Now, she's spreading her wings at Boston Ballet, where she's currently a soloist. In our May/June digital cover story, Oga talks about handling high-stakes pressure, from international ballet competitions to leading roles, as well as career disappointments. Through it all, she's managed to stay laser-focused on her goals while maintaining a healthy attitude and work–life balance. "The pandemic put things in perspective," she says. "Dancing is my passion. I want to do it as long as I can, but it's only one portion of my life."
Now you can have a chance to hear more about Oga's training and career path, ask for her advice, and much more in our exclusive virtual conversation. Click here to register for free with your questions. Then join us for a Zoom Q&A with Oga on Tuesday, June 29, at 4 pm EDT!
Gavin Larsen in Balanchine's Duo Concertant at Oregon Ballet Theatre. Blaine Covert, Courtesy University Press of Florida
Before reading her excellent memoir, Being a Ballerina: The Power and Perfection of a Dancing Life (University Press of Florida, $26.95), I'd never heard of Gavin Larsen. She isn't a famous superstar ballerina with a first-tier company promising revelations of juicy celebrity gossip and salacious liaisons. She has no rags-to-riches history, no heartbreaking backstory of overcoming great odds. She was, in fact, a hard-working, successful, very skilled professional ballerina for 18 years, retiring in 2010 as principal of Oregon Ballet Theatre, with previous stints including Pacific Northwest Ballet, The Suzanne Farrell Ballet and Alberta Ballet.
And her story is all the more engrossing for its vivid portrayal of the "everyday" ballerina, making it relevant and resonant for a multitude of dancers who aspire to a professional dancing life. As she documents the discipline, dedication and sheer stamina that life in the ballet world requires, she traces a journey of transforming craft into art.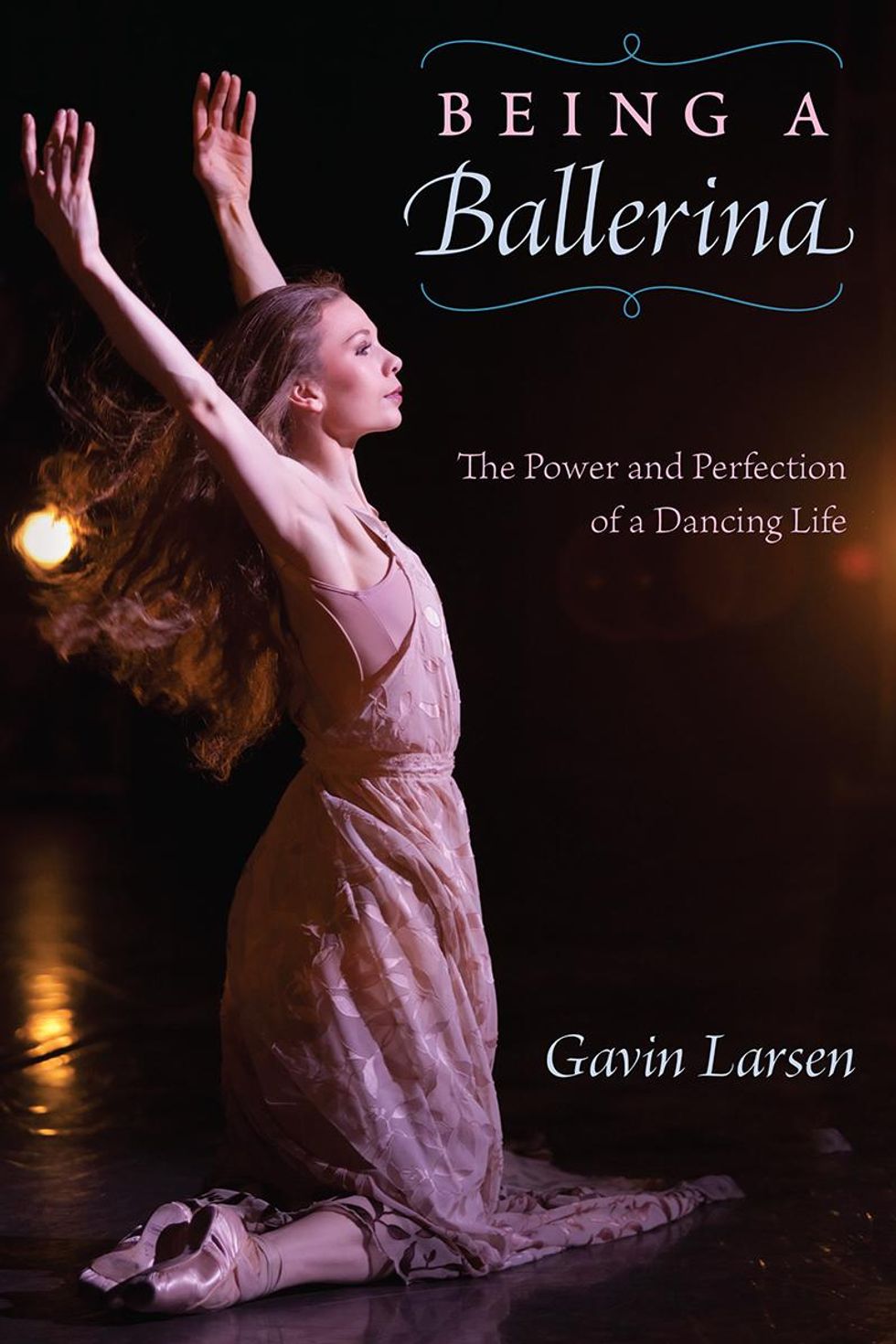 Courtesy University Press of Florida
Larsen lays the groundwork of her early years in third person, giving the narrative an appealing novelistic quality. (Since retiring from dance Larsen has embarked on a writing career, and is a frequent contributor to Pointe.) We see her transform from a shy 8-year-old faking her way through her first ballet class at New York School of Ballet, through her audition for and acceptance into the School of American Ballet, to her first Nutcracker performance and her determination at 16 to "unleash the dancer beast within…bursting out of her skin with furiously red-hot technical prowess."
As she enters professional life, Larsen throws light on the business of ballet, "the show must go on" ethos, dancing through fatigue and injury. She illuminates the reality of the day-to-day, from the morning stretching regimen, to the grind of living in pointe shoes eight hours a day during back-to-back classes and rehearsals, to the magic of performance. Her deft writing portrays a sly wit and a refreshing lack of self-importance, describing treacherous "puddles of sweat on the stage" in performance. "Like slugs, dancers leave paths of slime behind them."
She delves into overcoming the mental challenges of self-imposed doubt, the worry of not living up to one's own standards, and the fear of physical failure, capturing the frailty of the aging body in a field in which one misstep can be career-ending. "We balance ourselves on the brink of disaster and taunt the rules of physics because that is the only way to truly dance. Our only safety nets are our bodies, training and courage."
Larsen met those challenges with a laserlike single-mindedness and focus, largely forgoing a rich social life for a more self-described monastic lifestyle of routine and regularity. Yet she also describes an incredibly rich network of support, from her fellow dancers to the dedicated crew of people who enable the magic of performance.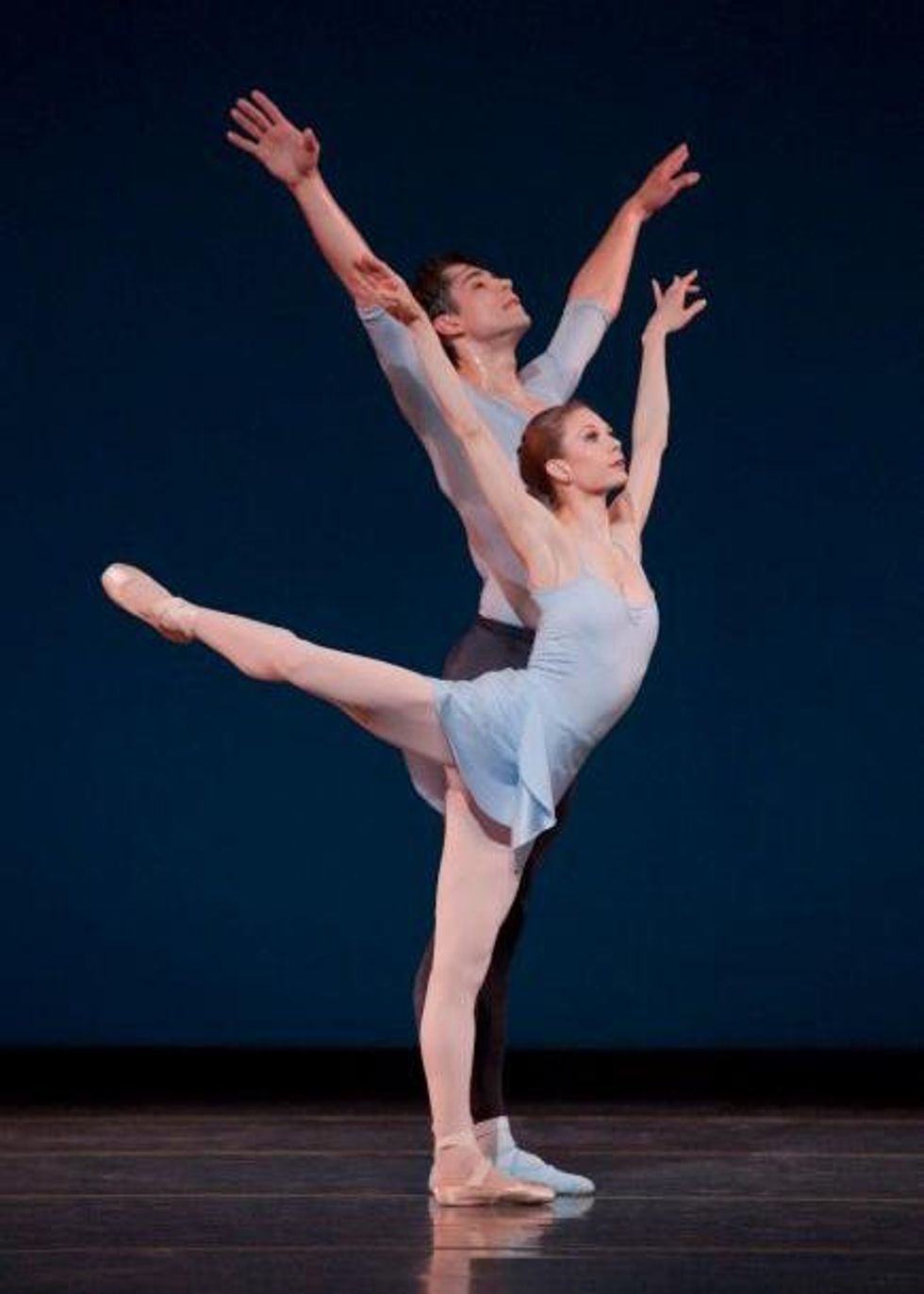 Larsen with Artur Sultanov in Balanchine's Duo Concertant at Oregon Ballet Theatre.
Blaine Covert, Courtesy University Press of Florida
Throughout, Larsen never loses sight of the exhilaration of dance. She describes how the power of music could turn an exercise into a moment of "pure, ecstatic joy." She expresses deep appreciation for a skilled, attentive partner during the intimacy and intricacy of a pas de deux. She captures one memorable performance with movingly heartfelt sincerity: "…suddenly, at the height of the lift and on that one magnificent note, everything was crystal clear: this is the apex of life. This is the happiest a person on earth can be. This is perfection."

Getty Images
You're performing well year after year, but you're still not being cast in larger roles. Your work ethic and technique are strong, but, for some reason, your director hasn't approached you about advancing in the company. Many dancers face this very dilemma—they're ready for a new challenge, but featured roles or a promotion don't seem to be on the horizon.
When opportunity doesn't knock first, it may be time to approach the door and do some knocking of your own. "I've been having those conversations with my director since I joined, which is rare," says Amanda Morgan, a fifth-year corps de ballet dancer at Pacific Northwest Ballet. She believes directors are waiting for dancers to advocate for themselves. If you're wondering how you can be more proactive, here are a few questions to help prompt your preparation.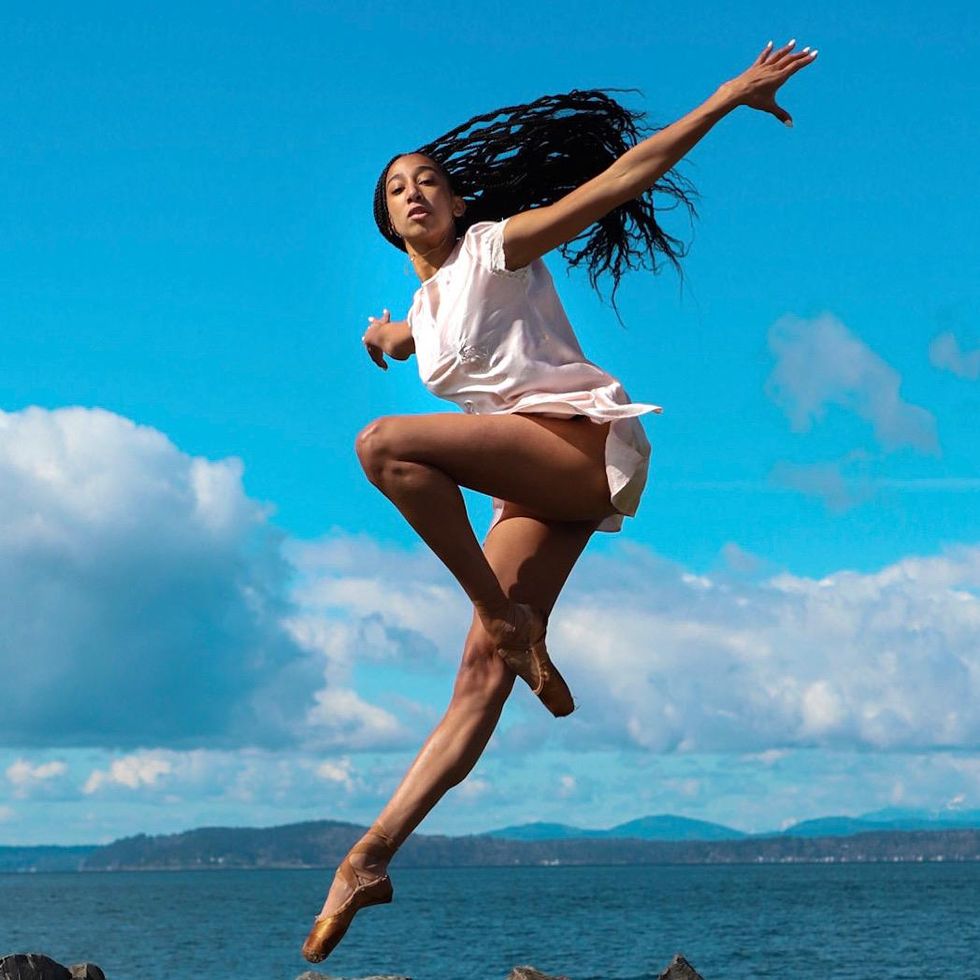 Pacific Northwest Ballet dancer Amanda Morgan: "Find a good medium of having humility and knowing your worth."
Jacquelyn Diaz, Courtesy PNB
Am I developing more than my technique?
"There's so much more responsibility, commitment, time, energy, will and courage required to do a major role," says Pittsburgh Ballet Theatre artistic director Susan Jaffe, who was a principal dancer at American Ballet Theatre for 22 years. Recounting the time and money she spent on weekly Pilates classes, private Gyrotonic lessons, and working with a dramaturg to further develop her artistry, she recommends dancers invest in their own development before approaching their director about advancement. "First become committed to yourself in the deepest way you can," she says. "If you're doing the work, the artistic director has already noticed."
To initiate the conversation, Lauren Anderson—associate director of education and community engagement programs at Houston Ballet and the company's first African-American principal dancer—suggests scheduling an appointment with your director towards the end of the current season. "You would want the director to be thinking about you before casting for the next season begins," she says.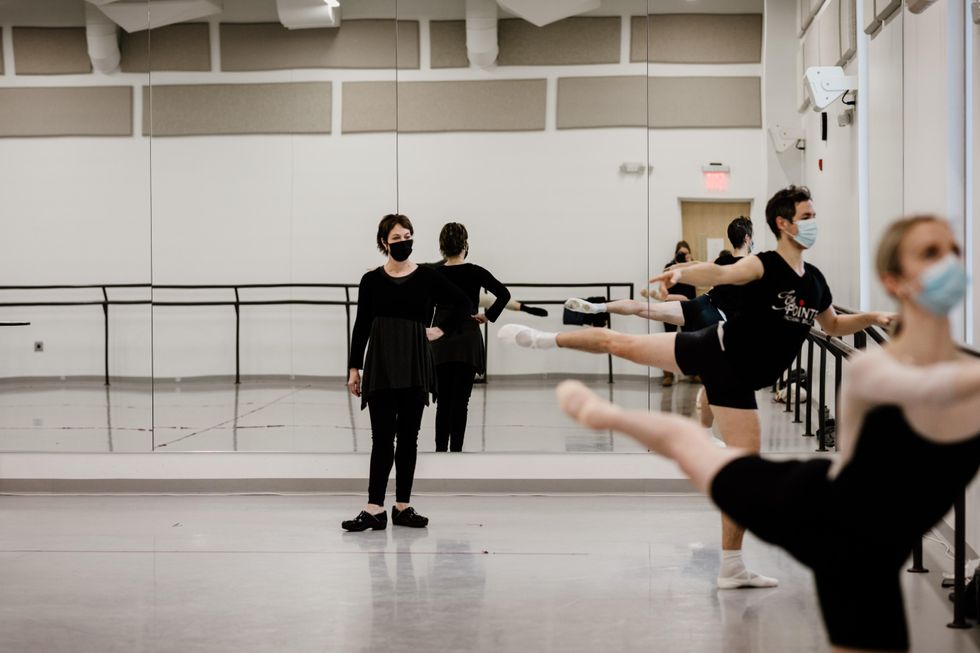 Susan Jaffe with Pittsburgh Ballet Theatre dancers William Moore and Hannah Carter
Kelly Perkovich, Courtesy PBT
Am I prepared to receive the feedback?
Approach the conversation with intentions of learning what improvements you can make to increase your chances of promotion. Be open to the feedback, and be careful not to come off as frustrated, emotional or entitled. "Leave emotions out, and be factual and authentic," says Anderson. She recommends dancers discuss how they've worked to improve gaps and then ask for suggestions on how to further improve in specific areas. If you're a stronger technician, for example, you might share how you've worked to enhance your artistry, then ask what more you can develop to get the bigger roles you want.
Ensure you're able to receive feedback without getting defensive or rebutting your director's assessment. "Justification would be a turnoff," Jaffe says. Instead, she advises that dancers have enough humility to keep trying even if they're not able to perform the part they're most interested in. Even as a principal dancer, she recalls asking to understudy major roles if she wasn't cast. "Just be authentic and say: 'I really feel like I could grow if I were given the opportunity. I would really like to request if I could learn this part.'"
Morgan adds that dancers should get clarity on vague feedback if they've been rejected for a promotion or a role. "We're often told 'You're not right for the part,'" she says, and notes that specific feedback is key for assessing equity and measuring improvement.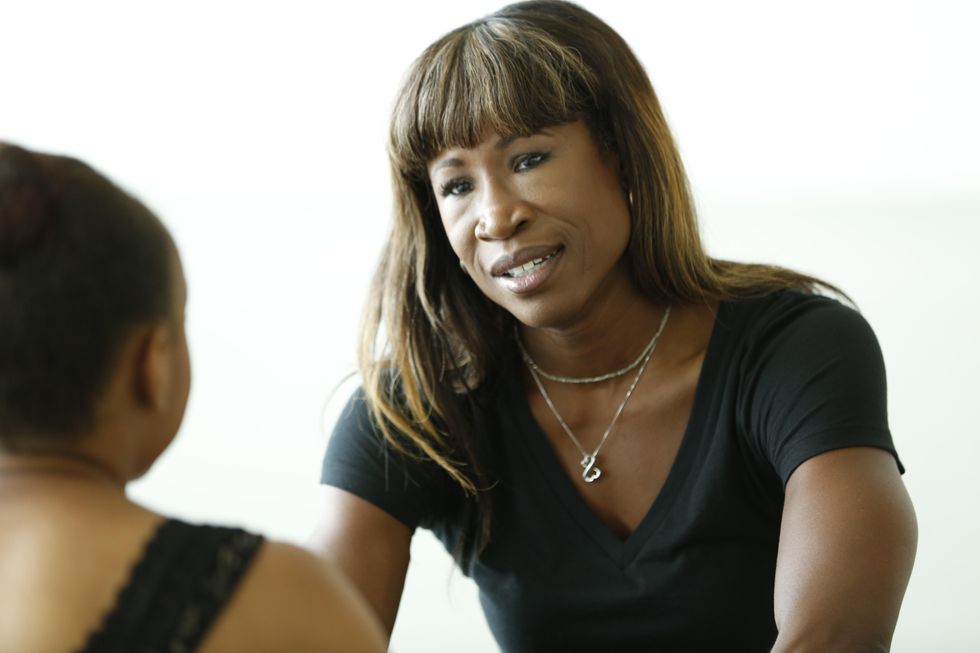 "Leave emotions out, and be factual and authentic, says Lauren Anderson (above) when approaching the topic of advancement with your director.
Courtesy Lauren Anderson
Am I prepared to take the next step?
If you've mentally and emotionally prepared to have a mature, candid discussion with your director, then it's also important to outline a few next steps following the conversation. Those might include addressing any gaps your director mentioned within a certain time frame, as well as scheduling follow-up appointments to ensure there's ongoing dialogue about your growth. It may also mean researching other companies if you're still not advancing after meeting, or even exceeding, the expectations that have been set for you.
"Know that you could go somewhere else and get opportunities if you're not getting them where you are," says Morgan. Below are some reasons why your lack of growth may be more about the company than your performance:
Your movement style doesn't fit the aesthetic preferences of the artistic director or the choreographers they commission. "Sometimes it's the taste of the artistic director," Jaffe says. "Instead of just being defeated or thinking 'I'm not good enough,' why not go out and find a company that's a better fit?"
It's harder to stand out in a large, highly competitive company. "Sometimes you have to go to a smaller pond to get the experience," notes Anderson.
Whether the factors are out of your control or not, you should feel empowered to advocate for your growth. "You wouldn't be where you are now if you weren't good enough," Morgan says. "Find a good medium of humility and knowing your worth."
Katie Ging Photography, Courtesy Ballet Academy of Pittsburgh
A growing Christmas tree. Angels and mice. Flowers and a sugarplum. Snow. Last week, the curtain rose on a festive performance of The Nutcracker…in June?
The pandemic has brought all sorts of odd workarounds for dance studios, from virtual classes to outdoor performances. But when COVID-19 threatened Ballet Academy of Pittsburgh's annual Nutcracker, the school decided to make an especially bold pivot: to hold it in early June, when most schools are doing their end-of-year summer recitals.
Back in October, when preparations would have had to have begun for a traditional Nutcracker, COVID-19 cases were starting to rise, and it was clear that staging The Nutcracker at the usual time would be devoid of the holiday cheer that makes it special. Plus, no one was vaccinated, so chances of the show being derailed by COVID-19 were high, and there would be no live audience.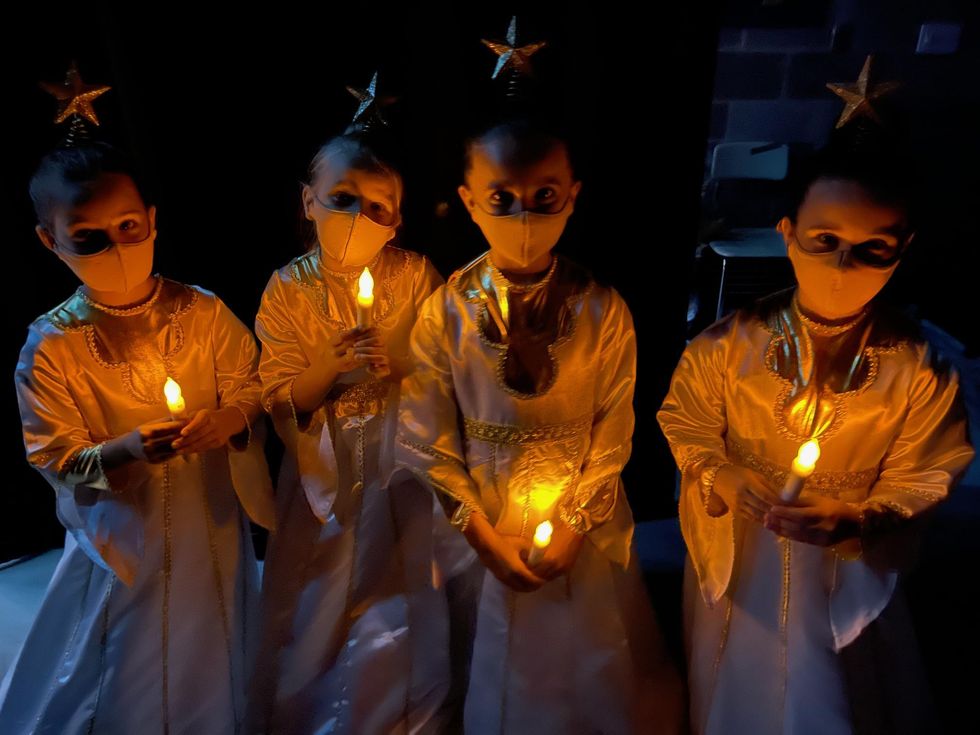 Courtesy Ballet Academy of Pittsburgh
"We knew some schools livestreamed or staged it later in the winter," says Lindsay Piper, who founded the school in 2006 with her husband, Steven Piper. "We had faith that the vaccines would make a big difference by June and that we'd be able to stage it close to normal."
By March, that assessment looked plausible, and they moved ahead with plans. Given how disrupted this year has been, Piper says it felt remarkably typical to be working on The Nutcracker once they got going—and got past the lack of snow dotting the outside of the studio. As counterintuitive as it may seem, doing The Nutcracker in June has given students a sense of much-needed normalcy and continuity. "One of my Sugar Plums, she's been with me since she was 4 years old," says Piper. "This was her year to be Sugar Plum and we wanted her to have that moment, and for her family to be able to be there to see it."
Though waiting until June meant the school's Nutcracker more closely resembled "normal," there were still some differences. For one, it wasn't the top source of revenue it usually is. The audience was limited to 50 percent capacity, which is about 375 people—all students' family members and all wearing masks. To make up for some of this loss, Piper raised in-person ticket prices from $15 to $20, and livestreamed the production for $35 per IP address. She's been able to cover costs (renting the theater, paying a few professional guest performers) and make a modest profit.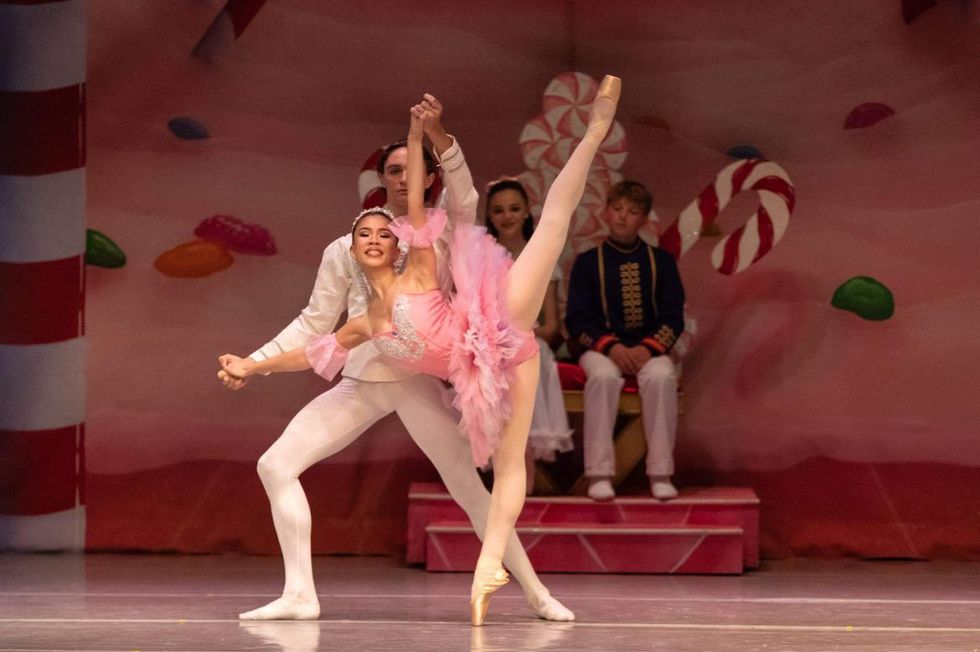 Katie Ging Photography, Courtesy Ballet Academy of Pittsburgh
Student participation also dropped by around 30 percent, which Piper believes was due to competing end-of-school-year priorities, like graduations. One unexpected upside: space in the party scene cast to accommodate alumni of the school, who were able to be home in Pittsburgh at this time of year, including Piper's own daughters, who are usually performing The Nutcracker with Nashville Ballet and Pacific Northwest Ballet.
The June date hasn't kept Piper from leaning in to some holiday joy. She still decorated the lobby with a Christmas tree, a large Nutcracker and other holiday ornamentation. "Why not embrace it?," she asks.
But perhaps the biggest perk of waiting until June has been the reduction of COVID-19 cases, and the peace of mind that comes with it. "People just aren't as afraid now. We can enjoy the experience so much more than if we had tried to do something in December," says Piper.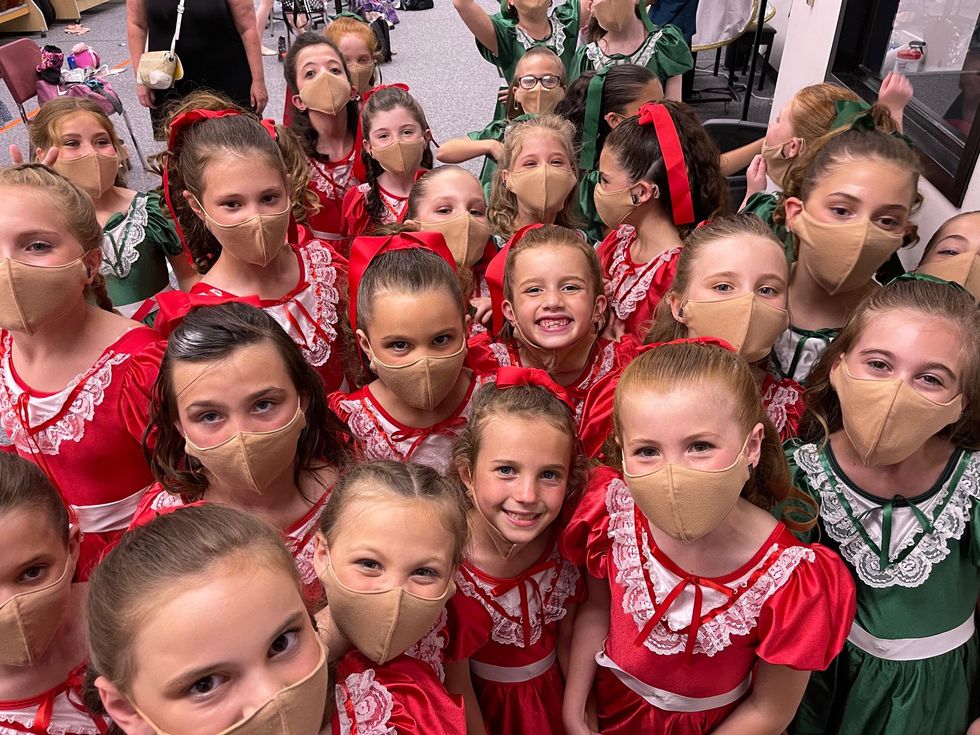 Courtesy Ballet Academy of Pittsburgh
After months of not knowing if or when Nutcracker would happen this year, and feeling the stark absence of the annual December performances, Piper says she and the students have never been so happy to hear the ubiquitous Tchaikovsky score.
"The looks on the kids' faces when they come to rehearsal and talk about going to the theater and getting into costume, it's just made this 100 percent worth it and overtaken the slight absurdity of the timing," she says. "What will feel strange is in December when we're back on the usual schedule. It'll be like, 'Didn't we just do this?'"
The ballet community bid a bittersweet farewell on May 27 when the ever-luminous Italian ballerina Carla Fracci passed away from cancer. Fracci was beloved in Italy and around the world, having started her career at La Scala Ballet in Milan and then guesting internationally with The Royal Ballet, American Ballet Theatre and more. Later in her career, she returned to Italy to direct companies in Naples, Verona and Rome. Fracci performed into her 50s and was renowned for her dramatic abilities and stage presence. In this 1971 clip, she dances Swanilda's Act III variation from Coppélia—a tribute to her talent and generosity as a performer.
Fracci's exuberance and clever musicality in this variation perfectly capture Swanilda's spirit. She playfully accents each closing into fifth position and blends bright, staccato steps with demure port de bras. The variation highlights Fracci's skillful footwork; her pas de bourrés have a distinct personality, with ever so slightly unexpected and satisfying musical timing. In the final diagonal, Fracci performs ballonnés slowly across the floor with a strong, deliberate flick of the toe. Her eyes and smile twinkle with the knowledge of a final crowd-pleasing surprise as she revs up her ballonnés to double tempo to finish the variation. Ms. Fracci, you were truly unforgettable–we will miss you. Happy #ThrowbackThursday.