Sarah-Gabrielle Ryan, photographed by Jayme Thornton for Pointe
Simply put, Pacific Northwest Ballet's Sarah-Gabrielle Ryan is a dazzling performer—we couldn't take our eyes off of her when she danced the lead pas de deux from "Rubies" during an online company performance in October. In our March/April digital cover story, PNB artistic director Peter Boal describes the 23-year-old corps member as having a "go-for-broke presence, a gutsiness." We couldn't agree more—and after our photo shoot, we can also say that she's as charming in person as she is onstage. After training in her hometown of Philadelphia, Ryan followed her instincts to Seattle, where she's thriving in exciting roles.
Now you can have a chance to hear more about Ryan's training and career path, ask for her advice, and much more in our exclusive virtual conversation! Click here to register for free with your questions. Then join us for a Q&A with Sarah Gabrielle-Ryan on Thursday, April 22, at 4 pm Eastern/1 pm Pacific.
Still shot by cinematographer Benjamin Tarquin, Courtesy Post:ballet
Spring is in full bloom with another round of exciting digital dance offerings. This month, companies across the country are releasing world premieres, season finales, artistic collaborations and more. We've rounded up some highlights below.
New York City Ballet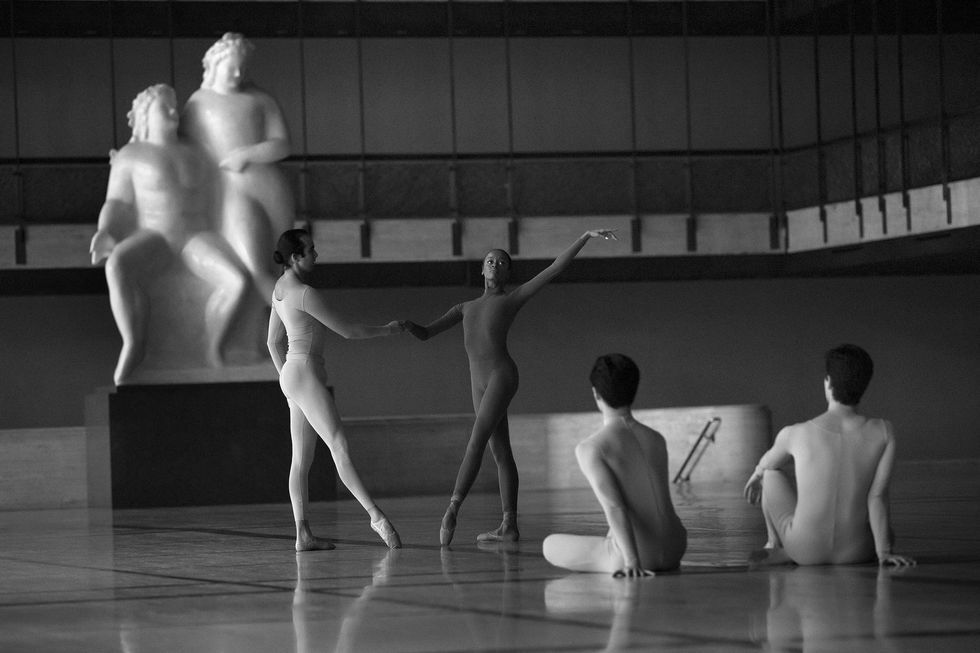 Sebastian Villarini-Velez and India Bradley with KJ Takahashi and Jonathan Fahoury in Kyle Abraham's When We Fell
Erin Baiano, Courtesy NYCB
On April 8, New York City Ballet presents When We Fell, a world premiere by Kyle Abraham starring company dancers Taylor Stanley, India Bradley, Jonathan Fahoury, Christopher Grant, Claire Kretzschmar, Lauren Lovette, KJ Takahashi and Sebastian Villarini-Velez. Filmed by cinematographer Ryan Marie Helfant and shot on the promenade and stage of the David H. Koch Theater, When We Fell celebrates a return to the Lincoln Center grounds after a period of emptiness. The film will remain available for free through April 22 via the NYCB website and YouTube channel.
Ballet Austin
Later this month, Ballet Austin artistic director Stephen Mills premieres his PRELUDES/BEGINNINGS, a new dance film celebrating Austin's historic Scottish Rite Theater and the "ghost light" tradition. Set to Chopin's 24 Preludes, the piece reflects on the ghostly nature of an empty stage and considers historical parallels between the 1918 Spanish influenza pandemic and the present-day coronavirus. Audiences can sign up to receive free access to the film April 15–25 via the company website.
Seattle Dance Collective
NYCB principal Sara Mearns stars as Juliet in Gallop Apace, a new dance film presented by Seattle Dance Collective running April 15–22. Directed and choreographed by Bobbi Jene Smith and Or Schraiber, the piece explores strength, transition and womanhood and is inspired by an often overlooked scene from Shakespeare's Romeo and Juliet. Tickets are $5; go to the SDC website for more details.
Post:ballet
On April 1, San Francisco–based contemporary ballet company Post:ballet released a short dance film reimagining Act II of Swan Lake. Shot along the San Francisco Bay in view of the Golden Gate Bridge, company dancers waltz and jeté across the sand in artistic director and founder Robert Dekkers' 15-minute contemporary take on the classic ballet. You can watch Post:ballet's Swan Lake for free via the company's YouTube channel.
San Francisco Ballet
Now through April 21, San Francisco Ballet is streaming George Balanchine's three-act Jewels. While "Rubies" and "Diamonds" is archival footage, the opening ballet "Emeralds" is a new performance capture with role debuts by Misa Kuranaga, Angelo Greco, Sasha Mukhamedov and Aaron Robison. For $29, viewers can purchase 72-hour on-demand access to the stream via the SFB website.
Houston Ballet
Houston Ballet continues its eight-week film program In Good Company, which premiered on March 10, through the end of this month. Each film features choreography by artistic director Stanton Welch and music by the Canadian acoustic quartet The Dead South. The program releases one new video each week on the company's website, YouTube channel and social media pages, where online viewers can access them for free. Check out the released films Honey You, Achilles, The Recap, Long Gone and That Bastard Son now.
Colorado Ballet
Colorado Ballet wraps up its 2020–21 season with its online premiere of Through It All, a program of classical and contemporary repertoire that includes new works created by company dancers. While the program marks Colorado Ballet's return to the live stage, all six performances April 10–11 and 17–18 will be livestreamed in real time. Viewers can purchase virtual tickets up to one hour before the performance for $25 per individual or $40 per household via the company website.
Dayton Ballet
Dayton Ballet presents a condensed production of artistic director Karen Russo Burke's Cinderella at the Victoria Theatre April 23–25. The 3 pm EDT performance on April 24 will also be livestreamed and remain available for on-demand viewing through June 30. Viewers can purchase $25 tickets for online access via the Dayton Performing Arts Alliance website.
Miami City Ballet and Paul Taylor Dance Company
On April 1, Miami City Ballet and Paul Taylor Dance Company premiered the new collaborative virtual performance ViVa, which celebrates the joint history of ballet and modern dance. Choreographed by Amy Hall Garner and set to music by Vivaldi, the piece travels from Miami's Lincoln Road to Manhattan's Lower East Side and features MCB soloist Samantha Hope Galler and PTDC dancer John Harnage. ViVa will remain online permanently for free via MCB's and PTDC's websites and social media channels.
Pennsylvania Ballet
Pennsylvania Ballet continues its digital spring season with its second installment, Resilience, streaming April 29–May 5. The program features a solo, by principal Jermel Johnson, from Dwight Rhoden's And So It Is..., as well as performances of George Balanchine's Allegro Brillante, Christopher Wheeldon's Polyphonia and Angel Corella's Raymonda Suite. Viewers can purchase online access to season installments for $25 each via the company website.
The corps of the Paris Opéra Ballet perform the Kingdom of the Shades scene from La Bayadère. Little Shao, Courtesy POB
Occasionally, in my dreams, I relive the entrance of the Shades from La Bayadère. From the quiet, hypnotic buildup of arabesques snaking down the stage to the prayerlike moment when the entire corps de ballet freezes in a front tendu, arms crossed and eyes turned upwards, it is where my mind goes for rest and contemplation, more so than any extraordinary variation.
A year into the pandemic, large-scale ensembles are also what I've missed the most on the ballet stage. As COVID safety protocols prevented dancers in many countries from gathering in large groups, when companies were able to deliver livestreams or performances with limited audiences, they have favored gala-style excerpts and smaller works—leaving aside a core strength of the classical repertoire.
Taken out of context, however, a lot of gala staples start to feel like technique contests. In longer productions, ensemble scenes offer contrast and scale; between variations and pas de deux, they allow viewers to take a step back and grasp the architecture of the world being built onstage. I've found myself longing to see William Forsythe's Artifact or John Neumeier's Third Symphony of Gustav Mahler again—to take in, once more, the sweep and chess-like complexity of works that make full use of ballet's resources.
Bringing so many people together now seems daunting, leaving corps dancers in limbo. While some principals and soloists have been called upon to deliver miniatures, or have the name recognition to get other projects going, many of their colleagues lower down the ranks have felt bereft without their regular workloads. "Of course I've missed it," says Fanny Gorse, a sujet at the Paris Opéra Ballet. "When rehearsals go well, when you're in the studio and have that group emulation, it's such a special feeling."
Being back in the studio lately to rehearse Angelin Preljocaj's Le Parc, even without public performances, has helped. "You're not necessarily going to go on holiday with your colleagues, but you have your rehearsal friends," she says. "It makes me feel younger. You're working, but you're having fun."
Maintaining a large corps de ballet isn't cheap. Cost-cutting measures already forced a number of companies to downsize in the wake of the 2008 financial crisis; the extent of the permanent layoffs triggered by the pandemic has yet to become clear, but some employers, like The Royal Ballet, have offered voluntary redundancy to dancers. (Out of the five who took it at The Royal, four were corps members.)
In that sense, the situation may yet compound the trend towards shorter works involving fewer dancers. As part of my PhD, I built a database of all the ballets created by four major companies (the Paris Opéra Ballet, New York City Ballet, the Bolshoi Ballet and English National Ballet) between 2000 and 2016. Out of 196 works in total, 87 percent were one-act ballets; despite the companies' size, the average number of dancers involved in new works was 18.
Very few creations employed what we might consider a large corps de ballet: 38 percent offered only soloist parts, and just under 20 percent had a corps of over 20 dancers.
There are reasons beyond the budget for choreographers' reluctance to work with large ensembles. First, many choreographers are freelancers who travel from company to company, and working with a small cast is easier when you're not familiar with all the dancers. Facing a big group in the studio and taking a range of bodies into account also requires different skills from a one-on-one rehearsal.
For dancemakers who favor an improvisation-driven process, the mathematical dimension of complex corps work can be a turnoff. According to Nikolai Legat, Marius Petipa worked with chess-like pieces to map out patterns in advance for his large-scale tableaux; similarly, the choreographer and former Paris Opéra Ballet étoile Jean-Guillaume Bart worked out the way his lines of corps dancers would travel and intersect on paper ahead of time when he reinvented La Source in 2011.
And in the studio, managing dozens of people is no walk in the park. As Crystal Pite told me for Pointe in 2016, "there's a whole aspect to the craft of choreography that involves directing and leading a group of people. And it's like dancing: You need to practice, to work on being a leader."
Before the pandemic, Pite led a small revival of ensemble-driven choreography in the ballet world, with successful productions including Flight Pattern (at The Royal Ballet) and The Seasons' Canon (for the Paris Opéra). For the latter, which featured a 54-strong cast, she worked out some of the choreography in advance with students in Vancouver.
Will that revival endure? The appeal of so many bodies coming together and breathing as one may be even stronger when all restrictions are lifted, but ballet companies would do well to work harder at capitalizing on it. Teaching young choreographers the tricks of the trade would be a good start.
Lucas Chilczuk
At Ballet Hispánico, Dandara Veiga has to be part dancer, part chameleon. As she goes about an average day as an artist with the company, she shifts from ballet repertoire to contemporary works—and the contents of her dance bag help her ease from one style to the next.
"The way I move changes a lot when I change my hair or my clothes," she says. The Brazilian-born Veiga often switches up both completely as she works through her day, and doing so helps her to transition seamlessly through Ballet Hispánico's varied repertoire. And while the more casual styles put her a little out of her comfort zone—Dandara trained for some time at a strict ballet conservatory in Portugal—she's learning to enjoy it. "I don't do anything crazy, but I like to play a little. It's fun!"
Lucas Chilczuk
The Goods
Bloch booties: "I always go for black, because it's easiest to match with my leotards. I love for my leotards to be colorful, but I like to keep my warm-ups more neutral."
"I actually made my legwarmers in Brazil, with my grandmother, before I moved. When I first started dancing, I was on scholarship, so I had to build my wardrobe little by little. I'm very attached to these legwarmers, because my grandmother taught me how to make them. I wouldn't exchange them for anything."
Uniqlo vest: "I like this vest because it's ultra-light, so it doesn't take up too much space in my bag. It's black, of course, like all my other warm-ups!"
"I always have a small golf ball. Some of the other girls in the company introduced me to using it to roll my feet—we're always exchanging information about those things. I love how it feels on my arch," she says.
Gaynor Minden pointe shoes: "Now that I'm dancing at home, I've been darning the boxes of my shoes, because the floor of my apartment isn't ideal for dancing. It's pretty uneven, so I've found the darning helpful to give me a bit more stability. I'd hate to get injured dancing at home!"
Veiga holds photos of her family members in Brazil (Lucas Chilczuk)
"I always carry pictures of my family with me. I have a picture of each of their faces. I keep them with me all the time. I'm very nostalgic for home!"
Headphones: "I like to have my headphones to warm up before class. I try to listen to Brazilian songs while I'm warming up. They make me feel like I'm at home. Lately I've been listening to a lot of Iza. Her songs are very upbeat, which I like."
"I always have a bunch of extra clothes in my bag—leotards, skirts, shorts, tights, some loose pants. Changing clothes helps me to transition more quickly from classical to contemporary, so I don't lose time getting my mind and body ready for the next piece."
Kaiak cologne: "I have a little bottle of cologne from Brazil, which I like a lot. I like to have little things with me to make me think about home, and this cologne does that."
"I have a little container with hairpins, a headband and a little spray bottle of water. I change my hairstyle a lot throughout the day—like clothes, my hair can help change my mood for different styles of dance."
Vail Dance Festival bag: "Vail was one of my favorite places we've performed, so I love to carry this bag."