Long days in the studio or theater require lots of water to prevent dehydration—and tasty snacks to stay energized! Try this recipe for muesli muffins from the Royal Danish Ballet's multi-talented Shelby Elsbree: "Nuts and fruits can  get monotonous. I decided that I should concoct a 'Power Snack' to enjoy during our short intermissions. I came up with these multi-berry, high energy muesli muffins. They have an optimum combo of powerful, tasty ingredients in every bite."
Muesli Muffins
Ingredients:
1 1/4 cup of all purpose flour
1/2 cup ground flaxseed
3/4 teaspoon baking soda
1/2 teaspoon salt
1/4 teaspoon ground cinnamon
6 tablespoons unsalted butter, softened
1/3 cup packed light-brown sugar
2 large eggs
1 cup finely chopped bananas
2/3 cup applesauce
1 teaspoon pure vanilla extract
1 1/4 cups homemade or store bought Muesli (granola) Mix
1/2 cup dried blueberries (or your preferred dried fruit, I used dried cranberries & blueberries)
Directions:
1. Preheat oven to 375 degrees. Whisk together flour, flaxseed, baking soda, salt and cinnamon in a medium bowl, set aside.
2. Put butter and brown sugar into the bowl of an electric mixer and mix on medium speed until pale and fluffy, about 3 minutes. Add eggs, 1 at a time, mixing until combined after each one. Add bananas, applesauce, and vanilla; mix until combined. Reduce speed to low.
3. Add flour mixture until just combined. Stir in 3/4 cup muesli and the blueberries (dried fruit).
4. Line 10 cups of a standard (12-cup) muffin tin with paper liners. Divide batter among cups, filling to rims. Sprinkle tops with remaining 1/2 cup muesli.
5. Bake 15 to 20 minutes, until a knife inserted into centers comes out clean. Let cool completely in tin on a wire rack.
Merle Park and Wayne Eagling in "Voices of Spring"
Sir Frederick Ashton first choreographed the Voices of Spring pas de deux on Royal Ballet stars Merle Park and Wayne Eagling in 1977 for a ball scene in Johann Strauss II's operetta Die Fledermaus. The lively duet is a favorite in galas and mixed bills these days, but Park and Eagling's version from this 1983 video is a spectacular, must-see combination of cheek and elegance.
Keep reading...
Show less
Honji Wang and Sara Mearns. Photo by Brooke Trisolini, Courtesy of Jacob's Pillow Dance.
We all know that seeing world class dance is expensive. But for two weeks a year New York City Center offers $15 tickets to their Fall for Dance Festival. This magical unicorn of an experience features five unique programs and will run from October 2-14.
The program includes five world premieres commissioned specifically for the Festival, three of which feature some of our favorite ballet superstars.
Program One (Oct. 2-3) will showcase a new work by choreographer and New York City Ballet soloist Troy Schumacher on 14 dancers from Miami City Ballet. While rehearsals are still in progress, we do know that the piece will be a meditation on childhood set to Francis Poulenc's Concerto for Two Pianos in D Minor.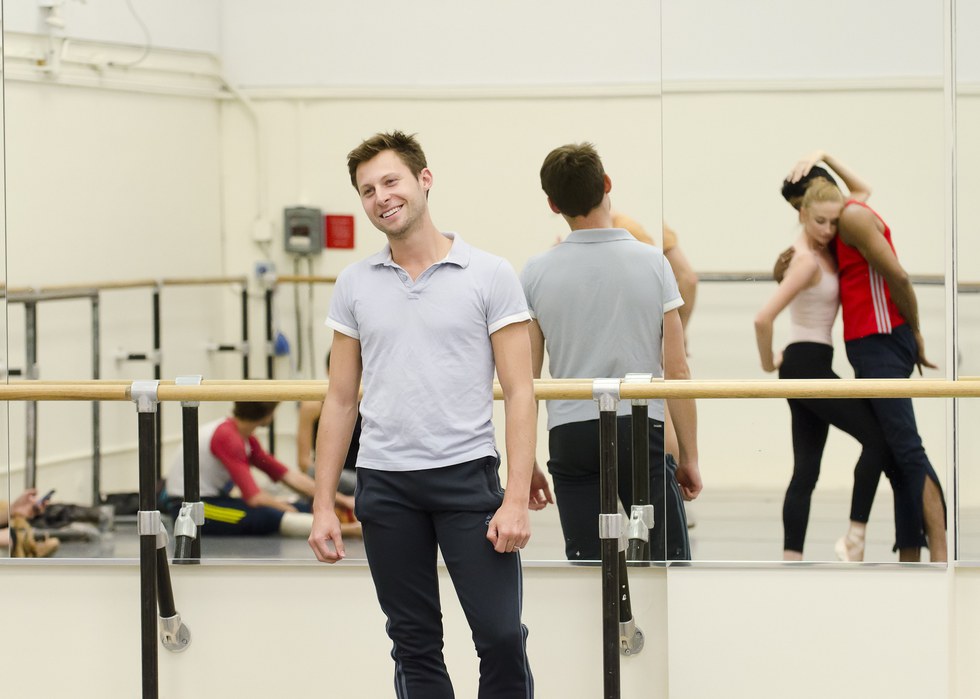 Troy Schumacher in rehearsalPhoto by Kyle Froman for Pointe
Keep reading...
Show less


Get Pointe Magazine in your inbox