The Obliques Trifecta
Practice this trio of exercises for a stronger core.
Many of us take our ballet training for granted. But for dancers living in Puerto Rico, which is still reeling from the devastating affects of last month's Hurricane Maria, pursuing a ballet career or simply taking class must now feel insurmountable. What do you do when Mother Nature not only destroys your dance studio, but your home and the majority of the city you live in? Priorities must shift to those of basic survival.
Now, the Sarasota Herald-Tribune reports that the Sarasota Cuban Ballet School is trying to help six Puerto Rican dancers resume their training. The students, whose studio in San Juan was badly damaged, had recently attended SCBS's summer intensive. School directors Ariel Serrano and Wilmian Hernandez have started a fundraising effort called "Sarasota And Puerto Rico Dance Together" to temporarily relocate the dancers. While they can easily offer them scholarships, Serrano and Hernandez must raise an additional $36,000 to provide housing, food and living expenses for one year. (SCBS has a dormitory for female students, but not for male students.)
Keep reading...
Show less
Alexei Ratmansky with members of the corps de ballet. Photo by Gene Schiavone, Courtesy American Ballet Theatre.
When the choreographer Alexei Ratmansky joined American Ballet Theatre as artist in residence eight years ago, the company hadn't had a house choreographer since the days of Antony Tudor. The gamble seems to have paid off handsomely. In that time Ratmansky has either made or restaged 12 ballets for the company. In 2011, the company extended his contract to 2023. Such commitments are practically unheard of at a time when top dancers and choreographers hop from company to company, continent to continent. The scale and ambition of the works Ratmansky is making for ABT is a rarity too, in a world of tight budgets, scant rehearsal time and pared-down esthetics.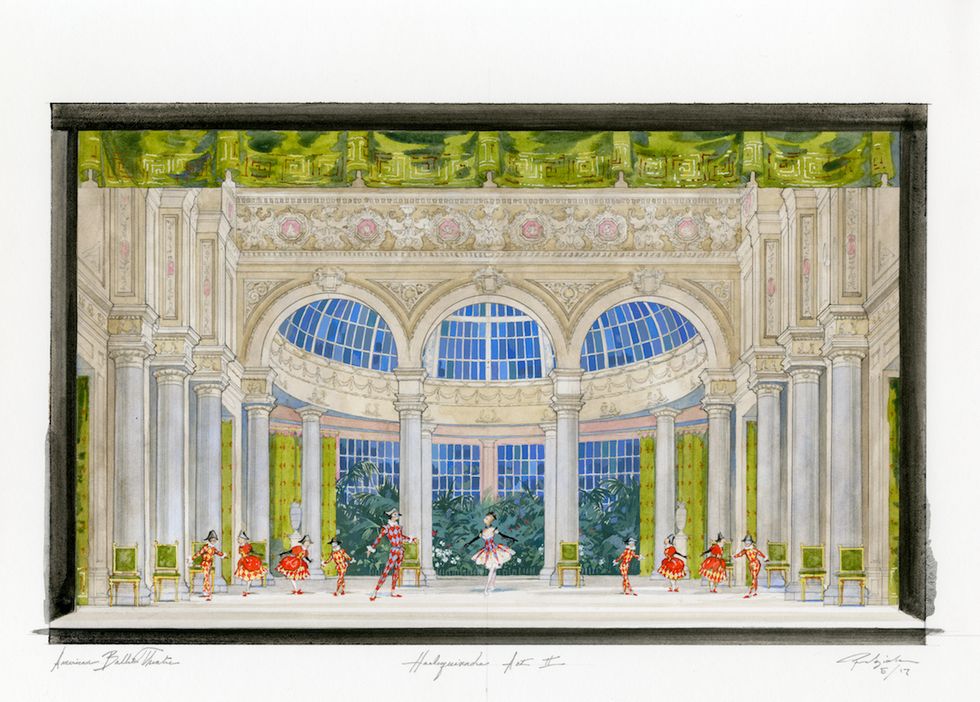 Set design for new "Harlequinade." Courtesy ABT.
Keep reading...
Show less
popular
Oct. 16, 2017 05:26PM EST
Houston Ballet's Jared Matthews and Sara Webb in"The Sleeping Beauty." Photo by Amitava Sarkar, Courtesy Houston Ballet.
Despite the devastation and pain that Hurricanes Harvey and Irma have left in their wake this fall, it's been encouraging to see dancers step up in aid of their communities: When the future of Houston Ballet's Nutcracker seemed uncertain, venues around the city pulled together to allow the company to produce the show on a "hometown tour." And when Florida ballet companies had to evacuate, Atlanta Ballet and Charlotte Ballet welcomed them with open arms. In addition, New York City-based studio Broadway Dance Center offered community classes in September with proceeds donated to the American Red Cross.
The next in this series of good deeds is Hearts for Houston, a benefit performance bringing dancers from seven major companies together at New York City's Alvin Ailey Citigroup Theater to raise money for the United Way of Greater Houston's Harvey Relief Fund. Scheduled for Sunday, October 22, the evening will feature members of the Houston Ballet, American Ballet Theatre, New York City Ballet, Pennsylvania Ballet, Texas Ballet Theater, The Washington Ballet and Alvin Ailey American Dance Theater. Hearts for Houston is imagined and produced by Houston Ballet principal dancers Yuriko Kajiya and Jared Matthews (both formerly of ABT) and funded by patrons Phoebe and Bobby Tudor and sponsor Neiman Marcus.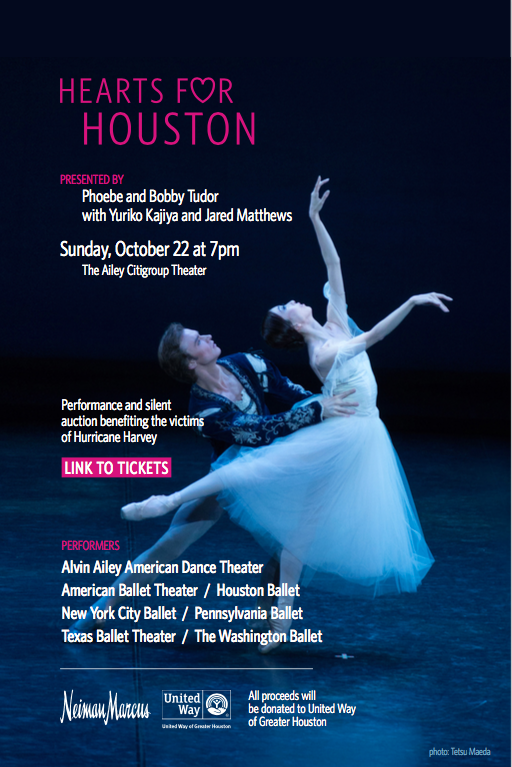 Keep reading...
Show less


Get Pointe Magazine in your inbox