popular
Nov. 08, 2017 02:50PM EST
Mayara Pineiro rehearsing with Helen Pickett for the world premiere of Tilt.Photo by Arian Molina Soca, Courtesy Pennsylvania Ballet.
As I watched Helen Pickett rehearse her new work Tilt for Pennsylvania Ballet last week, there was no doubt in my mind that she's a natural leader. Hovering closely around young corps dancer Jack Thomas during a run through, she pushed him to carve more space through the air with his upper body. "Use those hands, do not stop," she said emphatically during a particularly tiring section, at once firm and encouraging. "It should feel like you're eating a meal rather than grazing." Yet earlier, Pickett had admitted to me that when she was first approached by a major company to create a ballet 12 years ago, she questioned her ability to lead. Despite growing up in a feminist household, being surrounded by strong female role models throughout her dancing and acting career, and learning the craft of choreography from William Forsythe at Ballet Frankfurt, she says, "I still gave more credence to male voices than female voices."
Her realization is one component of a bigger issue in the dance world: that for all of the droves of women and girls who flock to ballet classes and pursue performance careers, the majority of leadership positions—be it directing, curating or choreographing—are held by men. To help illuminate the topic in advance of Pickett's world premiere November 9–12 , last week Pennsylvania Ballet partnered with Philadelphia's FringeArts to present "Challenges, Chances, Changes: Gender Equity in Concert Dance," a round table discussion among six women leaders in the industry. Joining Pickett was Dance Theatre of Harlem artistic director Virginia Johnson; BalletX executive and artistic director Christine Cox; Big Dance Theater choreographer and co-director Annie-B Parson; Philadelphia Dance Projects executive director Terry Fox; and choreographer Francesca Harper, artistic director of the Francesca Harper Project.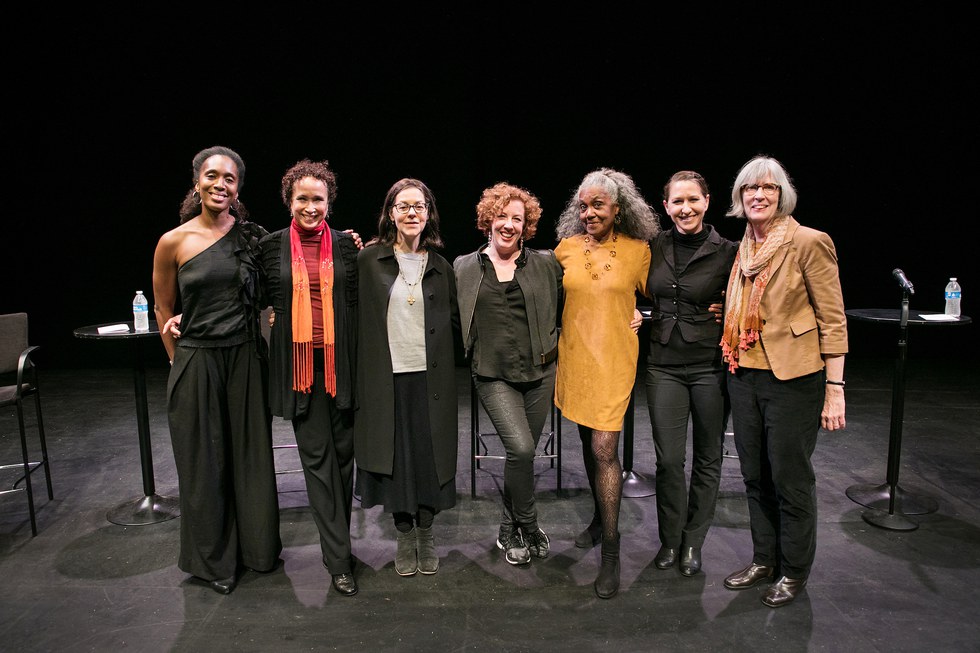 From left: Francesca Harper, Virginia Johnson, Annie-B Parson, Helen Pickett, Brenda Dixon-Gottschild, Christine Cox and Terry Fox. Photo by Chris Kendig, Courtesy Pennsylvania Ballet.
Keep reading...
Show less
Photo by Andrej Uspenski, Courtesy ROH.
Wearing leggings and a puffy vest as she works in one of The Royal Ballet's light-filled studios, Charlotte Edmonds could pass for a corps de ballet member. Instead, she is choreographing on them, creating dynamic, ballet-based contemporary dance in her role as the company's first-ever Young Choreographer.
"At the Opera House you have dancers who have 20 years more experience," she says. "I bow to their experience, but I also try to hold the room. It is sometimes quite nerve-racking! But it is always exciting."
Edmonds' uncanny instincts for choreography and leadership were already apparent at age 11, when she was a first-year student in the Royal Ballet School's Lower School—and a finalist in its competition for the Ninette de Valois Junior Choreographic Award. She got her first professional commission at age 16, and was barely 19 when Royal Ballet director Kevin O'Hare named her the inaugural recipient of the company's Young Choreographer Programme. The paid position provides her with studio space, access
to dancers and the mentorship of renowned choreographer Wayne McGregor.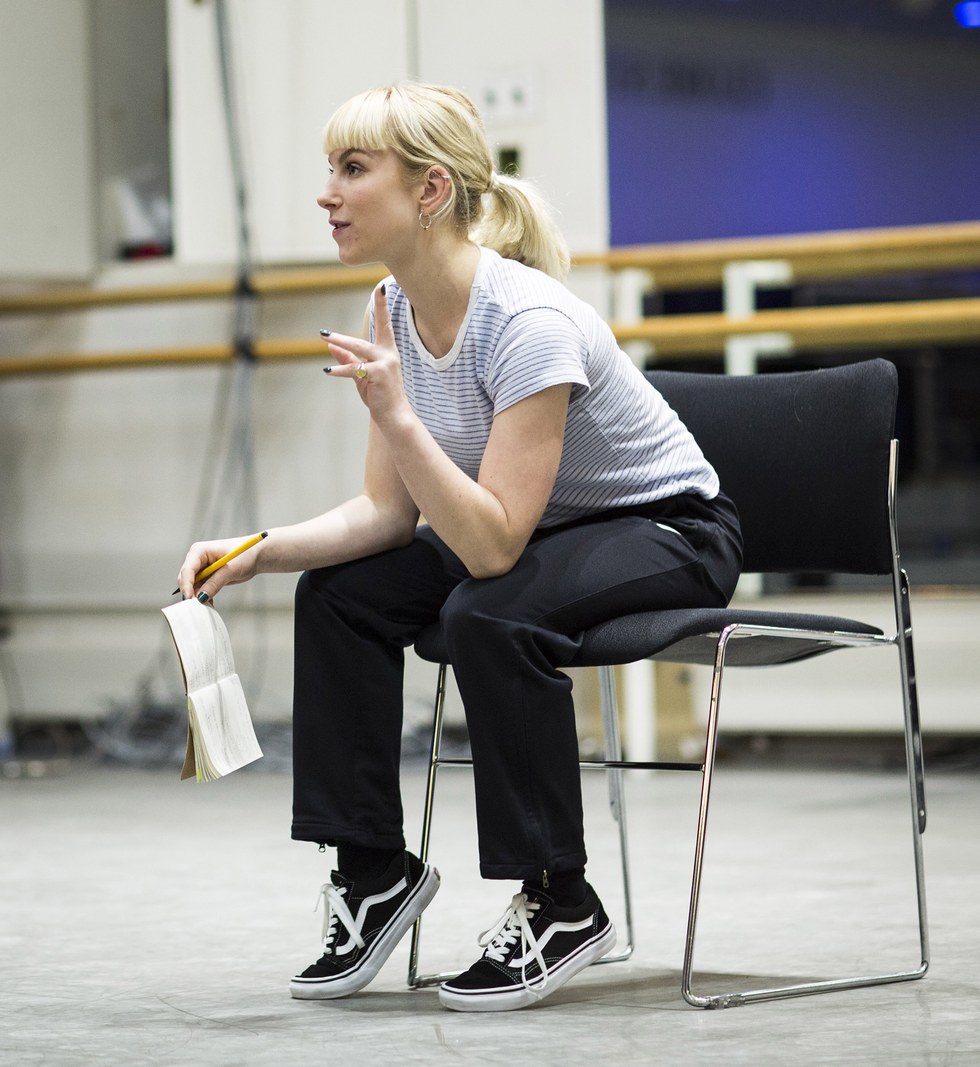 Photo by Alice Pennefeather, Courtesy ROH
Keep reading...
Show less
Views
Apr. 26, 2017 04:10PM EST
Crystal Pite working with members of the Paris Opéra Ballet. Photo by Julien Benhamou.
In February, I attended the Prix de Lausanne, where I moderated a series of panel discussions that were open to the competing students, their teachers and parents, and the public. One topic I was particularly excited about concerned women in leadership roles, and how the ballet world can better nurture leadership qualities in female dancers. My panelists included Korean National Ballet artistic director Sue Jin Kang, English National Ballet associate director Loipa Araújo and Gigi Hyatt, the deputy director of the Hamburg Ballet School.
There was just one problem—while there were plenty of audience members, none of the female students actually showed up. As I watched a few of them browse the pop-up ballet shop on their way out of the theater, I couldn't help but think "Don't you know this talk is for you?"
Keep reading...
Show less
Views
May. 19, 2016 11:00AM EST
Adams with Adrian Fry in Afternoon of a Faun. Photo by Luke Isley, Courtesy Ballet West.
For the last two years, Ballet West's Emily Adams choreographed for the company's Innovations program. Now, she's standing on the other side of the studio, preparing to dance in Jessica Lang's Lyric Pieces. Adams spoke with Pointe about working with an established female voice and how it's inspired her as a choreographer.
What is Lyric Pieces about?
Jessica didn't give us a lot of back story, but I get the sense that it's about community. Each vignette shows the different characters. There are some lighthearted sections and some romantic ones, but I think the props are what make it really unique.
How so?
There are these huge paper props that create the landscape of the piece. Some span the whole length of the stage. At one part, I curve this long paper to form a brook or steam and then another time it's vertical and looks like a fan. It's hard, because you want it to look like it's part of the dance and an extension of yourself--not just a foreign object that you're carrying around and manipulating.
How does Lang inspire you as a dancemaker?
I really like her demeanor. As a choreographer, you create the environment for something to be made and to grow. She was encouraging but a little bit mysterious, too. I like that vibe. She gave us direction but also freedom.
How do you stay connected to dancemaking throughout the season?
Every once in a while, Adrian Fry—another choreographer/dancer in the company—and I will go into a studio and start collaborating, even if it's not for a performance. It's just to get the creative juices flowing. I choreographed for Innovations the last two years, but this season I wanted to dance. I think if choreography is something you like to do, it's not going to suddenly stop. I plan to continue pursuing it.
Ballet West's Innovations program of new works runs 
May 20-28
 in Salt Lake City.


Get Pointe Magazine in your inbox