popular
Aug. 14, 2017 04:34PM EST
Derek Dunn. Photo by Curtis Brown Photography.
Boston Ballet might be the new United Nations. The company's 2017-2018 roster was announced this morning, and the 65 dancers are representative of 15 different nationalities. Which countries are present at this ballet roundtable? Albania, Australia, Brazil, Canada, Cuba, Finland, France, Georgia, Italy, Japan, Paraguay, South Korea, Spain and the U.S.
The company boasts the addition of thirteen new dancers and nine promotions.
Who's new?

Our October/November 2016 cover star, Derek Dunn, is leaving Houston Ballet to join BB as a soloist.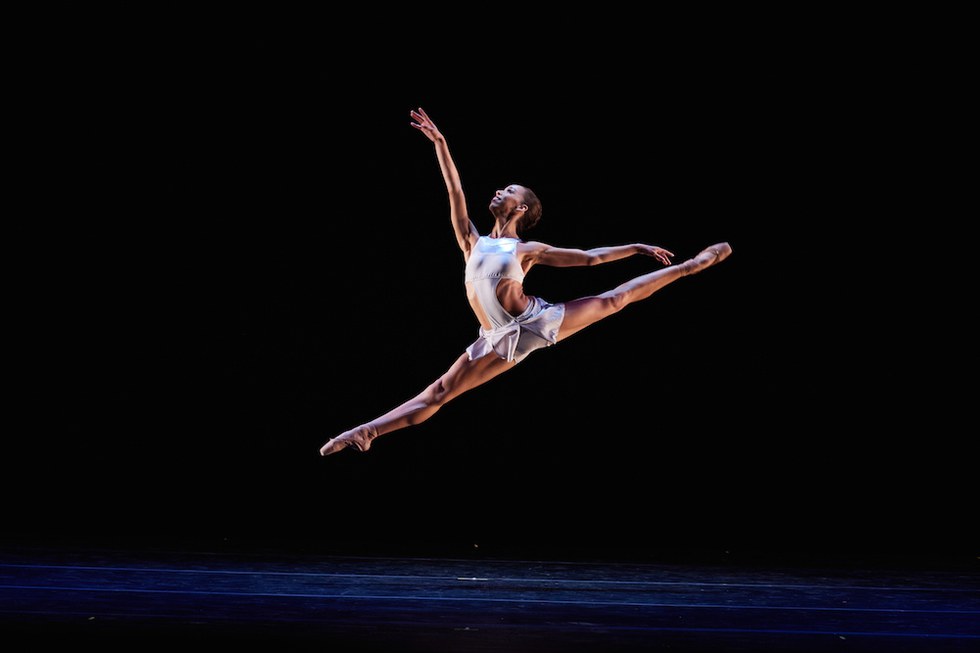 Chrystyn FentroyRachel Neville Photography
Keep reading...
Show less
News
Feb. 21, 2017 06:02PM EST
Watching dancers you've admired and rooted for get promoted is a wonderful feeling. And New York City Ballet dropped some major news this weekend when the company announced not one promotion, but eight!
Russell Janzen, one of NYCB's most supremely elegant men, was promoted to principal.
Janzen in "Diamonds," from George Balanchine's Jewels (photo by Paul Kolnik)
There were also a ton of promotions from corps de ballet to soloist:
Troy Schumacher, who is also the director and choreographer for BalletCollective, his own company.
A post shared by Craig Hall (@lsweaters) on
Indiana Woodward, who danced the lead in Lauren Lovette's ballet For Clara, which premiered at NYCB's 2016 fall gala.
Harrison Ball, who received the Janice Levin Dancer Award for 2013–2014, and Joseph Gordon, who received the same award for 2015–2016.
Harrison Ball (Photo by Paul Kolnik)
Joseph Gordon (photo by Erin Baiano)
For more news on all things ballet, don't miss a single issue.
News
Jan. 05, 2017 05:13PM EST
For Michaela DePrince, 2017 is off to a happy start: Last week, the Dutch National Ballet dancer was promoted to soloist. The announcement came during the company's run of Coppélia, in which she made her debut as Swanhilda. Dancers Qian Liu and Sasha Mukhamedov were both promoted to principal as well.
DePrince rehearsing Coppélia with Remi Wörtmeyer. Photo by Altin Kaftira, via Dutch National Ballet
DePrince's journey from an orphanage in Sierra Leone to a career as a professional ballet dancer is already legendary in the ballet world, and her role in the documentary First Position made her a household name. Since then, she's frequently been in the spotlight, and kept busy with a host of projects: There's her memoir, Taking Flight (soon to be adapted into a feature-length film), her role as a featured dancer in Beyoncé's visual album Lemonade, and her work as an ambassador for War Child Holland, which helps children living in war zones. She's also become an international guest artist, and will be making her UK debut this month, dancing Myrtha in English National Ballet's Giselle.
But for much of the time, the 21-year-old has been quietly growing and maturing as a dancer at Dutch National. After briefly dancing with Dance Theatre of Harlem, she joined Dutch National's junior company in 2013, and entered the main company the following year. She was promoted to coryphée in 2015, and to grand sujet at the beginning of 2016. In a Dance Spirit cover profile last year, she talked about her goal of becoming a principal dancer, and her desire to focus on her dancing and artistry, despite all the attention given to her backstory. "I'm here not because of my story," she said, "but because of who I am as an artist."
From the looks of it, her hard work and passion are paying off. Congratulations, Michaela!
For more news on all things ballet, don't miss a single issue.
News
Sep. 27, 2016 05:50PM EST
Pacific Northwest Ballet announced three promotions this weekend, including Benjamin Griffiths to principal, and Matthew Renko and Angelica Generosa to soloist.
Generosa has received many recent opportunities to shine onstage, including during the company's tour to New York City earlier this year and as an artist at the Vail International Dance Festival, where videos of her rehearsals with New York City Ballet's Joseph Gordon show what an assured performer she is.
Matthew Renko is not only a rising dancer who has received special recognition in The New York Times, but a choreographer as well. He's created work twice for Next Step, PNB's choreographic program which allows company members to work with Professional Division students.
Benjamin Griffiths has danced with the company since 2005. Here's a #throwback video of Griffiths and former Pointe cover star Leta Biasucci dancing part of the "Bluebird" variation from The Sleeping Beauty. His crisp footwork and magnetic stage presence certainly seem fit for a principal!
Congratulations to all!
For more news on all things ballet, don't miss a single issue.
News
Jul. 01, 2016 01:12PM EST
Cirio in Marcelo Gomes' AfterEffect. Photo by Rosalie O'Connor, Courtesy ABT.
Well, that was fast. After less than a year, Jeffrey Cirio — the former Boston Ballet principal who joined American Ballet Theatre as a soloist at the start of this season—is walking into summer with a promotion to ABT's highest rank. The company now has two Filipino-American principals, the other being Stella Abrera.
We're not surprised. Twenty-five years old and already a consummate artist, Cirio impressed in roles all season, like Colas in La fille mal gardée, one of the King's unlucky sons in The Golden Cockerel and the virtuosic slave Ali in Le Corsaire. Cirio's ambitions extend beyond the Met stage, too. He's the leader of his own touring troupe, Cirio Collective, which has performances scheduled at the Cape Dance Festival and Vineyard Arts Project this summer.
Artistic director Kevin McKenzie also announced corps member Blaine Hoven's promotion to soloist. These two well deserving male dancers are sure to have a spring in their step this holiday weekend!
For more news on all things ballet, don't miss a single issue.
News
Jun. 13, 2016 04:57PM EST
(Photo by Nathan Sayers)
Two Pointe cover stars, two Japanese dancers and a woman who rocketed through two ranks in one year are among the dancers newly promoted to The Royal Ballet's highest ranks. With artistic maturity far beyond her 23 years, we knew it was only a matter of time before Francesca Hayward, who we featured in our February/March 2016 cover story, rose to the top. She'll start next season as a principal along with Alexander Campbell, Ryoichi Hirano and Akane Takada.
With these newly promoted dancers, The Royal's principal roster reflects more diversity. Hirano and Takada, both Japan-born, came to The Royal Ballet fresh off of Prix de Lausanne triumphs. Campbell is a native of Australia and Hayward, who grew up in England, was born in Nairobi to a Kenyan mother and a British father. Yet while there's been much public interest in her African heritage, she's more vocal about her English training. In our February/March issue, Hayward told writer Laura Cappelle, "It's only when people ask me what it's like to be a mixed-race dancer that I realize that I am. I've never been made to feel different, or like I shouldn't be doing it."
Matthew Ballet and Yasmine Naghdi as Romeo and Juliet. Photo by Alice Pennefather via The Royal Ballet.
American dancer Beatriz Stix-Brunell (our 2012 October/November cover girl) is a new first soloist. Before joining The Royal, Stix-Brunell was a protégé of artistic associate Christopher Wheeldon. She trained in New York and at the Paris Opéra Ballet School, and she joined Wheeldon's Morphoses when she was just a teenager. Claire Calvert and Yasmine Naghdi are also newly appointed first soloists, and Matthew Ball and Mayara Magri have been promoted from first artist to soloist.
English dancer Tierny Heap was promoted to first artist in the middle of the 2015/2016 season. She danced the title role in Carlos Acosta's Carmen among other featured roles, and artistic director Kevin O'Hare evidently decided that Heap needed even greater tests for her talents. She will start the 2016/2017 season as a soloist.
Tierny Heap as Carmen. Photo by Tristram Kenton via The Royal Ballet.
See The Royal's website for a full list of promotions, new hires and departures.
For more news on all things ballet, don't miss a single issue.
Nov. 29, 2001 07:00PM EST
There's a warm and fuzzy feeling when dancers you've been following for years finally make it to the top. Of course, just making it into a company is a remarkable accomplishment and something to be proud of. But if there's one thing successful dancers have in common, it's that they never settle. And the corps is great until you're ready to be a soloist...and so on.
The lucky few who have recently been promoted to principal include Pennsylvania Ballet's Alexander Peters, New York City Ballet's Lauren Lovette and Anthony Huxley, The National Ballet of Canada's Elena Lobsanova and Naoya Ebe, and San Francisco Ballet's Dores André. New soloists include Ashly Isaacs at NYCB and several new first and second soloists at NBC.
Some of my favorite (coincidentally, all American) dancers are climbing the ranks at NBC: Skylar Campbell was promoted to first soloist and Emma Hawes and Kathryn Hosier (a 2014 Star of the Corps) were promoted to second soloist. It's especially gratifying to see dancers—like Alexander Peters and (April/May 2013 cover star) Lauren Lovette—succeed, since Pointe named them as stars very early on in their careers. Congratulations to all the promoted dancers—we can't wait to see you in new roles and opportunities!


Get Pointe Magazine in your inbox