Fairchild and De Luz brought wit and jazzy abandon to "Rubies." Photo by Paul Kolnik, Courtesy NYCB.
Ask the Paris Opéra Ballet, the New York City Ballet and the Bolshoi Ballet to share a stage, with each performing one act of Balanchine's Jewels, and you might expect a degree of friendly (or less-than-friendly) competition. But as POB gave its exquisitely polite rendition of "Emeralds" during the Lincoln Center Festival's three-company production this summer, one-upsmanship seemed far from everyone's mind.
Then the curtain rose on New York City Ballet, its dancers visibly shaking with excitement in their "Rubies" finery. And the David H. Koch Theater audience collectively leaned forward.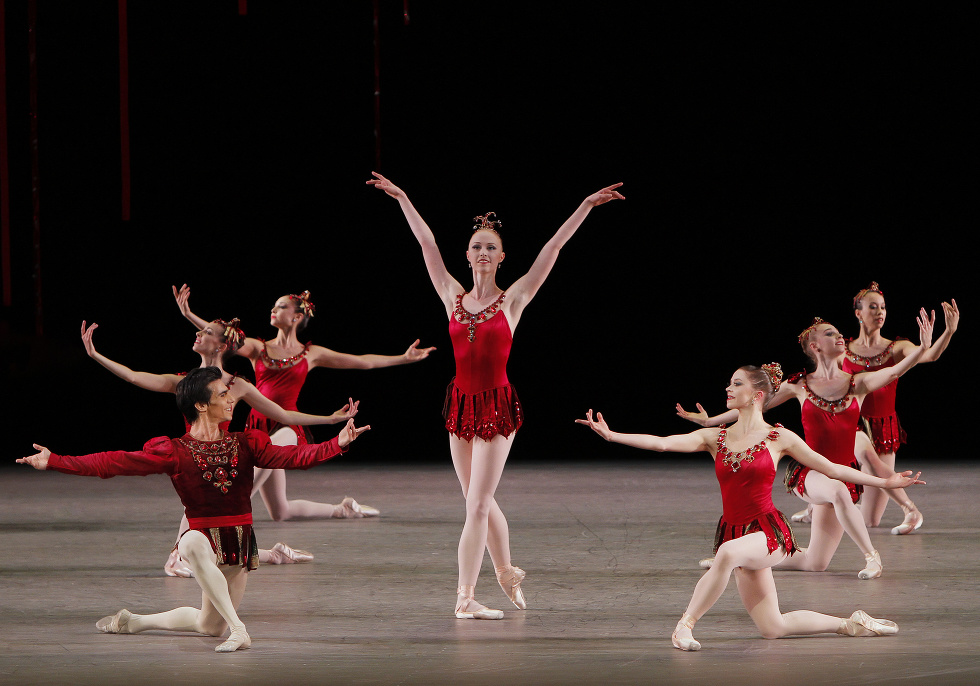 Photo by Paul Kolnik, Courtesy NYCB.
Keep reading...
Show less
Karin von Aroldingen and Mikhail Baryshnikov in "Prodigal Son." Photo by Costas, Courtesy Dance Magazine Archives.
"My whole mission in life is to keep Balanchine's work alive," says former New York City Ballet dancer Karin von Aroldingen in Frances Mason's I Remember Balanchine, a collection of interviews by George Balanchine's friends and colleagues. Her words feel especially potent now—and never more true. On Friday, January 5, news came to light that the German-born dancer, teacher, NYCB ballet master and longtime stager for the Balanchine Trust had died at age 76.
Born in East Germany in 1941, von Aroldingen joined Frankfurt Ballet as a first soloist before George Balanchine invited her to join NYCB in 1962. Trained in the Russian method, she had to adjust her technique to fit NYCB's fast, streamlined style. "It took me years to unwind myself, to be good," she says in Mason's book. She eventually rose to principal dancer in 1972. Her dancing was strong, assertive and passionate. During her 22-year career at NYCB, Balanchine created 20 roles for her, including Kammermusik No. 2, Union Jack, Vienna Waltzes, Who Cares?, Robert Schumann's Davidsbündlertanze and her most well-known, Stravinsky Violin Concerto. (Who hasn't marveled at her elastic backbends in the 1972 "Dance in America" broadcast above?)
Keep reading...
Show less
popular
Dec. 13, 2017 12:55PM EST
Paul Kolnik, Courtesy NYCB
As the investigation into claims of sexual harassment by New York City Ballet ballet master in chief Peter Martins remains under wraps, more dancers are speaking publicly on the matter. And while many allegations are decades old, dancers with recent and current ties to the company are becoming more vocal.
Yesterday, Kathryn Morgan—a former NYCB soloist with a hugely popular YouTube channel and an advice column in Dance Spirit—posted a candid video addressing questions she's received about the scandal. Although Morgan left the company in 2012, her post sheds light on the mixed emotions that current NYCB dancers may be feeling right now. "This is an issue that NEEDS to be discussed," she writes in the comments section. "And I appreciate that you all understand I am in no way defending him. I just wanted to give you my honest and true experience with dealing and working with Peter."
Keep reading...
Show less
Moira Shearer and Robert Helpmann in "The Red Shoes."
Black Swan wasn't the film industry's first ballet-themed psychological drama. In The Red Shoes (1948), theater and life conflate, with tragic results for the dancer caught in the middle. Unlike Black Swan, however, The Red Shoes starred a real life ballerina. Moira Shearer, then a leading dancer with Sadler's Wells Ballet (now The Royal Ballet) plays Victoria Page, a young prodigy who catches a Russian impresario's eye, joins his company and stars in a new ballet based on the Hans Christian Andersen fairy tale, The Red Shoes.
In this clip from the dance sequences, the ballet character sees the infamous shoes at a carnival booth and immediately covets them. Shearer's skill as a dancer and actress are evident. Each twirl, reach and penché evokes her desperate longing. The shoemaker, danced with incredible precision by famous choreographer Léonide Massine, taunts the girl. When she finally leaps into the red shoes (with kitschy film effects), she forgets her partner completely. She dances with bounding energy, depicted by Shearer's crisp, light petit allégro. Later, it becomes clear that the shoes have a fatal sort of magic, both onstage and off.

Keep reading...
Show less


Get Pointe Magazine in your inbox