Gelsey Kirkland and Mikhail Baryshnikov in The Nutcracker are simply iconic—two of the world's most celebrated dancers in the world's best-loved ballet. Starring as Clara and the Prince in American Ballet Theater's 1977 made-for-television film, these two superb talents bring both technical and dramatic brilliance to the ballet's culminating scene.
In this version, which Baryshnikov himself choreographed, Clara and the Prince dance the grand pas de deux. He also mixes up the order so that the variations and coda precede the adagio. The clip begins with the tail end of Kirkland's variation, followed by a flawlessly danced coda. Baryshnikov, looking debonair in all white, flies in his jumps, rebounding off the floor like a spring, and Kirkland's impressive diagonal at 0:43 boasts triple fouetté turns.

The mood changes when Drosselmeyer, played by Alexander Minz, arrives in the first chords of the adagio to usher Clara away from her dreamland. In a pas de trois, Clara is torn between her beloved godfather and her prince, reluctant to choose between childhood and the promise of her dreams. In her gauzy nightgown, the delicate Kirkland is ethereal and waif-like as she is promenaded and passed in the air between her partners. She and Baryshnikov make a tender couple and in the end, as she chaînes into his arms, it is clear that she longs to stay with her prince. Happy #ThrowbackThursday!
Texas Ballet Theatre's Jiyan Dai and Samantha Pille (center) with members of Queensland Ballet. Photo courtesy TBT.
One way to change up your Nutcracker run is to perform it halfway around the world. This holiday season, two Sugar Plum Fairy and Prince couples from Texas Ballet Theater and Australia's Queensland Ballet did just that in a fun cross-company exchange. Last week, TBT artists Samantha Pille and Jiyan Dai traveled to Brisbane to debut in the Australian company's Nutcracker performances. Now, Queensland Ballet dancers Yanela Piñera and Camilo Ramos are in Fort Worth for the follow-up shows. They had their first performance last night and are scheduled to dance again December 22.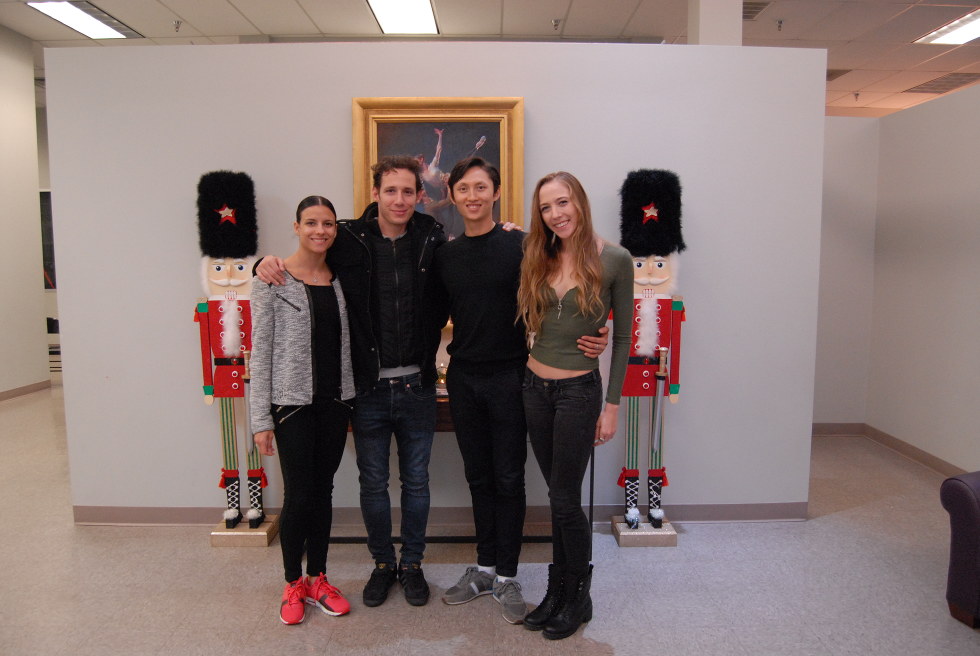 From left: Queensland Ballet's Yanela Piñera and Camilo Ramos with TBT's Jiyan Dai and Samantha Pille. Photo courtesy TBT.
TBT artistic director Ben Stevenson, O.B.E., and Li Cunxin, artistic director for Queensland Ballet, dreamed up the holiday swap hoping to give their dancers a fresh Nutcracker experience. The exchange is particularly meaningful because of the directors' shared history. Cunxin (whose autobiography Mao's Last Dancer was made into a major motion picture in 2009), danced as a principal under Stevenson during his tenure as artistic director of Houston Ballet. After taking the helm of Queensland Ballet, Cunxin brought Stevenson's production of Nutcracker to Australia.
Keep reading...
Show less
Videos
Dec. 20, 2017 04:12PM EST
Lauren Grace Onderko. Photo Courtesy Justice.
Can't get enough Nutcracker? Don't fear. Tween clothing brand Justice has just released a web series called "Finding Clara," which follows four young dancers cast as Clara in BalletMet's production of The Nutcracker. The first three episodes are available on YouTube, and the final installment will be released on Friday, December 22. Each video is about 20 minutes long.
Justice is headquartered in Columbus, Ohio, the home of BalletMet, leading to an easy collaboration. The company gave Justice exclusive and uninhibited access to everything behind the scenes, from auditions to rehearsals to performance. Part of Justice's mission is to empower young girls and spread positive messages, and they have a huge video collection. This isn't their first foray into ballet—earlier this fall they created a series of ballet video tutorials. A representative from Justice told us that the goal of the new series is to give "a real-life snapshot of the heart and soul these girls put into their Nutcracker performance—the rehearsals, overcoming challenges, celebrating wins and the bonds of friendships made."
The four Claras—Alaina Kelly, Molly Rainford-Dreibelbis, Lauren Grace Onderko and Isabelle Lapierre—range in age from 10-13, and their positive, excited energy is clear throughout the series. The issues that they deal with such as balancing schoolwork and rehearsal, managing jealousy and competition with their peers, and maintaining a healthy lifestyle despite busy schedules will feel familiar to dancers of all ages. So over your holiday break, cozy up with some hot chocolate and dive into the world of "Finding Clara."
Check out the trailer below, followed by the first three episodes:
Keep reading...
Show less
Céline Gittens and Brandon Lawrence in "Nutcracker." Photo by Bill Cooper, Courtesy Birmingham Royal Ballet.
Our company's Nutcracker was choreographed by Sir Peter Wright, and it's very traditional. We usually only have two weeks to prepare after the end of the autumn season, so my partner and I start going over the grand pas de deux on our own time before rehearsals start. I like to do my own research through social media or by watching how other company dancers interpret the role, drawing from what I like best and trying to apply that to myself. I also video my rehearsals and later critique them, to try to get my performance up to another level.
Keep reading...
Show less


Get Pointe Magazine in your inbox