Photo by Nisian Hughes for Pointe.
Few ballets are as unforgiving for a young dancer as Swan Lake. Both Odette's heartbreak and Odile's deceit of Siegfried demand the kind of dramatic commitment and maturity that often come with experience. At the same time, when a director entrusts an 18-year-old corps de ballet member with the double role, the implicit promise is clear: A special ballerina will emerge from that chrysalis.
So it was with Alena Kovaleva, who turned 19 shortly after her Swan Lake debut, last September, on the historical stage of the Bolshoi Ballet in Moscow. Barely a year after her graduation from the Vaganova Ballet Academy, Kovaleva isn't a full-fledged Swan Queen yet. At 5' 8", she is so tall that her coltish limbs sometimes falter, and she was visibly tiring by Odette's final pleas.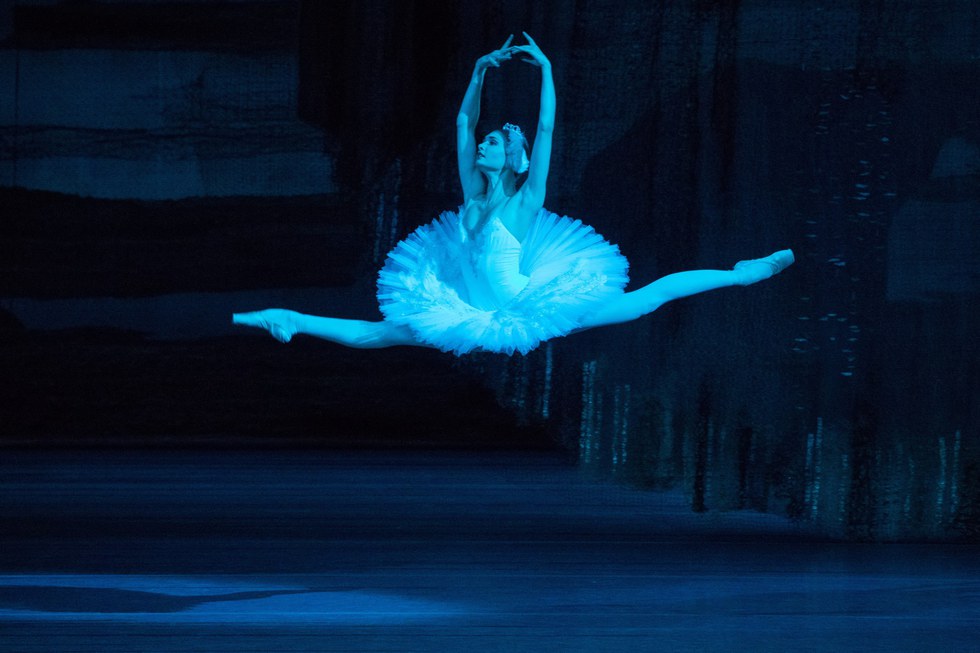 Kovaleva in "Swan Lake." Photo by M. Logvinov, Courtesy Bolshoi Ballet.
Yet when she first appeared in the white act with an ample grand jeté, her arms stretching into a gorgeously lyrical wingspan, it was clear that Makhar Vaziev, the Bolshoi's ballet director who had thrown Kovaleva in the deep end, was on to something. Kovaleva's filigree Vaganova training shone through, her doll-like face alive with sadness.
Vaziev is no stranger to pushing young talent beyond their comfort zone. The Russian director came to the Bolshoi in 2016 after long spells at the helm of La Scala Ballet and the Mariinsky Ballet, where he jump-started the careers of ballerinas including Alina Somova and Olesya Novikova in similar fashion. At the Bolshoi, which favored slower rises through the ranks in recent years, his methods are leading to a change of the guard, with Kovaleva one of the fresh faces of his directorship.
"It doesn't matter to me if someone is young or not so young," Vaziev says. "If he or she is the best, they will dance." Last July, he even cast Kovaleva in "Diamonds" at Lincoln Center for the 50th anniversary of Balanchine's Jewels. Her New York City debut didn't go unnoticed, with the Observer's dance critic Robert Gottlieb raving about its "ravishing splendor."
In his Moscow office after Swan Lake, Vaziev declared himself satisfied with his young charge: "Today was just a step. I think she did—not bad." Kovaleva herself, poised despite the exhaustion, admitted in near-impeccable English that leading her first full-length ballet was no walk in the park. "You have to hold yourself, to find this energy inside you. But the energy comes from the character. Every movement needs to be part of the story."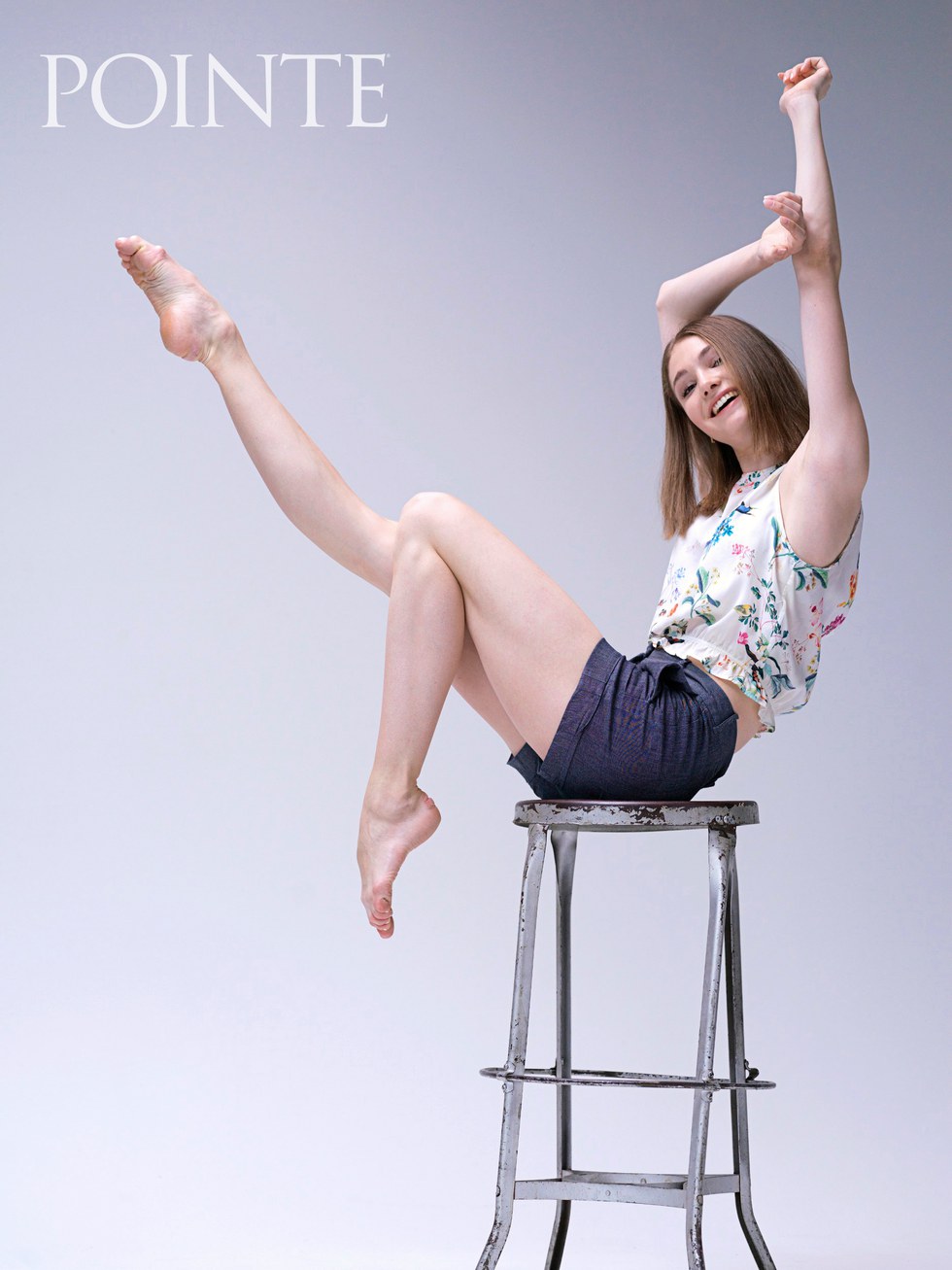 Photo by Nisian Hughes for Pointe.
Growing Pains—and Gains
The height that gives her such breadth of movement onstage hasn't always been an advantage. When the St. Petersburg–born Kovaleva entered the Vaganova Academy, at age 7, she struggled to build up strength. "I was really weak for the first five years. My legs were just two sticks without muscles," she says with a laugh. "My teachers were always telling me: Eat pasta, pasta, pasta!"
Kovaleva had almost given up her spot at the Academy. When she auditioned on a teacher's suggestion, she was shocked by the anxious stage mothers waiting for their children and told her family, who was far removed from the dance world: "I don't want to go here. These people are not normal. Everybody was shouting, crying."
Keep reading...
Show less
Evgenia Obratsova
Bolshoi ballerina Evgenia Obraztsova is sunny and spritely in this 2003 video clip from the Grand Pas Classique Hongrois in Raymonda. She performed this solo at 19 during her first year with the Mariinsky Ballet. Audiences around the world love Obraztsova's contagious sense of joy, and this fun little variation is a preview of her successes down the road in other high energy-roles.
Obraztsova beams as she flies across the stage in this video, nailing the fast footwork. At some points she seems to barely touch the floor. She incorporates folksy details, like a charming head wobble, with a natural flair for character. Even in this light-hearted and super-quick dance, Obraztsova lets her soul shine through. It's sure to make you smile. Happy #ThrowbackThursday!

Dream Role
Apr. 01, 2016 07:07AM EST
Photo Courtesy Lopatkina
The Dying Swan, choreographed by Michel Fokine for Anna Pavlova, is a short but powerful solo often reserved for the most revered ballerinas. Mariinsky Ballet principal Uliana Lopatkina shares the thought process behind her iconic interpretation.
Although The Dying Swan is a very short piece, it has tremendous depth because both the audience and dancer are facing the question of life and death. Often we don't want to think about that—we want to live forever here on earth. This miniature has special meaning for me, as it helps me overcome the fear of death; it invites us to imagine that moment of transformation into the following life, which lasts eternally. It's very scary to die, but it is just a moment that you need to go through.
This question about death in turn raises a question of how you need to carry on with your current life, so that you can die easily. And I think that these emotions are transferred to the audience as they witness the dying process—they might feel a sense of compassion, a desire to help the swan's soul through the pain.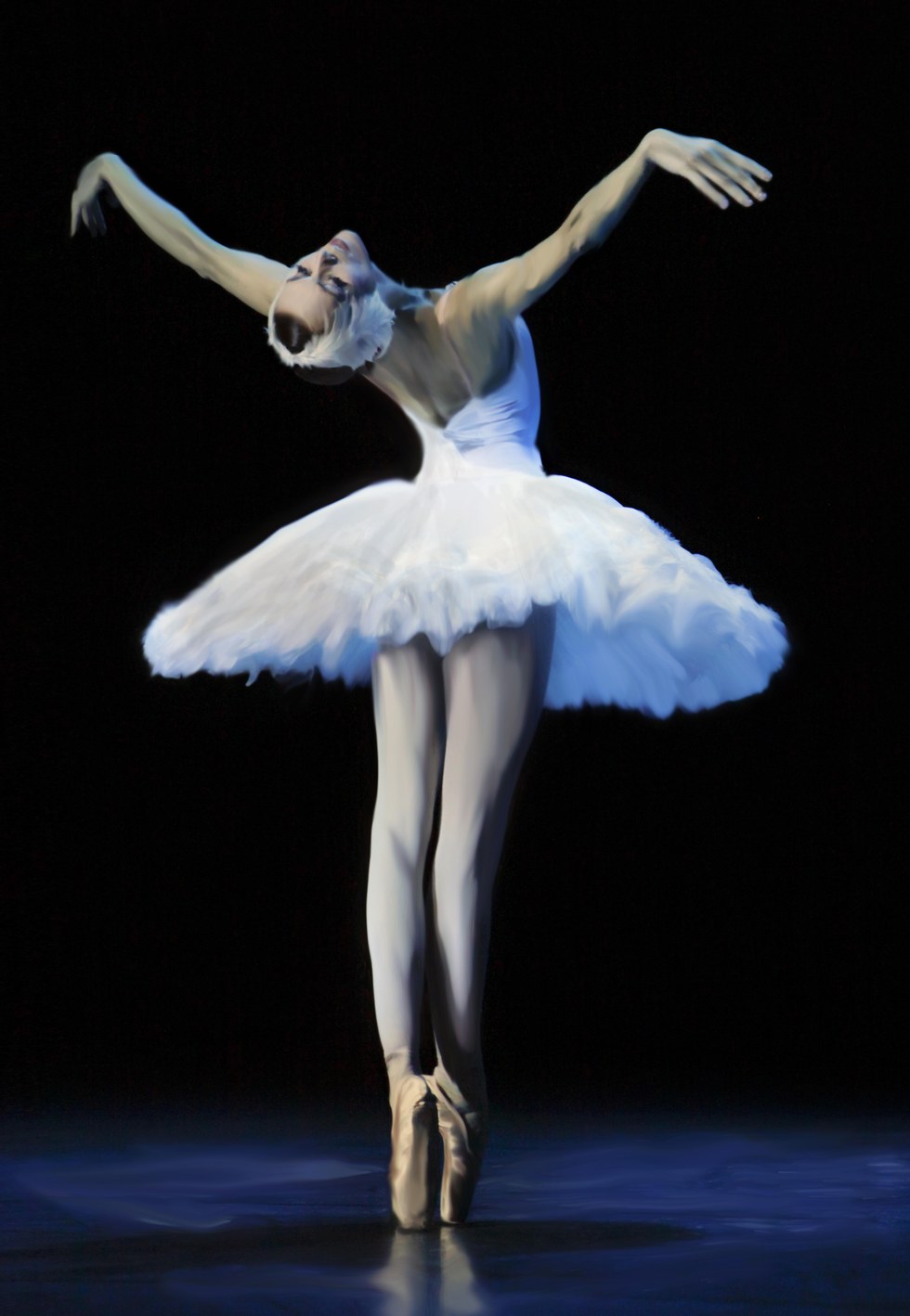 Photo by Alexander Gouliaev
I once had a chance to perform The Dying Swan six times in a row, which allowed me to explore dying in different ways. My characterization and the way my body moved during those performances depended on how my soul felt that moment, and I took that as a basis for my interpretation. Now, I try to understand how different people relate to and meet their death.
As a person transforms from the earthly state into the next one, the soul is accompanied by a lot of turbulence. As I dance, I want the viewer to reflect with me how that feels—for instance, when death is liberation from pain and suffering. In that regard, you can see it as a happy moment. Or one may fear new experiences, the unknown, especially if one considers their entire life as preparation for a significant test. Or perhaps there is resistance—an unwillingness to separate from the comfort of earth and to glimpse the life beyond it. Or, you can feel sadness for leaving your loved ones behind, with hopes to meet them in the afterlife.
Tip:
A dancer's wings start where the lower end of the shoulder blades connects to the middle of the spine. Initiating movement from that particular spot will elongate the arms tremendously. Try to study the grace of a real bird and come up with your own interpretation for your wings, practicing various arm movements—smooth and soft, as well as broken and impulsive.
Translated by Yuliya Didenko
Featured Article
Nov. 30, 2015 10:41AM EST
(Photo by Nathan Sayers for Pointe)
A rehearsal for Balanchine's "Diamonds" is getting underway in St. Petersburg, and Kristina Shapran is smiling and teasing her partner, Xander Parish, as she adjusts a belt to protect her sore back. As soon as the pianist plays the first notes of Tchaikovsky's score, however, the Mariinsky Ballet first soloist transforms. Suddenly, she seems to be stepping onstage, her classically beautiful face projecting as if to the back of an auditorium; with luminous simplicity, she embodies the elusive Russian soul, that spiritual quality that the St. Petersburg ballet tradition values so highly.
Surprisingly, Shapran's road to the Mariinsky was a difficult one, from St. Petersburg to Moscow and back, with much self-doubt along the way. Her delicate, singing lines are a pure product of her Vaganova training, but instead of entering the Mariinsky straight after graduation, she opted to join smaller Russian companies—first the Stanislavsky Ballet, then the Mikhailovsky Ballet. There, she struggled with loneliness and technical frailty, and it seemed like she might not deliver on her early promise.
In 2014, however, Shapran finally found her way to the Mariinsky, and she has been making up for lost time. At 24, she is on the express track to stardom under acting director Yuri Fateyev, who is nurturing her unique gifts. Rather than a powerhouse technician, Shapran is that rare creature in the fairly stereotyped Russian ballet world: a true dance actress. In her debut as Juliet last July, she moved as if free from any constraints, letting natural reactions take their course and infusing the steps with expressive life.
Raised in St. Petersburg, Shapran danced everywhere as a child, to the point that a friend mentioned the Vaganova Ballet Academy to her. Her mother, an accountant, and father, a geologist, took her to the Mariinsky for performances, and Shapran vividly remembers her shock when she discovered La Bayadère. "When I saw Nikiya's scene with the snake, I was paralyzed. I couldn't even speak during the intermission. I just knew that someday I would be playing that role."
That determination served Shapran well when she entered the very competitive Vaganova Ballet Academy at age 9. "My childhood was over then," she says seriously. "It was a completely different level of emotions, very hard work." The 90-minute commute from her home involved taking the bus, the metro and walking to the Academy on her own. In class, with her naturally arched feet, Shapran had to work especially hard to gain stability.
By her graduation in 2011, she was considered one of two wildly talented students in her age group who were likely to take the Mariinsky by storm. The other was Olga Smirnova; the two shared the role of Nikiya in La Bayadère's Shades scene at their graduation performance.
Shaparan in Angelin Preljocaj's Le Parc (photo by Natasha Razina, courtesy Mariinsky Ballet)
In a shocking move, however, both shunned contracts at the Mariinsky. Like Smirnova, who joined the Bolshoi, Shapran was offered soloist positions by all the top Russian companies, Mariinsky included. She also opted for Moscow, but joined the Stanislavsky Ballet, directed by Igor Zelensky. "I believed in Zelensky, as a person, as a professional, and I wanted to work with him," she says, adding after a pause: "The Mariinsky was the absolute best to me, but I was also afraid. I thought I wasn't ready or worthy of it yet, that I would get worse."
While the Stanislavsky offered Shapran the chance to dance principal roles immediately, including Giselle, Nikiya and Roland Petit's Coppélia with Sergei Polunin, the transition was far from easy. She looks back on her three years there as her "school of life," she says. "When I was younger, I was always protected—by my mother, my teachers. In Moscow, I realized I was really alone."
Challenges included adjusting to the more extroverted Moscow style and learning to work with a hands-on coach, who liked to oversee not just rehearsals but also her charge's life outside the theater. "Sometimes it's better if an artist can breathe," Shapran says. After three seasons, she couldn't shake the feeling that it was neither the right city nor the right company for her.
When her former Vaganova director and teacher, Altynai Asylmuratova, took up a coaching position at St. Petersburg's Mikhailovsky Ballet, Shapran saw an opportunity and joined her there as a principal in January 2014. The arrangement lasted less than six months, however. "There were intrigues that made the atmosphere uncomfortable, so we both decided to leave," Shapran explains.
The young ballerina got in touch with Fateyev, whom she had refused three years earlier. "I didn't feel angry about it anymore," Fateyev says. "I think she was too young at the time." He hadn't seen her dance since, yet he welcomed her as a first soloist. "You don't lose talent. Even at school, I knew she would be an artist—she was so charismatic, so individual."
(Photo by Nathan Sayers for Pointe)
Her return to the Mariinsky fold in the summer of 2014 was an unexpected twist: The company's attractiveness had been on the wane, and Smirnova and Shapran's departures were considered proof of that. With her lyrical sensibility, however, Shapran proved a natural fit there. She hit the ground running, performing Apollo on tour in London within weeks of joining. Last season, her first with the Mariinsky, she accrued over a dozen principal roles, from Giselle to Angelin Preljocaj's Le Parc.
Above all, Shapran relishes the Mariinsky's intense schedule—the company often works seven days a week, with no cap on rehearsal hours. "At the Stanislavsky, after a performance, there could be a two-week break. It's the worst thing for a dancer. Here, I rehearse every day; I'm completely overloaded with work." Fateyev and Shapran's coach, Elvira Tarasova, have provided guidance and challenged her to gain strength. "She feels the music, the steps, the character, but she needed to be helped technically, so I made very ambitious plans for her," Fateyev says. This season, she's scheduled to make her debut in the ultimate Mariinsky role, Odette/Odile; in December, she will guest with the Paris Opéra Ballet in La Bayadère.
And Shapran now feels deserving of calling the Mariinsky her home. "We were raised with such deep respect for this stage that I was in awe of it," she says. "Now I feel more mature. It's like a puzzle that has come together." Exploring the Russian company's large repertoire will take time, but she also hopes to work again with Jirí Kylián, whose Petite Mort she danced in Moscow, as well as with young, up-and-coming choreographers.
Shapran lives close to the Mariinsky, and says she has few hobbies: "I have a very narrow focus at the moment. Every role is like a baby, and ballet is my life, my boyfriend, my husband." Her only indulgence is regular theater outings with her sister. Unsurprisingly, Shapran also dreamed of becoming an actress as a child, and a couple of offers to star in movies have already landed at her door. For now, however, she is finally ready to tackle the role of leading lady on the ballet stage.
Laura Cappelle is a dance writer based in France.
Russia is often perceived as a closed book from abroad, and ballet is no exception. Though David Hallberg joined the Bolshoi Ballet in 2011, the country's top companies have been slow to open their ranks to non-Russians. Under acting director Yuri Fateyev, however, the venerable Mariinsky Ballet has welcomed a handful of dancers trained abroad. South Korea's Kimin Kim and Great Britain's Xander Parish initially struggled to fit in with the culture, but both have found their niche in St. Petersburg, and are thriving today among Russian colleagues.
"I had to adapt to the culture: Russian people are more critical, more emotional." (Photo by Nathan Sayers for Pointe magazine)
Kimin Kim
Growing up in South Korea, Kimin Kim always thought of himself as a Russian dancer. For the prodigy who honed his astounding technique and poise with Vaganova-trained teachers, being a principal with the Mariinsky Ballet was "the ultimate dream," he says. Earlier this year, it came true: At just 22, after three years in St. Petersburg, he was promoted to the top rank, the first foreigner to attain principal.
Kim's journey started at age 10, when his mother, a composer, decided she "didn't want him to be an ordinary person," as he puts it, and suggested he try ballet. Former Mariinsky soloists Margarita Kullik and Vladimir Kim (no relation) nurtured him at the Korea National University of Arts. By the age of 18, his precocious technique had earned him accolades at international competitions from Moscow to Varna, and his teachers told Mariinsky director Yuri Fateyev about their protégé.
Kim was invited to a private audition in 2011, and since he hadn't graduated from his Korean school yet, Fateyev created a six-month trainee contract for him. He spoke no Russian, so his teachers moved back to St. Petersburg to live with him; Vladimir Kim remains his coach there. "It was very hard at first, because I couldn't do anything on my own," the dancer remembers. "I also had to adapt to the culture: Russian people are more critical, more emotional."
His first role with the company was Ali in Le Corsaire, and word of his impeccable turns, soaring jumps and elegant demeanor spread fast. In 2012, he was promoted straight to first soloist, and has worked long hours to add roles, including Solor, Basilio and Albrecht, to his repertoire, as well as ballets by Alexei Ratmansky and Wayne McGregor.
Earlier this year, Fateyev decided Kim was ready for principal status, though in a time-honored Mariinsky tradition, no one told him; instead, while in the U.S. for Youth America Grand Prix's Stars of Today Meet the Stars of Tomorrow gala, he got a text from Vladimir Kim urging him to look at the Mariinsky's website. "I saw my face at the top of the roster, and I knew," Kim says.
Fateyev also suggested him to American Ballet Theatre for a guest spot in La Bayadère last spring. While Kim's international career is taking off, the young principal says Russia is his home now. "Ballets like Swan Lake and Don Quixote were born here. Russian people feel these ballets, and I want to improve my characters, to understand the culture." And now that he has reached his childhood goal, Kim jokes that he needs to find new ones: "Maybe I'd like to be director of the Mariinsky!"
"It took two years to prove myself as a dancer, to show I could be worthy of more." (Photo by Nathan Sayers for Pointe magazine)
Xander Parish
Xander Parish could be the poster child for late bloomers. The British-born dancer spent four and a half years at the back of The Royal Ballet's corps before Yuri Fateyev plucked him out of a class he was teaching in London and asked him to join the Mariinsky.
Parish's training wasn't as far from Russian as you'd expect: At The Royal Ballet School, he was taught in part by former Kirov dancer Anatoli Grigoriev. After he joined the British company in 2005, however, no opportunities came his way. "I was always the last one to get strength, even at school," Parish says. "The Royal wanted instant ability. They didn't have the patience to work with slow developers."
Fateyev saw potential in his long lines and tall stature, however, and Parish took a leap of faith, landing in St. Petersburg in 2010. Hired as a coryphée, he juggled corps and soloist duties while his two coaches, Fateyev and later Igor Petrov, set out to mold him into a prince. Parish estimates it took him three years to feel fully at home in the company. "After one year I'd made some friends. I could understand one percent of the language, give or take," he laughs. "And then it took two years to prove myself as a dancer, to improve my technique, to show I could be worthy of more."
His first leading role in an evening-length ballet, Albrecht in Giselle, was "make or break," he says. "I knew I had to do it well, or I probably wouldn't be doing it anymore." Fateyev was pleased, and more principal roles followed. In 2014, his performance of Aminta in Sir Frederick Ashton's Sylvia earned him the rank of second soloist—his first promotion, he notes self-deprecatingly, since he left school. When the 29-year-old returned to the UK with the Russian company in 2014, the transformation was complete: As Apollo, Parish embodied the young god's journey from clumsy innocence to classical purity.
Parish now spends his long days at the Mariinsky honing his technique and repertoire. Fateyev praises his acting, a British strength, and cast him last season in another Ashton classic, Marguerite and Armand, alongside Ulyana Lopatkina. The Mariinsky's two American conductors have become his close friends; all three live across the street from the theater, in apartments supplied by the company.
The first British dancer to join the Mariinsky hasn't forgotten his roots: He hopes to see Manon return to St. Petersburg, and would love to guest with The Royal Ballet. In the meantime, he relishes Russian ballet's intense work ethic. "Not everyone is an instant success, and it takes dancing to make dancing strong," he says. "Here, I was given the chance to grow into my body."
Nov. 29, 2001 07:00PM EST
For ballet dancers, Christmastime means The Nutcracker—and endless weeks of rehearsals and performances. By the time the New Year arrives, we can stand to wait 10 more months for the next round to begin. But despite its relentless repetition, The Nutcracker remains near and dear to many dancers' hearts, with familiar moments sparking memories of childhood. 
Waltz of the Snowflakes closes Act I, with Clara and the Nutcracker Prince traveling through a world of snow towards the Kingdom of Sweets. Tchaikovsky's score sets the scene, blending both the beauty and fury of the storm. But the Mariinksy Ballet's dancers shown here warm the stage. Their movement rushes in cyclical patterns, absorbing Clara in the most spectacular dream. Happy #ThrowbackThursday! 
Nov. 29, 2001 07:00PM EST
A great ballerina holds an immense amount of power: She can adopt any role and become another being, using movement as the ultimate means of expression. Some of the greatest ballerinas of the 20th century have honed this skill, but few have become as powerful an icon as the Mariinsky Ballet's Galina Ulanova. Named by Joseph Stalin as prima ballerina assoluta, Ulanova became the masthead for Russian ballet in the former Soviet Union. Her power extended beyond performance to her country's artistic identity, setting a standard for generations of ballerinas to come. 
In this clip from 1952, Ulanova dances the waltz from Michel Fokine's Les Sylphides alongside Vladimir Preobrazhenskii. She transforms the stage into an oil painting as her limbs reach across the space in expansive brushstrokes. Chopin's score touches any dancer's heart (his familiar tunes enter almost every technique class), but Ulanova's movement caters to each intricate moment within the music. She has created the definition of a beautiful sylph. Happy #ThrowbackThursday!


Get Pointe Magazine in your inbox