popular
Oct. 27, 2017 04:49PM EST
Maria Kochetkova, who will perform at the Chicago Auditorium Theatre. Photo by Erik Tomasson, courtesy Auditorium Theatre.
If you'll be in the Chicago area next month, the historic Auditorium Theatre is putting together a one-night-only performance you don't want to miss. The event is in celebration of the 50th anniversary of the theater's reopening in 1967, which featured a performance of George Balanchine's A Midsummer Night's Dream by former New York City Ballet principals Suzanne Farrell and Edward Villella. With Farrell and Villella returning to the theater as guests, the November 12th program will include a mixed repertory performed by dancers from companies including American Ballet Theatre, New York City Ballet, The Joffrey Ballet, The Washington Ballet, The Suzanne Farrell Ballet, Vienna State Ballet and Dutch National Ballet.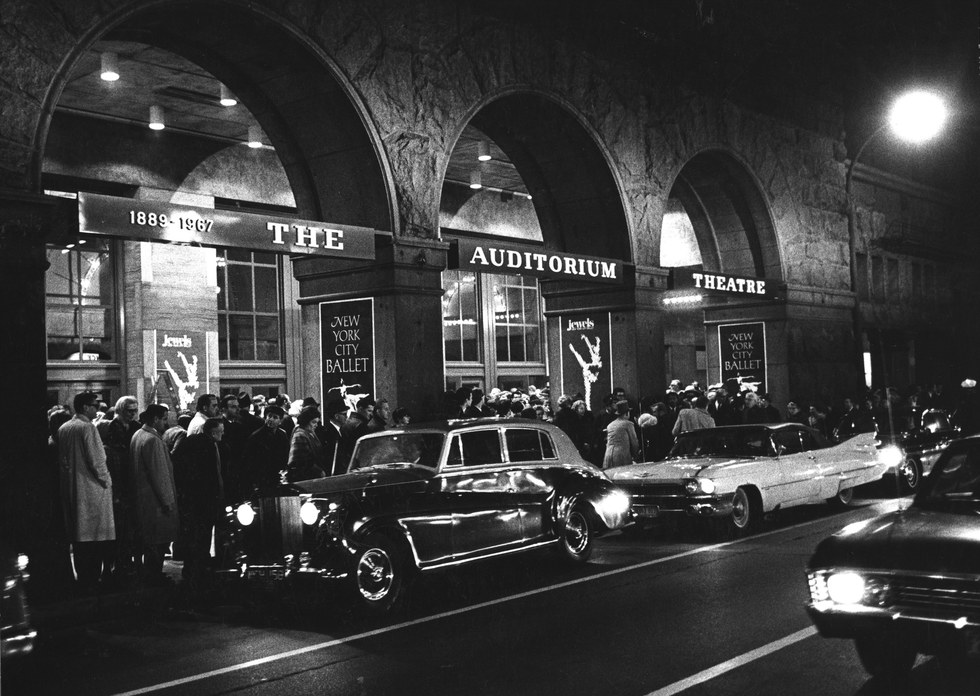 The Auditorium Theatre in Chicago from its 1967 opening. Photo by Richard Nickel, courtesy Auditorium Theatre.
Keep reading...
Show less
One of the many outfits Kansas City Ballet's Kelsey Ivana Hellebuyck sports on her Instagram, @ivanadance.
While we know you practically live in your leos and tights (and a tightly wound bun), summer is the perfect time to literally let your hair down and show off your style outside the studio.
Not sure where to start? Take a page from these pro dancers' ensembles. From classically chic to kooky and daring, these ballerinas know how to express themselves—on and off the stage. The #1 rule? There are no rules.
Keep reading...
Show less
Views
Jul. 11, 2016 01:14PM EST
For this #MotivationMonday, we mined the "Reverence" section of Pointe's back issues. Read on for inspiration from some of your favorite dancers. This years-old advice is timeless!
Photo by Jack Devant via JackDevant.com.
"Being a professional is not an easy life. Students need to ask themselves if they really want to do that, because it takes up your whole life. But for me, it still is the best profession!"
-Polina Semionova, Staatsballett Berlin (February/March 2007)
Photo via the Carlos Acosta International Dance Foundation.
"Persevere and work harder every day; do extra hours if need be."
-Carlos Acosta, Royal Ballet (June/July 2008)
Kotchetkova with Tiit Helimets in Yuri Possokhov's Swimmer. Photo by Erik Tomasson via Bachtrack.
"A walk in the mountains, a good movie, a great conversation. You can find inspiration all around you."
-Maria Kochetkova, San Francisco Ballet (June/July 2009)
Kistler with Jared Angle. Photo by Paul Kolnik via Los Angeles Times.
"If you're passionate and you love it, continue. If you're halfway, there are so many other wonderful things out there to do. I go back to what Mr. Balanchine said: You have to be willing to die for it. It cannot be a maybe."
-Darci Kistler, New York City Ballet (June/July 2010)
With Guillaume Côté. Photo by David Cooper via Times Union.
"It's more than just dancing at a higher level. You have to remember it's not only about you, even if you're in the spotlight. You must share yourself with the whole company. You gather that energy so they're involved with you, so there's a dialogue. Then it becomes more real and exciting for the audience."
-Xiao Nan Yu, National Ballet of Canada (June/July 2011)
Photo by Valeria Komissarova via Pinterest.
"Physically speaking, I don't think I was talented. It was more about work every day. Work, more work and yet more work. There's no upper limit—you can always go further."
-Ekaterina Kondaurova, Mariinsky Ballet (December 2013/January 2014)
For more news on all things ballet, don't miss a single issue.
Maria Kochetkova has a voracious appetite for inspiration. A principal dancer with San Francisco Ballet since 2007, she spent the last few years guesting with American Ballet Theatre during their spring season. "ABT is very different from SFB—it has a very different rep, it has very different dancers, incredible dancers you can learn from," says Kochetkova. Last summer, she joined the company as an official principal, taking on a grueling schedule that leaves her shuttling between California and New York.
"I really wanted to learn more and also try to balance my repertoire," she says. "San Francisco Ballet does a lot of new and more contemporary works—we don't always do full-length and classical ballets, which I feel I need. And at ABT, you get the full-length classicals, but not so many contemporary works."
Kochetkova spent July through late September working with SFB before flying to New York for ABT's fall repertoire season through early November. Her spring schedule looks just as busy. "Overall, I'll spend half of my time in San Francisco, and half in New York," she says. As for vacation time? "I usually travel a lot during the off-season, but I had to cut down. But that's okay. I'm more interested in learning something new." —Amy Brandt


Get Pointe Magazine in your inbox