Inside PT
Feb. 24, 2017 01:52PM EST
There's one accessory Brittany Stone doesn't leave home without: her headphones. "I'm always listening to music, usually something from the '90s," she says. "It just makes your day better, especially in the morning when you don't really want to get up and take class." Her playlist is full of "good walking music"—upbeat songs that get her moving and motivated. The rest of her street style is characterized by cozy standbys: T-shirts and jeans, white sweaters, overalls and her favorite shoes, Dr. Martens. "They're basically my staple," she says. "I have three pairs. I wear them all the time, especially in the winter."
In dancewear, Stone's priority is seeing her lines. "My style in the studio is very simple, very classic. I almost always wear pink tights," she says. For essentials like toe pads and tights, she turns to Discount Dance Supply: "A lot of times the girls in the company will coordinate when we need stuff and make a big order, because the shipping's cheaper." Outside the studio, too, Stone notes, shopping is a great way to bond with new friends—something she's been doing a lot of since transitioning from Boston Ballet to The Washington Ballet last fall. "Everyone in the company is so nice and welcoming. It's been really good," she says. 
(Photo by Jim Lafferty for Pointe)
The Details—Street
Leather jacket: "I got it at a secondhand store in Connecticut, where I'm from. I love vintage shopping."
Urban Outfitters jeans: "I love high-waisted things. I think they're really flattering."
Dr. Martens: "They make everything look cooler than it is. The red ones are my classic ones; they were my first pair."
(Photo by Jim Lafferty for Pointe)
The Details—Studio
Discount Dance Supply leotard: "It had a liner in it, but I cut it out because it was a little too hot. It's a great color and a great line, I think."
RubiaWear legwarmers: These were designed by Boston Ballet principal Ashley Ellis. "She's always been an inspiration to me; her dancing is so beautiful."
Bloch Inc. slippers: "I used to wear leather shoes, but I think you can feel the floor better with the canvas. I'm hardly ever in flat shoes—just sometimes for barre."
Studio to Street
Dec. 01, 2016 03:50PM EST
Don't expect to catch Simone Messmer wearing a leotard—at least, not for company class. "Ballet class is for me," she says. "It happens every day, so it turns into a major part of how you set yourself up for the day and how you're feeling. I think it's really important to take control of that." In class, the Miami City Ballet principal prefers comfortable separates with clean lines and long sleeves. When it's time for rehearsal, she'll bring out her leotards and tights. "And I tend to bring the skirt or tutu that's appropriate for the role. I try to start right away, to get a feeling for it," she says.
Keep reading...
Show less
Photo by Kyle Froman for Pointe
When it comes to style, James Whiteside likes to push the limits. "Conforming isn't really my thing," says the American Ballet Theatre principal. He chooses pieces that express his personality, while always leaving room to experiment with new ideas. "I haven't really married myself to one aesthetic, and that gives me a lot of options," he says. "One day I'll be preppy, next day I'll be super-urban, then I can be all tattered and '50s. I like to keep an open mind." In the studio, he sports knits and crop tops, and dyes his hair funky colors when the repertoire allows. It works well for ballets like The Sleeping Beauty (in which he wears a wig) or contemporary work. "But if I'm playing Romeo, this wouldn't make sense," he says. Whiteside is influenced by everything from Japanese anime to '90s boy bands to New York City itself, a place he's always wanted to live. "It's so inspiring walking around the city," he says. "Some people are just killing it. Anybody can buy fashion, but having style is a completely different thing."
The Details—Street
Marc Jacobs jacket and bag: "Marc Jacobs is the brand I have the most items of. I'm a huge fan. It's classy and sort of irreverent, and it just looks good."
Sandro turtleneck: "This is from a Parisian fashion house and I really like their stuff. It's feminine and butch all at once."
Club Monaco pants: "I call these my Bing Crosby pants. They're a really retro fit—wide hips and high waist, pleats, slightly cropped. It's a shape I really appreciate."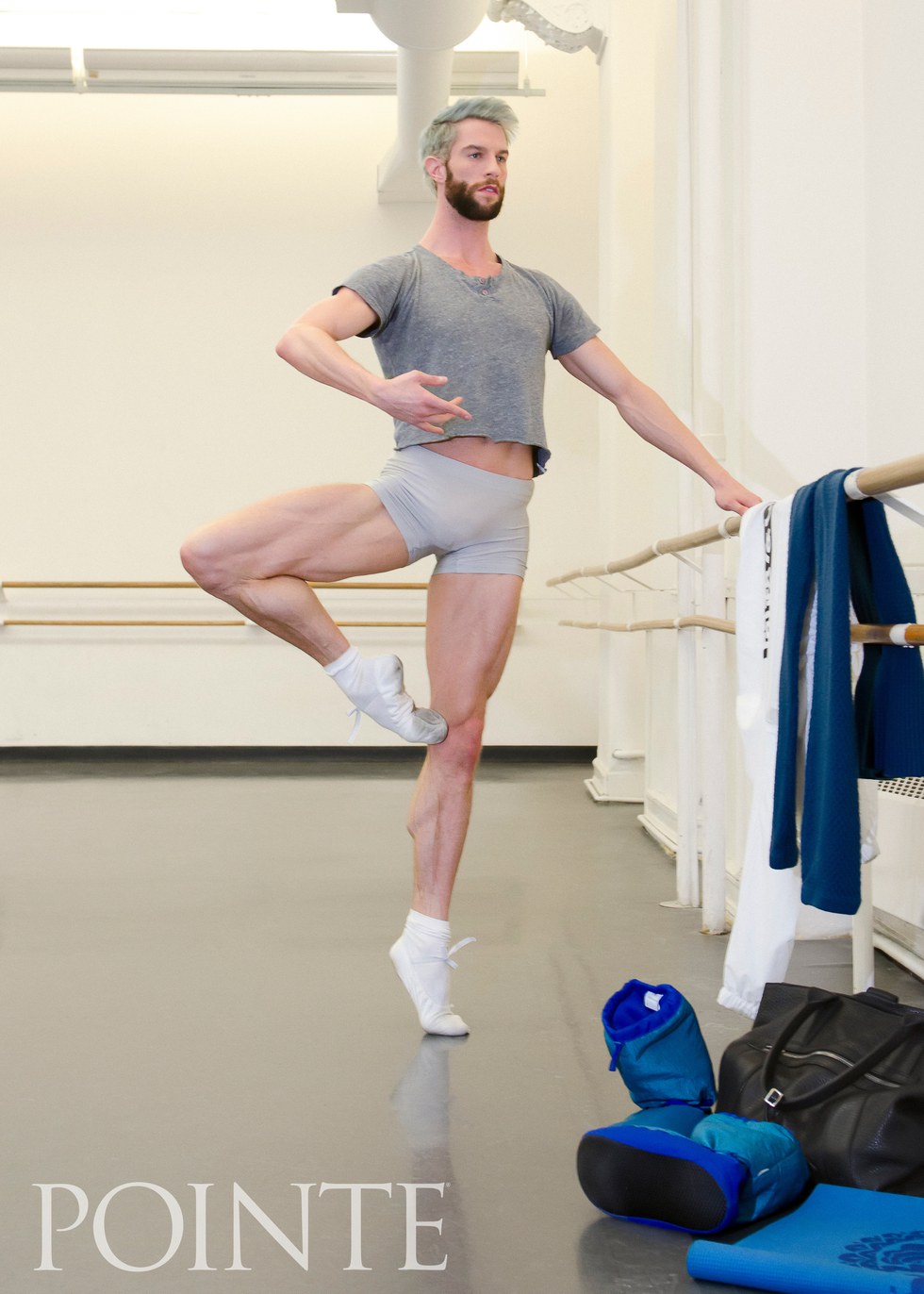 Photo by Kyle Froman for Pointe
Keep reading...
Show less
Inside PT
Feb. 03, 2016 01:12PM EST
(Photo by Kyle Froman for Pointe)
Julie Marie Niekrasz doesn't shop often, but when she does, you won't find her at the mall. "I love vintage clothing," the Ballet Memphis dancer says. "I think I owe a lot of that to my older sister, who has a really fun sense of style." And her fondness for the past extends beyond clothing—she even owns a vintage KitchenAid mixer. Niekrasz favors local boutiques, where she looks for clean lines and elegant silhouettes from the 1950s and '60s, in a color palette of grays, blues and blacks. She brings the same aesthetic into the studio, though she's also conscious of her partners and the repertoire. When rehearsing a piece where she'll be bare-legged, "I'll try to wear shorts so that the guys have an easier transition period, so they can get the grip of my leg right," Niekrasz says. "If it's a pink-tights ballet like Nutcracker or Romeo & Juliet, then I'll be rehearsing in full ballet-pink wear." When she thinks of a style icon, the first person who comes to mind is Grace Kelly. "She's the epitome of classic," Niekrasz says. "I just love that old charm in clothes. In a way, I wish we all still dressed like that."
(Photo by Kyle Froman for Pointe, taken at the Joyce Theater)
The Details—Street
Vintage dress: "It's from a store called Red Velvet Vintage. I really like to support the local shops in Memphis."
Earrings: "They're in the shape of the state of Tennessee, even though I'm from Chicago. But it's been my home for 12 years, so I'm a Memphian now."
Target boots: "I love boots. I can't wear heels anymore—not after being in pointe shoes for nine hours a day!"
The Details—Studio
Halter leotard: "I wear this all the time because it's different, and elegant." It was given to her by former Ballet Memphis dancer Maria Gabriela Moros, who made it.
Yumiko skirt: "I usually wear Pilates pants every day because I teach Pilates. If I'm not teaching, it's fun to dress up and wear a skirt to work."
Freed of London pointe shoes: "I just switched to Z maker because my other maker retired. It's like learning how to dance again."
Inside PT
Dec. 15, 2015 12:08PM EST
(Photo by Linda Johnson)
As a young student at San Francisco Ballet School, Kelsey Ivana Hellebuyck would record her outfit each day in a notebook. "I've always been kind of a nut about fashion," she says. "Getting dressed in the morning is fun. It gets me going, like coffee." And as followers of her popular Instagram account will tell you, she's still keeping track of what she wears, sharing daily collages of her outfits that reveal her fun and eclectic taste. "I started cataloguing it because I wanted to remember what I wore and what was so magical about that equation," she says, "but now other people are enjoying it, so that makes me happy." Some of the Pennsylvania Ballet corps dancer's best finds have come from flea markets or the hidden racks at the back of a store. "I know when something is good, and when I see it, I'll buy it," she says. Hellebuyck brings her personal style into the studio, too. "I love cutoff tights, bright colors, fun prints, lace—things that are different, not the norm," she says. Her keen eye for detail is inspired by everything from the style bloggers she follows on Instagram to the copies of Architectural Digest or W that she flips through on airplanes. "I'm passionate about fashion," she says. "It's second only to ballet."
The Details—Street
H&M dress: "You have to devote time to stores—I found this piece upstairs, hidden, and I was like, 'Why are they hiding this? This should be on the mannequin!' "
Wedges: "I like being tall and I would like to be even taller. I'm always in a heel or a wedge."
Birdcage necklace: "The birdcage came from my dollhouse as a little girl, which my grandpa and grandma built. This has been everywhere with me.
The Details—Studio
Yumiko leotard: "I've had this since I was 13. I had to cut the thumb holes because the wrists started to break at the seams, but I actually like it better with them."
Wrap: "We weren't allowed to wear things like this at school, but I bought it because I knew the company dancers wore fun shawls and things—we used to watch them a lot."
Freed of London pointe shoes, Club maker: "My feet are pretty strong and they'll kill a shoe fast. I need to wear my shoes for a class to see how they feel, so I can decide what roles they'll be good for."


Get Pointe Magazine in your inbox