Apr. 04, 2017 04:31PM EST
Lamb with Federico Bonelli in Chroma (photo by Bill Cooper, courtesy ROH)
In Wayne McGregor's high-octane Chroma, The Royal Ballet's Sarah Lamb finds meditative stillness.
As told to Laura Cappelle
Chroma was the first ballet I worked on with Wayne McGregor, and it was like embarking on a relationship for the first time. There's a heightened energy, an expectation and also the desire to be a vehicle for the choreographer's ideas. The creation process was very easy. Wayne didn't give me any information about my role before we started—he doesn't try to analyze anything before it happens. The whole piece is a painting with people: We're in a monochrome environment, wearing light colors, in a white spot.
The first time I appear onstage is for my pas de deux. It often stands out because it comes after a period of loud, staccato, energetic music, and then there is this calm. It's quiet piano music, very meditative—the composer Joby Talbot's title for this section is "…a yellow disc rising from the sea…" One image that I have in my head is of a pebble being dropped into water, and the circles emanating out from it. There's a stillness, but there is also a continuity of movement, an echo and a reverberation.
Keep reading...
Show less
Feb. 23, 2017 02:18PM EST
Leta Biasucci and Margaret Mullin in The Vertiginous Thrill of Exactitude (photo by Angela Sterling, courtesy PNB)
Pacific Northwest Ballet's Leta Biasucci on William Forsythe's The Vertiginous Thrill of Exactitude
As told to Amy Brandt

I first saw a video of The Vertiginous Thrill of Exactitude as a student at the San Francisco Ballet School summer program. Then we learned a little bit of it in variations class, and it made such an impression on me. It was unlike anything I had learned in my technique classes. It really opened my eyes, and I was so enchanted by this whole new dimension of ballet.
At 11 minutes long, it's very much a sprint. When you hear the first "da-da-da!" you know how exhausted you're going to feel by the end. But with that feeling of exhaustion comes this great sense of exhilaration—every moment of it is thrilling.
Keep reading...
Show less
Nov. 22, 2016 05:29PM EST
Joaquin de Luz in Prodigal Son
(Photo by Paul Kolnik, courtesy New York City Ballet)
New York City Ballet principal Joaquin De Luz on the elusive nature of Balanchine's Prodigal Son.
As told to Amy Brandt
Prodigal Son is the most important role of my career, and the most challenging. It's not only powerful physically; it takes you on a journey, and hopefully you take the audience with you. It's also pretty elusive; I still haven't found a formula that I'm content with.
The beginning feels most natural to me. I was a bad kid growing up, very rebellious. The son feels oppressed, like no one understands him. He thinks he knows best. That first entrance is full of power, big jumps and energy. That's the easy part. But the value of this role is in the character and the story.
Keep reading...
Show less
Oct. 13, 2016 02:26PM EST
Dronina with Harrison James in La Sylphide (Aleksandar Antonijevic, courtesy NBoC)
In August Bournonville's 1836 ballet La Sylphide, every gesture has meaning. The National Ballet of Canada's Jurgita Dronina talks about her first time portraying the Sylphide. As told to Amy Brandt
I had never danced the Sylphide, so I didn't have a full idea of who I wanted to be. It was like writing a new story, on an empty piece of paper. To be honest, I started by watching videos of someone else—I just wanted to get the vision of the ballet. Then we worked on it little by little, scene by scene. I don't think I've ever done a ballet with so much detailed mime. There is meaning behind every step, so you really have to talk with every gesture. Even the smallest turn of the finger makes a difference. I practiced the mime over and over until it became more natural, and I realized eventually that the more simply you say something, the more it comes through. It was a fascinating process.
Keep reading...
Show less
Aug. 01, 2016 05:03PM EST
Frances Chung and Vitor Luiz in Balanchine's Coppélia
(Photo by Erik Tomasson, courtesy SFB)
In Balanchine's comedic Coppélia, San Francisco Ballet's Frances Chung brings out Swanilda's playful side.
All of Swanilda's actions come from a place of pure fun. She's kind of sassy, but I like bringing out her playfulness instead of taking a more bratty approach. The role comes quite naturally to my personality. When my partner and I are in the studio, we're very playful even though we're working hard and refining everything. I try to have a good time and I think that it translates onstage.
As Swanilda, my love for Franz is very youthful, like when you hit someone because you like him. I'm quite confident in myself and in our love, even though I see him blowing kisses at another girl (really a doll). I get mad for a second, but at the end of the day I know he's going to choose me. That's my underlying feeling. When I finally make the connection that she's a doll, I think it's hilarious!
Keep reading...
Show less
Jun. 01, 2016 07:07AM EST
In John Cranko's Onegin, based on the poem by Alexander Pushkin, Boston Ballet's Anaïs Chalendard taps into her own heartbreak to bring Tatiana to life.
As told to Amy Brandt
Tatiana is not simply a young, hopeful country girl. She's dark and complex—she's an introvert. I was also misunderstood when I was younger. Like Tatiana, I'm from a very little village. I wanted to see more and do great things, and it's hard when the people around you are in a very small bubble.
I have two ideas as to why Tatiana is so attracted to Onegin. In the poem, Pushkin talks about a technique men use on women: If you ignore them, they'll chase after you. I also believe that people have a magnetic field around them, and that there are simply some individuals that you respond very strongly to. Onegin was from St. Petersburg—he wasn't like any other guy she'd seen in the countryside. He had a charm that made her totally crazy for him.
Chalendard with Sabi Varga in Onegin (photo by Liza Voll, courtesy Boston Ballet)
After she writes him the love letter, she can't eat or sleep—she's sick with anticipation. I start building up anxiety during Act II to help put myself in her position. When Onegin tears her letter apart, she's shocked—she finally has her answer. But I think a huge explosion of emotion here would break the moment. I went through rejection like this once, and I remember being speechless. My heart was so full of pain that it brought tears into my eyes. My whole body was shaking. I couldn't help it—it was a physiological reaction. This is what I try to portray.
I don't think Tatiana ever gets over it—she buries it deep inside and moves on with her life. She loves her husband, but it's not the same. No one will ever equal Onegin. When he returns to her years later, his mere presence gives her goose bumps. She's tormented—that's why she's so indecisive during the final pas de deux. Should she kiss him? Run after him? Tell him to go? I've never been in this situation, so I have to imagine myself in her shoes. I try to be emotionally spontaneous, because if you work too much on your expressions, it becomes predictable. Contrary to Onegin, Tatiana believes marriage is sacred. In the end, her integrity wins, and that's why she is a heroine. She sticks to her conviction, a beautiful conviction—her fidelity.
Tip:
My ballet mistress, Larissa Ponomarenko, helped me brainstorm so that I wouldn't portray Tatiana too darkly. She said her beauty inside shines around her. That made me think of a rainbow, which is made of both rain and sunshine—it's a mix. I try to stress that complexity.
Apr. 01, 2016 07:07AM EST
Photo Courtesy Lopatkina
The Dying Swan, choreographed by Michel Fokine for Anna Pavlova, is a short but powerful solo often reserved for the most revered ballerinas. Mariinsky Ballet principal Uliana Lopatkina shares the thought process behind her iconic interpretation.
Although The Dying Swan is a very short piece, it has tremendous depth because both the audience and dancer are facing the question of life and death. Often we don't want to think about that—we want to live forever here on earth. This miniature has special meaning for me, as it helps me overcome the fear of death; it invites us to imagine that moment of transformation into the following life, which lasts eternally. It's very scary to die, but it is just a moment that you need to go through.
This question about death in turn raises a question of how you need to carry on with your current life, so that you can die easily. And I think that these emotions are transferred to the audience as they witness the dying process—they might feel a sense of compassion, a desire to help the swan's soul through the pain.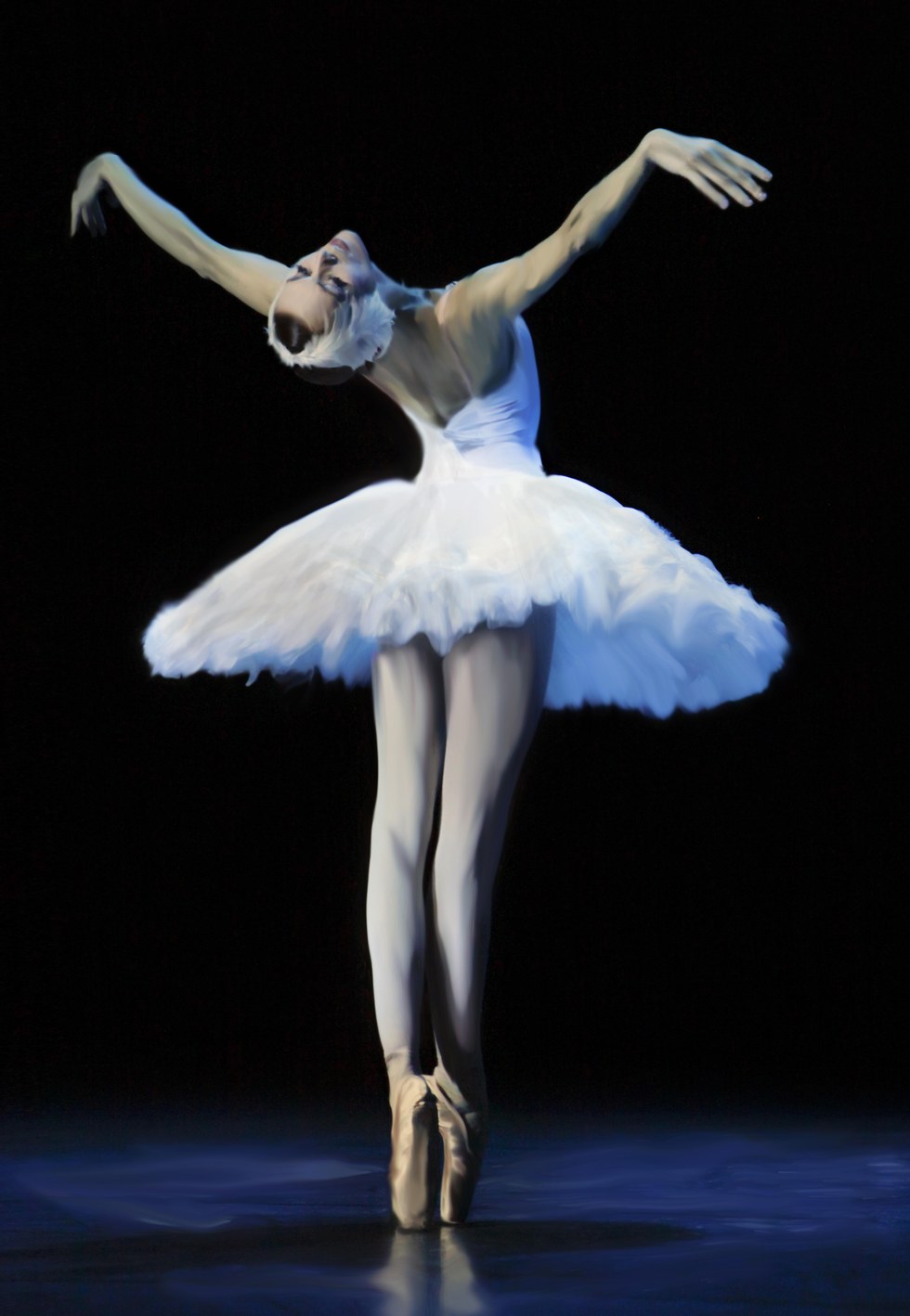 Photo by Alexander Gouliaev
I once had a chance to perform The Dying Swan six times in a row, which allowed me to explore dying in different ways. My characterization and the way my body moved during those performances depended on how my soul felt that moment, and I took that as a basis for my interpretation. Now, I try to understand how different people relate to and meet their death.
As a person transforms from the earthly state into the next one, the soul is accompanied by a lot of turbulence. As I dance, I want the viewer to reflect with me how that feels—for instance, when death is liberation from pain and suffering. In that regard, you can see it as a happy moment. Or one may fear new experiences, the unknown, especially if one considers their entire life as preparation for a significant test. Or perhaps there is resistance—an unwillingness to separate from the comfort of earth and to glimpse the life beyond it. Or, you can feel sadness for leaving your loved ones behind, with hopes to meet them in the afterlife.
Tip:
A dancer's wings start where the lower end of the shoulder blades connects to the middle of the spine. Initiating movement from that particular spot will elongate the arms tremendously. Try to study the grace of a real bird and come up with your own interpretation for your wings, practicing various arm movements—smooth and soft, as well as broken and impulsive.
Translated by Yuliya Didenko


Get Pointe Magazine in your inbox