Views
Nov. 02, 2016 04:45PM EST
For American audiences, Balanchine's "Rubies" is instantly recognizable. Cuban audiences, though, have never seen the iconic work, due to over five decades of severed diplomatic relations with the U.S. That will change this Sunday, when Beckanne Sisk and fellow Ballet West principal Christopher Ruud perform the saucy, showy "Rubies" pas de deux at the International Ballet Festival of Havana gala. Pointe spoke with Sisk about making dance history.
Sisk in Balanchine's "Rubies." Photo by Luke Isley, Courtesy Ballet West.
You're no stranger to galas, but do they make you nervous? 
It's not a whole production, so I feel a lot of pressure to do well in those nine minutes. But it's also very exciting. I feel comfortable with "Rubies," and I'm so honored to be the first to dance it in Cuba.
How do you think the audience will receive this pas?
I feel like this is the perfect pas de deux to take because they love exciting dancing. This pas has a whole lot of everything in it!
How does "Rubies" continue to challenge you?
I'm learning to be able to throw myself and do all these crazy things while keeping the technique. I have to be poised and together in my core while throwing my limbs, so I'm finding that balance.
What do you like about the role? 
There are no limits. It's all just power and go, go, go—there are no rest steps, and you do everything to the fullest. It's very showy, but it's all fun, feel-good steps.
Besides performing, what else are you looking forward to doing in Cuba? 
I've never been to Cuba, so we're gonna try and do some touristy things. I'd like to see some cool cars, and the food—I can't wait to try the food! We'll also get to take company class [with the National Ballet of Cuba]. I'm really, really excited about that.
For more news on all things ballet, don't miss a single issue.
News
Jul. 01, 2016 01:07PM EST
Ever since diplomatic relations were reestablished between Cuba and the U.S. back in 2014, people have been wondering what increased cultural exchange might mean for Cuban ballet. This week, it was announced that Catherine Conley, a dancer from Chicago's Ruth Page Center for the Arts, was invited to train at Cuban National Ballet School. The eighteen-year-old will start studying full time under the school's director, Ramona de Saa, this summer after she graduates from high school.
Catherine Conley, photo by Cheryl Mann
Cuban National Ballet School is one of the largest and most esteemed classical ballet schools in the world, and has produced dance legends from Carlos Acosta to José Manuel Carreño. But though U.S. dancers have participated in workshops and festivals at the school, long-term opportunities for exchange and training have been extremely limited.
Conley with Ramona de Saa, photo by Anthony Robert La Penna
A Michigan native, Conley has trained at the Ruth Page Center for more than 10 years, and attended summer intensives at The Royal Ballet, Boston Ballet and American Ballet Theatre. She caught de Saa's eye while participating in a groundbreaking exchange program between Cuban National Ballet School and Ruth Page Center that started in 2015. The program, called "Chicago Y Cuba: The International Dance Experience," featured joint classes and performances in Havana and Chicago.
Training in Cuba is the opportunity of a lifetime for Conley, and her experience is another sign of changing circumstances and increased opportunities for collaboration. We'll be keeping our eyes on the young dancer as she embarks on this adventure.
For more news on all things ballet, don't miss a single issue.
Featured Article
Apr. 01, 2016 06:51PM EST
After Pennsylvania Ballet's Mayara Pineiro and Arian Molina Soca run their Nutcracker pas de deux in rehearsal, ballet master Charles Askegard asks for just one correction. Pineiro—who is thrilling as she plunges headlong into penché, whips into crisp turns and hurls herself backward into Soca's arms—is asked to emphasize taffy-like stretches into lengthened holds. Askegard is right. Counterbalancing the lightning-quick and the sensual brings even more dimension to this riveting dancer.
In just her second season with Pennsylvania Ballet, where she started in the corps, the Cuban-born Pineiro has danced leading roles in Balanchine's Allegro Brillante and Matthew Neenan's Shift to Minor. Elevated to soloist in March 2015 following her performance as Odette/Odile in Swan Lake, she continues to be given choice principal roles.
"It was like fire onstage," says Pennsylvania Ballet artistic director Angel Corella of her performance in Allegro Brillante. "She's one of those dancers that comes only every once in a while." The path leading to this moment was long and challenging, including Pineiro's rigorous training in Havana, her brave defection to the U.S. and a period of uncertainty about whether she could continue dancing at all. Now, she has landed right where she wants to be.
Born in Havana, Pineiro started ballet at age 3, and she fell utterly in love with dancing. Living in poverty, paying for lessons was a stretch. Pineiro felt she needed to repay her mother for the sacrifices made on her behalf by being the best she could.
She eventually progressed to the highly selective and rigorous Cuban National Ballet School. There, she says, the Cuban methodology involves working first on technical issues like turning and balance, practicing slowly to build strength and control. Later the focus shifts to presence and performance quality. "In Cuba my teachers said, 'On the stage you reveal who you are,' " says Pineiro. Once she had begun to medal in competitions, she was mentored by the school's finest teachers, including Martha Iris and Fernando Alonso. Above all they cultivated her expressiveness and confidence onstage.
Pineiro toured with the school to Italy, Peru and South Africa, winning and placing in competitions along the way. Still, by her final year she was aware of challenges she would face in a Cuban career. Dancers at the National Ballet of Cuba make only about $30 to $50 a month. She was also eager to sample a wider repertoire. Because of Cubans' allegiance to the classics, contemporary ballet is nearly nonexistent there.
When she traveled with a delegation to Toronto, they made an outing to Niagara Falls and stopped for lunch. From the restaurant, Pineiro noticed a bridge leading to the U.S., and took her chance. She decided to slip away from the group, walk across the bridge to the U.S. side, and ask for asylum. She ducked first into the restaurant's bathroom to shoot a video farewell on her phone for her mother. She explained why she had to defect, and urged her mother to take good care of herself until they could meet again. Despite the anguish of leaving her family, "in my mind I thought it would be perfect," says Pineiro. "I didn't imagine anything bad."
Then only 17, she was the youngest ballet dancer ever to defect. Because she was a minor, U.S. officials detained her for several weeks, needing permission from her parents before she could be released to her uncle in Florida. The documentary film Secundaria, which follows Pineiro and several of her classmates at the National Ballet School, captures the moment at the airport when her mother hears of her defection. Heartbroken, she also knows it is for the best and agrees to let her stay.
Once settled in Orlando, Pineiro learned that her relatives did not have money to pay for ballet classes. For six months, she says, "I felt I was never going to go back to dance. It was a very confusing feeling, because I had just arrived in the country and wasn't aware of how things worked. Ballet seemed so far away."
In her last attempt to go back to dance, she visited Orlando Ballet. There, she met the company wardrobe mistress, whose son, Etienne Diaz, was also a dancer. "She told me to contact him, maybe he could help me find a studio."
(Photo by Nathan Sayers for Pointe)
Diaz, who soon became Pineiro's longtime boyfriend, connected her with Vasile Petrutiu, who offered her free classes at Central Florida Ballet. She also received free training from Cuban teacher Magaly Suarez at The Art of Classical Ballet, in Pompano Beach. "She takes corrections right away, and she never goes back to that problem," says Suarez. "It was a great pleasure to work with her."
Petrutiu's connections helped the pair land soloist contracts with the National Opera of Bucharest. In 2011, Pineiro returned to Florida to compete in Youth America Grand Prix's Tampa semi-finals. Coached by Suarez, she triumphed, winning first place. Afterwards, she guested with Balletto del Sud in Italy. "I learned so much," she says. "The time I spent in Europe introduced me to new choreographers and styles I had never seen before."
In 2012, Pineiro and Diaz returned to the U.S. to be closer to family, dancing with the Milwaukee Ballet for two seasons. During their 2014 summer break, they traveled to Hartford, Connecticut, where Corella was guest-teaching. "I went to Hartford because I knew he would be there," Pineiro says. "I just wanted to take class with him."
"With her beautiful physique, she stood out right away," says Corella. "When she put on her pointe shoes and started to turn and jump, I thought I've never seen anyone turn like that. The speed is unbelievable."
Deeply impressed, Corella offered both Pineiro and Diaz contracts. For Pineiro's part, she says that the former American Ballet Theatre star is a major reason why she wanted to dance with PAB. "I was very excited when he invited me. I couldn't say no."
Now dancing a varied repertoire, Pineiro notes that while the Cuban approach forms great dancers, it doesn't emphasize as much the quickness found in Balanchine, Ratmansky or Neenan. Picking up the pace has been a welcome stretch for her: "Everything that I dance here is kind of fast. Now I like the speed."
She has also found the perfect dance partner. Arian Molina Soca, a former National Ballet of Cuba principal who trained with Pineiro at the National Ballet School, joined PAB this season. Soca says their shared background means he can forecast what she'll do and where he has to give more force in pirouettes or in a balance. "I feel very secure, that she's in control," he says. "Together, we feel very connected."
On the big stage of Philadelphia's Academy of Music, Pineiro combines a light touch with a compelling grandness and sense of occasion. Her technical brilliance dazzles—seven or eight pirouettes are not unusual for her. And now, with the thaw in U.S.–Cuba relations, she may get to perform in her home country before long.
"I'd love to do as many roles as I can, to get experience," she says. "I'm loving Balanchine now, and contemporary. I picture myself here in Pennsylvania as a principal, so I'm working on that."
For his part, Corella says that Pineiro's attitude—accommodating and teachable—is a significant strength. "She's evolving every day into something more and more special," he says. "In less than a year we promoted her to soloist. The other thing will happen very soon."
Lisa Kraus curates the Bryn Mawr College Performing Arts Series.
Featured Article
Apr. 01, 2016 06:34PM EST
National Ballet of Cuba principals Grettel Morejón and Alfredo Ibáñez. Photo by Quinn Wharton.
"My dream was to dance in Cuba," says Lorena Feijóo. "I didn't want to leave my country." It's a lament the San Francisco Ballet principal shares with countless other members of the Cuban ballet diaspora: dancers who left their families, culture and country behind to escape economic hardship and seek artistic freedom abroad. The diaspora extends from Miami to Seattle to Oslo, where Cuban dancers' superb classical training and refined artistry are sought after.
The problem is not a lack of appreciation at home—"The Cuban audience is absolutely insane about ballet," Feijóo says—but subsistence wages and artistic conservatism at the National Ballet of Cuba, and rigid restrictions on guesting overseas. In Cuba, dancers earn an estimated $30 to $50 per month. However, a balletic revolution may be on the horizon.
In December 2014, after 54 years of cultural and economic blockades, President Obama and Cuban president Raul Castro reestablished diplomatic relations between our two nations—the first step towards reviving free travel, trade and cultural exchange. Founded by prima ballerina assoluta Alicia Alonso in 1948, NBC has toured the world for three generations yet has resisted American and European influences. How might an unrestricted influx of international choreographers and dancers influence Cuban technique and repertoire? And what might we learn from Cuba?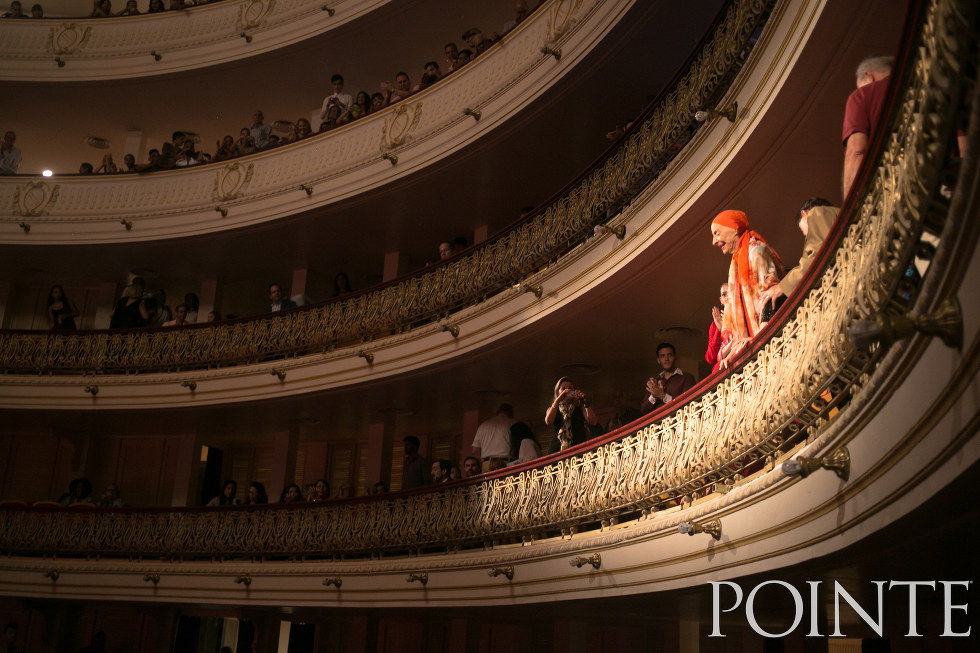 Alicia Alonso looks down from her box at the theater. Photo by Quinn Wharton.
A World Apart
Separated by just over 90 miles of ocean, the United States and Cuba have been worlds apart since the early 1960s, when then-President Eisenhower severed diplomatic relations in an attempt to suppress Fidel Castro's newly established communist government. While restrictions on immigration and travel have become more flexible with each passing decade, many émigré dancers still have to defect—and leave everything behind.
"Families are broken in pieces," says Cincinnati Ballet corps member Ana Gallardo, who immigrated legally to the U.S. with her family in 2009, after her third year of training at the Cuban National Ballet School. "I know NBC dancers who have decided in the moment, on tour, to defect. Their parents don't find out until they're in the U.S."
"It is a very traumatic way of leaving your country," says Lester Tomé, assistant professor of dance history and Latin American Studies at Smith College and a former dance critic in Havana. "What we can look forward to with these new regulations is that maybe Cuban dancers will be able to come to the U.S. with a work visa, directly from Havana, on a plane."
Cuban émigrés can apply for a green card after residing in the U.S. for a year and a day. Although that permanent legal residency allows them to travel back and forth to Cuba at will, separation from family may last much longer due to financial hardship.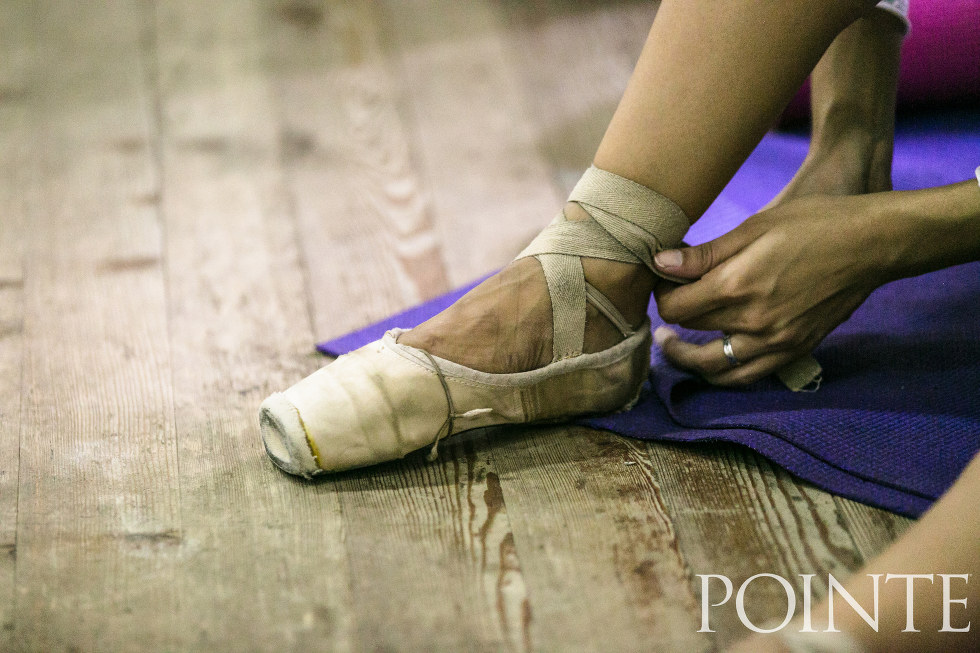 Photo by Quinn Wharton.
Permission Denied

Most NBC dancers who flee Cuba also forfeit the opportunity to perform in their homeland again. Alicia Alonso, still artistic director at age 94, "makes it very clear that if you leave without her permission, you will never dance at the García Lorca Auditorium as long as she is alive," Gallardo says.
Feijóo asked for permission to guest abroad while remaining a member of NBC. "Alicia's exact phrase was, 'Lorena, either you're in or you're out. You choose.' Just like that. I said, 'I'm out.' " The Ministry of Culture granted Feijóo a visa to leave without defecting, but she has not danced on her home stage since 1990.
While Alonso has cultivated a classical repertoire that is second to none, she has not brought in neoclassical or experimental styles, and barely any contemporary. No one we spoke to could explain why, beyond speculating that it is simply Alonso's preference, and the government's. "After five years, you have already done Nutcracker, Swan Lake, Don Quixote, Sleeping Beauty, Coppélia, probably 10 times each," Gallardo says.
Still, "People say Cuba isn't changing, but it is," says former Silicon Valley Ballet artistic director José Manuel Carreño. As he points out, the NBC recently commissioned work from Annabelle Lopez Ochoa. With Alonso's permission, Carreño joined English National Ballet in 1990. He later danced with The Royal Ballet and American Ballet Theatre, and Alonso continues to mentor him in his current role.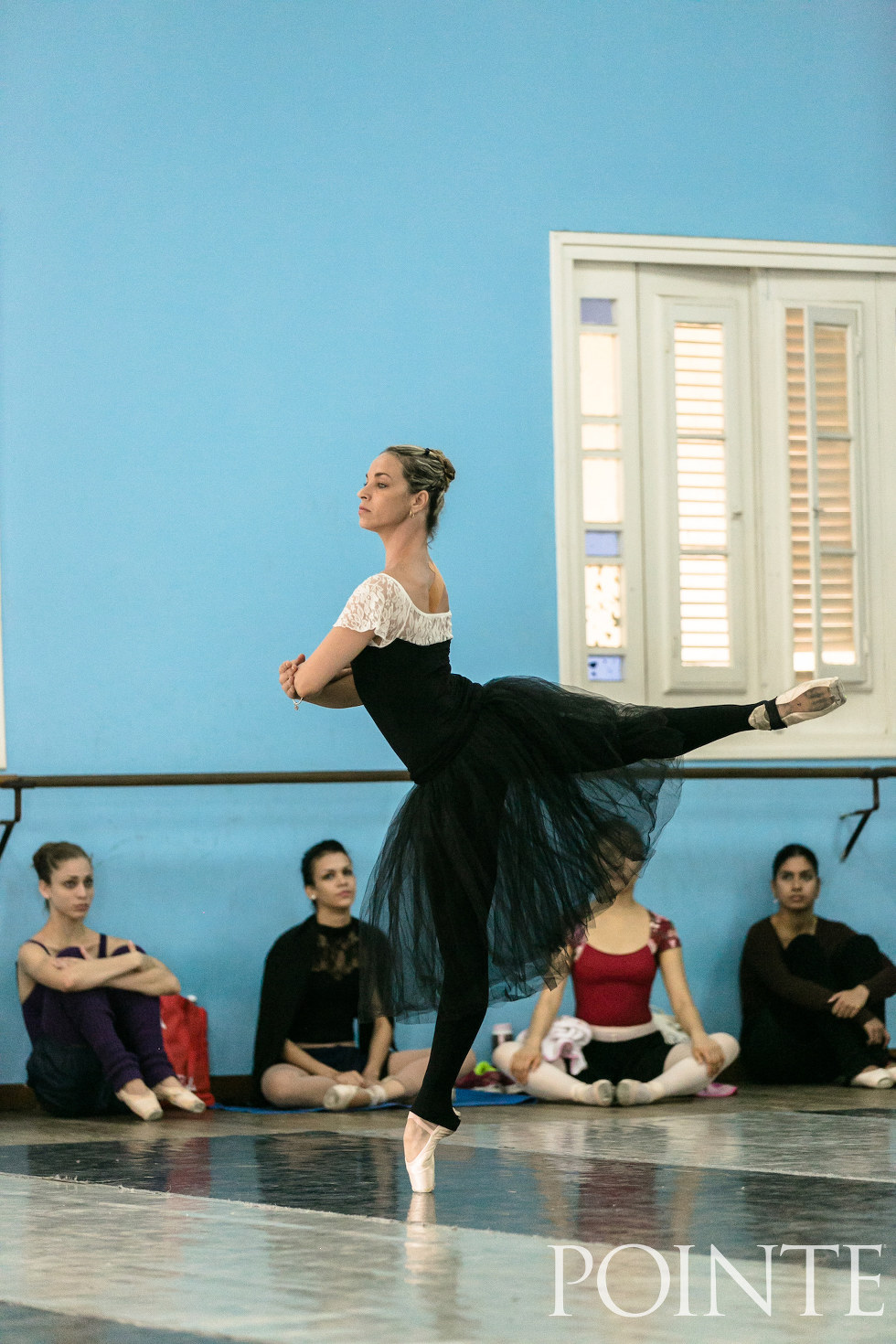 Photo by Quinn Wharton.
The Foundation of Greatness
There's one thing that everyone agrees on: However artistically varied the company eventually becomes, the National School will remain the same—and it should. Co-founded in 1950 by Alonso and the late Fernando Alonso, her ex-husband, it is one of the world's largest classical ballet schools.
"The school is excruciatingly good," says Feijóo. "As a 9-year-old, you have a full day of work, starting at seven in the morning. By 11 years old, you're performing professionally." The eight-year education includes Spanish, French, piano and art in addition to rigorous ballet and character technique.
Feijóo believes that American ballet training would benefit from importing Cuban coaching techniques. "The best pantomime and mise-en-scène rehearsals in my life have been with Alicia," she recalls. "You are a friend of Giselle, but which friend? The one that cares, or the one that doesn't?"
Gallardo reports that, thanks to generous government subsidies, the school facilities are top-flight: 22 spacious studios with marley floors and audio systems, and two wood-floor studios for the limited contemporary classes offered. The main failing, she says, is in the pointe shoes, which are donated by a Chinese company and in limited supply. While touring, NBC dancers use their per diem to buy additional shoes, in brands they prefer.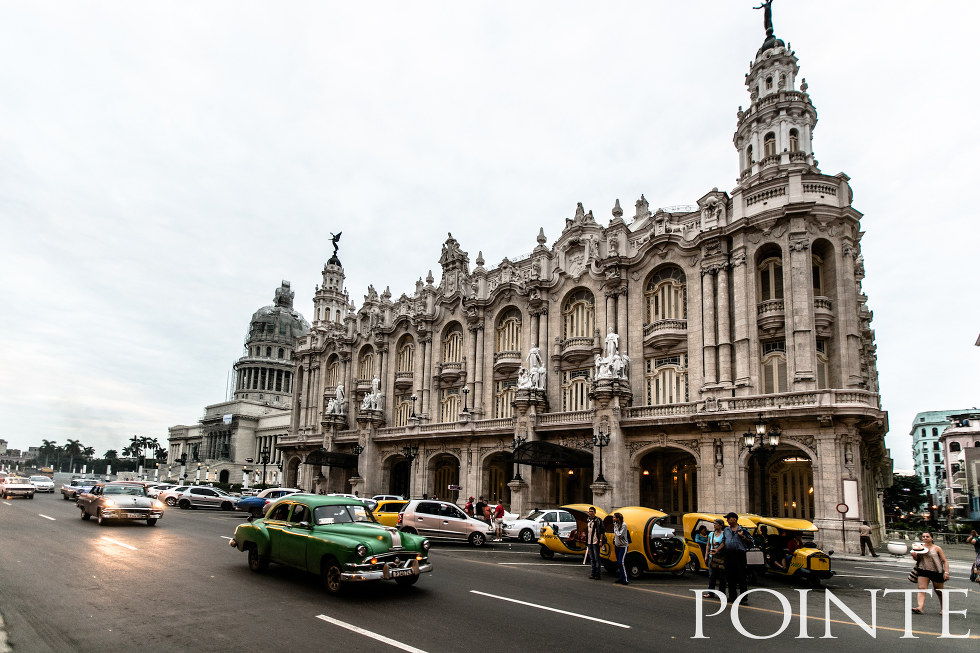 The Grand Theater of Havana Alicia Alonso. Photo by Quinn Wharton.
The Revolution Is Coming
Ironically, the most significant catalyst for modernizing Cuban dance may be one of its own: legendary dancer Carlos Acosta. With Alonso's blessing, Acosta began performing internationally in 1989 and later became a principal with The Royal Ballet. Recently retired from the company, he is founding his own contemporary troupe in Havana. Details are scant, but Tomé expects an emphasis on new works by Cuban and international choreographers.
"Acosta's company has the potential to revitalize not only the NBC, but Cuban ballet as a whole," says Tomé. "It will be competition for the NBC, for dancers and audiences." Alonso apparently welcomes it—auditions for the 12-dancer company were held at the National School.
Lourdes Lopez, artistic director of Miami City Ballet and a first-generation Cuban American, thinks greater exposure to contemporary dancemakers could refresh the NBC style. "They'll learn where technique and partnering have gone," she says. "American and European dancers have a fluidity in pointework that really comes from Balanchine."
Hope on the Horizon
Lopez hopes that openness in the arts will lead to greater change. "It will start minimally, with 'Tell me how you train your dancers,' " she says, "and then move on to deeper issues like civil rights and freedom of speech."
As for Feijóo, she wants future generations to feel proud far beyond ballet. "We are by nature a happy country," she says. "I hope we're able to embrace this change, and that the people find their freedom but don't let go of what makes us Cuban."
Claudia Bauer is a writer and critic in the San Francisco Bay Area.


Get Pointe Magazine in your inbox