Views
Mar. 28, 2016 01:26PM EST
A correctly rotated, aligned and stabilized arabesque can feel elusive. It's tricky to find the right balance between strength and flexibility, so we combined two of our best tips to help you find your line. Read on for training advice, and visualization exercises to get that leg soaring higher.
You've probably heard it time and again throughout your training: Flexibility isn't all that helpful unless you have the strength to support it. Leigh Heflin Ponniah, MA, MSc, from the Harkness Center for Dance Injuries of New York University's Langone Medical Center, offers this exercise to build lower-back strength to better support and hold arabesques. Try it two to three times a week as part of your warm-up before class, and you'll be on your way to a stronger arabesque balance.
a physio ball
a clear space where the wall meets the floor
1. Position a physio ball under your hips. Lie facedown on top of it with your chest slightly curved over the ball and hands by the ears. Your feet should be against a wall, with the toes on the floor, heels on the wall and legs slightly bent.
2. Use your lower-back extensors, which allow backward bending of the spine, and your gluteus muscles to slowly lift your chest up and away from the ball. The body should pass through a straight diagonal before the chest continues lifting into a slight arch without crunching in the lower back. The core should also be engaged.
3. Curve back down over the ball and do 10 repetitions, increasing up to 20 as you gain strength.
If you don't have access to a physio ball, you can also do the exercise lying on the floor. However, Heflin says the ball allows for an increased range of motion in the lower back and challenges dancers' stability. —Madeline Schrock
"Square your hips!" Susan Jaffe, dean of dance at University of North Carolina School of the Arts gives a fresh take on the classic correction.
Fresh Take: Jaffe says to think of a twisting energy in your rib cage to counteract your open hip, "like an internal 'S.' " For example, if your left leg is in arabesque, you "square off" by feeling an opposite, twisting energy pulling up through the left side of your ribs. "Otherwise you'll collapse the rib cage on the lifted hip," Jaffe explains. "You need to lift out of that."
The Real Issue: "Square off" can be misleading when it comes to arabesque or attitude. "If you're lifting your leg in arabesque, your hip bones cannot be square because your knee and the top of your arch will face the floor," says Jaffe. "They have to face the audience, and in order for that to happen, you have to lift your hip. What is square is the rib cage." —Katie Rolnick
Arantxa Ochoa. Photo by Alexander Iziliaev.
Growing up, Houston Ballet soloist Allison Miller often heard teachers compare the feeling you have during pirouettes to a corkscrew. But then her teacher, Diane Partington in Ellenton, Florida, offered up a surprising new analogy. Partington suggested Miller imagine a bank tube—a simple cylinder that uses suction to transport a round canister from a customer's car to the teller. Picturing this straight, narrow tube drawing energy up and into itself struck a chord with Miller. "It worked instantly!" she says. "It clicked in my head and it gave my body the right feeling." Even now, if she needs to refocus her pirouettes, Miller thinks of that image. "If I'm having a bad day, it helps me find my center."
Miller is not alone in experiencing this kind of breakthrough moment. Common (and commonly phrased) corrections can grow stale for all dancers, regardless of age or skill level. The words become so familiar that they don't register in your brain or your body. But things change when you're given a new way to envision these adjustments. Your development as a dancer, says University of North Carolina School of the Arts dean of dance Susan Jaffe, "is in these 'aha' moments, layers and layers of real, deep, empirical understanding of things."
To help you build your own repertoire of creative imagery, Pointe spoke with several teachers, including Jaffe. Together, they provide a wellspring of new ways to think about humdrum corrections.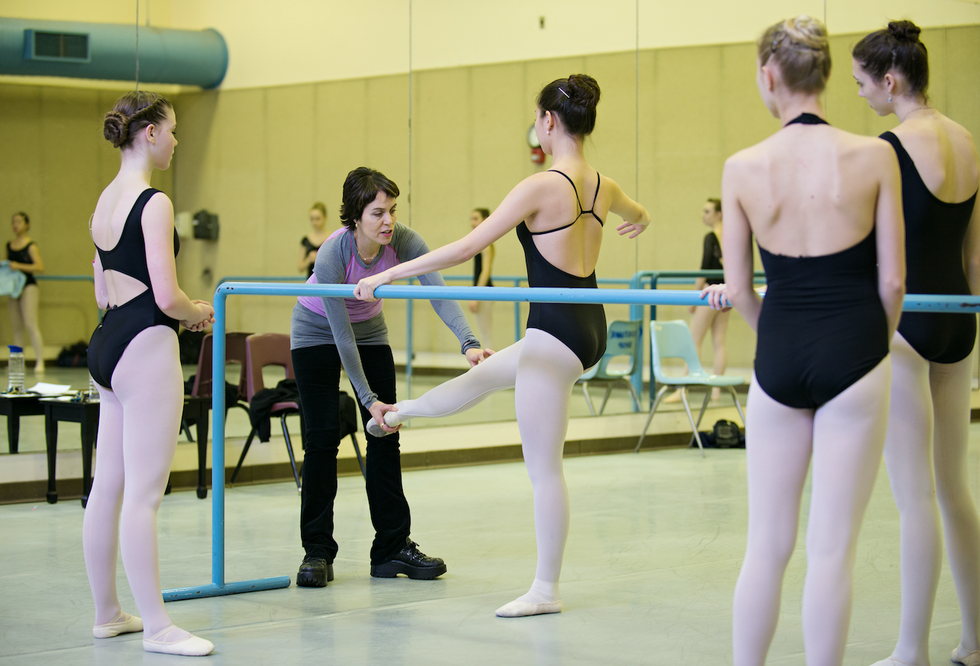 Susan Jaffe teaching at UNCSA. Photo by Peter Mueller.
Keep reading...
Show less


Get Pointe Magazine in your inbox