At just 16 years old, the Bolshoi Ballet's Maria Alexandrova already had the makings of a great artist. In this variation from Coppélia, she portrays the carefree Swanilda with blithe, youthful ease.
When she bounds on stage in her perky pink tutu, you immediately notice her legs–they just go on forever. In the first sequence of steps she keeps her jetés and développés low, but then the phrase repeats and she lets her gorgeous extensions fly. She sails through Italian fouettés and whirls around in piqués en manège that get faster and faster. While she nails all the virtuosic movement, Alexandrova also pays beautiful attention to detail throughout the variation. Even the simplest steps become something exciting, like her precise pas de bourrées beginning at 1:03 that sing with musicality.
Swanilda has been one of Alexandrova's signature roles throughout her career. For a fun side by side, watch her perform the same variation almost 20 years later in this video. Although Alexandrova formally retired from the Bolshoi in February, she still performs frequently in Moscow and internationally as a guest artist. Happy #ThrowbackThursday!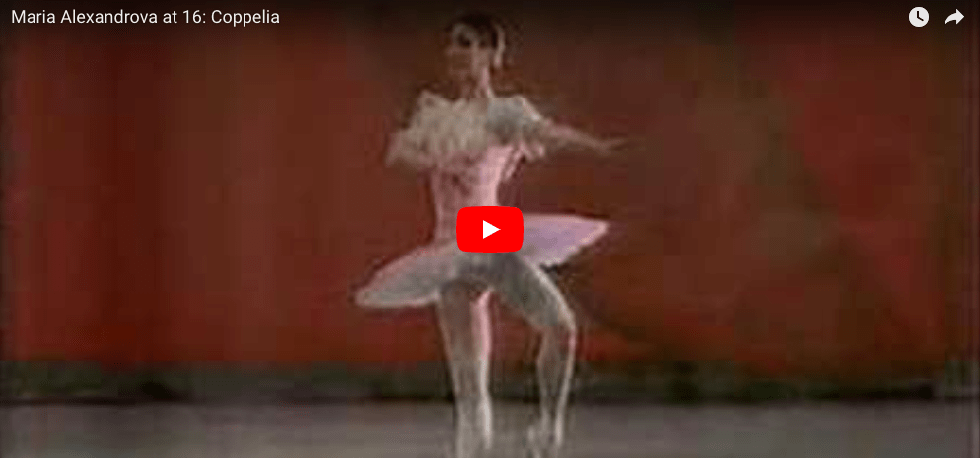 Vladislav Lantritov and Ekaterina Krysanova in "Taming of the Shrew." Photo by Alice Blangero, Courtesy Bolshoi Ballet.
If you haven't checked your local movie listings yet for this weekend, hop to it. The Bolshoi Ballet in Cinema series and Fathom Events is broadcasting a performance of Jean-Christophe Maillot's The Taming of the Shrew to theaters nationwide on Sunday, November 19. (To see if it's playing near you and to purchase tickets, click here.) While the rest of the Bolshoi's cinema season features 19th- and 20th-century classics, The Taming of the Shrew gives audiences a chance to see the revered Moscow company in a thoroughly modern, 21st-century take on Shakespeare's famous play.
Aside from a limited run in New York City this July, American audiences have had little exposure to Maillot's 2014 production. To learn more, check out these two exclusive, behind-the-scenes webisodes below. Principal dancer Ekaterina Krysanova, who stars as the hotheaded Katharina, gives an intimate play-by-play of two major scenes in Act I. The first is her fiery rejection of three potential suitors (who all would prefer to marry Katharina's younger sister Bianca).
The second scene breaks down Katharina's first encounter with Petruchio (danced by the larger-than-life Vladislav Lantritov), the only man who seems to be able to challenge her. Here, too, we see the shrew's heart start to soften. (Don't miss her time-stopping attitude turn at 4:27.)

The Bolshoi Ballet in Cinema Series continues through June; for more details on upcoming screenings, click here.

Members of San Francisco Ballet in company class as part of World Ballet Day LIVE 2017. Photo by Erik Tomasson via San Francisco Ballet on Instagram.
Last Thursday was World Ballet Day LIVE, the official 22-hour live-stream relay showcasing companies across the globe. If you were busy (we know that you don't always have the luxury to spend an entire day watching ballet), don't fret. Many of the companies involved recorded their classes, rehearsals and interviews from the day of, and we rounded them up for you to watch at your leisure. Careful, though; there are more than twenty hours of footage included here... make sure you take a break to, you know, sleep.
First up is San Francisco Ballet with a full five hours, including rehearsal for Balanchine's timeless classic, Serenade.
The Royal Ballet's WBD stream is split into three parts. Here's the first chunk, featuring company rehearsals of a few Sir Kenneth MacMillan ballets as well as Christopher Wheeldon's Alice in Wonderland (a measly two hours and 45 minutes). You can find part 2 here and the full company class here. The video also features a quick aerial tour of London from the balcony of the Royal Opera House.
Keep reading...
Show less
Featured Article
Jan. 29, 2016 04:09PM EST
Olga Smirnova's first three seasons at the Bolshoi Ballet were a whirlwind of debuts and creations, but it all came to a halt in 2014, when a foot injury took the Vaganova-trained prodigy out of action for nearly a year. During her break, Smirnova adopted a new approach to taking care of her body throughout the day, using Pilates and various floor exercises. When she returned to the stage last summer, in Yuri Possokhov's new full-length ballet A Hero of Our Time, it was with a newfound maturity. "Maybe I needed this break to reflect after such an intense period," she says. "I think I grew up more than in the previous three years."
A Hero of Our Time puts a modern twist on a popular 19th-century Russian novel by Mikhail Lermontov and its hero, Pechorin, who encounters a series of women. Pointe went backstage with Smirnova as she worked with Possokhov and theater director Kirill Serebrennikov on the role of Bela. With the help of her coach, Marina Kondratieva, she used her expressive lines and port de bras to lend depth to the character, a proud Circassian princess.
And the creations keep coming: This winter, she spent a month in Monaco, where Jean-Christophe Maillot devised a new part for her in Les Ballets de Monte-Carlo's Nutcracker Company. "I feel like Maillot and Possokhov are 'my' choreographers," she explains. "I feel so comfortable in their work that I would never miss an opportunity to go further with them."
[SlideDeck2 id=5705]


Get Pointe Magazine in your inbox