popular
Nov. 08, 2017 02:50PM EST
Mayara Pineiro rehearsing with Helen Pickett for the world premiere of Tilt.Photo by Arian Molina Soca, Courtesy Pennsylvania Ballet.
As I watched Helen Pickett rehearse her new work Tilt for Pennsylvania Ballet last week, there was no doubt in my mind that she's a natural leader. Hovering closely around young corps dancer Jack Thomas during a run through, she pushed him to carve more space through the air with his upper body. "Use those hands, do not stop," she said emphatically during a particularly tiring section, at once firm and encouraging. "It should feel like you're eating a meal rather than grazing." Yet earlier, Pickett had admitted to me that when she was first approached by a major company to create a ballet 12 years ago, she questioned her ability to lead. Despite growing up in a feminist household, being surrounded by strong female role models throughout her dancing and acting career, and learning the craft of choreography from William Forsythe at Ballet Frankfurt, she says, "I still gave more credence to male voices than female voices."
Her realization is one component of a bigger issue in the dance world: that for all of the droves of women and girls who flock to ballet classes and pursue performance careers, the majority of leadership positions—be it directing, curating or choreographing—are held by men. To help illuminate the topic in advance of Pickett's world premiere November 9–12 , last week Pennsylvania Ballet partnered with Philadelphia's FringeArts to present "Challenges, Chances, Changes: Gender Equity in Concert Dance," a round table discussion among six women leaders in the industry. Joining Pickett was Dance Theatre of Harlem artistic director Virginia Johnson; BalletX executive and artistic director Christine Cox; Big Dance Theater choreographer and co-director Annie-B Parson; Philadelphia Dance Projects executive director Terry Fox; and choreographer Francesca Harper, artistic director of the Francesca Harper Project.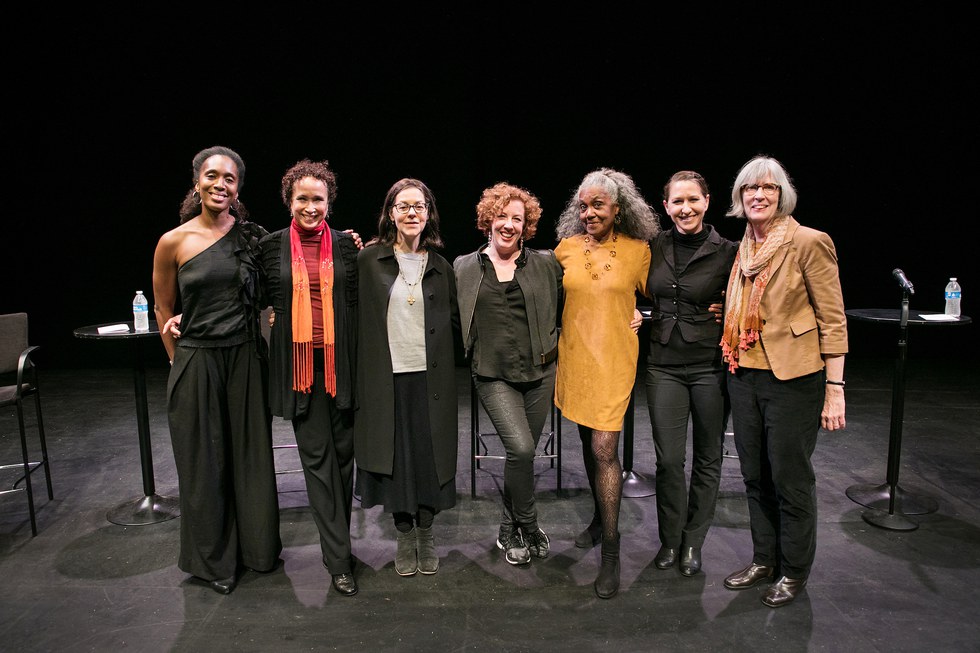 From left: Francesca Harper, Virginia Johnson, Annie-B Parson, Helen Pickett, Brenda Dixon-Gottschild, Christine Cox and Terry Fox. Photo by Chris Kendig, Courtesy Pennsylvania Ballet.
Keep reading...
Show less
Alexei Ratmansky rehearses The Fairy's Kiss with Miami City Ballet dancers. (Photo by Daniel Azoulay, courtesy Miami City Ballet)
Choreographer Alexei Ratmansky will have world premieres on two coasts this winter. On February 10, Miami City Ballet will debut his new one-act version of The Fairy's Kiss to Stravinsky's celebrated score, a homage to Tchaikovsky. The following month, on March 15, at California's Segerstrom Center for the Arts, American Ballet Theatre will premiere his Whipped Cream, a new full-length story ballet to a Richard Strauss libretto and score.
Ratmansky has often looked to ballet history for inspiration. Fairy's Kiss, known as Le Baiser de la Fée when it was originally choreographed by Bronislava Nijinska in 1928, has been staged by Sir Frederick Ashton and Sir Kenneth MacMillan, and several times by Balanchine. Its story comes from The Ice-Maiden, a Hans Christian Andersen fairy tale, and Ratmansky has kept the narrative. A young man, about to be married, is bewitched by a fairy's kiss and stolen away from the mortal world. "I asked Alexei for a narrative work, possibly one with a Russian flavor to it," says MCB artistic director Lourdes Lopez. "Our dancers have a very strong dramatic quality and short narrative works are not a large part of our repertoire." Ratmansky had created an earlier version during his tenure at the Bolshoi Ballet; this is a new production with new choreography.
Keep reading...
Show less
News
Feb. 07, 2017 10:37AM EST
Jo Strømgren may not be a household name for stateside balletomanes (yet), but his work has been performed by dozens of dance, theater and opera companies throughout Europe. He's currently the associate choreographer at Norwegian National Ballet and directs his own dance-theater troupe, Jo Strømgren Kompani. Pointe spoke with this major force in European dance about his premiere, The Letter, at Philadelphia's BalletX, which runs through February 19.
Jo Strømgren in rehearsal with Norwegian National Ballet (photo by Eirik Berg)
How would you characterize your work? 
I like the term "cinematic" and the idea of taking people on a journey. You have to get the pitch and the main characters within the first few minutes. The audience has to understand, and once they get comfortable in their seats you can take them somewhere really strange.
How do you bring your ideas to life?
Early on in my career, I thought the art business meant saying something about life and death. But as I got older, I realized that I needed to simplify. I'll take a small detail or an insignificant symbol that's part of something larger. Then you can layer a story around it.
What are you like in the studio?
I never write anything down, and I don't really take notes or use video. It's not necessarily trendy right now to work without collaborators, but it allows you to twist and adjust as much as you'd like.
How do you work with new dancers?
I don't use my own technique or any kind of codified body language. I'm not a perfectionist in that way. It means I end up lacking a little bit of a signature, but it's nice to use as many tools as possible.
What's interesting about classically trained dancers? 
Classical technique looks fantastic from afar. When I rehearse classical dancers, I imagine how the choreography will look from the last row of the theater because they know how to project.
The Workout
Oct. 13, 2016 05:27PM EST
Yorita's cross-training allows her to be grounded in one piece and light on her feet in the next. (Photo by Alexander Iziliaev, courtesy BalletX)
Cross-training keeps Andrea Yorita prepared for the demanding variety in BalletX's repertoire.
Choreographic chameleon: At BalletX, Andrea Yorita performs a wide range of contemporary ballet by dancemakers like Matthew Neenan, Annabelle Lopez Ochoa and Trey McIntyre. "It's very hard on our feet," she says. "Even within a show, we'll go from socks to bare feet to flat shoes to pointe shoes."
A solid foundation: To keep their pointework crisp, the dancers typically take class on pointe five days a week. Yorita also does Thera-Band work for her ankles each morning, plus doming exercises. "I try to keep all of those little muscles on the bottom of my feet strong, so I can be grounded when I'm dancing in socks."
Keep reading...
Show less
Artists of the Bolshoi Ballet (Courtesy HBO)
New Documentary on HBO Takes On the Bolshoi Ballet 
From its eerie opening scene to its dramatic closing interview, Bolshoi Babylon—a documentary filmed in the aftermath of the 2013 acid attack on Bolshoi Ballet director Sergei Filin—creates a distinct sense of tension regarding the iconic company's future.
The dance footage and backstage access featured in the documentary are unprecedented—especially considering the public scrutiny the Bolshoi was experiencing at the time. The filmmakers catch the dancers in the wings, onstage and in the studio, giving viewers a perspective that's rarely, if ever, seen.
Curious why Filin's contract, which expires in March 2016, wasn't renewed? Bolshoi Babylon pulls back the curtain on the subtle, and not so subtle, power shifts within a company where it seems that everyone is on edge and anyone is expendable. The documentary airs December 21 on HBO. —Nicole Loeffler-Gladstone
Trey McIntyre (photo courtesy BalletX)
Choreographic Fellowship at BalletX
BalletX's new fellowship initiative has chosen its first recipient: New York–based choreographer Yin Yue.
Yue was born and raised in Shanghai, China, and has an MFA from New York University's Tisch School of the Arts. The joint fellowship panel—including BalletX artistic staff, Wendy Whelan, choreographer Trey McIntyre and others—chose her from 50 international applicants. She's choreographed on companies like Northwest Dance Project and shown work at such venues as Jacob's Pillow. Yue will have January and February to create a new piece on BalletX and be mentored by McIntyre, who will create a separate piece during the same period.
"I think that the two of us creating at the same time will help my own process," says McIntyre. "When you're mentoring someone and articulating what you see, you're giving voice to new parts of yourself, too."
With his extensive experience coaching, teaching and guiding students, McIntyre is an advocate for fellowships like this one. "Choreographers don't spend a lot of time receiving feedback—what we do is very solitary. I longed for this early in my own career," he says.
BalletX will provide Yue's choreographer's fee, costume design budget and travel expenses. McIntyre is open to his mentorship extending into the logistical side of creating a new ballet, but he doesn't intend to set parameters on the relationship. "I don't want to impose my worldview. What I have to offer is about opening up what is authentic within our own selves." —NLG
Italian Renaissance
In rehearsal for Duse with Hamburg Ballet principal Alexandr Trusch (photo by Holger Badekow, courtesy Hamburg Ballet)
Alessandra Ferri, the iconic dance actress, has emerged, at age 52, from a six-year retirement into an astonishing post-career. After successes with projects like Martha Clarke's Chéri and the critically praised Woolf Works at The Royal Ballet, Ferri has been tapped by Hamburg Ballet's John Neumeier as the muse for his Duse—Myth and Mysticism of the Italian Actress Eleonora Duse. As an actress at the turn of the 20th century, Duse's performances were both highly popular and critically acclaimed, and she was lauded by writers like Anton Chekhov and George Bernard Shaw. The ballet, set to music by Benjamin Britten and Arvo Pärt, will premiere on December 6.
Why did you return to performing?
I realized a part of me was switched off. I love creating and dancing and performing with other artists. I feel very much alive when I do that. The first thing I did—The Piano Upstairs—was a fascinating collaboration with John Weidman. Then Martha Clarke came along (with Chéri). It all happened without me looking for it. Now I'm more conscious of my desire for doing it. At the moment I feel free and much more appreciative of the talent I was given.
What does John Neumeier wish to explore with you in Duse?
I think John has always been very passionate about theater and acting. Eleonora Duse was the first modern actor. She completely changed the art form. She was a very complex, strong and vulnerable woman and very devoted to her art. It's funny—when I'm talking about her, I'm saying the same things about myself. She felt alive when she was onstage.
What is it like to portray a real-life character?
It's so hard in dance to just be biographical because dance is the language of emotion. Duse starts out at the end of her life. John is interested in exploring the different woman she was with all these men in her life, like the poet Gabriele D'Annunzio. She really wanted to help and console people. She suffered a lot in her life and was very sensitive to suffering.
Did you make any special preparations for the role?
I visited two museums—one in Venice and one in Asola—which house some of Duse's original letters and clothes. I also read the book Il Fuoco by D'Annunzio, which describes her life.
—Joseph Carman
Kansas City Ballet's New Nut
This season, Kansas City Ballet will unveil its all-new Nutcracker, choreographed by artistic director Devon Carney.
Carney has assembled an impressive team, including set designer Alain Vaës, costume designer Holly Hynes (who was the director of costumes at New York City Ballet for 21 years) and lighting designer Trad A Burns. The show will run December 5–24 at the Kauffman Center. —NLG
Noelani Pantastico Returns to PNB
Former Pacific Northwest Ballet principal dancer Noelani Pantastico has returned to the company after a seven-year stint with Les Ballets de Monte-Carlo. She made her first appearance in November, in PNB's production of George Balanchine's The Nutcracker. —NLG
McRae in Sir Frederick Ashton's "Rhapsody." Photo by Tristram Kenton, Courtesy ROH.
Steven McRae

The Royal Ballet's Steven McRae danced with a power and speed most people would need figure skates to achieve at Covent Garden in February, but the amplitude of his chaînés, barrel turns and rivoltades was just the icing on the cake during his finely calibrated performance in Sir Frederick Ashton's Rhapsody. Dancing the lead role originally made for Mikhail Baryshnikov, the 28-year-old Aussie also excelled in the small gestures and precise positional details for which Ashton's work is known. McRae says the music, Rachmaninoff's Rhapsody on a Theme of Paganini, is the key to balancing athleticism and artistry in the piece. "It's easy to get caught up in the technical demands of the choreography," he says. "However, when you really listen to the music, something magical starts to happen." The same can be said for the moment when this dynamic and versatile principal takes the stage. —Michael Northrop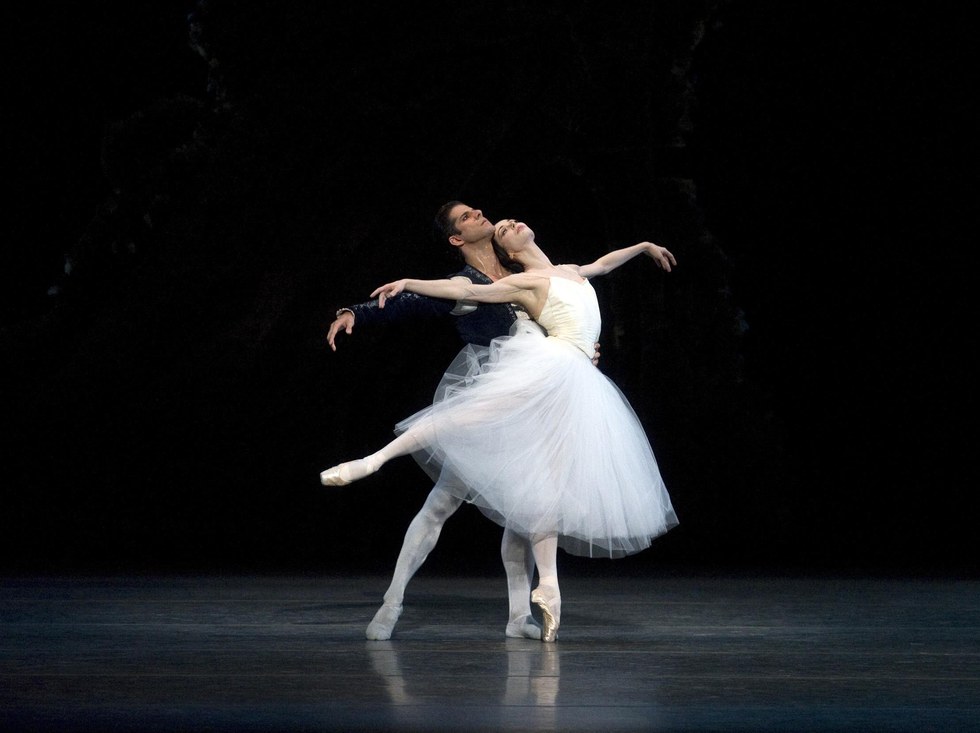 Gomes and Vishneva in "Giselle." Photo by Gene Schiavone, Courtesy ABT.
Diana Vishneva & Marcelo Gomes
One of the biggest thrills of Diana Vishneva and Marcelo Gomes' longtime partnership at American Ballet Theatre is its ability to transcend to greater heights each season. It was ever apparent in their performance of Giselle last June. While they've performed the roles together in years past, familiarity and experience have allowed them to bring deeper richness to their characters. Vishneva's Giselle was shy and vulnerable, coming out of her shell gradually in response to Albrecht's affections until she almost seemed to burst with joy. Meanwhile, Gomes—a cocksure but lovable Albrecht—grew more and more smitten with his conquest. Once his ruse was discovered, you sensed not only Giselle's disbelief but her painfully public humiliation, making her breakdown all the more understandable and heartbreaking. In Act II, Vishneva was otherworldly in her lightness, accentuated further through Gomes' reverential, seamless partnering. Together they drew the audience into their story and held them, spellbound. —Amy Brandt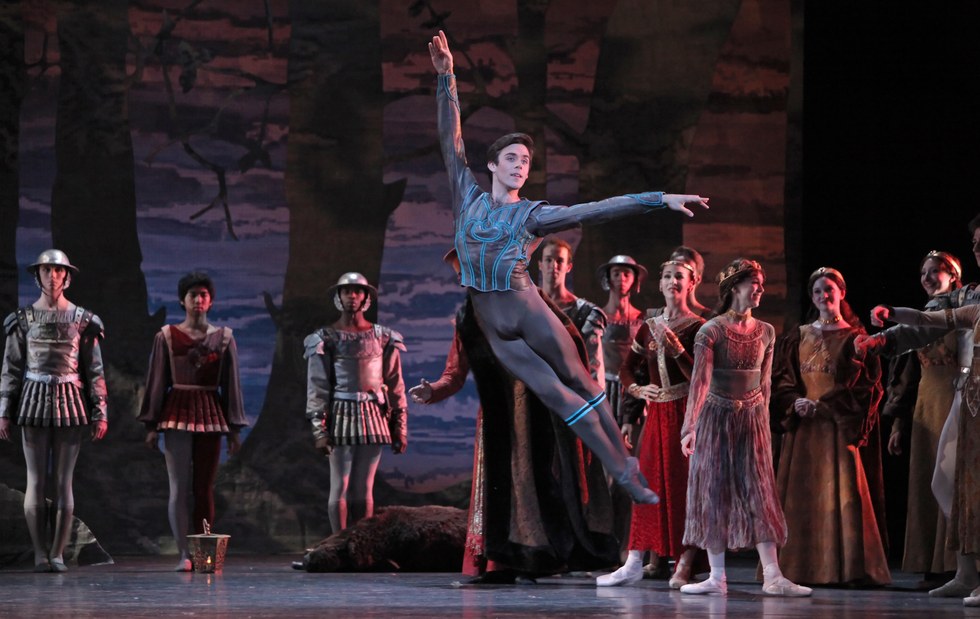 Walsh in "Swan Lake." Photo by Amitava Sarkar, Courtesy Houston Ballet.
Connor Walsh
When Houston Ballet's Connor Walsh first danced Siegfried in the premiere of Stanton Welch's fast-paced, dreamy version of Swan Lake in 2006, he was technically impressive, holding his own with the elegant Barbara Bears. But watching him reprise the role some eight years later, it became clear just how much he has grown. It's as if his edges have become sharper—not just technically but in all aspects of his artistry; he's developed a distinctly refined performance polish. There's ample heart behind his princely swagger now. Walsh's noble command of the stage, solid virtuosity and well-tempered bravado all add up to one convincing prince. His involvement in the ballet's original creation process, along with added years of experience, certainly helped deepen his interpretation. The HB principal is moving into his own, and his performance in Swan Lake provided the evidence. —Nancy Wozny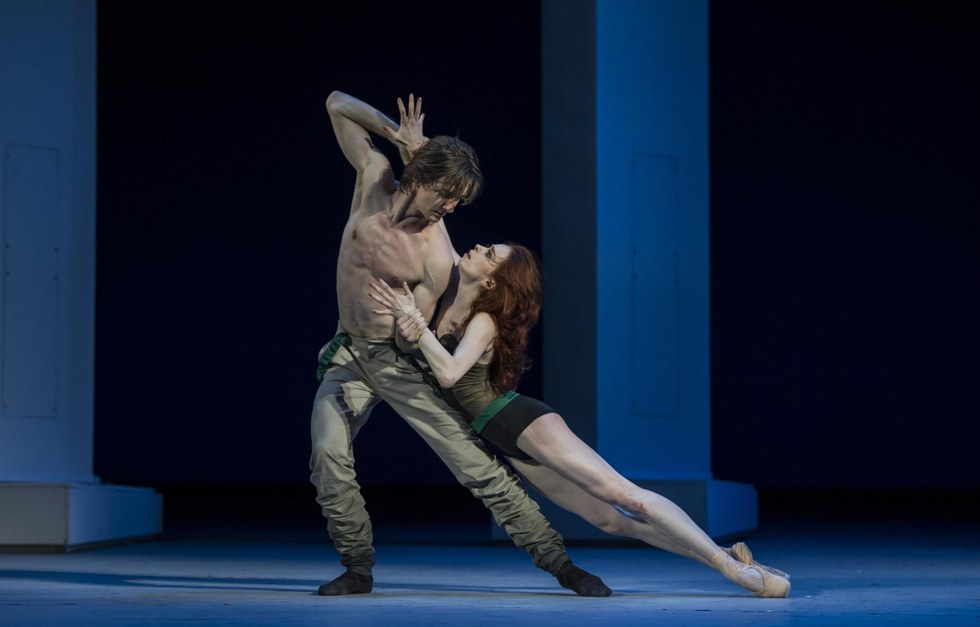 Lantratov and Krysanova in "Taming of the Shrew." Photo by Alice Blangero, Courtesy Bolshoi.
Bolshoi Ballet
It was a gamble on all sides: a new, full-length Taming of the Shrew by a foreign choreographer at the Bolshoi Ballet, just over a year after the acid attack on Sergei Filin. Les Ballets de Monte-Carlo's Jean-Christophe Maillot, who was creating his first ballet for an outside company in two decades, proved undaunted, and the result was a team effort that showed the Bolshoi's young generation in a new light. Each of the 10 soloist roles was choreographed with and for the first cast, from Vladislav Lantratov to Olga Smirnova, Vyacheslav Lopatin and Anna Tikhomirova, channeling their offstage personalities to show a new facet of their talent; their bold classical technique was in evidence throughout yet colored by the spontaneous, naturalistic approach Maillot favors. It was the Bolshoi as the world loves it, with a modern edge—and the Shrew herself, principal Ekaterina Krysanova, led the pack with a nuanced, career-defining performance, her power matched by a new abandon. —Laura Cappelle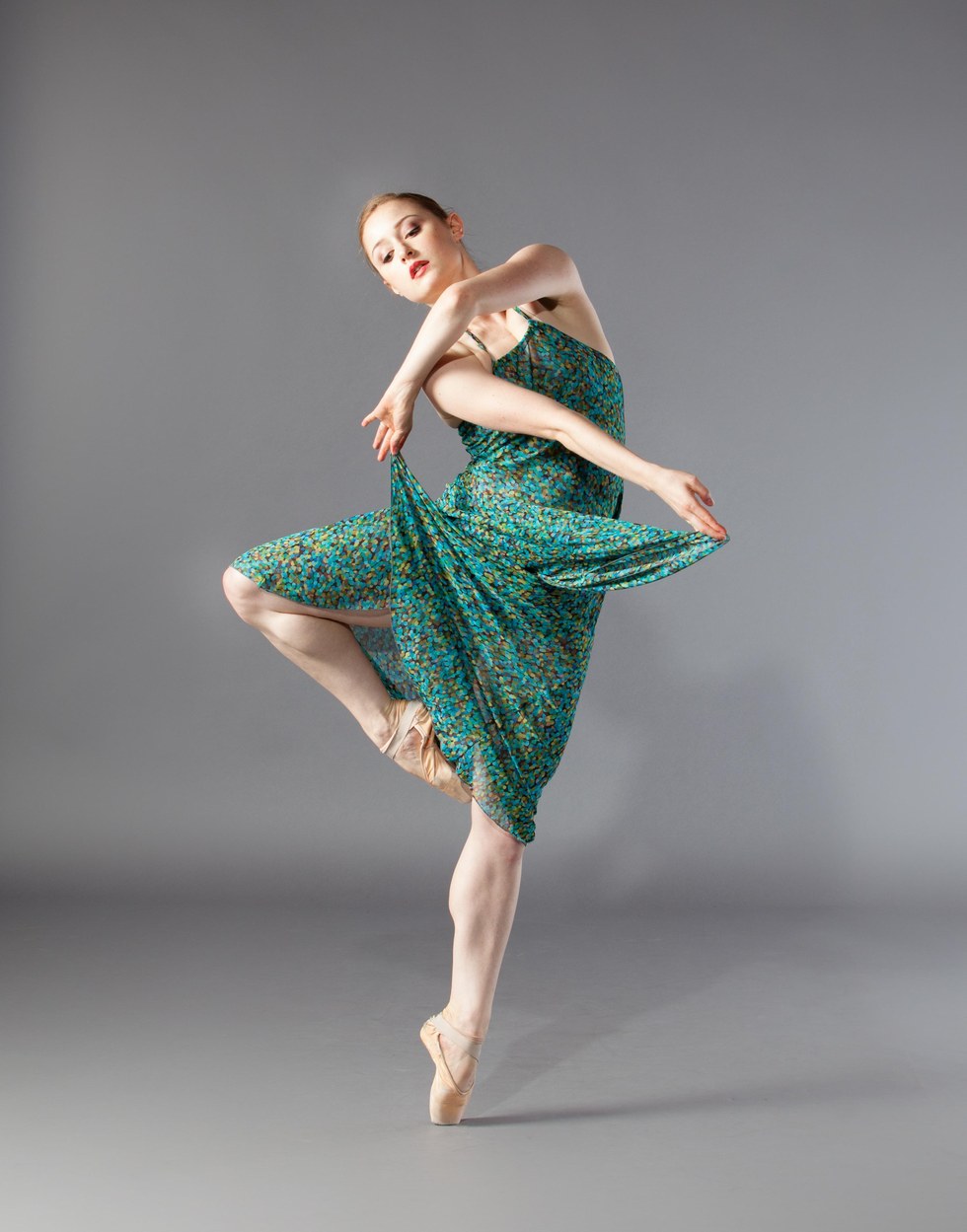 Photo by Alexander Izilaev, Courtesy BalletX.
Chloe Felesina
In the BalletX premiere Sunset, o639 Hours, Chloe Felesina danced front and center, with an abandon, fire and precision that made her riveting. The dreamlike adventure tale, choreographed for 10 dancers by BalletX co-founder Matthew Neenan, was based on the true story of Captain Edwin Musick's ill-fated Honolulu-to-Auckland flight in 1938. As the famous pilot's wife, and in her other roles in the ballet, Felesina's depth of feeling was matched by a robust agility. She shone in scenes portraying the couple's romance, the island life of New Zealand and her solitary bereavement.
Even though her medium height and fine features make her look delicate, she's a powerhouse: at the front of the pack in floor-rolling unisons and sparkling in Neenan's inventive partnering. A full-time company member since 2012, Felesina relishes deciphering each choreographer's intent and seeking more ways to communicate strongly with her audience. In Sunset, o639 Hours, her approach worked: You couldn't take your eyes off her. —Lisa Kraus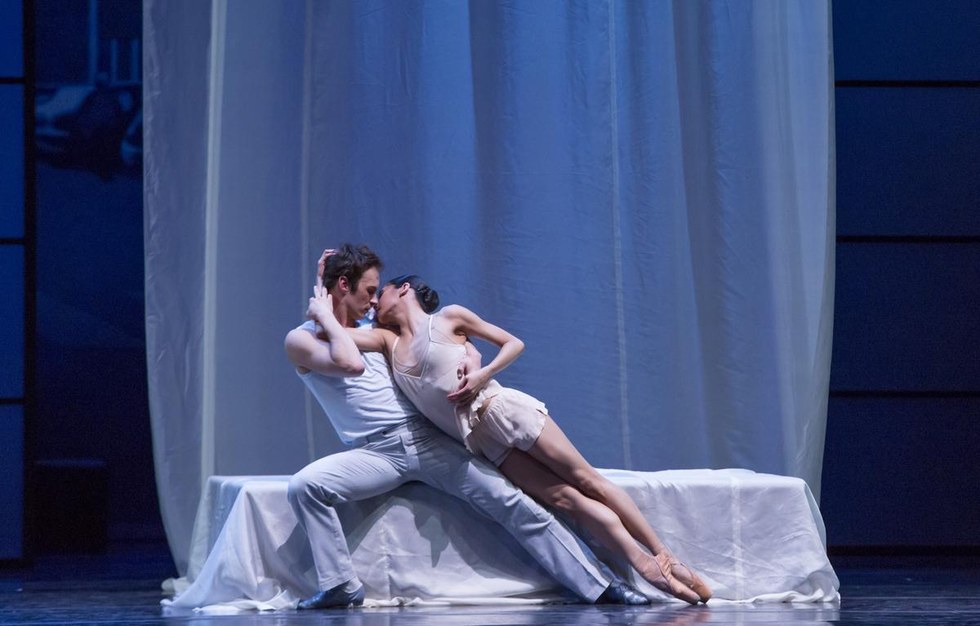 Rocas with Rory Hohenstein in "Romeo & Juliet." Photo by Cheryl Mann, Courtesy Joffrey.
Christine Rocas
A couple of years back, Joffrey Ballet dancer Christine Rocas confessed: "I'm always scared to do modern things…I try to be spontaneous, but I know I look funny at first."
Rocas, 28, definitely didn't look "funny" in her opening night performance of Polish choreographer Krzysztof Pastor's Romeo & Juliet in Chicago this past April. And Pastor's take on the story was supremely contemporary—not at all like the Kenneth MacMillan or John Cranko versions for which Rocas' lyrical, weightlessly lovely style would have been a perfect fit. In fact, as Juliet, Rocas seized hold of Pastor's starkly modern, sweepingly cinematic reinvention, which used 20th-century Italian history as a backdrop. Masterful in her embrace of the ballet's mix of difficult classical and contemporary technique, she revealed a powerful, highly individualistic, surprisingly dramatic talent.
Her performance had genuine star quality, with pristinely beautiful dancing and fiercely honest acting in evidence from the moment, early on, when she simply walked around the perimeter of the stage, quietly fixing her gaze on Romeo. The palpable quickening in Rocas' face and body was a far cry from simple pubescent awakening. This was the dawning of a young woman with a mind of her own. —Hedy Weiss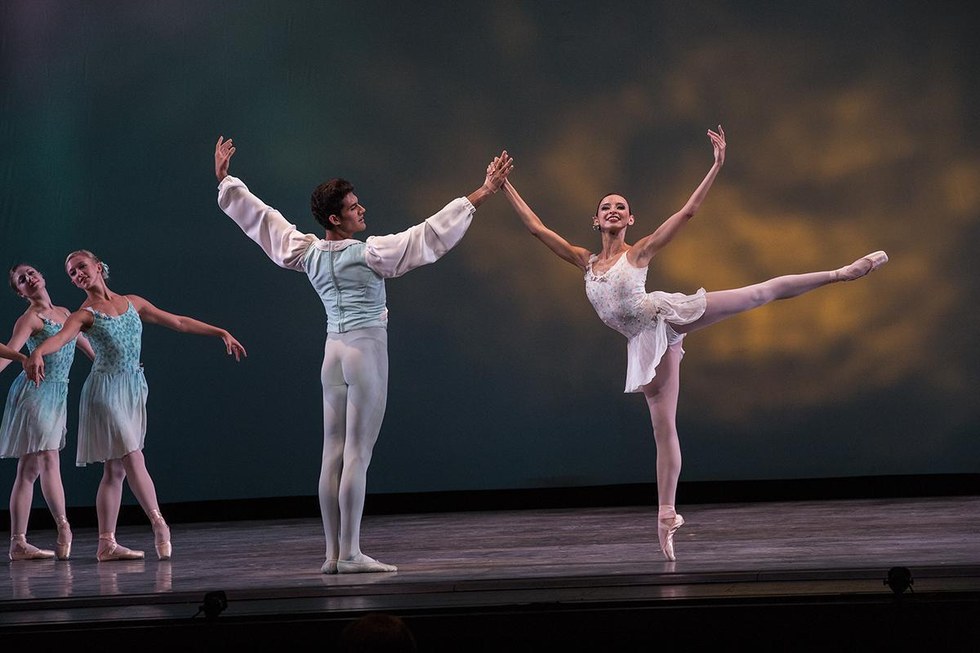 Arja with Renan Cerdeiro in "Ballo della Regina." Photo by Daniel Azoulay, Courtesy Miami City Ballet.
Nathalia Arja
As the recently promoted Miami City Ballet soloist Nathalia Arja can attest, some roles lift dancers to the heights of artistic privilege. While still a corps member last season, Arja—a 21-year-old MCB-school alumna with Rio de Janeiro roots—earned the opportunity to dance the lead in George Balanchine's exquisitely demanding Ballo della Regina. There she was, on opening night no less, fast and fastidious in virtuoso moves: restless changes in direction, riveting hops on pointe, clockwork articulations that teased time itself. "I learned to do what I didn't know I could," says Arja. No small amount of calibration, of course, came from being coached by Merrill Ashley, the New York City Ballet wonder who originated the role. Still, Arja brought strengths she's been honing since dancing the role of Sugar Plum at MCB as a teenager—the verve and knack for detail that also served Alexei Ratmansky when he fashioned a solo on her in Symphonic Dances in 2012. A culmination for many, Ballo figures for Arja as the promise of an ever more thrilling career. —Guillermo Perez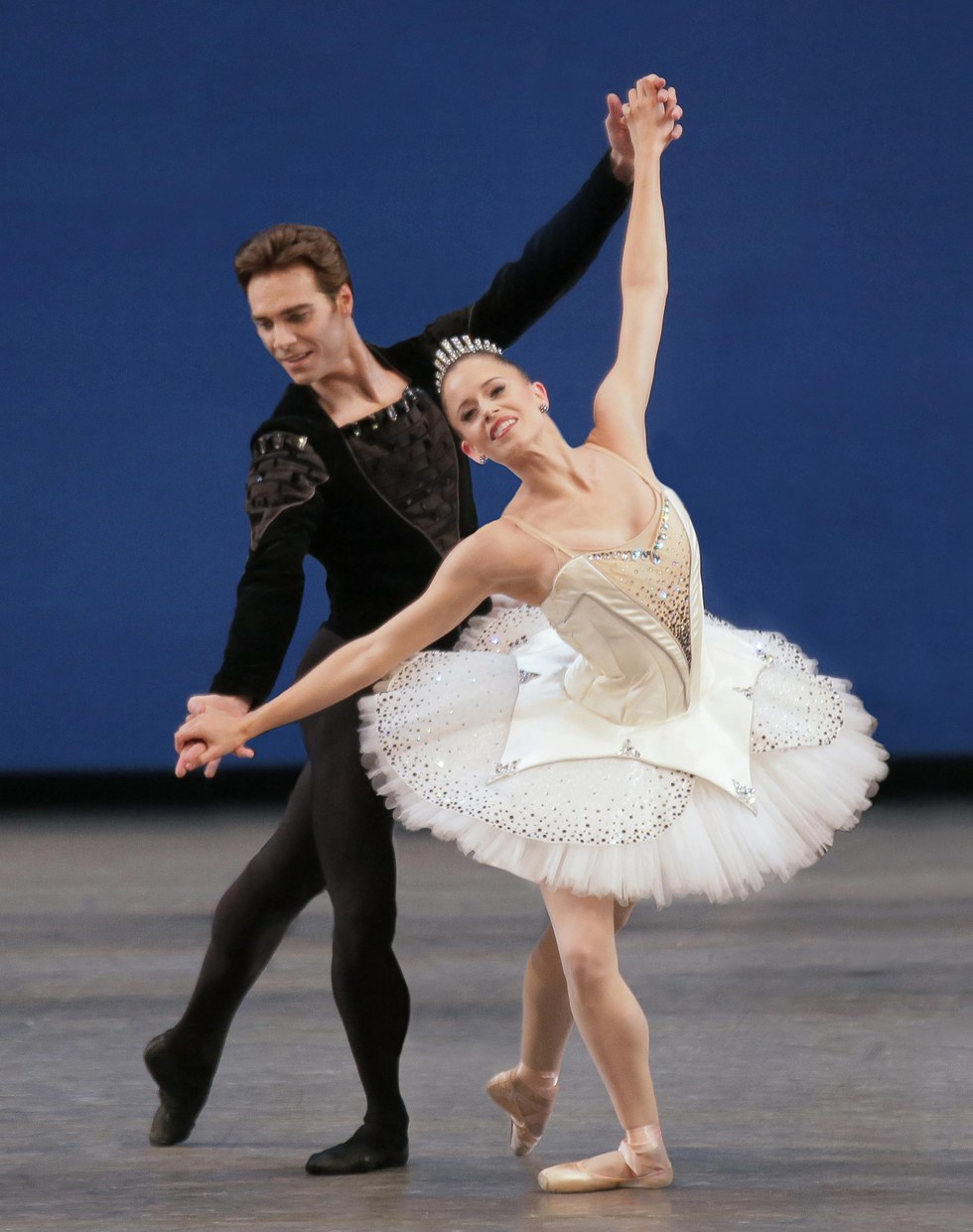 Isaacs with Gonzalo Garcia in "Symphony in C." Photo by Paul Kolnik, Courtesy NYCB.
Ashly Isaacs
In the third movement of Balanchine's Symphony in C, the leads repeatedly charge onto the stage in a series of grands jetés—irrepressibly buoyant, as if they're more at home in the air than on the ground. In a way, that's a fitting metaphor for New York City Ballet corps member Ashly Isaacs' 2014 season, which saw her star on the rise, achieving greater heights with each successive performance. Her debut as the ballerina in that movement of Symphony showed off not only her preternatural ballon, but also her easy command of the stage. In the wrong dancer's hands (and feet) the always-on-the-go choreography can feel bombastic, but Isaacs colored it sensitively, adding subtle shading to its softer moments. For some years this role has been danced brilliantly by Ashley Bouder; it was hard not to notice the similarities between the two. —Margaret Fuhrer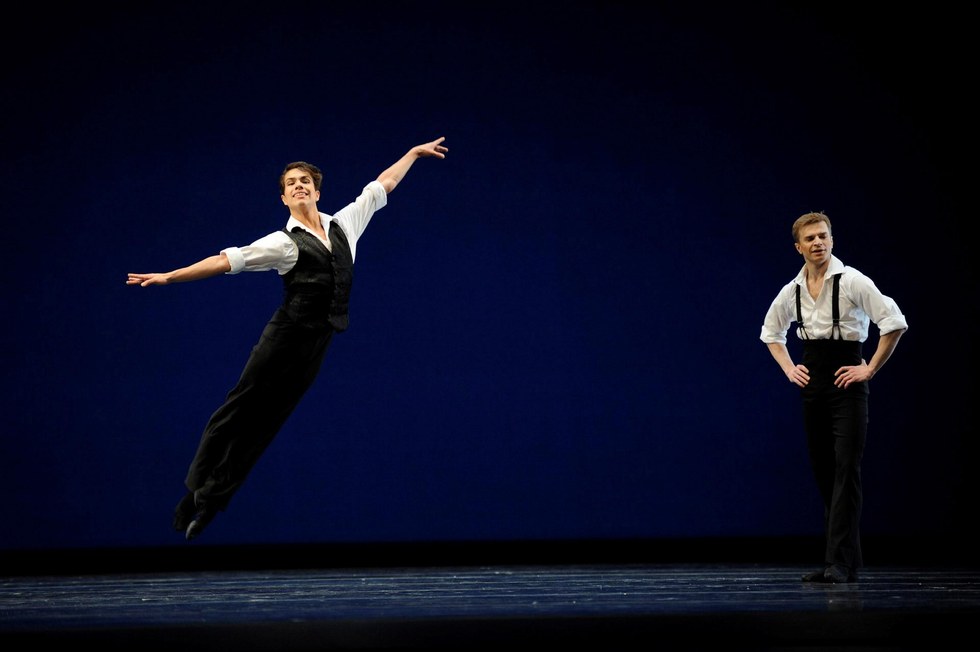 Hernandez with Gennadi Nedvigin in "Les Lutins." Photo by Erik Tomasson, Courtesy SFB.
Esteban Hernandez
Season galas showcase principal dancers at their best, but San Francisco Ballet's 2014 gala also introduced a rising star: Esteban Hernandez. Announced pre-curtain as a replacement for Joan Boada in Johan Kobborg's Les Lutins, the first-year corps member faced high expectations from a demanding audience, who rustled their programs looking for clues about this unfamiliar dancer. But in Lutins, an eight-minute battle of the sexes that requires insouciant charm, clear acting and blistering petit allégro—and falls flat if any one of those is missing—the Mexican-born Hernandez proved his mettle as a Royal Ballet–trained technician and a natural performer, with confidence well beyond his 19 years. Not only did he hold his own opposite Gennadi Nedvigin and soloist Dores André, in those thrilling eight minutes he won 3,500 hearts and became a name to remember. —Claudia Bauer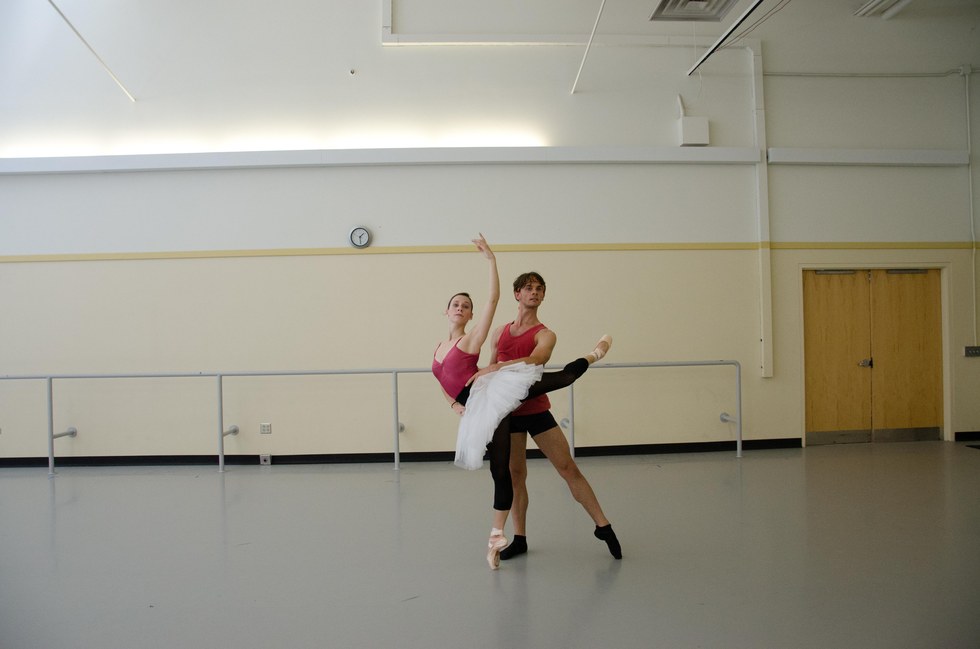 Thurlow and Sbrizzi rehearsing "Don Quixote." Photo by Aimee DiAndrea, Courtesy PBT.
Gabrielle Thurlow & Luca Sbrizzi
When lead casting was announced for Pittsburgh Ballet Theatre's Don Quixote last season, there was a surprising pair included in the mix. While Gabrielle Thurlow and Luca Sbrizzi have long been regarded as cornerstones among PBT's ranks, their star power was relatively untested: Thurlow was a longtime corps member and Sbrizzi, a soloist, had been away from the stage nearly nine months following a career-threatening back injury. But they more than delivered. Thurlow entered the first act as an energetic Kitri, all spry jumps and energetic pas de chevals, while Sbrizzi played an earnest Basilio, his admiration for Kitri present in every carefully finished movement. Later, during their brightly executed grand pas de deux, Thurlow brought playful sharpness, breezy turns and balances that said, "I could stay here all day." Sbrizzi's refined technique and bounding jumps lent his Basilio the elegance of a man in love. Following the performance, Thurlow was promoted to soloist and Sbrizzi cemented his place as a leading man after an uncertain season away from the stage. —Kathleen McGuire
Nov. 29, 2001 07:00PM EST
Last year, BalletX's Chloe Felesina shone brightly in Sunset, o639 Hours, prompting Pointe to name her portrayal one of the Standout Performances of 2014. Now, she's wrapping up another spectacular season with BalletX's Summer Series, a triple bill of works by Adam Hougland including a world premiere. For Pointe's biweekly newsletter, we caught up with Felesina before the production hits the stage 

July 8-12

.
What are you looking forward to on this program?
Mashup was made a few summers ago, and I was part of the original cast. Those rehearsals with Adam are some of my fondest memories. We made a really funny solo to "Like a Virgin" by Madonna that's covered by a band that makes it sound like a 50s song. But a week and a half before the show I had a freak injury and couldn't dance. I'm looking forward to finally doing this part.

This Summer Series features a variety of live and recorded music. Is it challenging to dance to such a range?
Oh, no. That's more helpful. I think it would be harder for me to dance to similar music and have to change myself. I'm affected by music easily--I think that's how most dancers feel.
What are you focusing on during these final rehearsals?
I want to work on the physicality, so my body feels super comfortable with everything I ask of it. But I also want to have a really big well to pull from. 

I want to find all of the secrets and mysteries in the choreography and the music and in my fellow dancers. Then, when I get onstage, I'll have all that available. It leads to a much more enriching experience than just knowing your choreography.
For even more interviews, tips, audition info and giveaways, sign up for our FREE e-newsletter.
Above: Felesina in rehearsal with Daniel Mayo. Photo by Bill Hebert, Courtesy BalletX.


Get Pointe Magazine in your inbox