Videos
Dec. 20, 2017 04:12PM EST
Lauren Grace Onderko. Photo Courtesy Justice.
Can't get enough Nutcracker? Don't fear. Tween clothing brand Justice has just released a web series called "Finding Clara," which follows four young dancers cast as Clara in BalletMet's production of The Nutcracker. The first three episodes are available on YouTube, and the final installment will be released on Friday, December 22. Each video is about 20 minutes long.
Justice is headquartered in Columbus, Ohio, the home of BalletMet, leading to an easy collaboration. The company gave Justice exclusive and uninhibited access to everything behind the scenes, from auditions to rehearsals to performance. Part of Justice's mission is to empower young girls and spread positive messages, and they have a huge video collection. This isn't their first foray into ballet—earlier this fall they created a series of ballet video tutorials. A representative from Justice told us that the goal of the new series is to give "a real-life snapshot of the heart and soul these girls put into their Nutcracker performance—the rehearsals, overcoming challenges, celebrating wins and the bonds of friendships made."
The four Claras—Alaina Kelly, Molly Rainford-Dreibelbis, Lauren Grace Onderko and Isabelle Lapierre—range in age from 10-13, and their positive, excited energy is clear throughout the series. The issues that they deal with such as balancing schoolwork and rehearsal, managing jealousy and competition with their peers, and maintaining a healthy lifestyle despite busy schedules will feel familiar to dancers of all ages. So over your holiday break, cozy up with some hot chocolate and dive into the world of "Finding Clara."
Check out the trailer below, followed by the first three episodes:
Keep reading...
Show less
Benz with David Ward in Edwaard Liang's "Romeo and Juliet." Photo by Jennifer Zmuda, Courtesy BalletMet.
Romeo wasn't the only one falling in love during Edwaard Liang's production of Romeo and Juliet at BalletMet last April; those in the audience witnessing retiring company star Adrienne Benz's final performance as Juliet were equally captivated.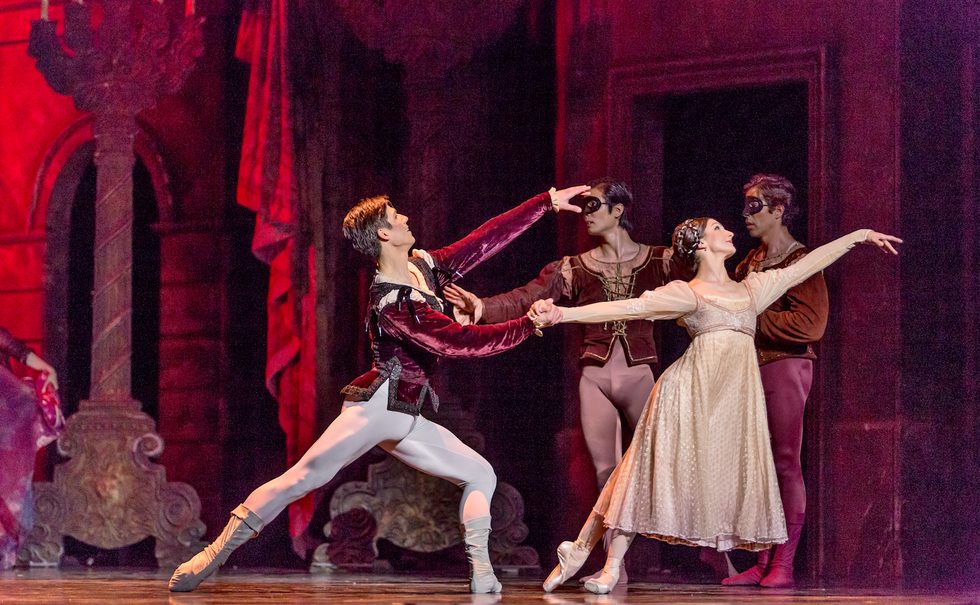 Benz and Ward. Photo by Jennifer Zmuda, Courtesy BalletMet.
The diminutive powerhouse capped her 14-year BalletMet career with a passionate portrayal of the young heroine, one that coursed with the innocence and exuberance of youth. Her combination of adroit acting and assured technique was helped along by her onstage chemistry with her partner David Ward. Together, they were utterly believable as Shakespeare's fabled star-crossed lovers.
Keep reading...
Show less
Between book deals and Under Armour endorsements, her own Barbie doll and a spot at the judges table on NBC's "World of Dance," Misty Copeland has been one of the few ballerinas to break into mainstream pop culture. Now she's conquering the world of cosmetics. Yesterday, Esteé Lauder announced that Copeland is the new spokesmodel for its fragrance, Modern Muse. The name seems fitting, given how her journey to becoming American Ballet Theatre's first black principal woman has inspired so many. She'll front the fragrance's campaign across digital, print, in-store and television advertisements.
The dancer-as-brand-ambassador theme is catching on. Back in ballet's glory days, Suzanne Farrell was the face of L'Air du Temps perfume, while Mikhail Baryshnikov attached his name to not one, but two colognes. After a prolonged dry spell, we're happy to see dancers receiving mainstream visibility again as more companies book them to represent their brands. Here are just a few recent examples:
Keep reading...
Show less
Featured Article
Feb. 24, 2017 12:55PM EST
I felt shattered. Cut from the audition at barre. I was 24 years old and had been dancing professionally for eight years already. I'd been very fortunate in my career so far, and although I was no stranger to rejections, this was a first. I thought: I must not be a good dancer anymore. I'm a has-been. Maybe it's time to rethink my career path.
As I waited for my friend, who came to the audition with me and was asked to stay, I realized which sort of dancers were let go early and which ones were kept. Everyone around me packing up their things was a seasoned dancer. A couple I knew from other companies, all beautiful and capable. The ones that were kept were young and aspiring; they had lots of potential, but no professional experience.
It wasn't that I was a bad dancer. I just wasn't what they were looking for.
Audition season is a time of year, for dancers aspiring and seasoned alike, that is full of possibilities: realized dreams or crushed ones, exciting new beginnings and bittersweet ends. A time of year that can be exhausting emotionally and financially. What can we do to be successful in getting our dream job, the one that fulfills our passion? Well, I don't have all the answers, but, needless to say, I've auditioned a lot and picked up a few pointers along the way.
Grace-Anne Powers (photo by Jennifer Zmuda, courtesy BalletMet)
Don't Take Rejection Personally
That unfortunate day I was cut from the audition at barre was because I didn't fit. They were most likely looking for dancers who could fill a second-company position, who could grow into the artistic vision of the company. It's easy to take rejection personally, but we have to remember that there are so many factors that are beyond our control. All ballet companies have an artistic side and a business side, something we dancers tend to forget since we are so deeply immersed in the former. Artistic directors have the hard job of making their vision come to life while also making a profit. Each audition season, they must choose dancers who not only fit their vision, but who also can fill the positions they have available.
Although it is very discouraging to be told "no," it could just mean it is not the right time. One thing I've learned is that a rejection from a particular company one year does not necessarily mean you'll get one the next. I sent my audition materials (resumé, video and pictures) to BalletMet for the 2014–15 season. Although artistic director Edwaard Liang was interested in working with me, he did not have a contract available to offer me then. The next audition season I reached out to BalletMet again and was hired. Put yourself out there confidently and without limitations, and you will eventually find your "yes."
Make a Personal Connection
Although there are many factors we cannot control, there are things I do before auditions to be more prepared and hopefully successful. I've found that whether I'm going to a cattle call or asking for an audition in company class, it's helpful to send my audition materials in advance. This helps make a personal connection so that you can be seen as you and not "Number 67." The cover letter or introductory email should also be treated as part of your audition materials; it's where you can explain who you are and why you want to be a part of that particular company. Maybe you took a class from one of their ballet mistresses, or your teacher has a former student in the company. Or perhaps you saw one of their performances and it really inspired you. Whatever has made you want to work there, let them know.
Project Confidence
The last story I'll share is one that sheds light on what I believe is the most important part of auditioning: confidence. Confidence is very powerful. It was the reason I was hired to dance for La La La Human Steps. Even though I was coming from a very classical company, I went into the audition for the artistic director, Édouard Lock, with a fearless attitude. I had no experience dancing contemporary work and thought, Well, I have nothing to lose. It paid off. I didn't doubt myself because I had no context of what I could and couldn't do.
After I had been working with Édouard for a year or so, he told me he had been drawn to my strength during my audition. At the time, I thought he meant a physical and technical strength, but now I believe he meant an emotional one. Every company I've danced for has broken me down to my most basic self and molded me into their vision. In this process, I've needed to be malleable while also remaining true to myself. I've needed inner strength to be more capable and versatile than I thought I could be, instead of stubbornly refusing to dance outside my conception of myself.
Whenever I experience self-doubt, I'm no longer free to be in the moment, nor to be the artist I am. And auditions are your time to let your artistry shine through. Directors want to see that, because live performance is what they are selling. While technique is a tool to help us send a message and tell a story, only an artist can deliver that message. Show who you are as an artist in an audition, because that's something that's unique to you, and no one else can fill that spot. 
Grace-Anne Powers is a dancer with BalletMet.
News
Dec. 16, 2016 11:18AM EST
Apparently, there's a black market for Nutcracker costumes.
Festival Ballet Providence's Sugar Plum Fairy tutu. Photo Courtesy FBP.
Back in November, Festival Ballet Providence artistic director Mihailo Djuric found himself in a serious bind when a trip to the company's storage facility in Pawtucket, RI, revealed that 57 costumes for its upcoming Nutcracker production had been stolen. Important items such as a Swarovski crystal-embellished Sugar Plum Fairy tutu and the Nutcracker's mask had been quietly removed from their crates. "Many of the stolen costumes were for our children's cast members, which is especially disheartening," Djuric said in a statement. The company had mere weeks to figure out how to replace dozens of tunics and tutus before opening night on December 16.
An original angel harp next to a newly constructed one made by Mystic Scenic Studios earlier this week. Photo via Facebook.
Not wasting a moment's time, Djuric called ballet companies nationwide to find similar costumes he could rent for the production. Since then, over a dozen have come to the rescue, including Kansas City Ballet, Joffrey Ballet, BalletMet, Rochester City Ballet, Connecticut Ballet and Mobile Ballet in Alabama. This week, 10 volunteer costumers from around New England have been sewing nonstop, reconstructing new pieces from scratch (such as the Toy Soldier jackets) and altering costumes that were not stolen to match rented items. "This entire process has required a tremendous amount of creativity and imagination to make sure we get this show on stage and looking sharp," says Djuric. Their hard work paid off—by Thursday morning's school performance for 1,000 area children, all costumes and props were reconstructed or replaced.
Have you seen this Nutcracker? The tunic and head were stolen last month. Photo courtesy FBP.
A motive for the theft is still unclear, and Pawtucket police continue to investigate. While Festival Ballet is still working on an exact figure, the financial loss is estimated to be in the tens of thousands of dollars, and the company will be forced to make new costumes next year. But in the meantime, Providence can still enjoy its annual Nutcracker magic, thanks to the dance community's generosity.
For more news on all things ballet, don't miss a single issue.
Views
Aug. 09, 2016 06:03PM EST
Slow-mo and colored chalk. Will we ever get tired of it?
Nope.
BalletMet's latest video is an ode to the power of bodies in motion and an exploration of how creativity unites us. Becoming Violet features six BalletMet dancers: Miguel Anaya, Jessica Brown, Grace-Ann Powers, Jarrett Reimers, Josh Seibel and Carly Wheaton. The film was made in partnership with Columbus native Steven Weinzierl, of New York City creative studio Lair, and choreographed by BalletMet artistic director Edwaard Liang. Touchingly, Weinzierl said in a statement that this film is different from a typical marketing spot. "It's a passion project," he said. "It's for the love of the art form." We can't think of a better reason to do anything!
Usually, ballet companies create stunning promotional videos for the beginning of their season, or for a specific ballet. But Becoming Violet exists just to showcase the company's dancers. In fact, stand-alone ballet videos are becoming more common. Just look at Sergei Polunin's viral performance to Hosier's "Take Me to Church," Or Ezra Hurwitz's meditative On the Sound. Check out BalletMet below:
For more news on all things ballet, don't miss a single issue.


Get Pointe Magazine in your inbox