Trending
Nov. 07, 2017 05:23PM EST
Jordan Coutts. Photo via Instagram.
We've turned our clocks back and pulled out our scarves and hats. That can only mean one thing—winter's coming. And with it, the Prix de Lausanne. After carefully viewing video submissions from 380 dancers (297 girls and 83 boys), the Prix's jury of dance world professionals narrowed the pool down to 69 candidates. With the addition of nine candidates preselected at the Youth American Grand Prix in New York, the International Ballet and Choreography Competition in Beijing and the Prix de Lausanne's South American preselection in Montevideo, a total of 78 total candidates will be making their way to Switzerland in January. Get to know the seven U.S. competitors here, and stay tuned for more updates on the Prix in the coming months.

Finnian Carmeci, School of Oregon Ballet Theatre
Get to know 14-year-old Finnian Carmeci in this video interview from his Portland, Oregon–based school. Though Carmeci didn't start dancing until he was 12, he has focused on his technique and strength building and has skyrocketed through his school's curriculum.
Jordan Coutts, V&T; Classical Ballet and Dance Academy
Jordan Coutts trains at V&T; Classical Ballet and Dance Academy in Laguna Hills, California. Founders Victor and Tatiana Kasatsky teach a classic Vaganova style.
Here's Coutts in a variation from Paquita at the Moscow International Ballet Competition this summer.
Keep reading...
Show less
Lin Fujimoto, Matthew Maxwell, Harris Beattie, Ryan Felix and Lucy Christodoulou. Photo by Bruno Simao, Courtesy of the Royal Academy of Dance.
Over the past week, 52 dancers from 14 countries trained in the Royal Academy of Dance syllabus flocked to Lisbon, Portugal, for the 2017 Genée International Ballet Competition. After four days of coaching (see highlights on our Instagram), the dancers competed in two days of semi-finals. By Saturday, the pool had been narrowed to just 11 contestants who performed in the finals at Teatro Camões; five lucky dancers took home medals.
The prestigious gold medal (past winners have included ballet stars such as Stella Abrera and Steven McRae) went to 18-year-old British student Harris Beattie. Beattie made Genée history this weekend as the first dancer ever to win all three awards: gold medal, Dame Margot Fonteyn Audience Choice Award and the Choreographic Award, which he received for his Dancer's Own variation entitled Torn, which he co-choreographed with his teacher, Karen Berry. Beattie trains at the Central School of Ballet in London.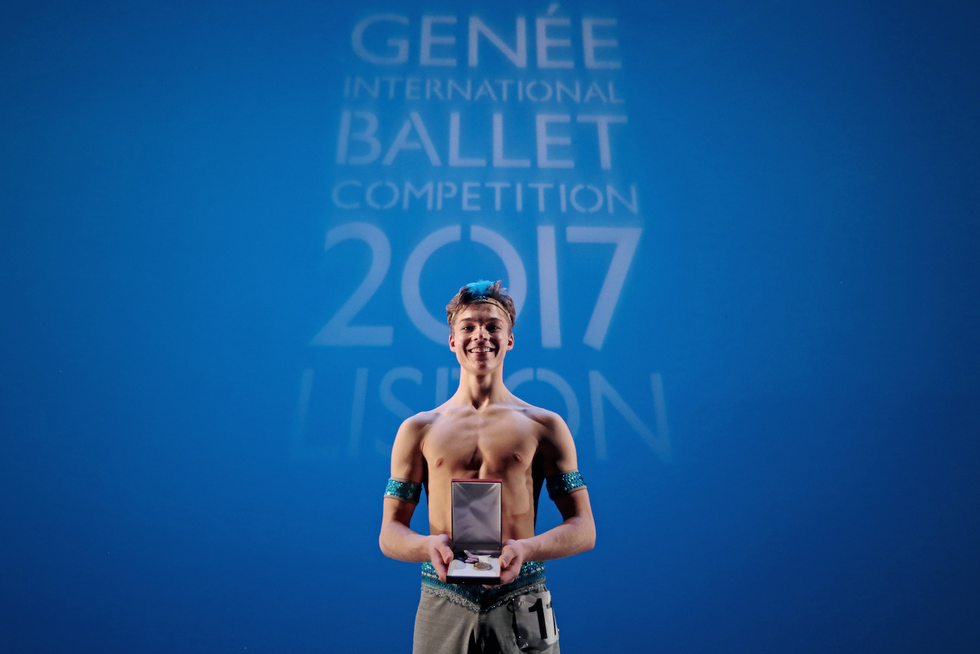 Gold medal, the Dame Margot Fonteyn Audience Choice Award and Choreographic Award winner Harris Beattie. Photo by Bruno Simao, Courtesy of the Royal Academy of Dance.
Keep reading...
Show less
News
May. 05, 2017 03:54PM EST
The ballet world is full of competition, from the recent Youth America Grand Prix to constant auditioning and jockeying for roles. But the English National Ballet takes it to the next level; for the past eight years the company has held its annual Emerging Dancer competition, a chance for ENB's lower-ranked dancers to compete for the Emerging Dancer Award. The competition has been a good predictor of future ENB stars. Past winners include principals Shioni Kase and Yonah Acosta. This year's Emerging Dancer competition will take place at London's Sadler's Wells Theatre on May 25. The six finalists, nominated and coached by their peers in the company, will each perform a classical pas de deux followed by a more contemporary solo in front of a panel of distinguished judges including their boss, Tamara Rojo.
The 2017 female finalists are Isabelle Brouwers, Rina Kanehara and Madison Keesler, an American dancer previously with San Francisco Ballet. All three have been finalists before, and their deep passion for ballet is clear.
Keep reading...
Show less


Get Pointe Magazine in your inbox