Alexei Ratmansky with members of the corps de ballet. Photo by Gene Schiavone, Courtesy American Ballet Theatre.
When the choreographer Alexei Ratmansky joined American Ballet Theatre as artist in residence eight years ago, the company hadn't had a house choreographer since the days of Antony Tudor. The gamble seems to have paid off handsomely. In that time Ratmansky has either made or restaged 12 ballets for the company. In 2011, the company extended his contract to 2023. Such commitments are practically unheard of at a time when top dancers and choreographers hop from company to company, continent to continent. The scale and ambition of the works Ratmansky is making for ABT is a rarity too, in a world of tight budgets, scant rehearsal time and pared-down esthetics.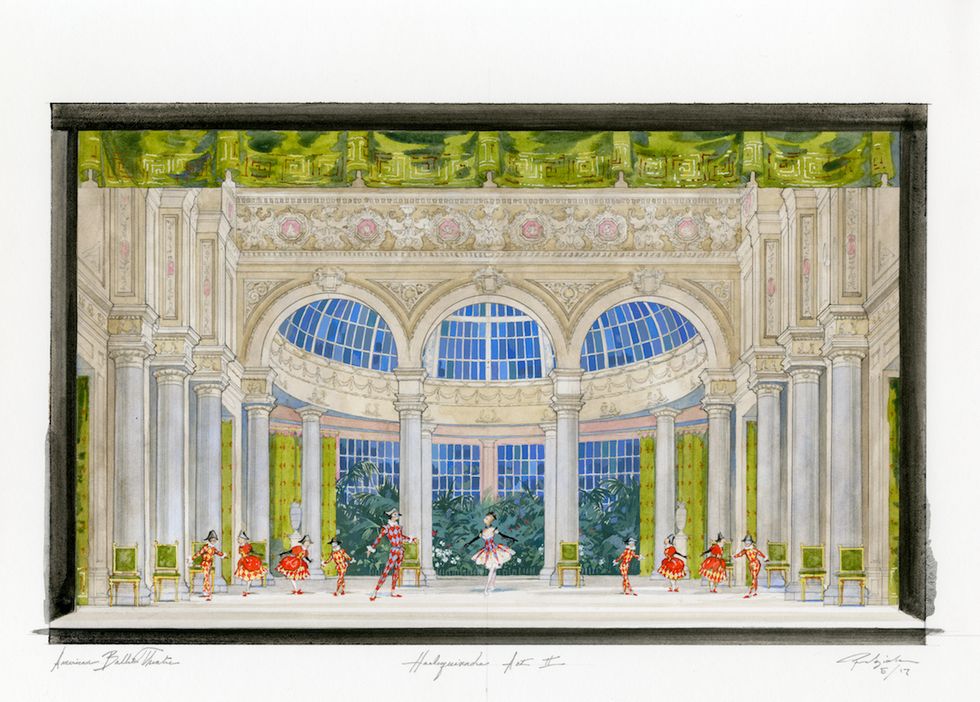 Set design for new "Harlequinade." Courtesy ABT.
Keep reading...
Show less
Moira Shearer and Robert Helpmann in "The Red Shoes."
Black Swan wasn't the film industry's first ballet-themed psychological drama. In The Red Shoes (1948), theater and life conflate, with tragic results for the dancer caught in the middle. Unlike Black Swan, however, The Red Shoes starred a real life ballerina. Moira Shearer, then a leading dancer with Sadler's Wells Ballet (now The Royal Ballet) plays Victoria Page, a young prodigy who catches a Russian impresario's eye, joins his company and stars in a new ballet based on the Hans Christian Andersen fairy tale, The Red Shoes.
In this clip from the dance sequences, the ballet character sees the infamous shoes at a carnival booth and immediately covets them. Shearer's skill as a dancer and actress are evident. Each twirl, reach and penché evokes her desperate longing. The shoemaker, danced with incredible precision by famous choreographer Léonide Massine, taunts the girl. When she finally leaps into the red shoes (with kitschy film effects), she forgets her partner completely. She dances with bounding energy, depicted by Shearer's crisp, light petit allégro. Later, it becomes clear that the shoes have a fatal sort of magic, both onstage and off.

Keep reading...
Show less
Gillian Murphy in the Cloud & Victory Ballerina Tee. Photo courtesy of Cloud & Victory.
Whether you've been lucky enough to watch American Ballet Theatre's Gillan Murphy dance Swan Lake's Odette/Odile in person or you're one of the 100,000+ who've watched her performance on YouTube, the magic happening on stage is obvious. Even off stage, it's easy to see why the role is such a perfect fit. Supremely graceful with her long limbs and quiet nature, Murphy certainly looks the part of Odette. Yet there's also an Odile-like spark in her eyes as she speaks, one that was even more noticeable while teaching a younger generation the famous black swan pas de deux during Cloud & Victory's master class in New York City last month.
After we learned how to master Odile's swan arms (the trick is to relax your elbows while still keeping resistance, according to Murphy), we caught up with Murphy for her take on the famous role.
Keep reading...
Show less
Isabella Boylston teaches "Giselle" in the Cloud & Victory 'Ballet Dancers Sweat Glitter' tee; via Instagram
Learning a variation for the first time is definitely one of the most rewarding parts of ballet. And when American Ballet Theatre principal Isabella Boylston teaches you that variation as part of a master class series hosted by dancewear brand Cloud & Victory, the whole process gets even more exciting. Dreamt up by Cloud & Victory founder Min, the day-long workshop at Joffrey Ballet School in New York City consisted of a technique class taught by fellow ABT principal Gillian Murphy, as well as variations from both Murphy and Boylston. After Murphy taught Black Swan, Boylston gave the dancers another classic with Act I of Giselle. If you weren't lucky enough to be among the dozens of aspiring ballerinas gathered at the master class, check out some of Boylston's tips for learning Giselle at home.
Keep reading...
Show less


Get Pointe Magazine in your inbox